A 44-year-old protester picked a patriotic location this Independence Day: the Statue of Liberty.
Therese Patricia Okoumou, of Staten Island, was arrested after scaling the base of the statue and taking up temporary residence on Lady Liberty's right foot.
Okoumou is expected to appear in Manhattan Federal Court on Thursday and may face misdemeanor charges including trespassing, disorderly conduct and violating national park regulations, police said.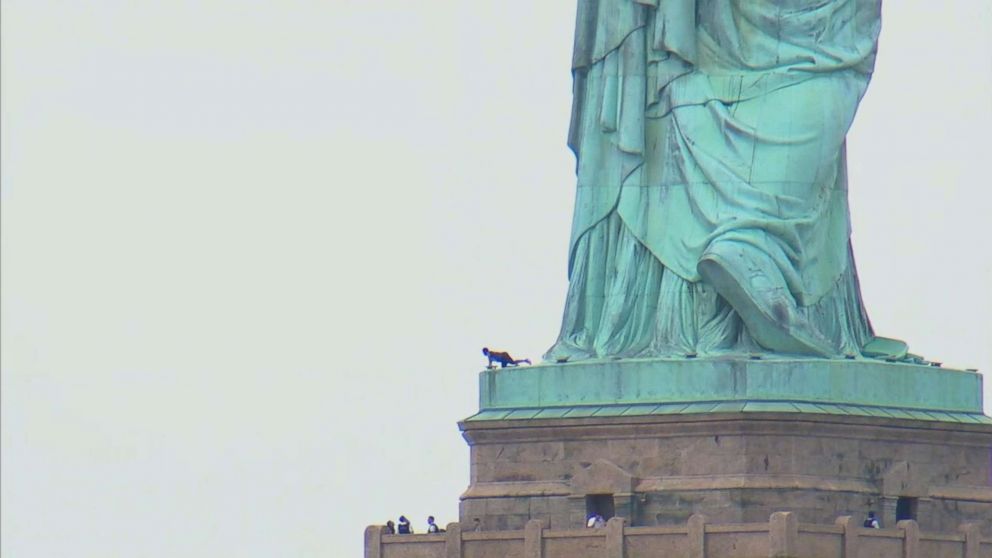 Liberty Island, where the statue is located, was evacuated and all visitors were taken off the island via ferry, a National Parks spokesperson said.
Police were seen on the base of the Statue of Liberty, apparently trying to verbally engage with Okoumou before physically apprehending her. Footage from the scene showed the officers wearing harnesses and using ladders to scale the statue's base.
Footage from helicopters showed her sitting at the base of the statue, occasionally lying on her stomach and kicking her feet up behind her, ABC station WABC reported.
Okoumou was seen holding a t-shirt displaying the words "Rise and Resist" and "Trump Care Makes Us Sick."
She wasn't the only protester arrested at the Statue of Liberty on Wednesday. Earlier that afternoon, seven people were apprehended for holding a banner that read "ABOLISH ICE" off the base below the statue, which is technically called Fort Hood.
Rise and Resist is the name of a protest group that arranged the banner display, and they tweeted that the climber "has no connection to our #abolishice action earlier today."
"Rise and Resist planned a banner drop today at the Statue of Liberty. This action did not include the climber on the statue. Our action was completed earlier. While it was not part of our action, our first priority and concern is for the safety of the climber," they wrote in another tweet.