Officials have ordered thousands of people who were affected by recent wildfires in Southern California to evacuate as an upcoming winter storm poses a threat for mudslides and flash floods.
Interested in
Weather?
Add Weather as an interest to stay up to date on the latest Weather news, video, and analysis from ABC News.
Mandatory evacuations were issued for about 7,000 people in mountainous areas affected by the Thomas, Whitter, Sherpa and Rey fires, according to the Santa Barbara County Office of Emergency Management. Another 23,000 people were under evacuation warnings, officials said.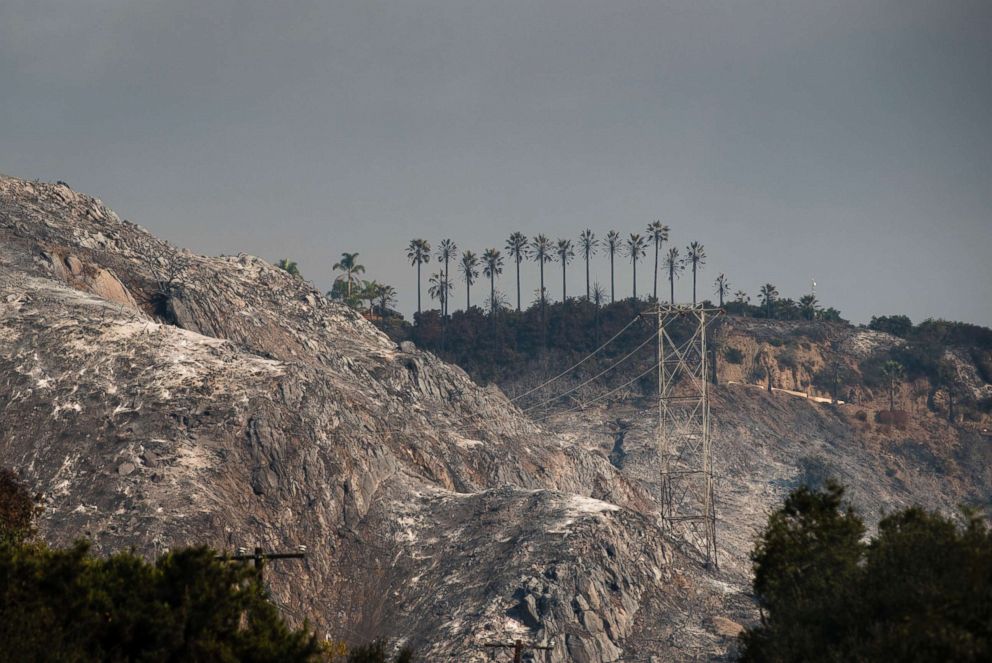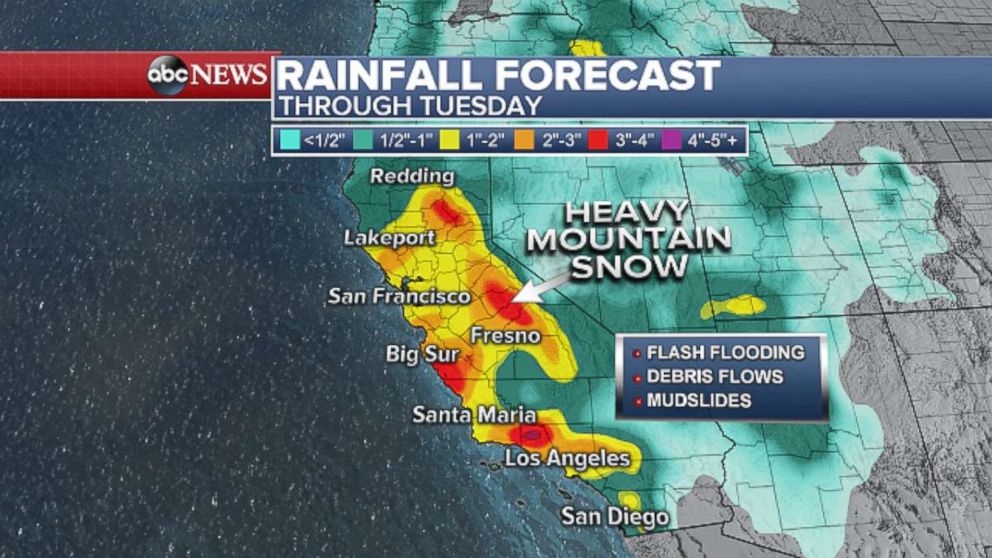 The storm is the West Coast's first significant winter storm of the season, and heavy rain and strong winds are expected in the area through Tuesday, bringing "strong potential" for flash flooding and mud in areas where wildfires recently burned through, according to Santa Barbara County officials.
Heavy rain & strong winds predicted for parts of SB County from Mon-Tues. Strong potential for flash flooding, mud & debris flows in & below recent burn areas. Stay alert & take steps to protect yourself. For more info go to https://t.co/BN1dnOlJBg or call 211 or (800) 400-1572.

— SBCountyOEM (@SBCountyOEM) January 7, 2018
Down the coast, the Los Angeles County Sheriff's Department has issued mandatory evacuations for several neighborhoods, including Kagel Canyon, Lopez Canyon and Little Tujunga Canyon, which were all affected by the Creek fire last month.
#LASD conducting mandatory evacs for #creekfire damaged areas due to rain temp housing for people Sun Valley Rec Ctr 8133 Vineland Ave, Sun Valley. Lrg animals go to Hansen Dam Equestrian Ctr 11127 Orcas Ave, Sylmar

— LA County Sheriff's (@LASDHQ) January 8, 2018
Flash flood watches are in effect from Los Angeles to Santa Barbara County, and a wind advisory is in effect for the San Francisco area, according to the National Weather Service.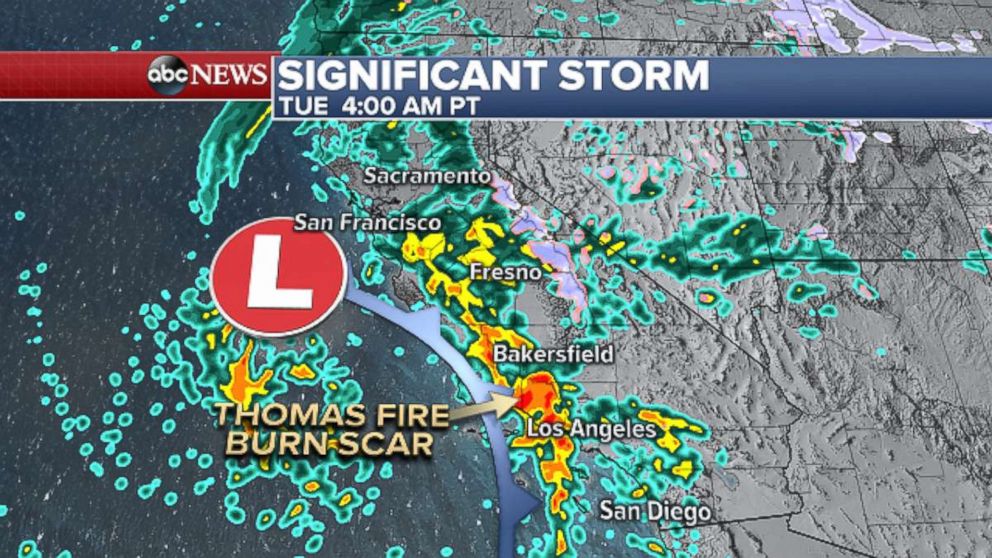 High wind warnings have also been issued for parts of the Bay Area, which could experience wind gusts of up to 60 mph. Winter storm warnings are in effect for parts of the Sierra Mountains and down Southern California to the mountains of San Bernardino and San Diego counties.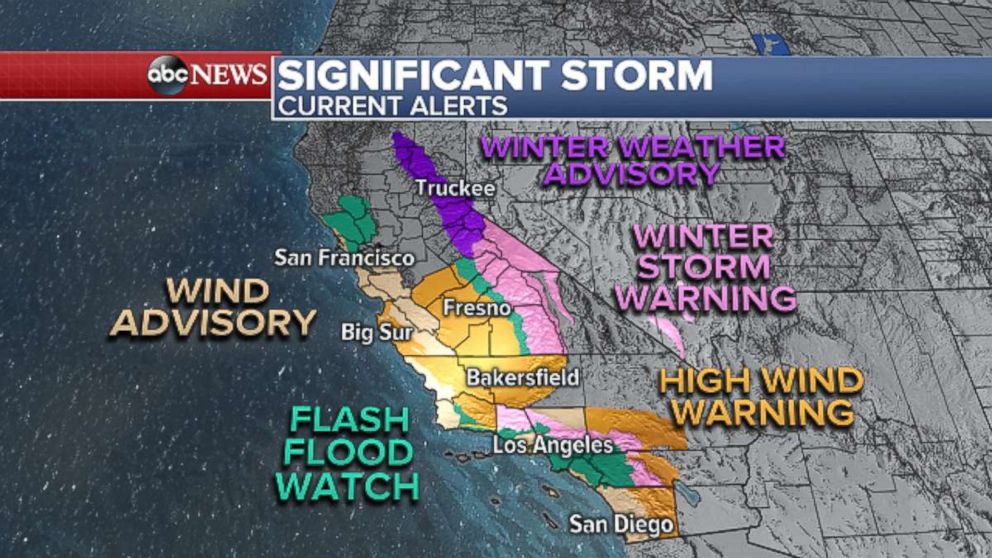 The bulk of the rain in Southern California will fall early Tuesday and into the afternoon. The showers are expected to clear by Tuesday night.
Further east, a new storm system is set to bring snow, sleet and freezing rain to parts of the Midwest and East today, meteorologists said.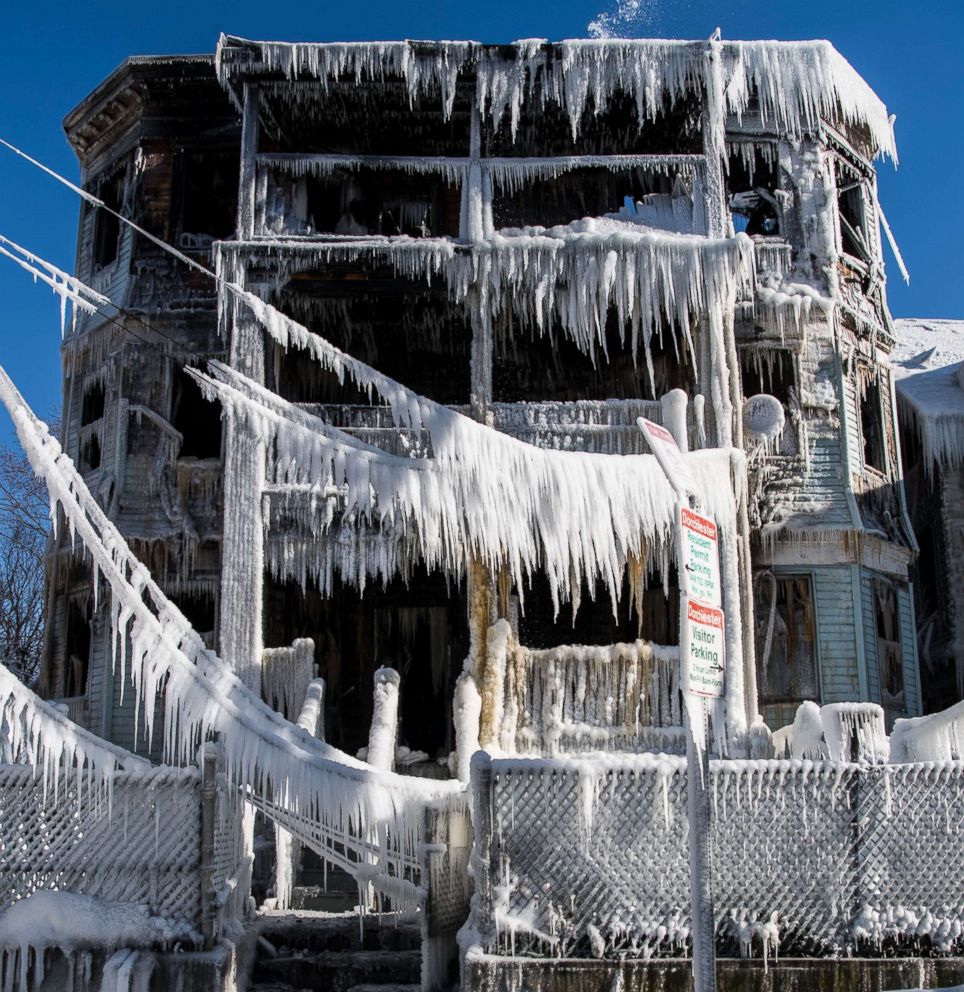 Despite a break from the record-setting cold, the National Weather Service has issued winter weather advisories for parts of those regions, warning that icy weather could create slippery road conditions.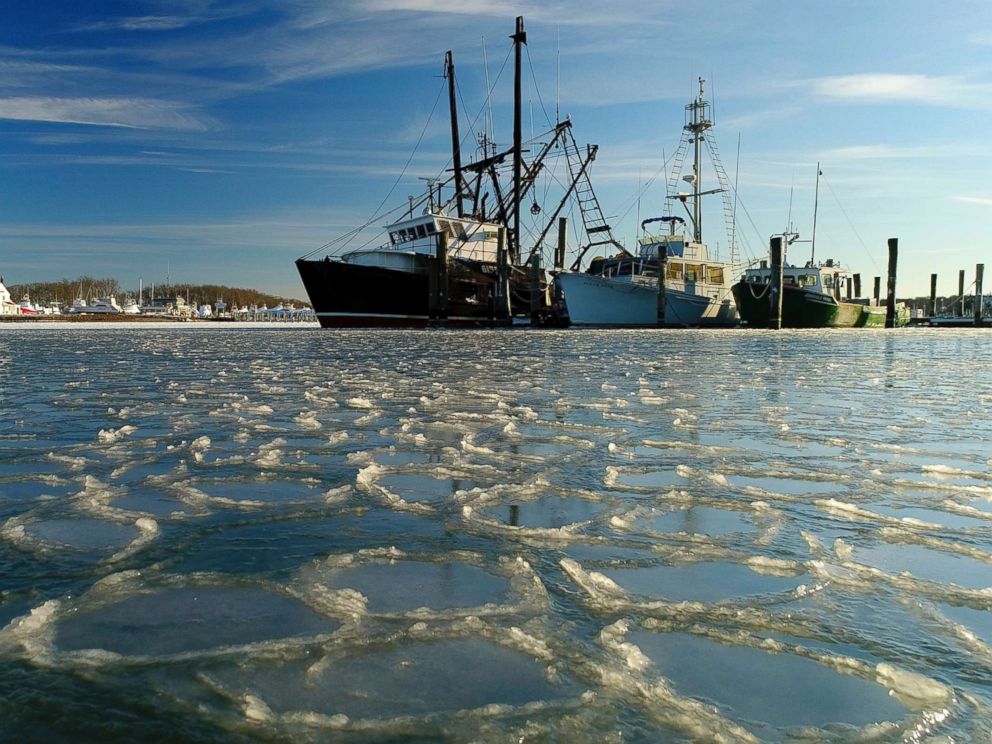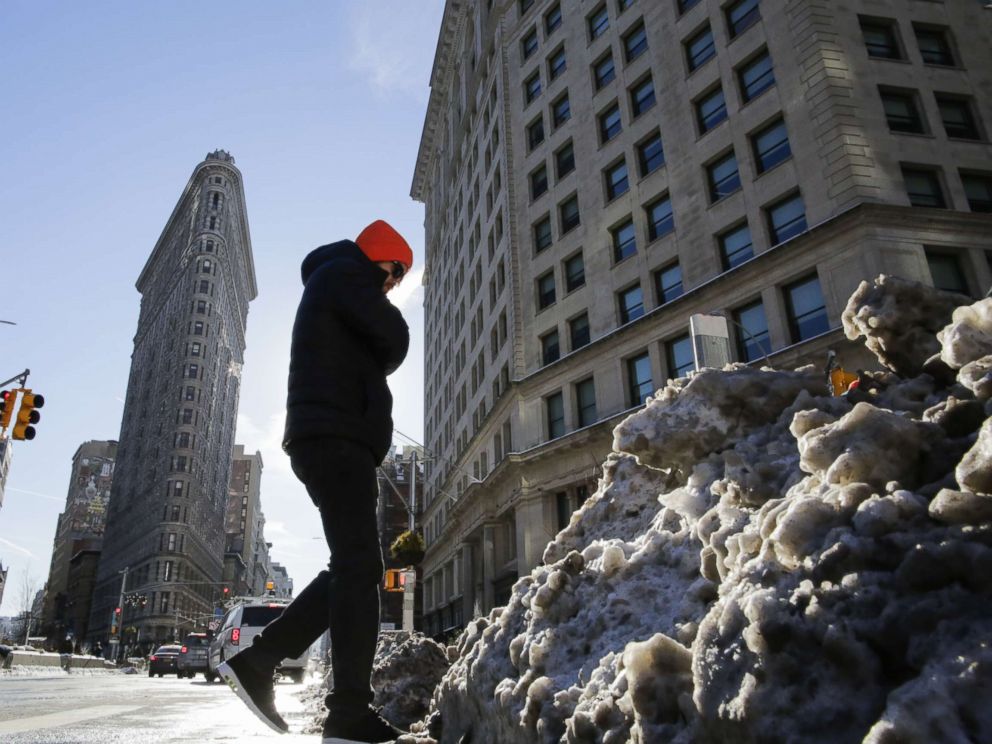 The storm could bring 1 to 3 inches of snow to some parts of Michigan, Ohio, Pennsylvania, New York and New England, meteorologists said.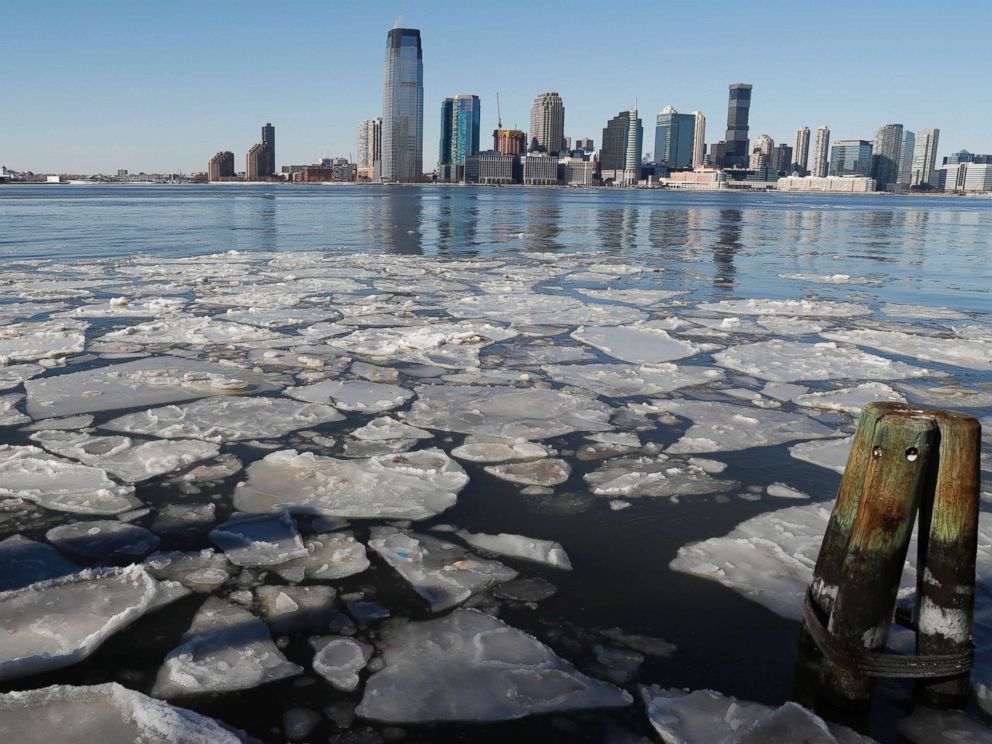 To the south, an icy mix could bring a glaze of ice to eastern Kentucky, Tennessee and northern Georgia.
In Atlanta, which typically avoids freezing weather, the National Weather Service said residents had begun to report "slick spots" in areas where light freezing rain began to fall earlier today. Total ice accumulations of less than one-tenth of an inch were predicted.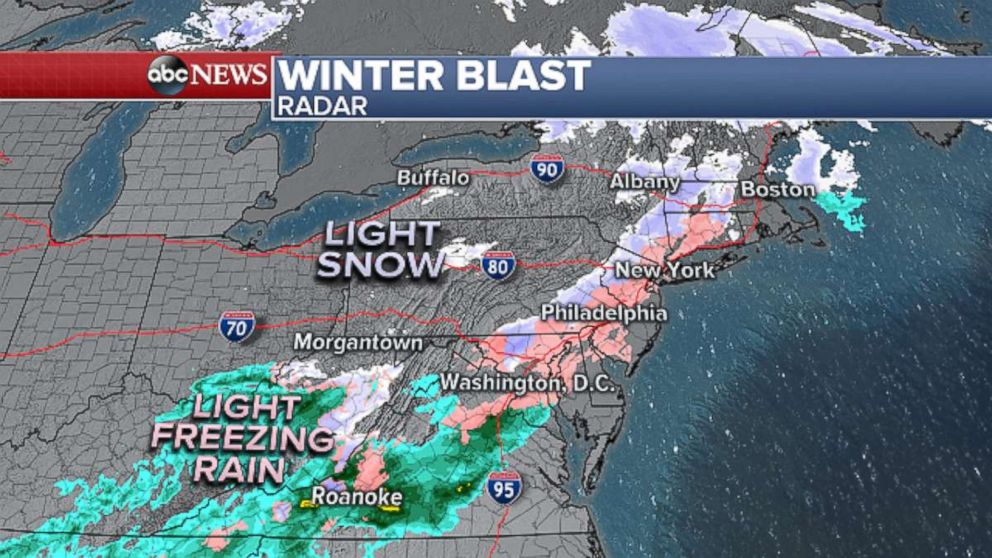 Parts of Interstate 75 were shut down in northern Georgia because of crashes and icy roads, which apparently contributed to a major pileup the Varnell Police Department tweeted about this morning.
Major Accident....30-40 cars Interstate 75 north exit 345...

— Varnell Police Dept (@VarnellPD) January 8, 2018
The weather has caused airports to cancel and reschedule flights.
Major carriers like Delta, American and United offered waivers for passengers affected by the backlog.
The storm is not forecast to be a major one, but it could cause hazardous and difficult travel conditions in parts of the Midwest and East, the National Weather Service said.
ABC News' Jennifer Harrison, Julia Jacobo, Michael Kreisel and M.L. Nestel contributed to this report.