— -- A registered sex offender has emerged as a star player on a top tier college football team, resuming his athletic career after being expelled from the Air Force Academy where he was court-martialed for sexual assault.
No NCAA rule prevents a person with a criminal conviction from playing college athletics, a spokesperson told ABC News. It is left up to the individual college or conference to determine eligibility.
Jamil Cooks, 23, enrolled at Alcorn State in Mississippi, a Division One NCAA school, after being found guilty in April 2013 of abusive sexual contact in a court martial proceeding at the Air Force Academy, which required him to register as a sex offender for the rest of his life.
Cooks' lawyer, Richard Stevens, says he is appealing the conviction.
The ability of Cooks to continue his football career despite being a sexual predator is only the latest example of distorted priorities that involve sexual violence, said Sen. Kirsten Gillibrand, D-New York.
"I think it's wrong that they're allowed to continue to play," she told ABC News.
Officials at the Air Force Academy said the court-martial and dismissal of Cooks was part of an effort to end a culture in which sexual assault had gone unreported or tolerated.
"It's disappointing," said Air Force Academy Superintendent Lt. Gen. Michelle Johnson about the ability of Cooks to continue to play high-level college athletics. "That's not what we tolerate here."
Cooks was one of two members of the Air Force Academy football team court-martialed for sexual assault as part of a sweeping, controversial investigation that also led to the resignations or dismissals of 15 other cadets. Johnson was appointed superintendent after the investigation
"Code of Silence": Tune in to ABC News Wednesday for the new Brian Ross Investigation starting with "Good Morning America", then "World News With David Muir" and a full report on "Nightline".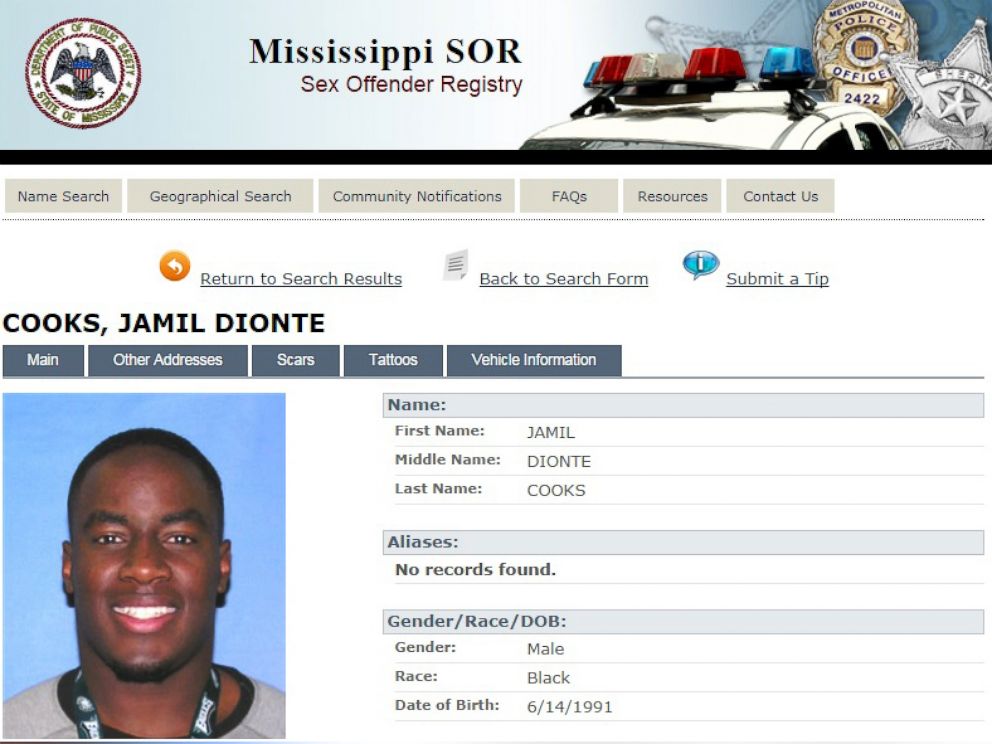 A smiling photo of Cooks appears on Mississippi's Sex Offender Registry, with his home address listed as a dormitory at Alcorn State, a small historically black college.
Cooks, a defensive end, was named Alcorn State Player of the Week after he "recorded six tackles, one sack, and three tackles for a loss in the Braves 55-7 victory over Virginia University of Lynchburg" in September.
In October, Cooks was named "newcomer of the week" by the Southwest Athletic Conference following his performance in an Alcorn State victory over Texas Southern.
A spokesperson said the school "had no issues with Cooks enrollment" but declined to say whether female students had been notified of Cooks presence, citing privacy concerns for Cooks. The president of Alcorn State, Dr. Alfred Rankins, Jr., did not return repeated requests for comment.
In a written statement late Tuesday to ABC News, the school said, "The safety and well being of all Alcorn State University students is the top priority for our university. We are in full compliance with the federal Clery Act, which mandates requirements for campus safety and notifications." Cooks is listed as an offender on a page on the school's website.
A general statement from President Rankins on the school website boasts of Alcorn State "scoring gains in athletics."
"If you've been convicted of sexual assault or rape you shouldn't be allowed to play on the team," said Sen. Gillibrand, who is calling on the NFL, NCAA and the military to do more to protect victims from sexual predators.
She said the NCAA rules that allow convicted sexual offenders to play should be changed.
"It shows that there is not a value put on the person who the crime was committed against," she told ABC News.
In a statement, Richard Stevens, Cooks' lawyer, says "the reporting about Jamil's case has not only been inaccurate, it has been, in my opinion, irresponsible journalism."
Cooks was convicted of abusive sexual contact but found not guilty of aggravated sexual assault and sodomy.
Stevens said Cooks' accuser made her allegations because she "was upset and angry that he didn't want a more serious, committed, and public relationship with her."
Stevens said it is getting more difficult to "ensure fair trials in the military" because politicians and others "are continuously trying to make the military justice system more about pre-determined and politically palatable outcomes than about a search for the truth or actual justice."
[Editor's Note: A previous version of this story incorrectly reported a charge of sodomy against Cooks had been dropped. He was found not guilty on that charge. The story has been updated.]