Several people who participated in the siege on Capitol Hill last week have been arrested.
Rioter in 'Camp Auschwitz' hoodie
Robert Keith Packer, 56, was arrested in Newport News, Virginia, Wednesday morning.
The image of a man wearing a black hoodie with the words "Camp Auschwitz" emblazoned in white letters inside the U.S. Capitol building was circulated widely on social media.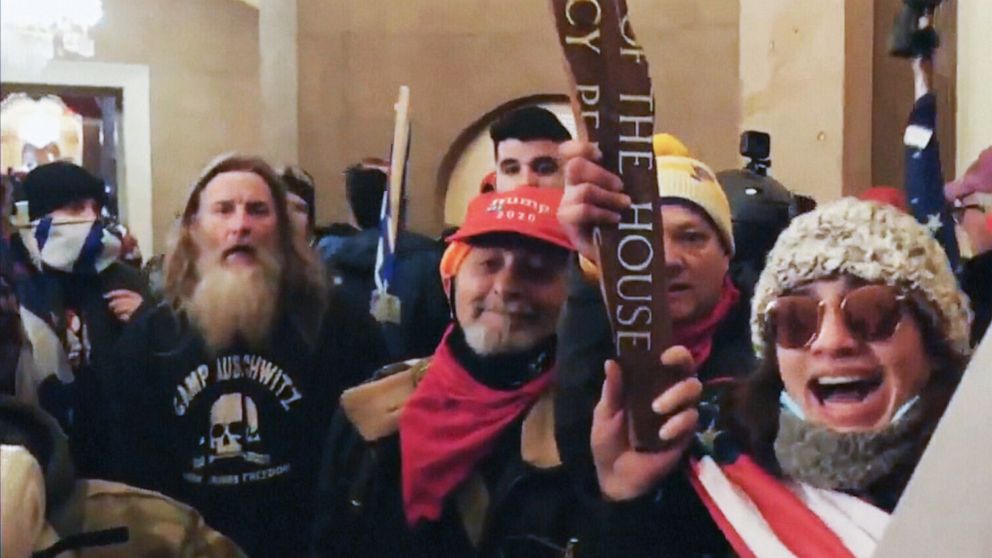 Packer has a lengthy criminal record in the area and has been arrested in Newport News "well over a dozen times," Newport News Sheriff Gabriel Morgan told ABC News.
Previous offenses included assault and battery, driving under the influence, drunk in public, driving under revocation, and probation violation, among others, Morgan said. Packer was last jailed in the county in 2012.
Packer faces charges of unlawful entry into the U.S. Capitol and violent entry and disorderly conduct on Capitol grounds, according to an arrest warrant filed in Virginia federal court.
He did not enter a plea in court. ABC News could not immediately reach him or an attorney for him for comment.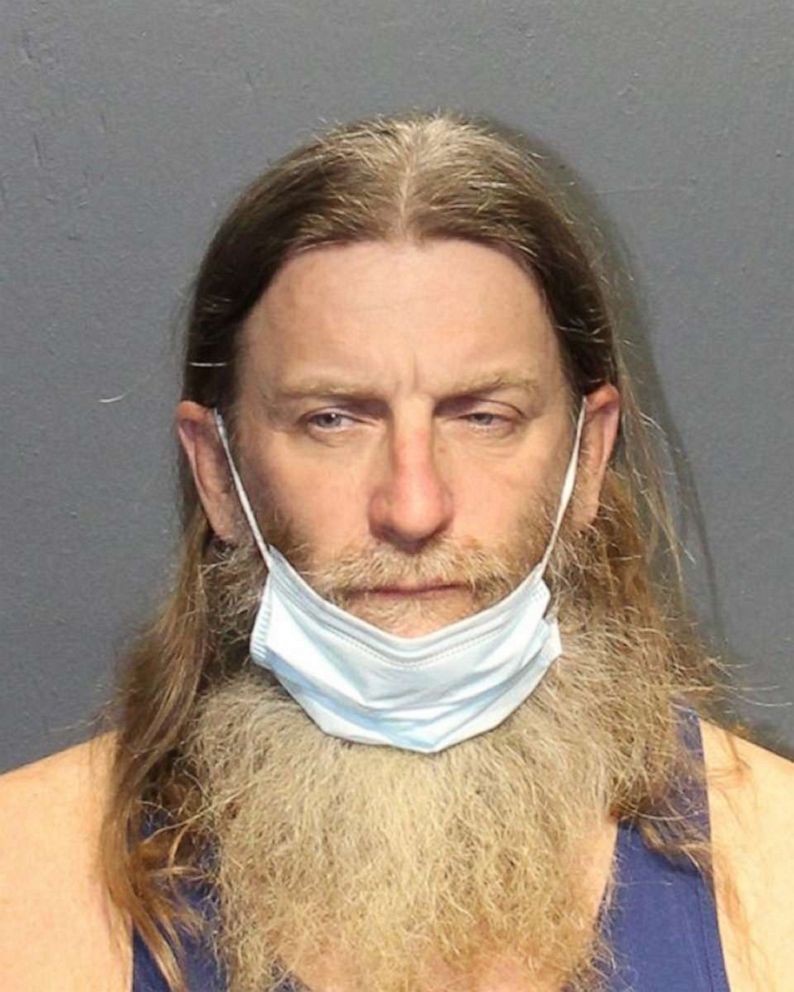 He was being held at the Western Tidewater Regional Jail and is expected to appear in federal court in Norfolk, Virginia, Wednesday afternoon.
Packer was released on the condition that he stay out of Washington, D.C., and appear virtually in court on Jan. 19. He was represented by a public defender but said he plans on retaining his own attorney.
Rioter who was next to woman when she was shot
A rioter who was standing next to Air Force veteran Ashli Babbitt when she was shot and killed by a Capitol police officer, was also arrested by the FBI Wednesday.
New Jersey resident Thomas Baranyi, 28, appeared briefly in Newark federal court, where bail was set at $100,000.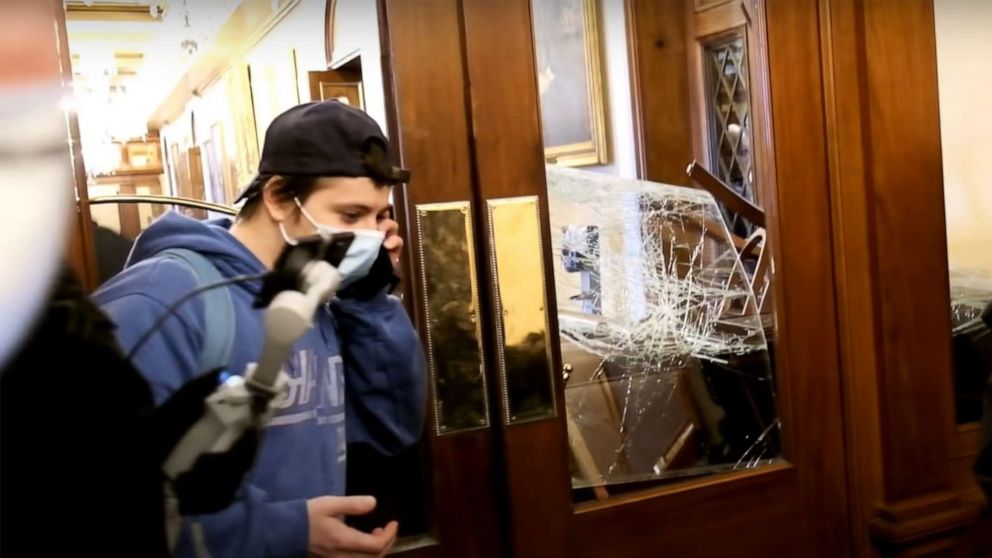 Court records quoted Baranyi's televised interview during which he showed a reporter blood on his hand after he stormed the Capitol.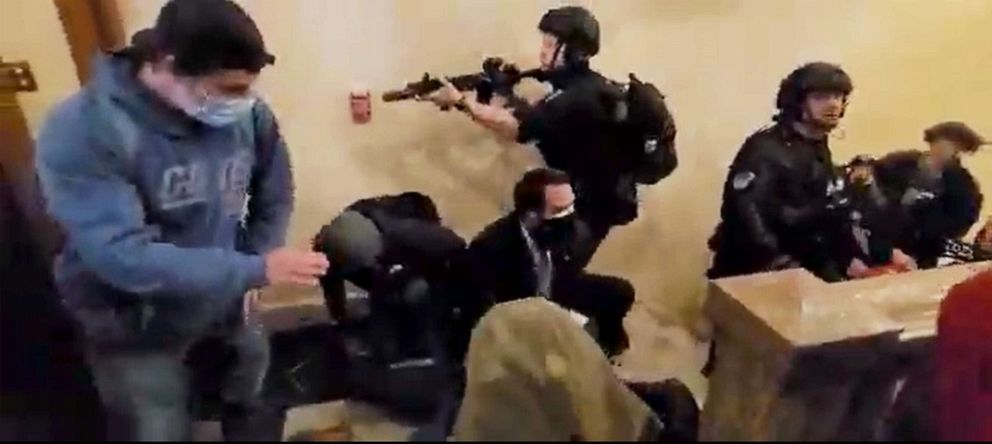 In the interview, Baranyi explained that he got blood on his hand after storming into the Capitol and a "young lady" rushed through the windows.
"A number of police and Secret Service were saying get down, get out of the way. She didn't heed the call and as we kind of raced up to try to grab people and pull them back, they shot her in the neck, and she fell back on me," Baranyi said in the interview, according to the court documents.
MTA employee who was recognized by colleagues
A Metropolitan Transportation Authority employee who was arrested following his participation in the Capitol riots appeared in federal court in White Plains, New York, on Wednesday.
William Pepe, 31, who works on the Metro-North, was recognized by colleagues and MTA management from photos of him wearing an American flag bandana that were circulated from inside the U.S. Capitol building.
Pepe was charged with one count of knowingly entering or remaining in any restricted building or grounds without law authority, according to the Justice Department.
Pepe was released on $10,000 bond, but a federal judge ordered Pepe to surrender a shotgun and hunting knife to local police. He also can not possess any other firearms or weapons.
He was arrested Tuesday in the Hudson Valley. He had called in sick on Jan. 6 to participate in the riots.
Pepe, who had been employed as a maintenance worker for the MTA for six years, was initially suspended, but the MTA is now working to terminate him, the transit authority said.
Rocky Mount police officers
The Justice Department has charged two Rocky Mount, Virginia, police officers with participating in last week's riot in the U.S. Capitol.
Thomas Robertson and Jacob Fracker posted a photo of themselves with their middle fingers up in front of the statue of Revolutionary War hero John Stark.
After posting the photo, the two repeatedly defended attending the riots in separate social media posts. Robertson is quoted saying he was "proud" of the photo because he "was willing to put skin in the game."
Fracker later deleted a Facebook post in which he wrote, "Lol to anyone who's possibly concerned about the picture of me going around... Sorry I hate freedom? …Not like I did anything illegal…y'all do what you feel you need to…"
The pair also gave media interviews after attending the riots.
During their initial appearance in West Virginia District Court Wednesday afternoon, Robertson and Fracker were charged with unlawful entry to the Capitol and were ordered by Judge Robert Ballou to stay away from Washington, D.C., and to not participate in any public demonstrations.
Ballou also required they turn over any firearms by Friday and remain at their homes, stating that it was his understanding that they were both placed on administrative leave by the police department.
While the Justice Department asked Ballou to order the two be fitted with GPS monitors to ensure they stay away from D.C., Ballou rejected the request citing their status as police officers and their records of military service.
The Rocky Mountain Police Department has not immediately responded to ABC News' request for comment.
Man seen hanging off Senate balcony
Josiah Colt, the man seen hanging off the Senate balcony and sitting in Vice President Mike Pence's chair, surrendered himself to U.S. Marshalls on Tuesday, authorities said.
He was charged with knowingly entering or remaining in any restricted building or grounds without lawful authority and violent entry and disorderly conduct on Capitol grounds, according to the Justice Department.
Colt is currently being held at the Ada County jail in Boise, Idaho, and was expected to appear in federal court on Wednesday.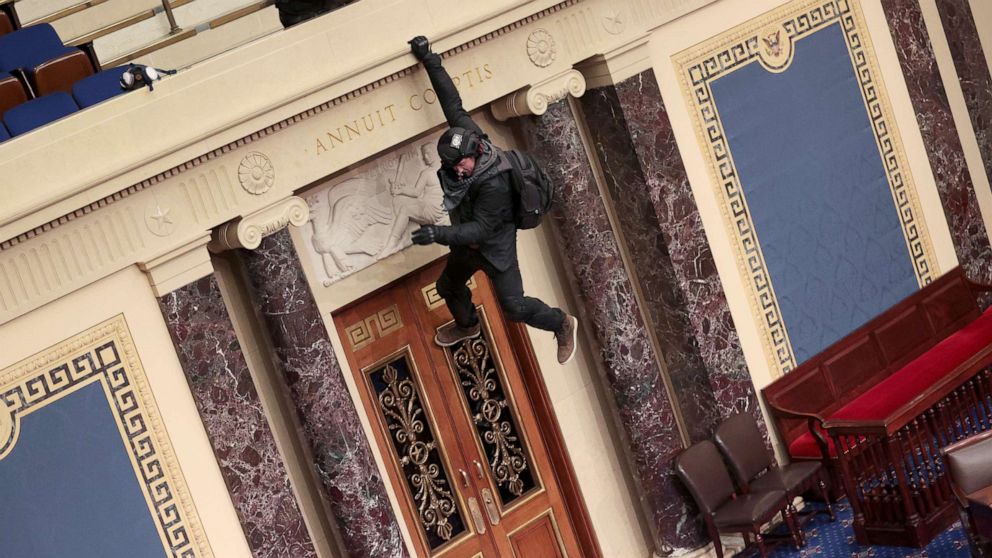 Man who threatened to send armed caravan to Capitol
A New York City man armed with an arsenal of weapons appeared in federal court after he allegedly made threats to conduct another attack on the Capitol as well as New York City.
The FBI took Eduard Florea into custody Tuesday at his home in Middle Village, Queens, after he allegedly posted threats online to send an armed caravan to the Capitol.
Federal investigators found more than 1,000 rounds of rifle ammunition, two dozen shotgun rounds, 75 combat knives, two hatchets and two swords at Florea's home, prosecutors said.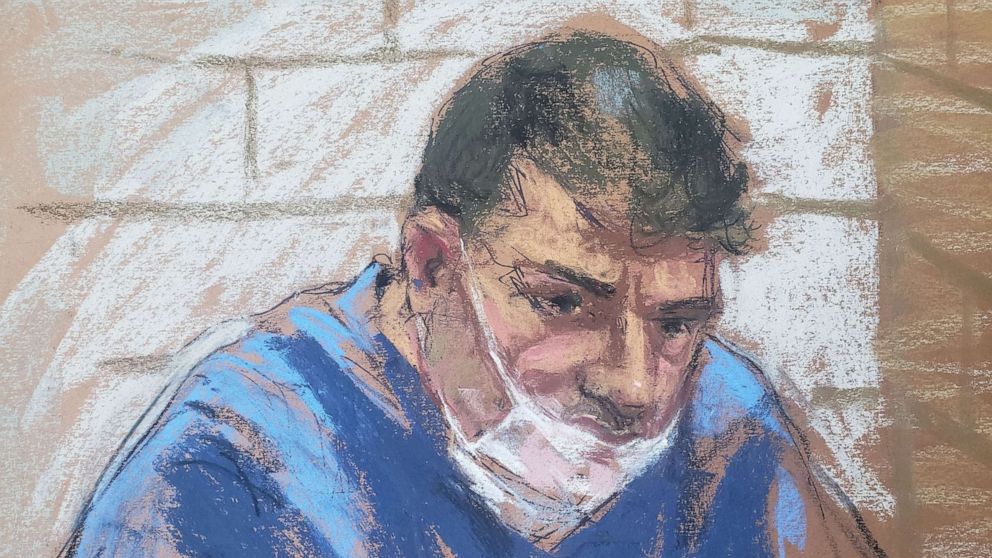 Florea is charged with being a felon in possession of ammunition, which federal prosecutors described as a "serious offense" that could land him in prison for up to 10 years.
Judge Sanket Bulsara denied him bond, agreeing with prosecutors who said he is a "significant danger to the community" and a flight risk.
"It appears during the day of the Jan. 6, when events were unfolding, Mr. Florea continued to post and make clear a premeditated plan to exact violence against people in New York and people in Washington, against United States senators," Bulsara said.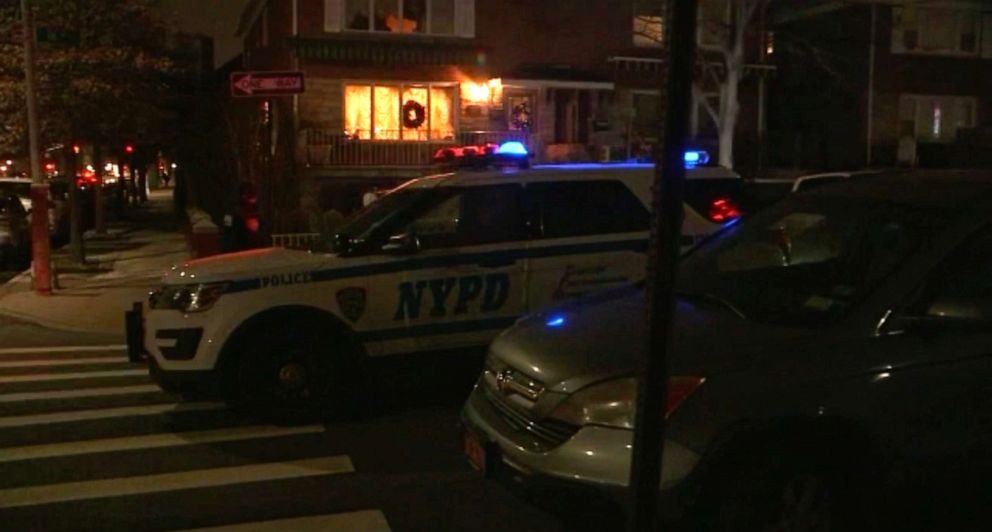 He was also being investigated for purported ties to the Proud Boys, and he admitted to being a follower of the far-right organization, a law enforcement official told ABC News.
Proud Boys leader Henry "Enrique" Tarrio told ABC News that he doesn't know Florea.
Several others who participated in the siege have been arrested around the country in recent days.
The fur-pelted man photographed with a Capitol police shield was arrested Tuesday morning at his brother's home in Brooklyn, facing four federal charges.
Many of the rioters were implicated by their own social media posts, ABC News' chief investigative reporter Josh Margolin said on "Start Here," an ABC News daily podcast, on Monday.
Suspected rioters who allegedly brought zip ties and wore tactical gear were arrested in Texas and Tennessee on Tuesday.
The man seen carrying Speaker Nancy Pelosi's lectern through the Capitol halls and the shirtless man dressed in horns, a bearskin headdress and red, white and blue face paint were arrested on Friday in Florida and Arizona, respectively.
ABC News' Ali Dukakis, Ivan Pereira and Olivia Rubin contributed to this report.