— -- The captain of the Royal Caribbean cruise ship that was rocked by terrifying, hurricane-force winds off the coast of the Carolinas Sunday told passengers that the forecast wasn't "anything near what we actually experienced."
"What we experienced yesterday, that was something very special," Anthem of the Seas' ship master Claus Andre Andersen said in a video produced by Royal Caribbean on Monday. "I honestly have not seen a low pressure that was not forecasted, anything near what we actually experienced."
The captain's video aired on an in-house channel in guest staterooms Monday, one day after passengers and crew members endured wind gusts topping 76 miles per hour and waves nearly 40 feet high. The rough seas forced the captain to turn the Bahamas-bound ship around.
In Royal Caribbean's video, which passenger Sean Ferguson filmed and provided to ABC News, Andersen tells the cruise director that at 10 a.m. Sunday, "everything was nice and dandy." At 1 p.m., after speaking on the phone with the Miami office, Andersen walked onto the bridge as the winds started to pick up.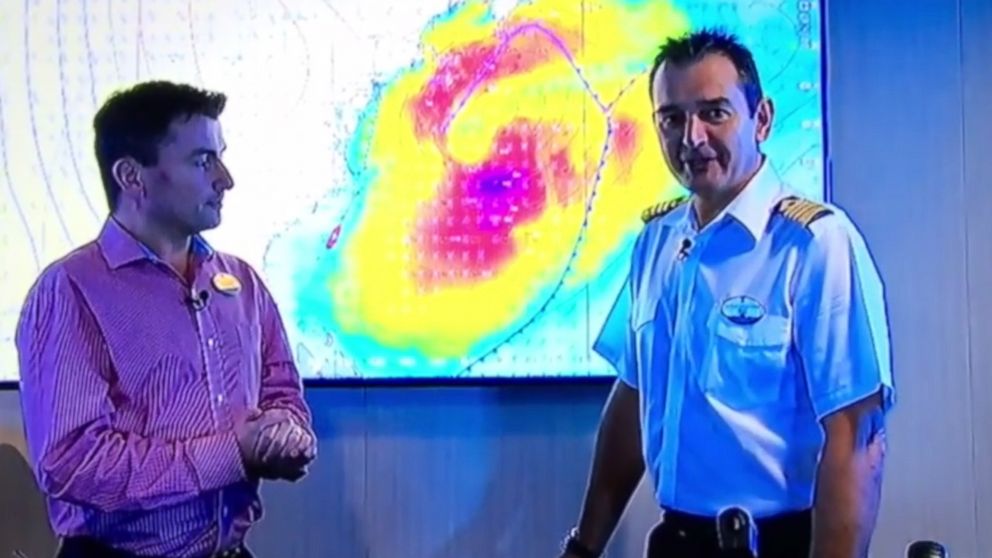 That's when Andersen noticed the wind was "stronger than what it was forecasted. Quite a bit stronger...it just didn't stop."
"It just became so intensified. In eight or nine hours, it goes from being nothing to a full-blown storm," he said.
The weather toppled chairs, broke ceilings and shattered glasses. No one was seriously injured. Passenger Jessica Sheridan, who's on the ship with her husband and 20-month-old son, told ABC News today that she was afraid for her life as the boat tipped side to side.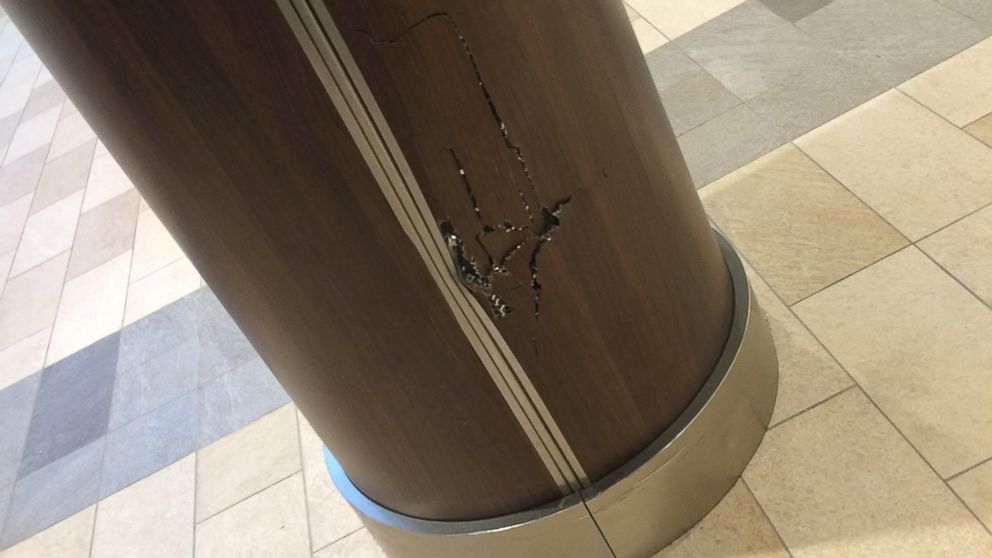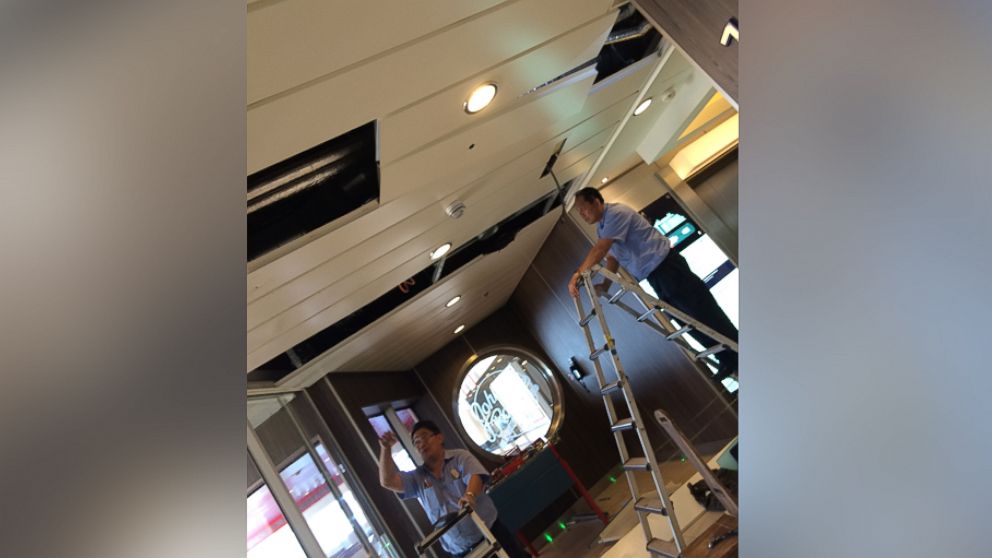 Anthem of the Seas originally left Cape Liberty, New Jersey, on Saturday for a seven-night cruise to the Bahamas. The 10-month-old ship has 2,090 staterooms and can hold over 4,000 guests. After the storm, Royal Caribbean announced that the ship would be heading to Port Canaveral, Florida. However, on Monday, the cruise line announced that the ship was turning around and is now headed back to port in New Jersey, where it's expected to arrive Wednesday night.
The captain addressed the change of plans in the Monday video, saying a low pressure system was expected to form off Florida's Atlantic coast near Jacksonville, Florida, fueled by the storm system in the ocean, and that could "be very, very strong, as well."
While the ship was safe, the captain said "there is no need" to "make guests and crew that have already been scared or been in fear ... to have that manifested again."
He also said Nassau -- one of the planned stops and where is said this new weather system might affect -- is "notorious" for strong winds.
Andersen said the "right thing to do" was "return to New York."
He said the ship handled the weather very well.
"I'm very pleased with the ship and its condition," he said. "Yes it was uncomfortable ... very scary for many."
"You are always, always on my mind," he said looking at the camera to the guests, explaining that the safety and comfort of guests, the crew and the ship is paramount.
A Royal Caribbean spokesperson told ABC News earlier today, "We are sensitive to the fact that our guests went through an uncomfortable ride."
"Every time one of our ships sets sail, our single focus is to give our guests a wonderful, outstanding vacation," the spokesperson said. "Clearly, due to the weather, we were unable to deliver the Royal Caribbean cruise vacation anticipated, and that we were looking forward to providing. The Anthem team maintained a safe environment, continued to deliver needed services, and did their best to reassure worried guests."
Royal Caribbean noted Monday that the ship's seaworthiness had not been affected in spite of the "extreme wind and sea conditions" which included "wind speeds higher than what was forecasted."
"We know it was tough day on Sunday and apologize for their discomfort," Royal Caribbean said in a statement Monday. "We also thank our captain and crew for guiding the ship safely back to better weather."
"Safety is our highest priority and ships are designed to withstand even more extreme circumstances than Anthem of the Seas encountered," the statement said.
The company said on Twitter that all guests were "safe and accounted for" and that all guests will receive a full refund and a future cruise certificate for 50 percent of the cruise fare paid.
The National Transportation Safety Board noted today that the incident "occurred in international waters and involved a Bahamian-flagged vessel, and we are actively engaged with our U.S. and international partners to determine what would be the best course of action, in accordance with established international protocols."
"In addition, we have received correspondence from Sen. Bill Nelson urging that the NTSB review this incident as part of its investigation into the El Faro accident," the NTSB added. "That investigation includes a weather group that is investigating TOTE Maritime's decision-making processes regarding vessel operations in hurricanes and other heavy weather occurrences. The Anthem of the Seas incident may provide us an additional opportunity to learn best practices that cruise line operators employ for operating in heavy weather."