— -- A couple from Seattle left all they had, nearly $1 million, "to the government of the United States of America" in their identical wills, the lawyer who administered the estate said.
A cashier's check for $847,215.57 was received and deposited into the U.S. Department of the Treasury's general funds on May 13, according to U.S. assistant attorney Peter Winn, who told ABC News today that he was the one who worked with the Treasury Department to accept the money on behalf of the government.
Though Peter Petrasek and Joan Petrasek never indicated why they wanted to donate all of their money to the U.S. government, Winn believes the money is a "thank you" to the country that took in the couple after they fled from Nazi-controlled eastern Europe in World War II.
"This case is interesting because it seems to be that these were two immigrants who felt grateful to have this adoptive country open its arms to them after having a hard time in eastern Europe during World War II," Winn said. "It really reminds you how this country was founded by immigrants, and it's pretty obvious these folks felt pretty proud they were U.S. citizens."
The entire process of fulfilling the Petrasek's wishes on their wills took a little more than three years. Peter Petrasek died on May 20, 2012, at 85, attorney Carrie Balkema told ABC News today, adding that his wife, Joan Petrasek, died of breast cancer in 1998.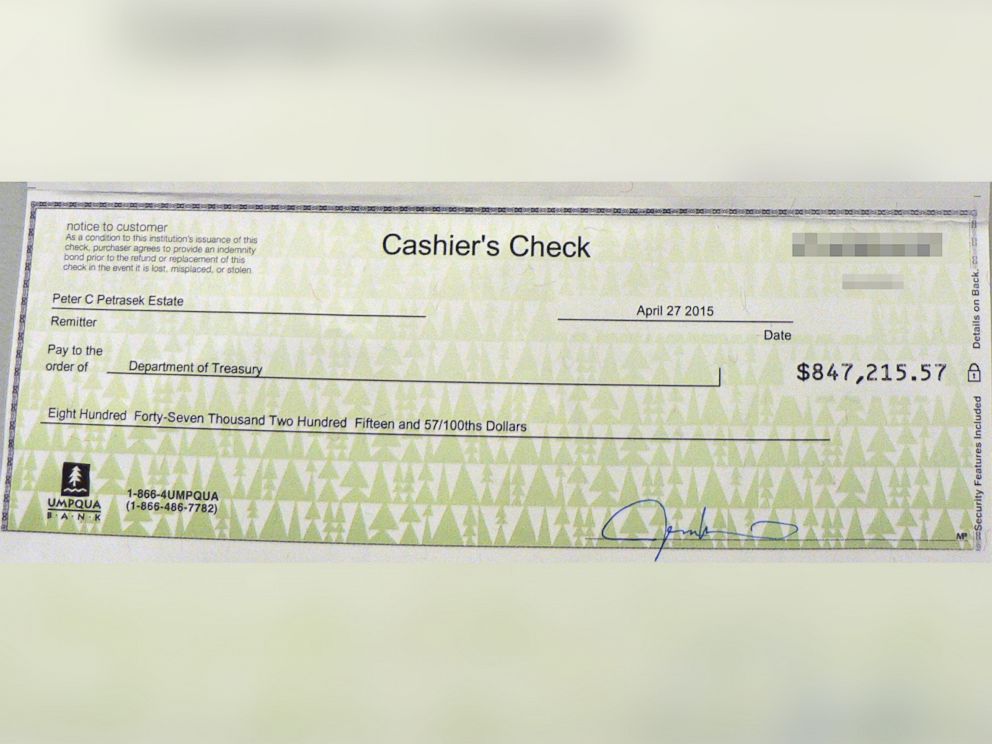 Balkema said she was contacted by the Peter Petrasek's next-door neighbor, Ronald Wright, shortly after Petrasek's death in 2013. Wright was assigned to be the will's executor because the couple had no living relatives or children, and Wright hired Balkema to help him, she said.
Wright did not immediately return ABC News' voicemails requesting additional comment.
Balkema said she helped sell the house, and proceeds of the sale became a part of the $847,215.57 check to the government. Other money came from the couple's existing bank accounts, which contained the money from the stocks Peter owned that he liquidated.
Though not much is known about the couple, Balkema said Peter Petrasek escaped to Ottawa, Canada, from Czechoslovakia, where he met his wife Joan, who was Irish, according to their neighbor.
At some point in the late 1950s, the couple moved to the United States, she said, adding that Peter Petrasek seemed to have lived a solitary life after the death of his wife.
She added that, from the looks of the house, he hadn't done any substantial housekeeping in quite some time.
"He was a quite frugal man," Balkema said. "He had jugs of recycled oil that he used to ... power his oil furnace."
In response to the couple's gift to the U.S., Balkema said she felt both "curious and kind of sad" because she believed Peter Petrasek felt he had no one else to receive his estate and money after realizing he had no known relatives left.