Family of victim in fatal Oregon stabbing involving hate speech say he died in 'act of bravery'
Two people were stabbed to death on a light-rail train in Portland on Friday.
— -- The family of one of the two men stabbed to death in Portland, Oregon, in an incident allegedly involving hate speech said the victim, 23-year-old Taliesin Myrddin Namkai-Meche, died in a "final act of bravery."
"We lost him in a senseless act that brought close to home the insidious rift of prejudice and intolerance that is too familiar, too common," the man's sister, Vajra, said in a statement Saturday. "In his final act of bravery, he held true to what he believed."
Namkai-Meche and the other man killed in the stabbing, 53-year-old Ricky John Best, were identified by the Portland Police Bureau on Saturday.
Best, of Happy Valley, Oregon, died at the scene and Namkai-Meche, of Southeast Portland died at a hospital. Another victim who was injured in the attack has been identified as 21-year-old Micah David-Cole Fletcher of Southeast Portland. Fletcher remains in a hospital where he's being treated for serious but non-life-threatening injuries, according to the Portland Police Bureau.
The mother of Namkai-Meche told ABC News her son was among those who tried to protect other commuters from the knife-wielding man. On Saturday, she posted a photo of her son on Facebook, calling him a "hero" and a "shining bright star."
Namkai-Meche's sister added in her statement, "We ask that in honor of his memory, we use this tragedy as an opportunity for reflection and change. We choose love."
The Oregon State Medical Examiner conducted autopsies on the deceased victims Saturday, but the results have not yet been released.
Police have arrested 35-year-old Jeremy Joseph Christian of North Portland in connection with the stabbings, which occurred after commuters on the train allegedly tried to calm the suspect who was yelling what authorities said "would best be characterized as hate speech."
Christian is being held without bail at the Multnomah County Jail on charges of aggravated murder, attempted murder, intimidation in the second degree and felon in possession of a restricted weapon. Christian, 35, will be arraigned Tuesday at the Multnomah County Court, according to the Portland Police Bureau.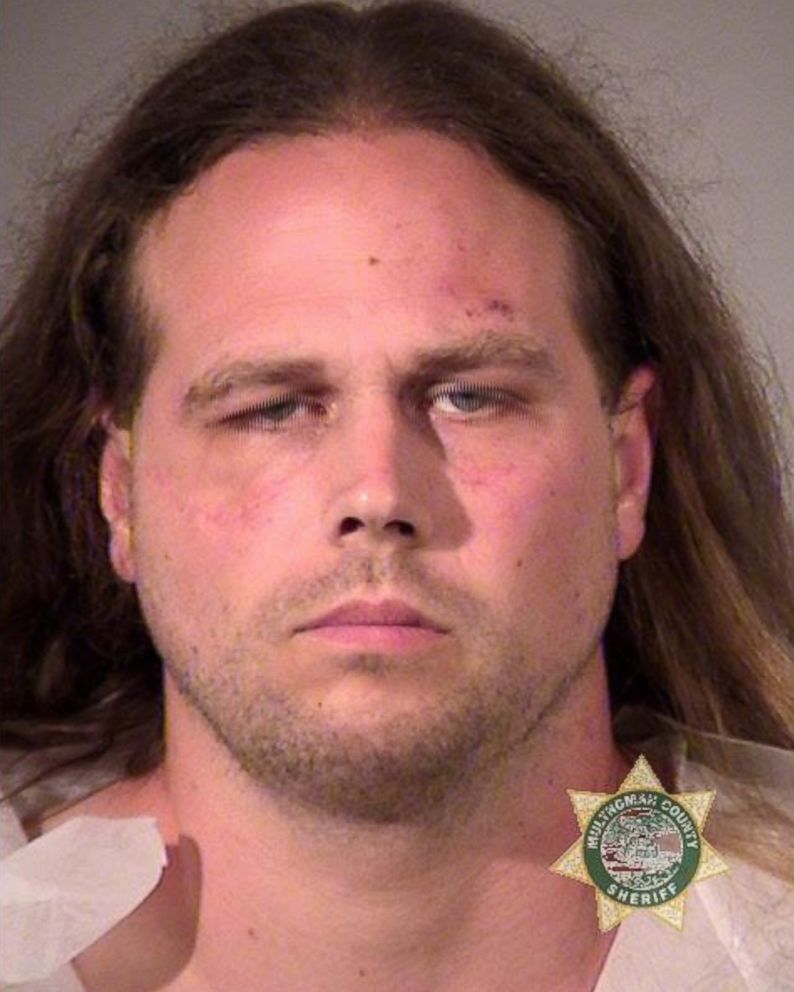 Police said the incident happened Friday afternoon, with multiple officers responding at 4:30 p.m. local time to a report of a disturbance on an eastbound light-rail train involving a man who had stabbed people. While en route to the scene, officers learned that the suspect had exited the train and was fleeing the area on foot toward a hospital, police said.
Upon arriving at the station where the train had stopped, officers found three stabbing victims and immediately began administering treatment on site until medical personnel arrived, police said.
Officers eventually located the suspect and placed him in custody. Christian received medical treatment and was put in the custody of homicide detectives, police said.
A preliminary investigation indicates that Christian was on the train "yelling various remarks that would best be characterized as hate speech toward a variety of ethnicity and religions," the Portland Police Bureau said in a statement.
At least two of the stabbing victims tried to intervene and calm him down. The suspect then attacked the men, stabbing three, before leaving the train, police said.
Police said witnesses described two young women, "possibly Muslim," who were on the train at the time but left before officers arrived on scene. One of the women was wearing a hijab, witnesses told police.
The young women have been identified and detectives have been in contact with them. Their names are not being released at this time, police said.
Namkai-Meche's aunt in a statement to ABC News affiliate KATU in Portland said, "Taliesin gave his life to protect two teenage girls who were being abused. I was on the phone when it happened and I heard the hate speech from a white supremacist. I told him to get off the phone with me and videotape what was happening so he could send it to police. I didn't mean for him to try to be a hero and get himself killed ... Taliesin was huge, just look at him, his soul didn't even fit in his body, so much love. Stop the hate, that is the message, stop the hate."
Portland police detectives are continuing to investigate the circumstances leading to the stabbings.
"As part of that investigation, detectives will extensively examine the background of the suspect, Jeremy Christian, including the information publicly available about the suspect's extremist ideology," the Portland Police Bureau said in a statement Saturday. "A review of the suspect's record with the Portland Police Bureau shows he is not flagged as a criminal gang member, nor does he have any known mental health history listed."
The FBI released a statement Friday night saying it was aware of the stabbings in Portland and that it's offering any resource that may assist local police in their investigation.
"We will certainly be looking at the facts and evidence as the investigation unfolds to determine whether there is any potential federal violation," the FBI said in its statement. "At the core of the FBI's mission is the belief that every person has the right to live, work and worship in this country without fear. Hate and bigotry have no place in our community, and we will not allow violence in the name of hate to go unanswered."
ABC News' Olga Delauz, Shelby Kimball, Jonah Lustig, Alyssa Pone and Brendan Rand contributed to this report.