Starbucks closes 8,000 stores to give employees classes in rooting out racial bias
More than 170,000 Starbucks employees underwent racial bias training.
For four hours today, more than 175,000 Starbucks employees set aside the Frappuccinos and espresso machines to learn how to avoid the kind of racial bias that many say led to the arrests of two African-American men for occupying a table without making a purchase.
Starbucks' top officials called last month's arrests of Rashon Nelson and Donte Robinson at a downtown Philadelphia store "reprehensible," apologized to them and vowed to turn their ordeal into a learning experience for all its employees.
In an open letter to Starbucks customers released today, the coffee giant's executive chairman Howard Schultz called the training the beginning of a "new chapter in our history."
In an interview with ABC News today, Kevin Johnson, Starbucks' chief executive officer, said the training was just "one step in a journey" to help the company weave an anti-bias mindset "into the fabric of how we operate." He said the primary goal is to ensure a "warm, welcoming environment" to everyone who visits a Starbucks.
"In our incident here in Philadelphia, we did not deliver on that experience and that was a wake-up call for us knowing that we can do more," Johnson told ABC News. "And so by reviewing every aspect of how that could have ever happened in a Starbucks and putting together a set of actions will make us a better company."
He said the training is one of many steps Starbucks will take over the next year to root out implicit bias from the workplace. He said the training will be part of the onboarding process for new employees.
"We consider this a foundational step but a very important step in our journey going forward," said Johnson, adding that the company is planning other employee events over the next year to drive home the point that racial discrimination has no place at Starbucks.
Schultz said the incident involving Nelson and Robinson, both 23 and entrepreneurs who were at the Philadelphia Starbucks for a business meeting when they were arrested, "prompted us to reflect more deeply on all forms of bias, the role of our stores in communities and our responsibility to ensure that nothing like this happens again at Starbucks."
More than 8,000 company-owned stores across the nation began closing at 11:30 a.m. Eastern time for the four hours of training. Other stores closed at 1 or 2 p.m. for training.
But not all Starbucks locations were closing. About 7,000 licensed Starbucks stores found in hotels, airports, college campuses, commercial buildings and grocery stores had the option to remain open.
Starbucks corporate officials said they will share the racial-bias curriculum with the licensed stores and other businesses.
Starbucks' kiosks in all Target stores stayed open today, for instance, the discount store retailer said in a statement released on its corporate website.
"We introduced the first of our unconscious bias trainings in 2017, which are rolling out now to our ... teams across our company," Target's statement reads. "Additionally, we're continuing to make it a part of all of our company's learning and development plans, including the ones we use whenever new team members come on board."
During Starbucks' training today, Schultz said, employees would "be sharing life experiences, hearing from others, listening to experts, reflecting on the realities of bias in our society and talking about how all of us create public spaces where everyone feels like they belong -- because they do."
Employees would also watch a video guiding them through the lesson and partly narrated by Academy Award-winning rapper Common.
"Starbucks was just a microcosm of how black people have been dehumanized and I wanted to be a part of that conversation," Common said today on ABC News' "Good Morning America."
Since the arrests of Nelson and Robinson, African-Americans have endured similar incidents at other retail chains across the country.
Earlier this month, police were called on three black teens wrongly accused of shoplifting at a Nordstrom Rack in St. Louis, Missouri, prompting the company's President Geevy Thomas to meet with the three young men and their parents and apologize. In another incident this month, police were called on an African-American customer at a Hobby Lobby store near Birmingham, Alabama, because he vaguely resembled a suspect in a check-cashing scheme.
Common said it's important to "have a black man standing up and saying what we need."
"His [Schultz's] heart is in the right place but it has to be more than just the conversation; which I think the conversation today is a step but, for me as a black man, we want to see action and want to see you going to the communities and … team up with people who are doing things in the community and figure out from these communities how can you really serve them," Common said. "We've got to hold Starbucks accountable and we hold our political officials accountable, any businesses that we support and we hold ourselves accountable. So that's why I'm a part of this conversation."
Nelson and Robinson were waiting to meet a potential business partner at a Starbucks in downtown Philadelphia April 12 when a white manager asked them whether they wanted to order anything. They declined and told her they were just there for a quick meeting.
Nelson immediately asked to use the restroom when they walked in, he said, but was informed it was for paying customers only. So they sat at a table and waited for the person with whom they were scheduled to meet.
Within two minutes after entering the store, the manager called 911 and police officers arrested the men for trespassing and walked them out of the store in handcuffs when they refused requests to leave.
A customer posted a cellphone video on Twitter of the men being arrested, sparking national outrage, protests at the Philadelphia Starbucks and calls for a boycott against the company.
Within 24 hours, Johnson, Starbucks' CEO, called the incident "reprehensible" and apologized to the men. Philadelphia Police Commissioner Richard Ross also issued a public apology and all charges against the men were dropped.
"The situation was reprehensible and does not represent our company's mission and enduring values," Schultz said in his open letter this morning. "After investigating what happened, we determined that insufficient support and training, a company policy that defined customers as paying patrons -- versus anyone who enters a store -- and bias led to the decision to call the police."
Since the incident, Starbucks has instituted a "Third Place" policy in which customers are "welcome to use Starbucks spaces, including our restrooms, cafes and patios, regardless of whether they make a purchase."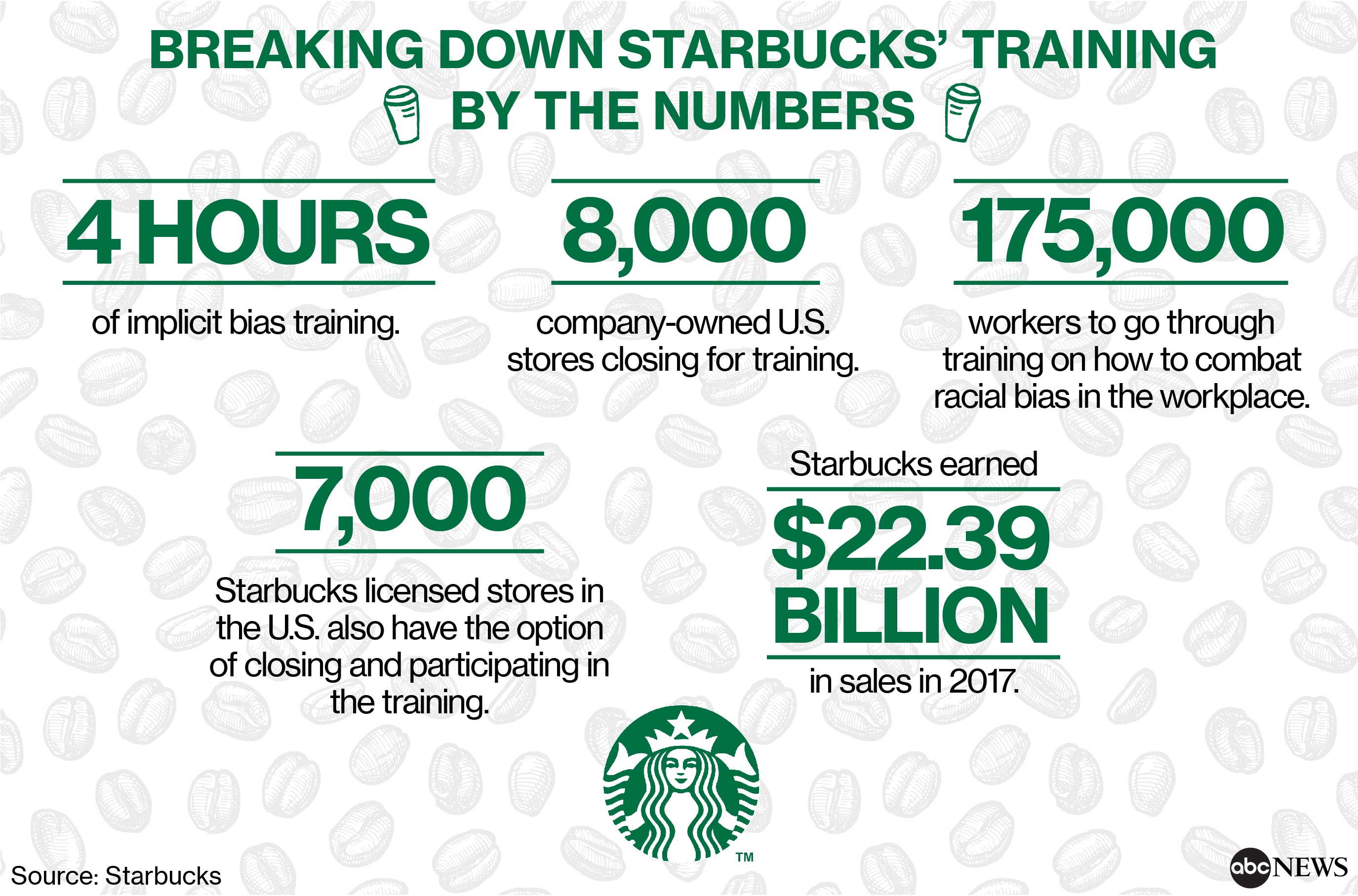 "You know, these are hard issues when you begin a dialogue around race and racial bias," Johnson said. "There are tough issues but we're approaching it in a serious, thoughtful way with a lot of help from our outside advisers. And we think this is going to make a meaningful difference in who we are as a company and how we show up in the future."
Johnson told ABC News that more than 30 experts helped the company develop its training curriculum, including Sherrilyn Ifill, president of the NAACP Legal Defense and Education Fund; Bryan Stevenson, executive director of the Equal Justice Initiative; and Heather McGhee, president of the public policy organization Demos.
Johnson went through the training last week with other members of Starbucks leadership.
He said that the Starbucks stands to lose "tens of millions of dollars" by shutting down its stores for the afternoon, but said it was a necessary "investment in our future."
"I think it's too easy for people to sit on the sidelines and pontificate and hand judge," Johnson said. "But you have to get involved personally and that what this incident did for me as being here on the ground in Philadelphia for a number of days and talking to every single individual that this impacted understanding their experience."