A Northern California woman raped and murdered an 8-year-old girl and stuffed her body in a suitcase that was dumped in an irrigation pond, prosecutors claimed today.
San Joaquin County, Calif., prosecutors filed murder charges today against Melissa Huckaby, 28, in the death of Sandra Cantu, Huckaby's neighbor in the Orchard Estates Mobile Home Park.
With her family and Cantu's family looking on, Huckaby, a volunteer Sunday school teacher, cried at her arraignment as the judge read the charge against her: murder with the special circumstances of rape with a foreign object, lewd or lascivious conduct with a child under 14 and murder in the course of a kidnapping.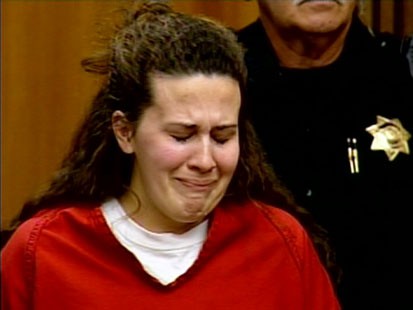 She reacted the most strongly when the rape allegation was read, closing her eyes and choking back a sob. After the brief hearing, Huckaby was taken back to the San Joaquin County jail, where she remains on suicide watch.
She was scheduled to return to court April 24, when she is expected to enter a formal plea.
The special circumstances mean that Huckaby, if convicted, could face the death penalty or life in prison without the possibility of parole. Prosecutors have reportedly said they have not decided whether they will ask for the death penalty.
Huckaby's attorney requested a gag order in the case, which will be considered at the April 24 hearing.
Tracy police Sgt. Tony Sheneman said search warrants were served today and items were removed from the Clove Road Baptist Church, where Huckaby volunteered as a Sunday school teacher, and also from the mobile home of Huckaby's grandparents,Clove Road Baptist Church Pastor Lane and Connie Lawless, where Huckaby was staying.
He said he could not reveal any other details about the searches.
Suspect's Father 'Shocked' at Molestation, Murder Charges
After today's hearing, both families were led out of the courtroom separately. When Huckaby's father, Brian Lawless, was asked if he thought his daughter was innocent, he replied, "yes" and said he was "shocked" at the charges.
Sandra's family left shortly afterwards and declined to comment.
Sandra disappeared March 27, and after a massive search, her body was found April 6 stuffed inside a suitcase floating in an irrigation pond a few miles from her home.
Huckaby was arrested last week.
So far, police have not said how or why they think Sandra was killed.
Huckaby's family described the granddaughter of the local pastor as a devoted mother to her 5-year-old daughter who had a wonderful singing voice.
But Lawless said earlier in the week that his daughter had often struggled with raising a child on her own and had sometimes suffered from bouts of depression.
She'd also been in trouble with the law. When, after six hours of questioning, she was arrested Friday night on kidnapping and murder charges she was on probation for theft.
"I have no doubt in mind she knows right from wrong," her grandfather, Lane Lawless, said. "At least I thought she did. Maybe I'm mistaken."
Police said that when Sandra was captured on a surveillance camera, happily skipping down the street, she was on her way to play at Huckaby's home.
Police say they believe the girl was killed shortly after she was seen on the surveillance camera.
Police apparently began to narrow in on Huckaby early last week when investigators from Tracy and the FBI began searching the Clover Road Baptist Church. Huckaby had made comments to the local media about her suitcase having been stolen and, later, that she had found a note after Sandra disappeared, apparently from the killer
Huckaby's Arrest a Surprise
The grief and fears of this small, tight Northern California town of about 78,000 people, which sits about 60 miles east of San Francisco, are now laced with anger at the neighbor the Tracy residents thought they knew, who now stands accused of taking young Sandra's life.
"I hope she rots for this," Amber Austin, a Tracy resident, said last week. "You have no right to take an innocent child's life."
John Hughes Jr., Huckaby's uncle who lives in Whittier, Calif., told The Associated Press that his niece was "from a good home but had hit a rough patch in her life and had moved in with her grandparents in Tracy."
He described Huckaby, who grew up in California's Orange County, as the oldest of nine grandchildren, and said she often played "mother hen" to the younger children at family get-togethers.
Married and divorced with a young daughter, Huckaby's uncle said she had difficulty finding and keeping a job.
"She's had her struggles," Hughes told the AP, but there's no way [her grandparents] or anybody would be fearful that anything this horrifying could possible come from that."
ABC News' Katy Leaver in San Francisco, ABC News Radio, Michael S. James and The Associated Press contributed to this report.