Florida school shooting: 19-year-old accused of killing 17 is a 'broken child,' lawyer says
Seventeen people were killed in the Wednesday shooting.
February 15, 2018, 4:55 PM
— -- A day after the Valentine's Day massacre at a Florida high school left 17 people dead, the suspect's public defender called the accused gunman a "broken child."
Public defender Melisa McNeill appeared with the school shooting suspect, 19-year-old Nikolas Cruz, at a brief court appearance today.
"My children they go to school in this community and I feel horrible for these families," McNeill said, adding, "and Mr. Cruz feels that pain."
Students, parents and faculty at the Marjory Stoneman Douglas High School in Parkland are struggling to fathom why the former student allegedly opened fire there Wednesday as law enforcement officials searched for clues and the school district denied suggestions that it had been warned.
Besides the 17 killed, more than a dozen others were injured, some critically, after the suspect stormed the school.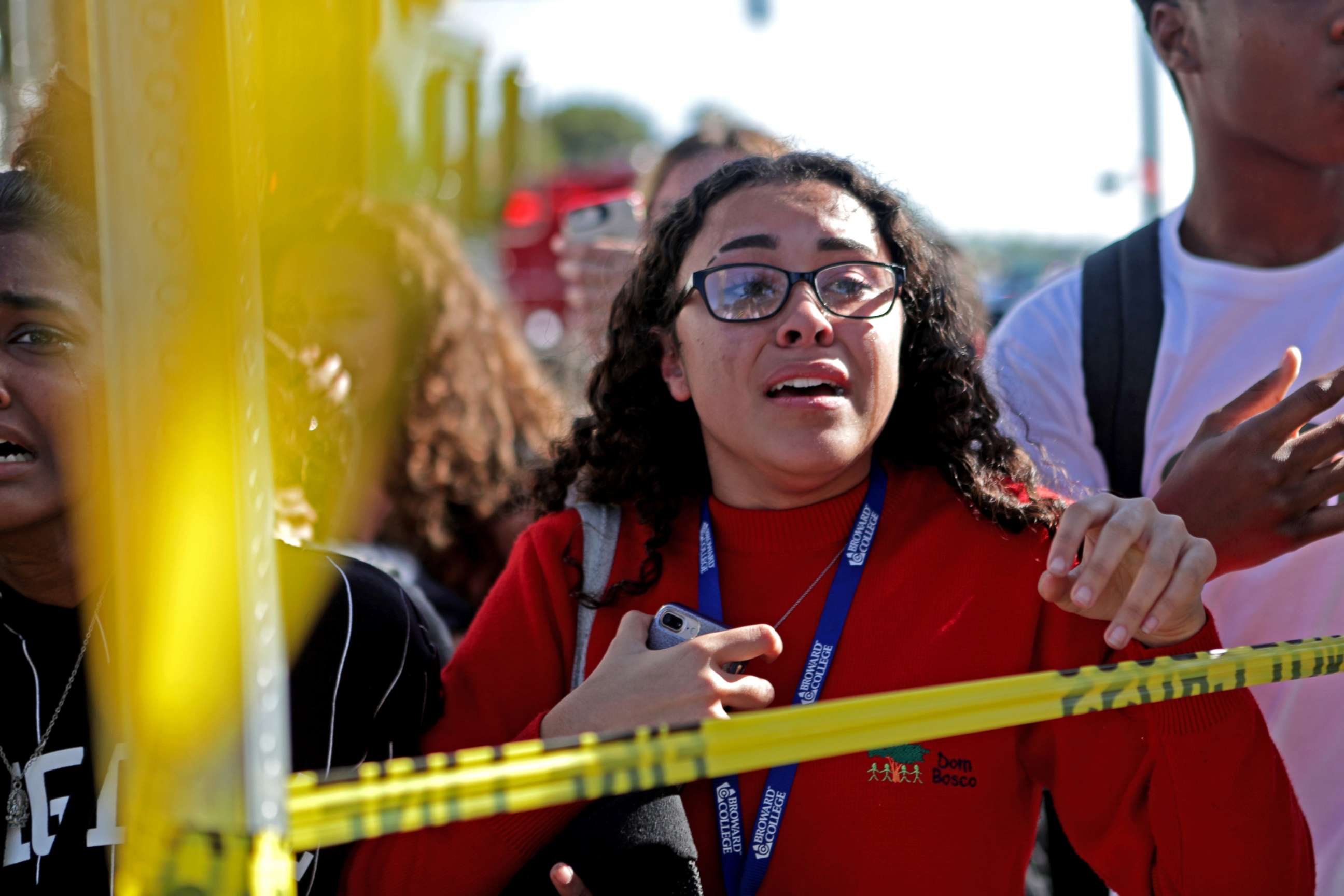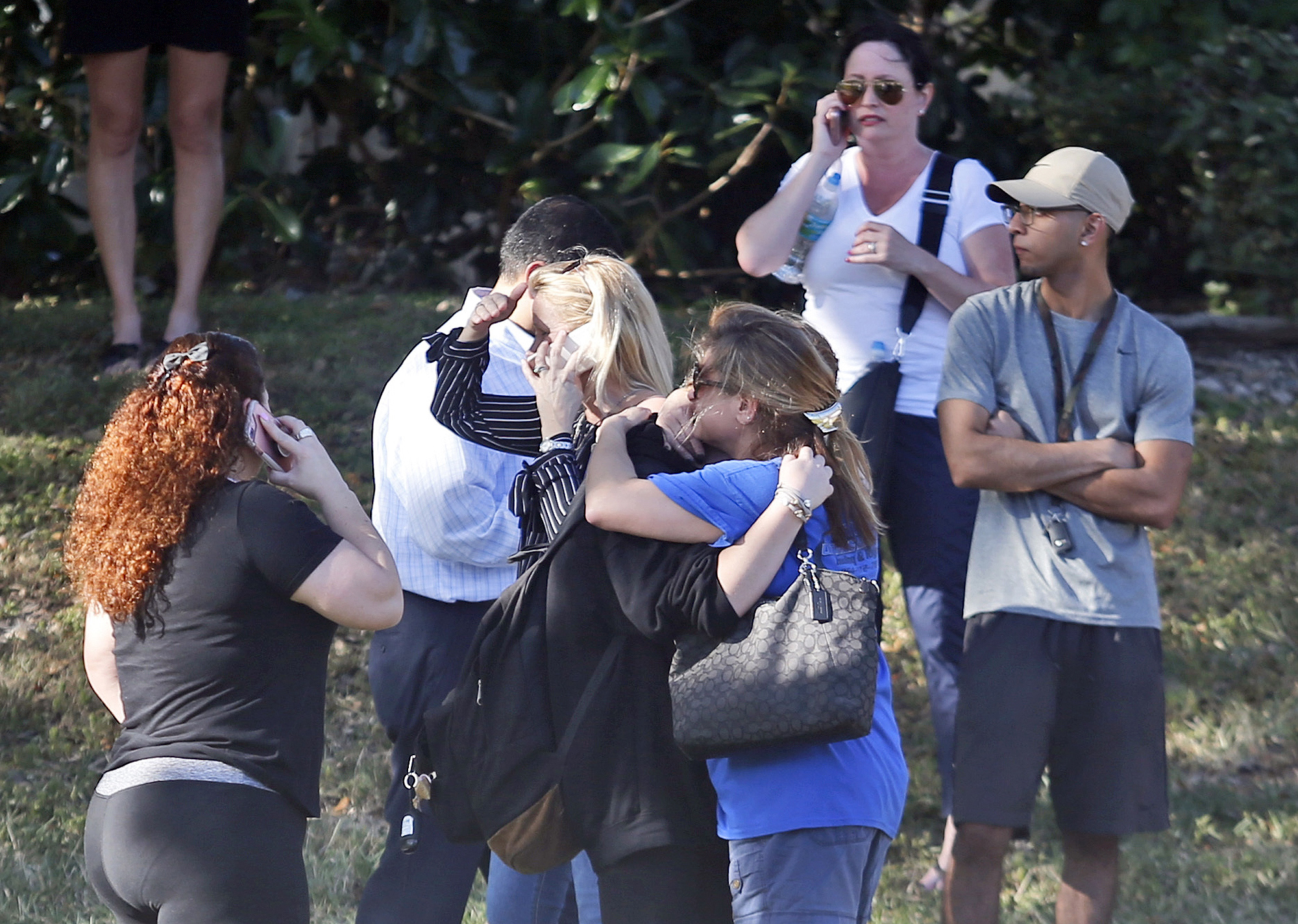 Cruz -- who took an Uber to the school on Valentine's Day, according to Broward Schools Superintendent Robert Runcie -- slipped away from the campus by blending in with other students who were trying to escape, police said. He was later apprehended.
Cruz was spotted by a school employee outside of the school before the shooting, as Cruz pulled into the school and got out of the car, according to a probable cause affidavit from the Broward County Sheriff's Office. The employee immediately contacted a co-worker over the radio to alert him that Cruz, who was recognized as a troubled former student, was walking "purposefully" toward the building.
Within a minute, the employee heard gunshots and called in a "code red," the affidavit states.
After Cruz was apprehended and read his Miranda rights, he allegedly stated to authorities that he was the gunman who entered the school with an AR-15-style rifle and began shooting students that he saw in the hallways and on school grounds, according to the affidavit. He also allegedly stated that he brought additional loaded magazines to campus and kept them hidden in a backpack until he got there and began the attack, the affidavit states.
Cruz allegedly told authorities that as students began to flee, he decided to discard the weapon and vest with additional magazines so he could blend into the crowd, the affidavit states.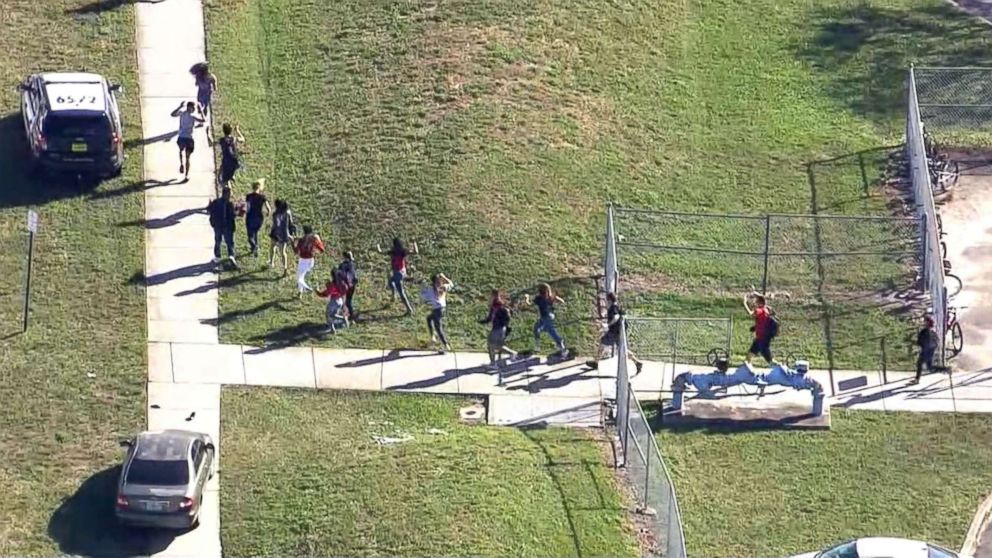 As part of the investigation, authorities are focusing some attention on a McDonald's near the high school. Cruz went to the restaurant either just before or just after the shooting and met or spoke with someone, two sources told ABC News, citing preliminary information. The person's connection to Cruz, if any, is unknown.
Authorities have not suggested the suspect had any accomplices. The sheriff did say during a briefing that investigators are questioning every person who might have some information that could help them piece together what occurred at the high school and why.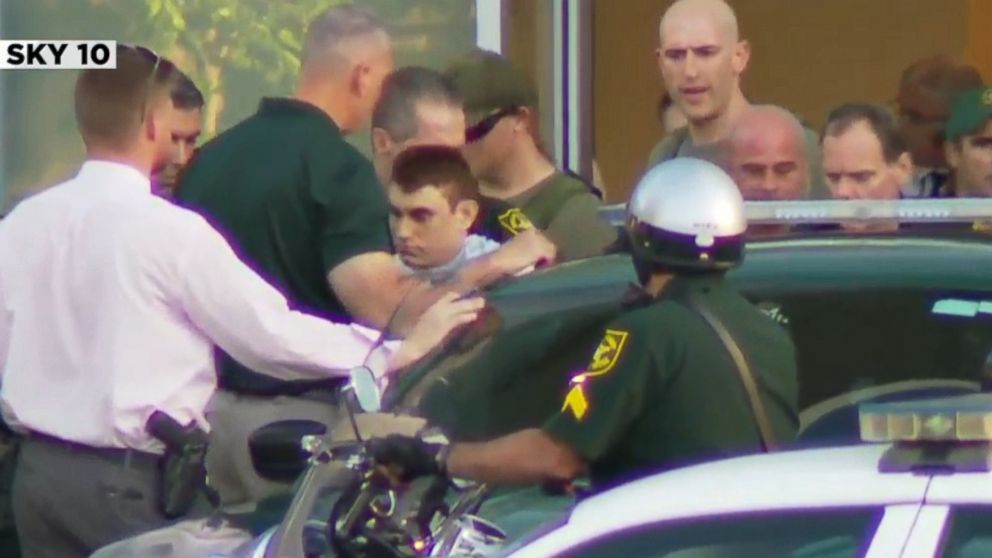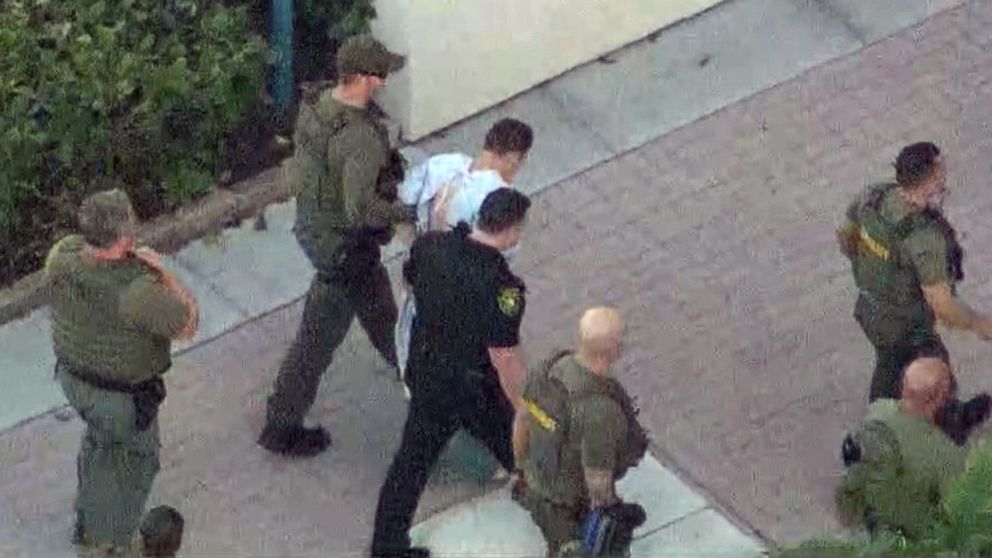 Cruz was a former student who had been expelled from Marjory Stoneman over disciplinary problems. He had been barred from carrying a backpack on campus before the expulsion, according to law enforcement sources.
The FBI said it received a threat last year of a potential shooter based on YouTube comments, including, "I'm going to be a professional school shooter," but couldn't track down the source.
"No other information was included with that comment which would indicate a time, location or the true identity of the person who made the comment," Robert Lasky, special agent in charge of the FBI Miami Division, said at a news conference today.
The FBI conducted database reviews but was unable to "identify the person who made the comment," he added.
The agency has not confirmed a link to Wednesday's shooting, but the post has the same name as the school shooting suspect.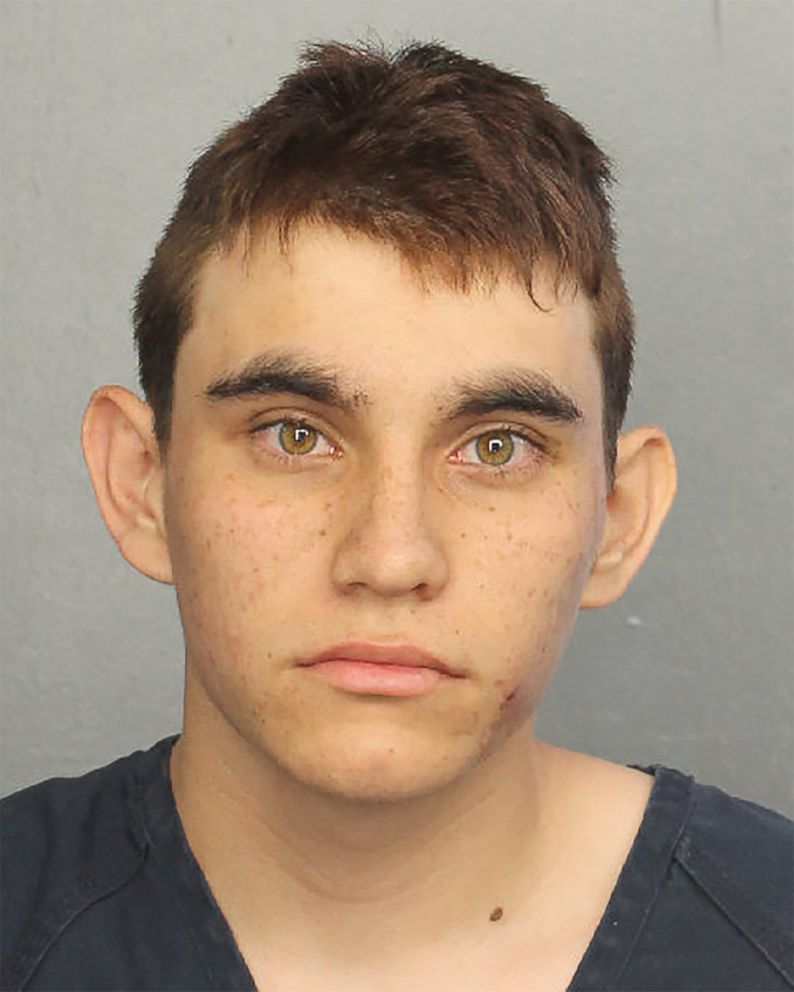 The FBI is conducting a review of how last year's tip was handled and what lessons it can learn, an FBI official told ABC News.
The school had "received no warning, no hints, no tips" about the suspected shooter, Runcie, the superintendent, told ABC Miami affiliate WPLG-TV.
Suspect Cruz had an AR-15-style rifle that he legally purchased in the past year from a federally licensed dealer, two law enforcement sources told ABC News.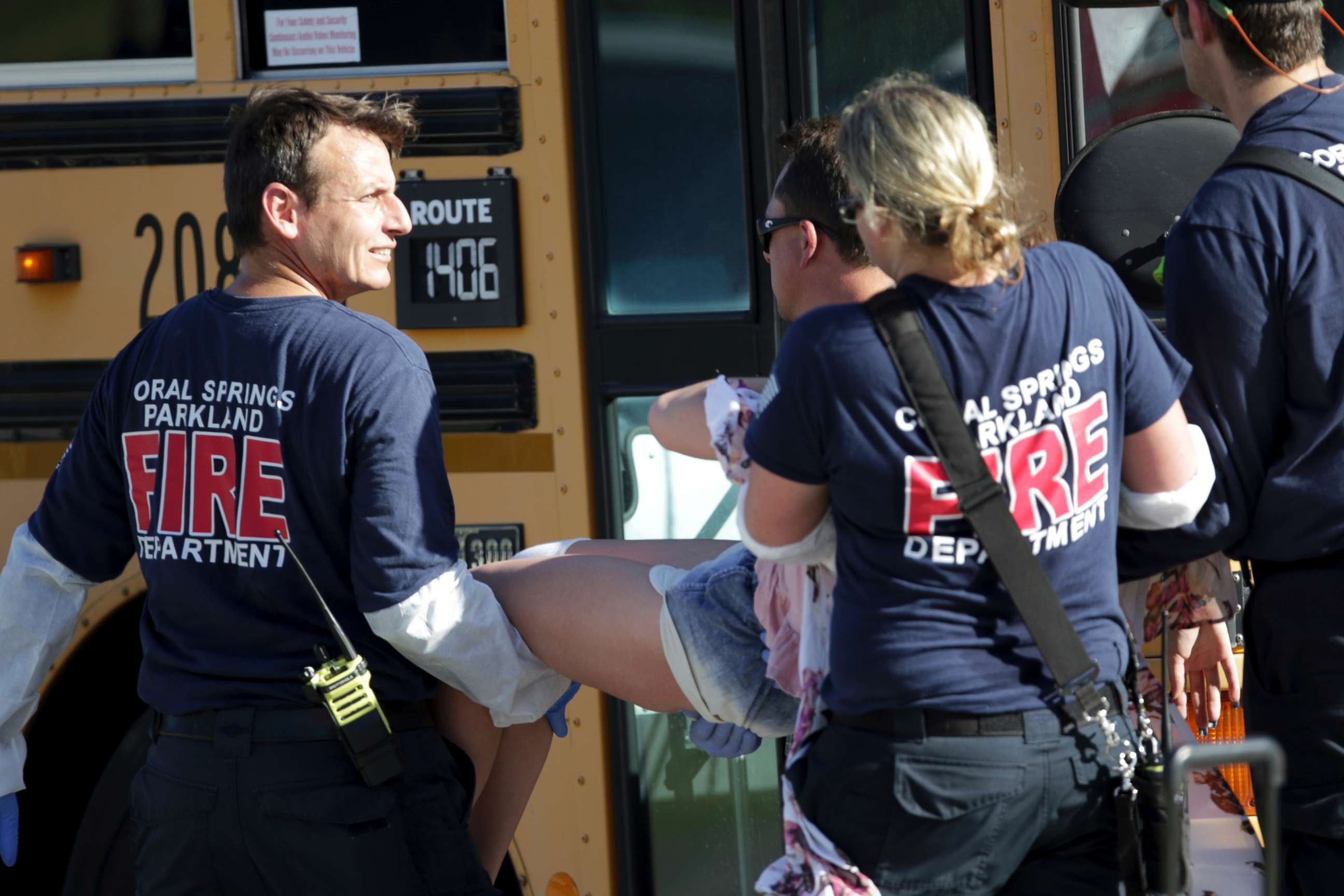 Brody Speno, a neighbor who spent nearly a decade living a few doors down from Cruz, told ABC News that the suspected shooter was "aggressive, crazy weird, psycho."
Speno said he remembers one day when Cruz suddenly "cornered a squirrel and was pegging it with rocks trying to kill it."
Another neighbor, Malcolm Roxburgh, said Cruz would attack pets.
He called Cruz a "strange character" who always stood out from other teenagers in the neighborhood.
Roxburgh's most vivid memory of Cruz is his roaming the streets. Even in South Florida's sweltering heat, Roxburgh said, Cruz occasionally walked around in a camouflage jacket.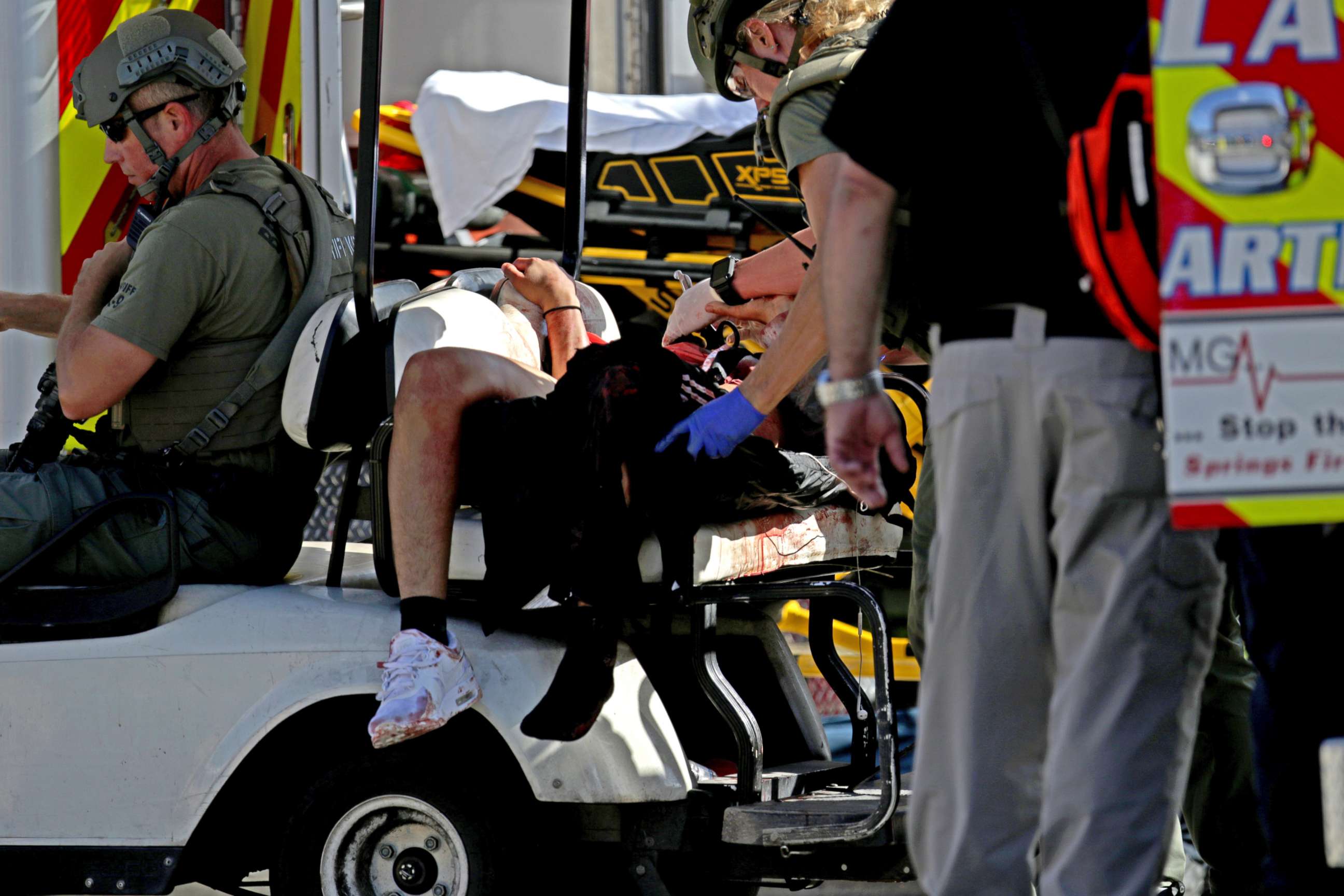 Since Wednesday's shooting, "copycat" threats were made at other schools, Broward Sheriff Scott Israel said at today's news conference.
"We will respond to every threat. Every threat we receive, we will not classify it as a copycat or prank call," Israel said at a news conference. "We will respond in full and investigate it."
But "any call that is made fictitiously, any fake call, any call that is made to take out resources at a time like this and place them in places where we don't need to be, we will do the full power of the sheriff's office. We'll investigate this and charge anyone accordingly with the maximum charge we possibly could for doing something so horrific, so pathetic."
One false alarm at a nearby school this morning was unfounded, the sheriff's office said, but while at the school, "a deputy accidentally discharged his gun and injured his leg."
Among the 17 dead in the Valentine's Day shooting was school football coach and Marjory Stoneman Douglas High School graduate Aaron Feis, according to the sheriff.
A former high school classmate called Feis a "hero."
Teacher Scott Biegel died while saving others, according to student Kelsey Friend.
Biegel unlocked a classroom door and allowed students to enter, Friend told "Good Morning America."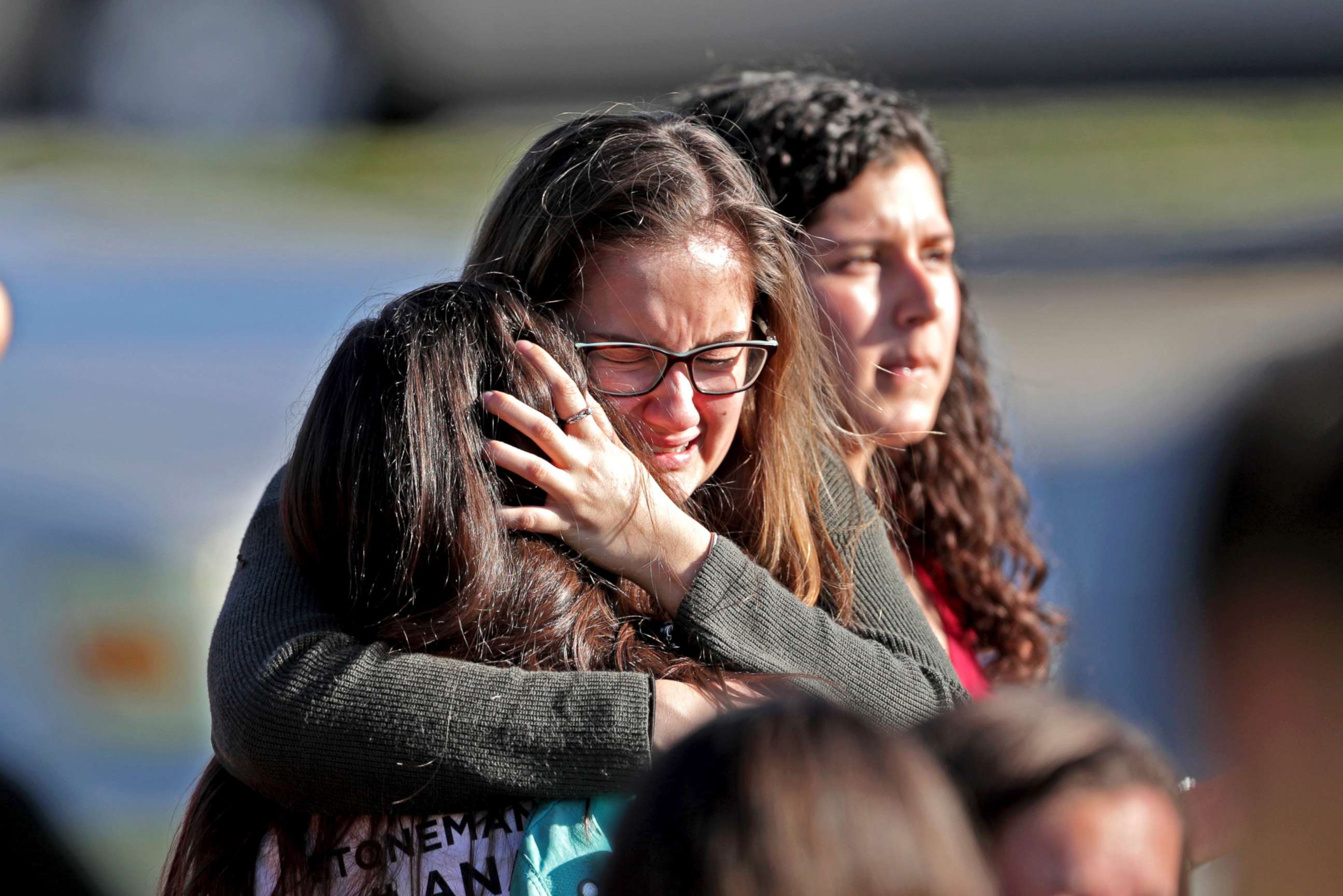 "I had thought he was behind me ... but he wasn't," Friend said, crying.
"When he opened the door, he had to re-lock it so we can stay safe. And he didn't get the chance to," Friend said, noting that her teacher was lying on the floor.
Among the parents left mourning is Fred Guttenberg.
His heart is broken after losing his daughter, Jamie Guttenberg, in the shooting, he wrote on Facebook.
"I am broken as I write this trying to figure out how my family gets through this," he wrote. "Hugs to all and hold your children tight."
President Donald Trump said from the White House today, "Our entire nation with one heavy heart is praying for the victims and their families. To every parent, teacher and child who is hurting so badly, we are here for you, whatever you need, whatever we can do to ease your pain. We are all joined together as one American family. And your suffering is our burden, also."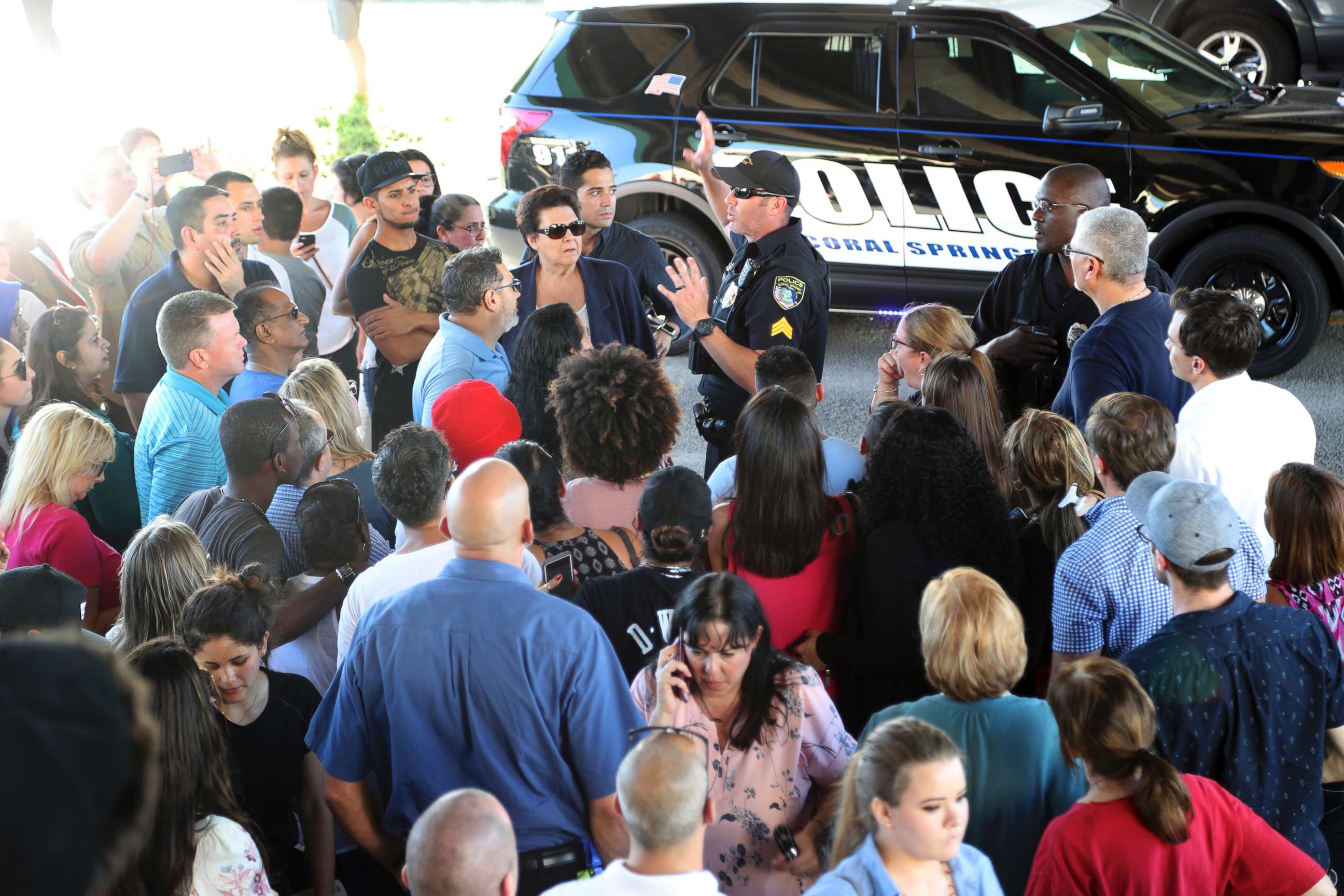 "No parent should ever have to fear for their sons and daughters when they kiss them goodbye in the morning," he said. "Each person who was stolen from us yesterday had a full life ahead of them. A life filled with wondrous beauty and unlimited potential and promise. Each one had dreams to pursue, love to give and talents to share with the world."
In a proclamation, Trump ordered all flags to fly at half-staff "as a mark of solemn respect for the victims of the terrible act."
Cruz was booked into the Broward County Jail for 17 counts of pre-meditated murder. He has been answering investigators' questions, two law enforcement sources told ABC News. He briefly appeared in court this afternoon and was held on no bond.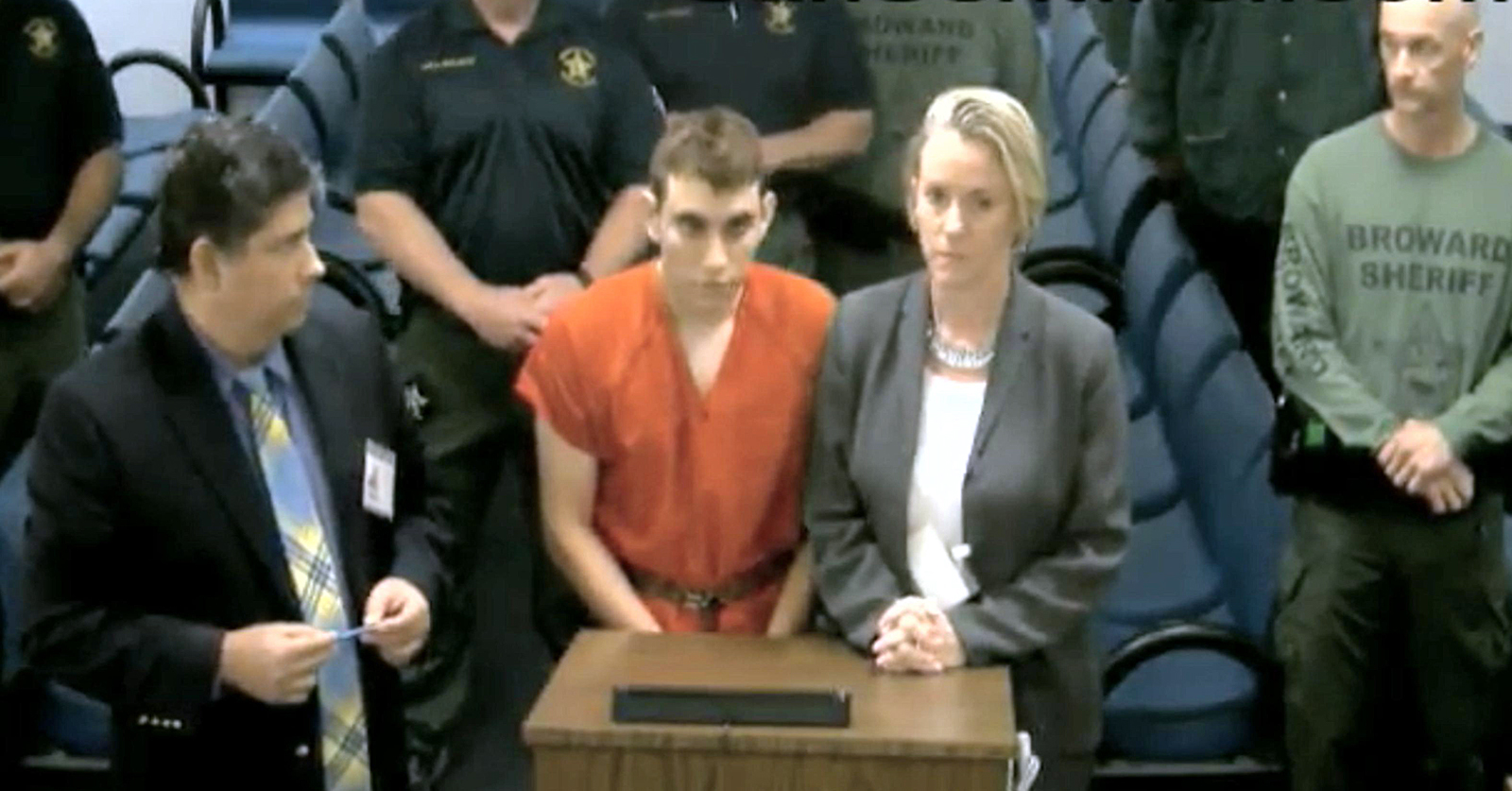 ABC News' Jack Date, Josh Margolin, Rachel Katz, Matt Foster, Ben Stein and Dominick Proto contributed to this report.