Supporters urge officials to exonerate Christina Boyer, 'poltergeist girl' convicted of killing 3-year-old daughter
The life of a media sensation-turned-alleged killer is explored in new series.
As a teenager in the mid-1980s, Christina Boyer became a media sensation after she and her family claimed she possessed the ability to move objects with her mind. She returned to the headlines in 1992 when she was charged with the murder of her 3-year-old daughter, Amber.
Facing the death penalty, Boyer took an Alford plea, pleading guilty while maintaining her innocence, and was sentenced to life plus 20 years in prison with the possibility of parole.
But at the heart of the case remains a perplexing question: How could Boyer be guilty of murder when, according to evidence, she wasn't home at the time of Amber's death or in the hours leading up to it?
"Demons and Saviors," a new three-part series from ABC News Studios and Latchkey Films, explores Boyer's childhood and efforts to exonerate her by a group of steadfast supporters who are convinced she's innocent and calling on officials to revisit the case. Meanwhile, authorities involved in investigating and prosecuting the case argue that Boyer is a master manipulator who is right where she belongs.
Boyer, speaking via phone from Georgia's Pulaski State Prison, says she was 14 years old when seemingly unexplainable events started happening at her home in Columbus, Ohio, such as: an alarm clock going haywire, the TV playing after it was unplugged, lights turning on and off and objects flying across the room.
Then known as Tina Resch, her parents, John and Joan Resch, were religious and believed these incidents were caused by some sort of demonic spirit that had possessed their daughter, so they called in a priest to perform an exorcism.
"They had their hands on my head and they were doing all kinds of praying. And while they were doing that, things in the kitchen were going haywire and basically that they just felt like whatever they were doing, it was not enough," Boyer said.
Joan Resch then called the local paper, The Columbus Dispatch, who sent photojournalist Fred Shannon to try and document the mysterious phenomena. Shannon shot a now-infamous photo purporting to show Boyer sitting in an armchair with a telephone on the end of a phone cord flying across her lap.
The news coverage brought Boyer newfound notoriety, attracting both paranormal investigators fascinated by the case and skeptics determined to debunk the phenomenon.
"Everybody wanted to see what was going on. It was like 'Showtime at the Apollo,'" Boyer said, referring to the hit variety television show.
Meanwhile, Boyer alleges she was being abused at home. After a shocking "caught on camera" moment put her powers into question, Boyer ran away from home and soon entered into what she referred to as an abusive marriage. A few years later, she started a new life in the small, Bible Belt town of Carrollton, Georgia, with her daughter Amber.
She chose Carrollton because residing there were Bill Roll and Jeannie Lagle, two psychologists who had previously studied her purported abilities. Lagle and Boyer began writing a book together about Boyer's experiences. Boyer started dating David Herrin, a local man who Boyer says was "straight-laced and mild-mannered" compared to her other relationships. By all accounts, things seemed to be looking up for Boyer – until April 14, 1992, when Boyer says she came home from Lagle's house and found Amber, 3, unresponsive.
Boyer had left Amber in Herrin's care for several hours – a claim corroborated by Lagle, Boyer's alibi witness, and Herrin himself.
The medical examiner characterized Amber's injuries as a clear case of child abuse that occurred over the course of several days and found the girl most likely died of a fatal blow to the head during a time period that Boyer, according to her alibi, wasn't home.
"When you looked at her with all the bruising, it was kind of obvious the child's been severely, physically abused," retired Carrollton police detective Mike Bradley said.
Boyer and Herrin were both arrested for the murder of Amber, and each of them blamed the other for the girl's injuries. Amber did have previous injuries, according to the medical examiner – some of them older and others fresher from several days before.
Herrin claimed that on April 10, Amber got a knot on her forehead after tripping on a sidewalk curb. The next day, Herrin also reported that Amber fell down the front porch steps and she landed face first in the gravel.
"He told me that he had gone to sleep in the lazy boy chair in the living room. He obviously didn't think about locking the screen door. And she got out and fell down the stairs," Boyer said.
"I did see a goose egg, what we call a goose egg knot, on her forehead. So I was concerned, of course. And I know that the only thing you can do is to just observe them and I saw Amber coloring. I thought that was a very good sign she wasn't showing any effects. I consider that Amber was on my watch and I have gone over and over and over what happened," Lagle said.
On the morning of April 14, Boyer said she planned to leave around noon to go to Lagle's to "work on some typing."
"When I asked [Amber] about going with me, she had grabbed a book and climbed up in [Herrin's] lap," Boyer said.
Former District Attorney Peter Skandalakis says in "Demons and Saviors" that, if the case had gone to trial, there were witnesses who would have testified they had previously seen Boyer be physically abusive toward her daughter.
Boyer's case also attracted local media attention in the deeply religious town and news accounts revealed details about her past.
"On the front page of the newspaper, it says not only child murderer, but psychic child murderer. After those newspaper headlines came out, I don't believe there was anybody left in town that didn't believe she did it, because she was the witch, she was the paranormal," Lagle said.
Rather than face trial and the possibility of a death sentence, Boyer agreed to a plea bargain negotiated by her attorney and the prosecutors. At Herrin's trial, he was acquitted of murder and convicted of cruelty to children. He served 12 years of his 20-year sentence and was released on parole in 2011.
Now, after decades behind bars, Boyer has found hope in an eclectic group of amateur sleuths who refer to themselves as "Team Tina." Leading these efforts are three former Georgetown University students who began taking a closer look at Boyer's case as part of a course called "Making an Exoneree" in the spring of 2019. "Team Tina" has pored over case files to try and uncover new details that could prove her innocence. Boyer's supporters focus on the fatal blow rather than the alleged pattern of abuse, saying Boyer can't be guilty of murder when she wasn't there when the fatal blow occurred.
"I'm more hopeful now actually, because there's so many more people all around that are involved. I sat here for years with very few people really knowing what had happened and caring. So I have more hope now that if there's anything that can be done, somebody will find it," Boyer said.
"Team Tina" faces firm opposition from the people who put her away, including Bradley, and fellow retired Carrollton police detective Mike Thomas.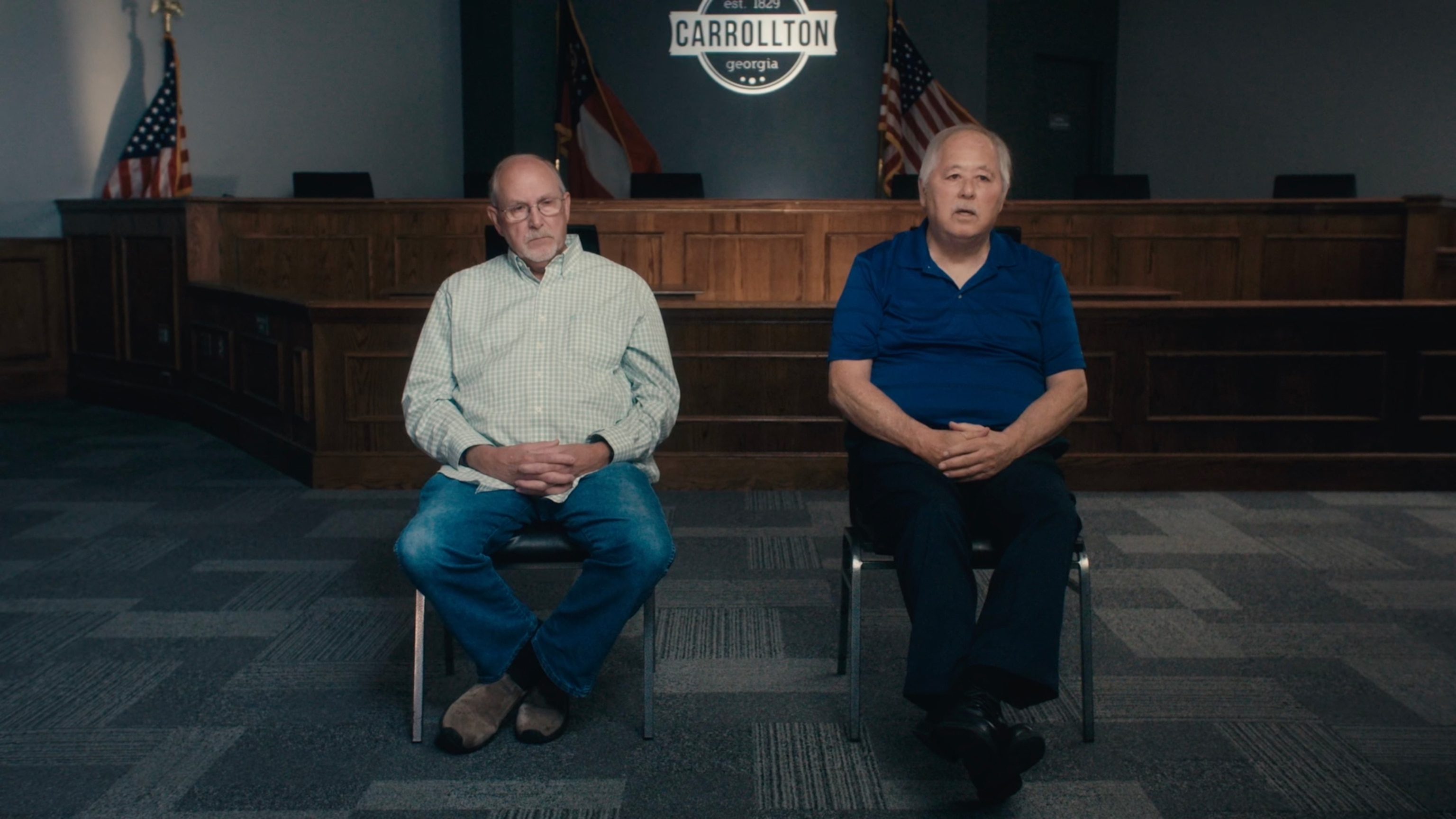 "They're listening to her side, and that's the only side they know," Thomas said.
"If we could put this whole case file back together and set them down, I guarantee you I could change their mind," Bradley said.
Skandalakis, the lead prosecutor on the case, says he's often asked about the disparity of the two verdicts involving Herrin and Boyer in the case.
"[People say,] 'Here you have Christina Boyer who is obviously held to a higher standard because she's the mother, serving life in prison. David Herrin gets convicted of cruelty and does 20 years in prison, and how's that fair?' My answer to that is, I don't know. After the jury acquitted him [of murder] I remember the jury filing through the courtroom and I asked, 'How did y'all find him not guilty of felony murder but you found him guilty of cruelty to children?' And she looked me straight in the eyes and said, 'It wasn't his child,'" Skandalakis said.
"Demons and Saviors" begins streaming Aug. 3 on Hulu.