— -- A 14-year-old high school football player helped police near Seattle nab an alleged shoplifter in an Old Navy store by tackling him to the ground as he fled, police said.
On Tuesday, a suspect inside a Target store in the Factoria Mall was seen removing tags from more than $900 worth of merchandise, Bellevue Police Department Public Information Officer Seth Tyler told ABC News. When an officer waiting at the exit ordered him to stop, he dropped his bags and took off running, Tyler said.
After running through a cosmetic store, the suspect ended up in a crowded Old Navy store, where he was apprehended by an officer in the back of the store, Tyler said. When she tried to handcuff him, he was able to slip out and ran toward the front of the store, where another officer was waiting for him outside.
Once the suspect saw the other officer, he ran back into the store, knocking down store displays behind him as an attempt to escape them, police said. That's when Seattle Prep freshman Kevin Merz stepped in, using his football skills to tackle the suspect to the ground.
Merz, a 6-foot-1, 206-pound left tackle, was shopping with his parents and two brothers when he saw the suspect running from police. He stopped the suspect because he was worried for the safety of the people around him, he told ABC News.
"I decided that I have to protect my family," he said. "So, I straight-on football tackled him."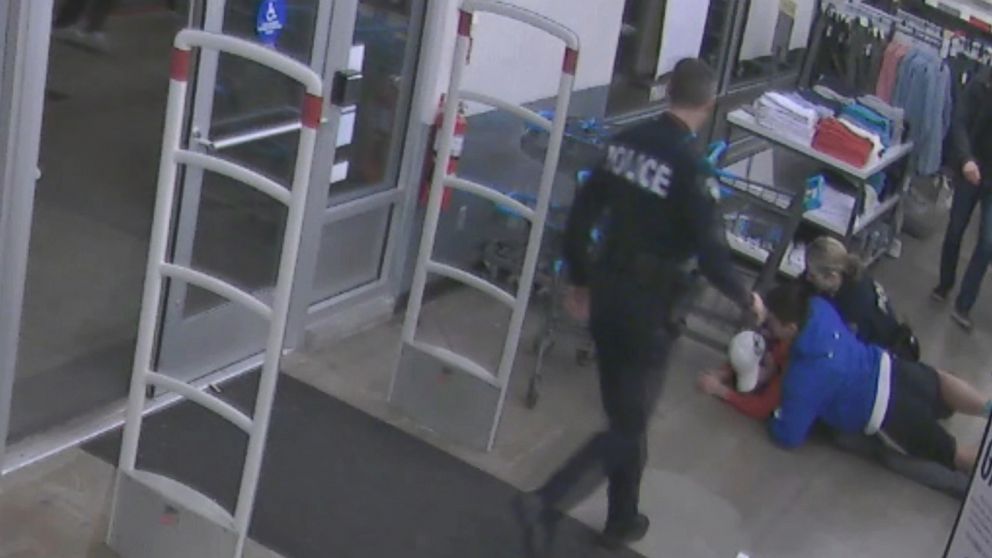 After the essential tackle, Merz's shocked father quickly pulled him off the suspect, he said.
"My dad got kind of scared because he thought he might have a weapon," Merz said, adding that he is the only member of his family to play football. He said Bellevue Police Department Chief Steve Mylett later thanked him for his efforts.
In the surveillance video, the suspect, dressed in a red, long-sleeved shirt and dark-colored vest, is seen entering the Old Navy store in a hurry. More than a minute later, he tries to sprint out, only to be thwarted by an officer waiting outside. As he runs back inside, he appears to slip out of a female officer's grasp as Merz delivers the final blow.
While Tyler does not recommend witnesses to intervene in a police chase due to possible danger, he commended Merz for his actions, saying he "definitely prevented us from having to chase [the suspect] more."
"I think in seven years he needs to apply to be a police officer, because he'd make a great officer," Tyler said.
The 33-year-old suspect, who has a long history of felony theft, was booked into jail, according to police. He was charged with third-degree theft, resisting arrest and making or having burglary tools. The Bellevue Police Department did not release his name.