Suspect pleads not guilty by reason of insanity in murder of LA sheriff's deputy
Kevin Salazar entered a plea of not guilty by reason of insanity on Wednesday.
The suspected gunman in the fatal shooting of a Los Angeles County sheriff's deputy pleaded not guilty by reason of insanity to murder with special circumstances.
Kevin Salazar, 29, was arrested on Monday in what authorities described as the "ambush" shooting of Deputy Ryan Clinkunbroomer.
During his arraignment on Wednesday, Salazar's attorney entered a plea of not guilty and a dual plea of not guilty by reason of insanity on his behalf. He is being held without bail and is scheduled to next appear in court on Nov. 7 for a preliminary hearing.
The three special circumstances alleged in the charges are that the killing was committed against a peace officer, the suspect was lying in wait and the firearm was discharged from a motor vehicle, Los Angeles County District Attorney George Gascón said during a press briefing Wednesday, calling it a "cowardly and senseless murder."
"The loss of any life is a tragedy. But when a sworn officer -- someone who was taken an oath to protect our communities -- is taken from us, it's an assault on the very fiber of our community and civilization," Gascón said.
Under California law, if the defendant in an insanity defense case is found guilty, a trial on the issue of sanity would occur. If a jury finds the defendant was insane while committing the crime, the defendant would be committed to a state hospital or facility for treatment. If found sane, the defendant would be sentenced as provided by law.
If convicted, Salazar faces life in prison without the possibility of parole, Gascón said.
Clinkunbroomer, 30, was on duty, in uniform and in his patrol car, when he was shot while stopped at a red light outside the Palmdale Sheriff's Station Saturday night.
Clinkunbroomer was "ambushed by a coward," Los Angeles County Sheriff Robert Luna said Monday.
Amid the search for the suspect, investigators said they were seeking a Toyota Corolla as a vehicle of interest in the case. Sharing details on the Corolla led investigators to the suspect and the car, the sheriff said.
Salazar was arrested Monday morning after barricading himself inside a house for several hours, Luna said.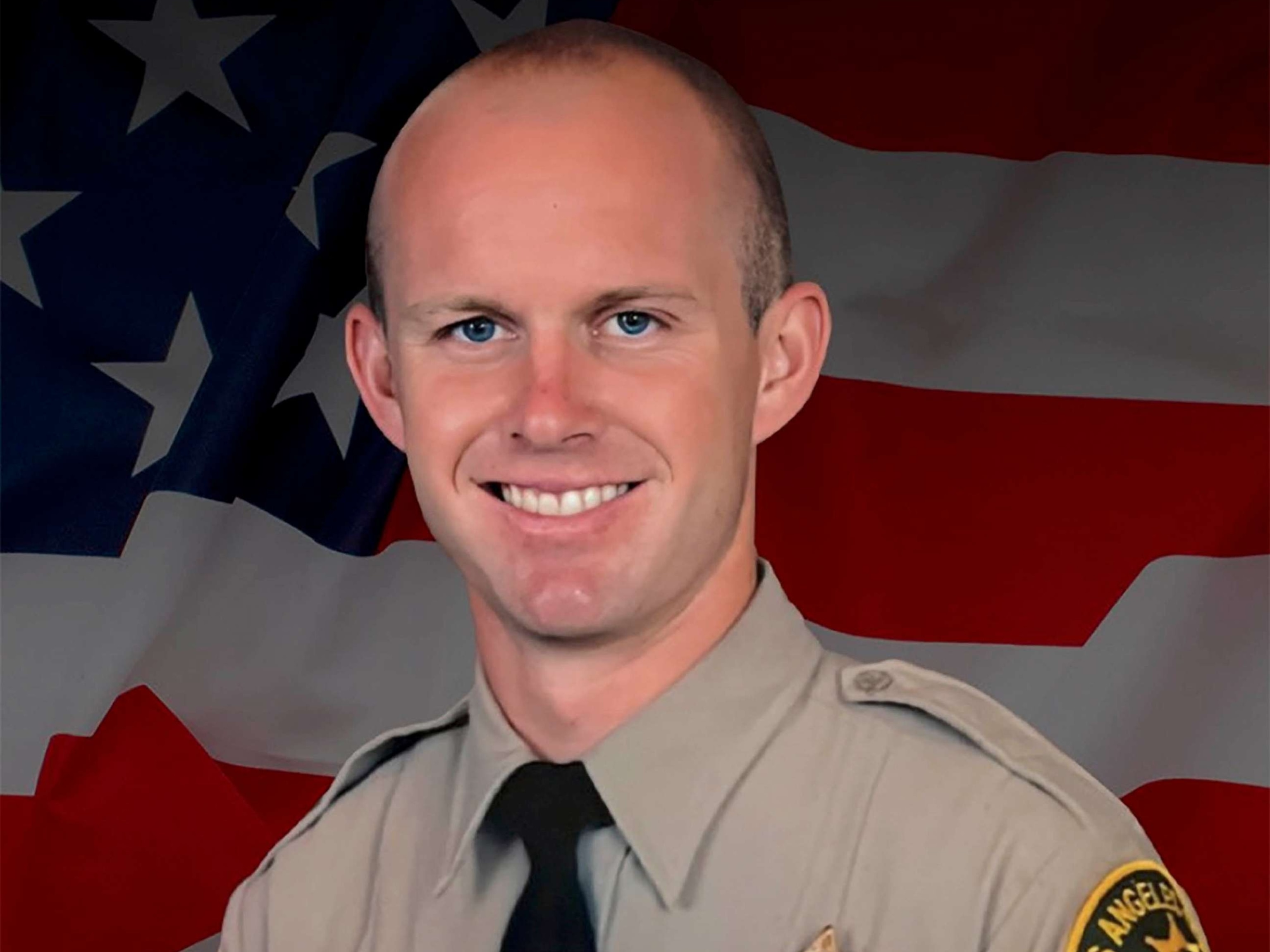 Multiple law enforcement sources told ABC News Monday night that Salazar confessed to investigators.
The motive remains unclear.
Investigators said Wednesday they believe Salazar purchased a firearm in the weeks before the shooting, but could not say whether it was purchased legally. They also said they are investigating his mental health history.
Previously, two law enforcement officials briefed on the probe told ABC News on Tuesday the gun appeared to have been purchased legally.
Salazar's mother told ABC News she reported concerns over her son's mental health to law enforcement, but it remains unclear whether any such reports would have risen to a level that should have blocked her son from being able to legally purchase a gun.
No other suspects are believed to be involved, the sheriff said.
"We're hurting right now," Luna said during Wednesday's press briefing.
"We're hoping for nothing less than the maximum punishment available under the law," he added.
Clinkunbroomer, an eight-year veteran of the sheriff's office, was recently engaged.
"Ryan was the best guy I've ever met," his fiancée, Brittany Lindsey, said through tears at Wednesday's press briefing.
"I was so happy I was able to love him. It was not long enough," she said.
ABC News' Emily Shapiro and Josh Margolin contributed to this report.