On most Mondays, Stacy Masciangelo, a teacher in Mesa, Arizona, would be in her classroom teaching 33 junior high school students computer technology with outdated equipment that sometimes takes eight minutes just to log on.
But this Monday, Masciangelo will join thousands of fellow teachers at the state Capitol in Phoenix, walking a picket line for the third day of a statewide public educator strike.
"We're frustrated. It's frustrating. How can you tell a kid education is so important when everything that our leaders do say otherwise?" Masciangelo told ABC News on Sunday.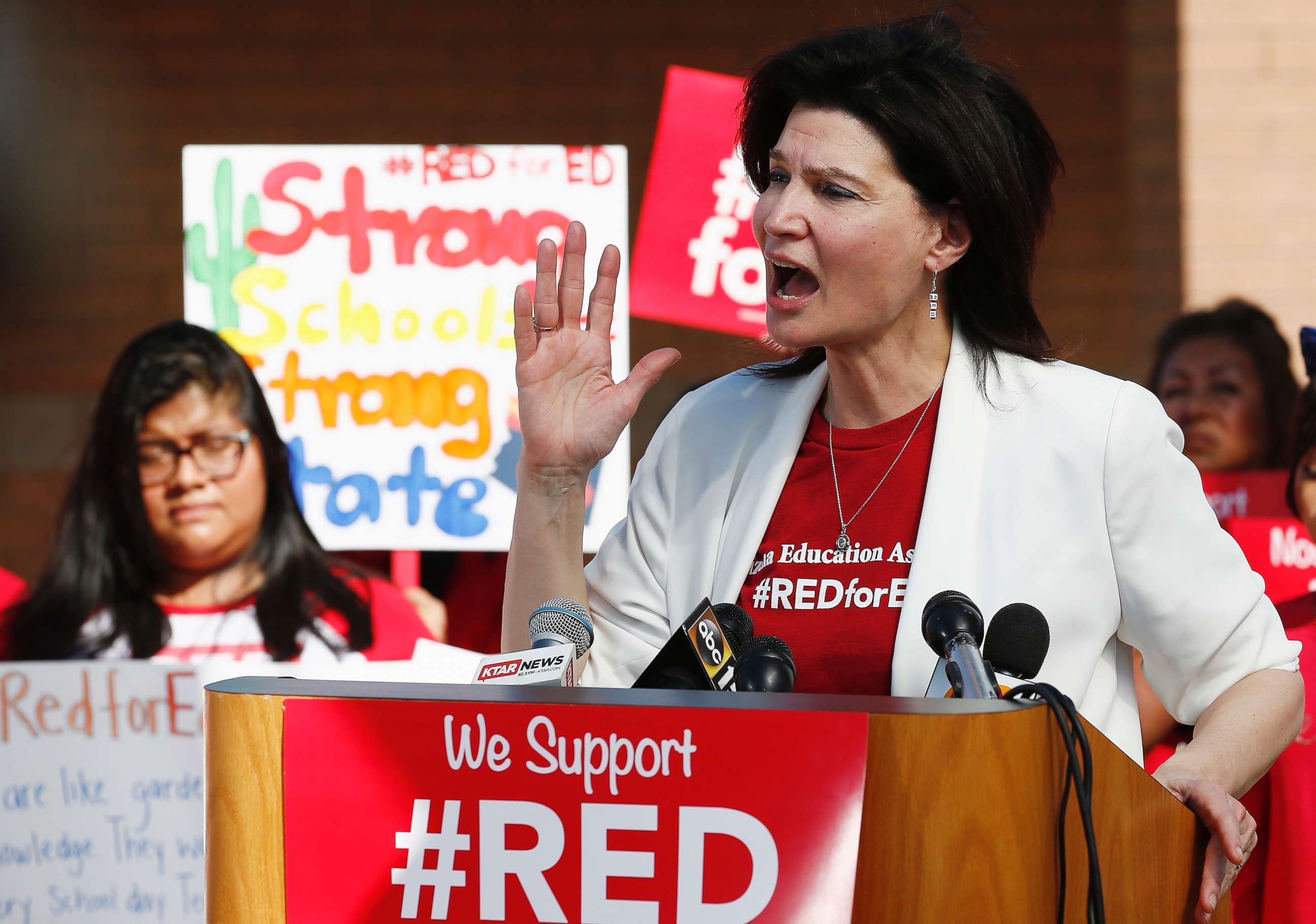 She has a bachelor's degree in business marketing and a master's in secondary education, but her take-home pay every two weeks comes to less than $900, and that's not including the money she takes out of her own pocket each year to buy classroom supplies.
"But it's not about teachers being greedy. It's not about our salaries," she said of the strike. "Most teachers I know, they try to get by, they live paycheck to paycheck. My husband's a teacher. He has three jobs just to try to make ends meet. But we both have a calling. We're extremely passionate about it and we work ourselves to the bone trying to do it because it matters."
Teachers across the nation say the chronic cuts to education spending over the past decade lies at the root of a growing revolt by educators who have reached the tipping point.
Arizona, Oklahoma, West Virginia, Kentucky and Colorado have all seen teacher uprisings this year. All of the states, with the exception of Colorado, are dominated by Republicans in the governors' offices and legislatures. Three of the states -- West Virginia, Oklahoma and now Arizona -- have seen wildcat strikes by educators.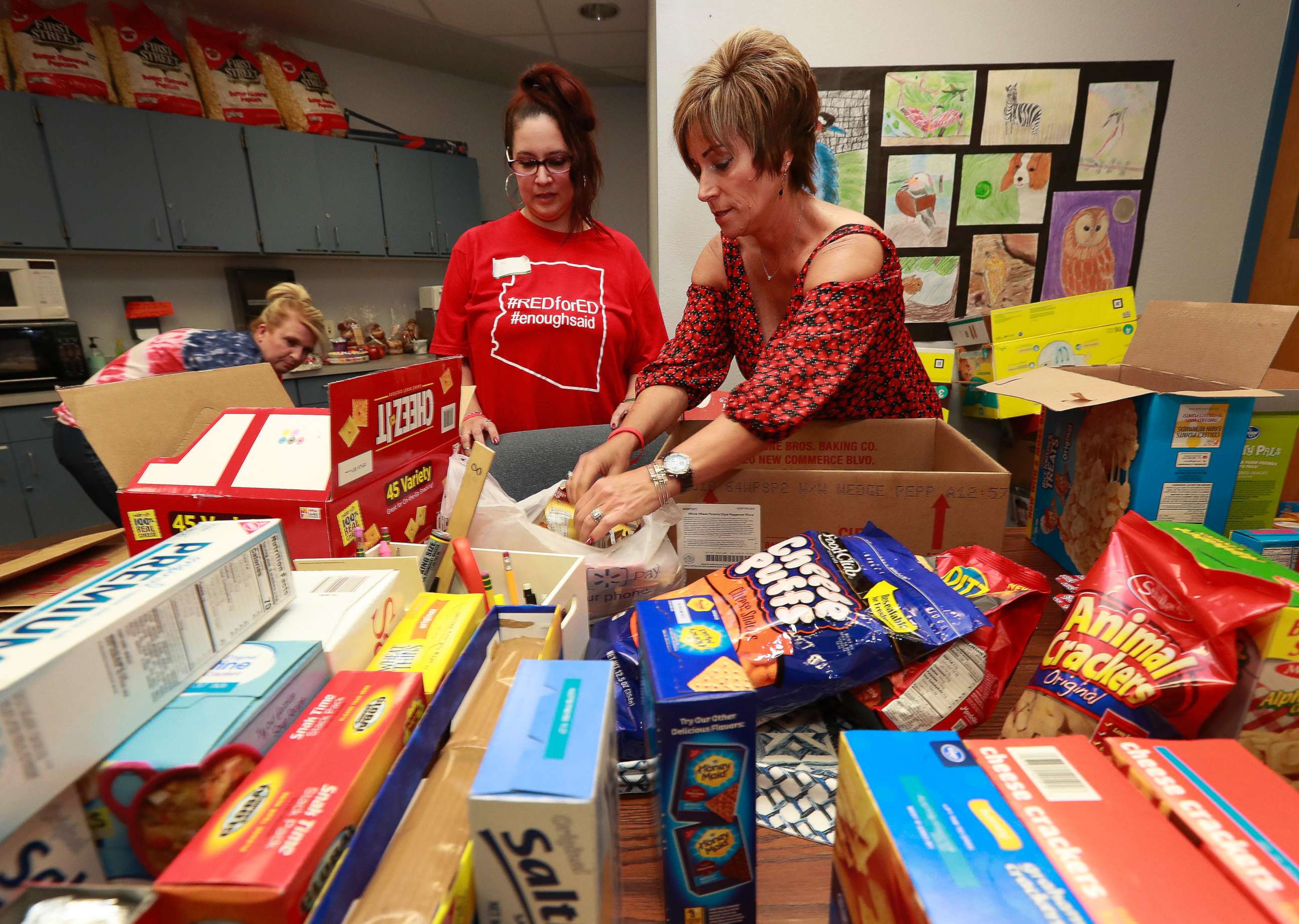 "It's happening in our reddest states. It's happening where for the last 10 to a dozen years there has been an ideology of cutting taxes on mostly big businesses and the expense, of course, comes at public services like a public school," Lily Eskelsen Garcia, president of the National Education Association, told ABC News today.
"So the last time we had this horrible, horrible cut in school services was in the Great Recession 10 years ago, where we lost thousands and thousands of teachers and they laid off the school librarians and the band teachers and they said this is a crisis," Garcia said. "Well, nobody steps up more to help their kids in a crisis than a teacher. After a hurricane ... good lord, after a shooting."
Garcia said there is a correlation between teachers taking to the streets to make their demands heard, and other protests that have recently swept the country, from the Women's March on Washington to massive student-led protests over school shootings.
"This is not unpredictable. They understand the only power they have is to bring those voices together, to stand together and what they're saying is, 'We no longer have any faith in politicians. We have not seen that you have been doing your jobs, that you have been taking care of education, that you have been taking care of our safety, that you've been taking care of basic justice. And so we'll take matters into our own hands,'" Garcia said.
On Thursday, about 50,000 public school teachers in Arizona went on strike to pressure lawmakers into giving them a 20 percent pay hike, fork over a $1 billion in education funding and up the salaries of school support staff.
About 10,000 teachers in Colorado took personal leave to go to the state Capitol in Denver and lobby legislators to boost funding for education there, which they say has been slashed by a whopping $6.6 billion over the last nine years. The teachers are also demanding no new corporate tax breaks until education funding is restored.
The labor actions in Arizona and Colorado come after teachers in Oklahoma went on strike and won a pay raise and about a $500 million increase to education funding. Earlier this month, Kentucky educators walked out of class angry over a pension reform bill they said was passed by legislators without their input and signed into law by their governor despite their vociferous objections.
The teacher revolt stated in West Virginia, where educators went on a nine-day strike and won a five percent pay hike in March.
"I would say that that's the straw that broke the camel's back," Masciangelo said of the West Virginia strike.
Masciangelo said the public appears to be with the teachers, some even joining the picket line.
"I've been pleasantly surprised," she said. "It's incredible the support we're getting from the community itself.
"Whenever I have my #RedForEd shirt on and I'm out just doing daily stuff, I'm getting stopped constantly by people saying we support you," she added.
Public educators in Arizona rank 46th in the nation in teacher pay, earning about $12,000 less than the national average of $59,660, according to a 2018 report by the National Education Association.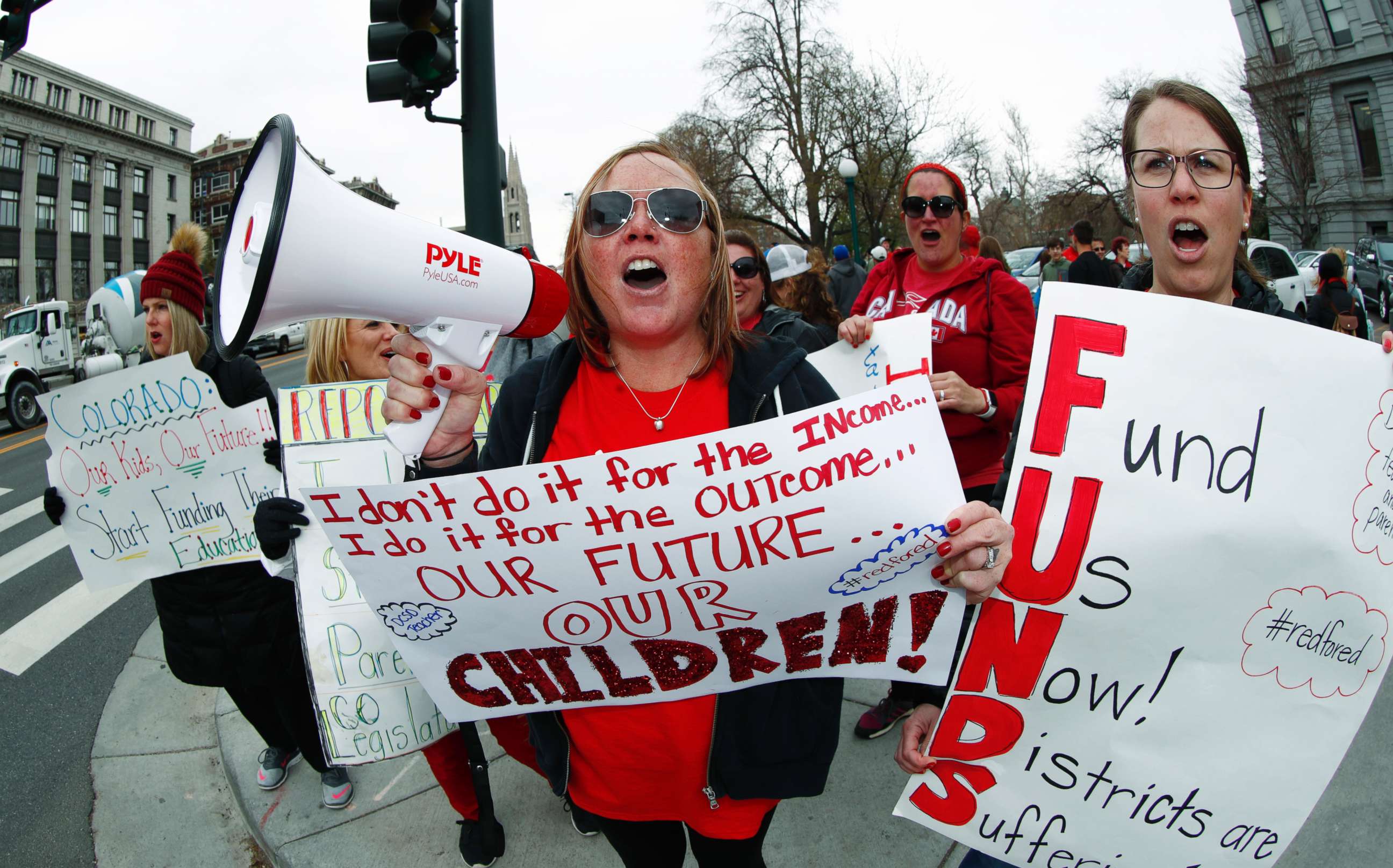 Arizona spends about $4,500 less than the national per-pupil average of about $12,000 a year, ranking 48th in the nation, according to the NEA report.
Like in other states where teachers have taken action, Arizona lawmakers appear to be getting the message.
"Without a doubt, teachers are some of the biggest difference-makers in the lives of Arizona children," Arizona Gov. Doug Ducey said in a Twitter post last week. "They need to be respected, and rewarded, for the work they do -- and Arizona can do better on this front."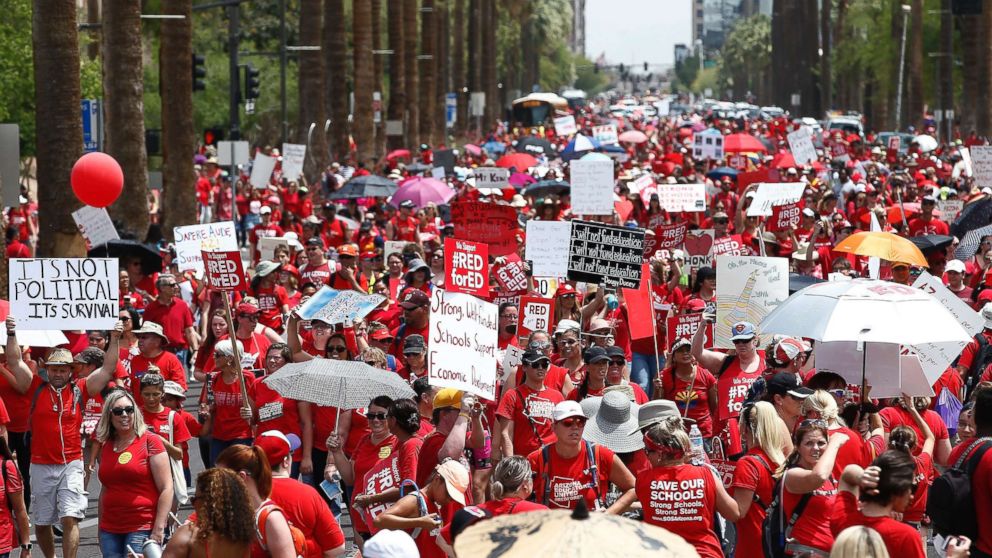 On Friday, he proposed granting teachers a 20 percent raise by 2020 and budgeting an additional $100 million for new textbooks, building improvements and support staff salaries. The governor proposed increasing money for education by $371 million over 5 years.
"We've all been listening -- but now, it's time to act," Ducey added.
But teachers union officials aren't about to call off their strike just yet.
"That's why we do know how to do our homework. We can see through all of these fake plans and unless there is a dedicated funding source, we are not going to be fooled," Garcia, the National Education Association president, told ABC News. "We want to see the plan and it has to be something that makes sense. This is not calculus. This is adding and subtracting."