Tens of thousands of teachers planning massive rallies and classroom walkouts
Massive teacher rallies are planned for Kentucky and Oklahoma.
Tens of thousands of public school teachers in Kentucky and Oklahoma plan to attend rallies on Monday at their state capitols in what they hope will be the latest display of muscle by the nation's educators demanding higher wages and better classroom resources.
The double demonstrations come less than a month after West Virginia teachers went on a nine-day strike that ended with the governor there signing legislation giving them a 5 percent pay hike -- their first raise in four years.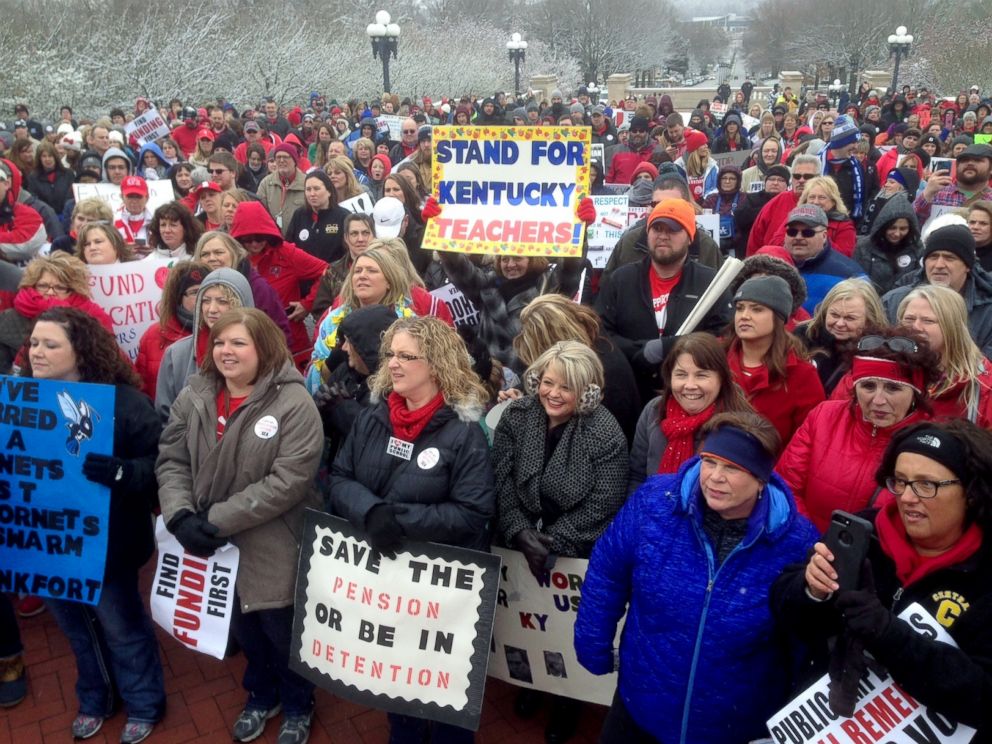 "What happened in West Virginia is inspiring for sure," a spokesperson for the Kentucky Education Association told ABC News Sunday.
The planned rallies also come on the heels of one on Wednesday in which 2,500 teachers in Arizona -- who are demanding a 20 percent raise -- demonstrated at the state's capitol in Phoenix. Gov. Doug Ducey didn't directly address the teachers' demands, but noted that the state already gave teachers a 4.3 percent raise from 2016 to 2017.
On Monday, thousands of teachers and supporters in Kentucky are expected to descend on the state capitol in Frankfort to demand Gov. Matt Bevin veto a bill that overhauls their pension plan, which they say was forged by lawmakers in secret backroom deals.
Meanwhile, thousands of Oklahoma teachers and advocates for better education are poised to stage a classroom walkout and converge on the state capitol in Oklahoma City to call on lawmakers, including Gov. Mary Fallin, to restore funding for education programs and supplies they say have been drastically slashed over the last decade.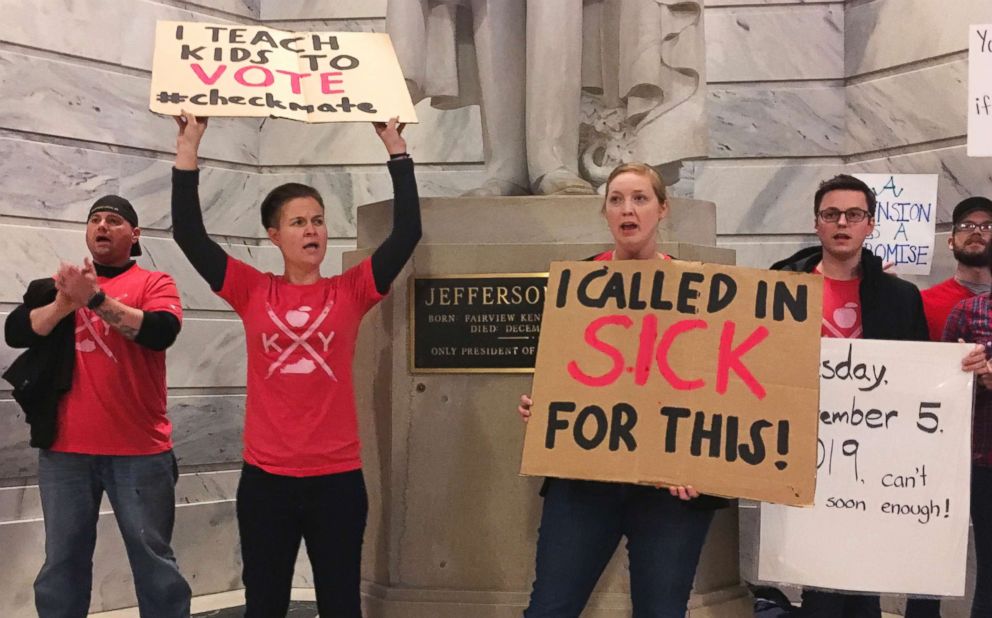 The Oklahoma protest comes after Fallin signed legislation Thursday granting teachers annual pay raises averaging $6,100, the largest in state history. Oklahoma teachers had been making an average of $45,276 a year, among the lowest wages for educators in the country, according to a 2017 report by the National Education Association.
While teachers in Oklahoma say they appreciate the pay raise, they are upset that state lawmakers shortchanged their students by slating only $50 million for education programs and supplies.
Alicia Priest, president of the Oklahoma Education Association, said the union had asked that teachers' pay be raised by $10,000 annually and that funding for education be boosted by $200 million over the next three years.
"It's not about teacher pay raises. It's not about being greedy and needing what I need. It's me seeing what my kids need and recognizing that I can only do so much in the classroom," David Walls, a seventh-grade teacher in Moore, Oklahoma, told ABC station KOCO in Oklahoma City.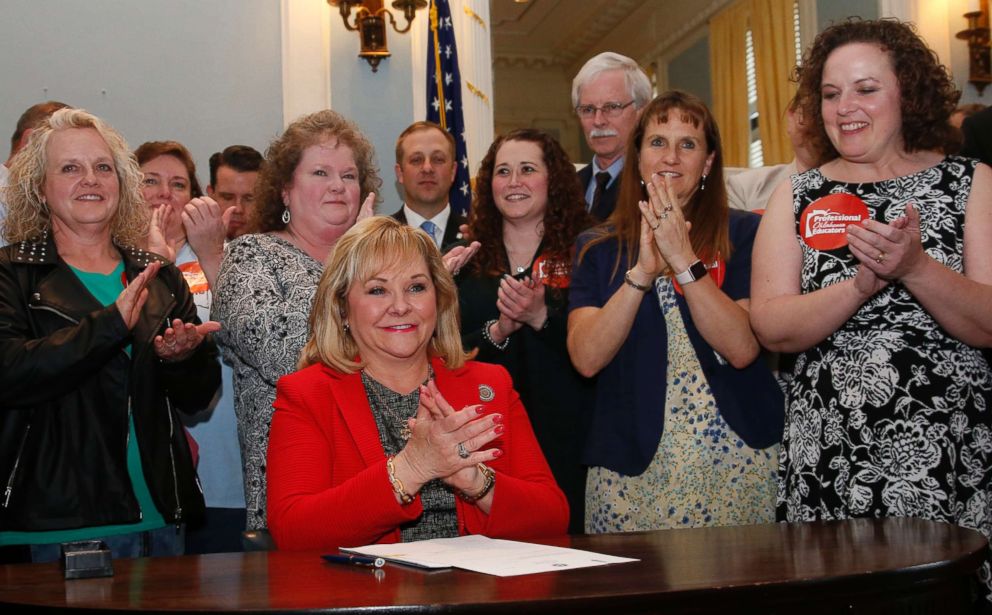 Despite the pay hike, Oklahoma educators still earn below the national average for public school teachers of $58,950 a year, according to the National Education Association report. Only teachers in Mississippi and South Dakota earn less, according to the report.
Teacher union officials in Oklahoma say many educators have left their schools for higher pay in neighboring states. In Arkansas, public school teachers earn an average of $48,218 annually, while teachers in Texas make an average of $51,890 a year.
In anticipation of the teacher walkout, many Oklahoma public school districts, including those in the largest districts of Oklahoma City and Tulsa, canceled classes for Monday.
Doug Folks, a spokesman for the Oklahoma Education Association, told ABC News that about 200 schools in the state will close Monday due to the teacher walkout.
"There will be teachers from schools that are open who will join us at the Capitol. Those schools will combine classes or get subs where they can," Folk said in an email, adding that teachers who can't attend the Oklahoma City demonstration plan to protest in their home districts.
As of Sunday, union officials said they were planning for just a one-day teacher walkout.
In Kentucky, so many teachers staged a sickout on Friday that 29 school districts were forced to cancel classes because they couldn't find enough substitute teachers.
Up to 10,000 teachers, parents and students plan to attend the demonstration, scheduled to begin at 9 a.m. Monday in front of the Kentucky Education Association headquarters in Frankfort, and march around the state capitol building.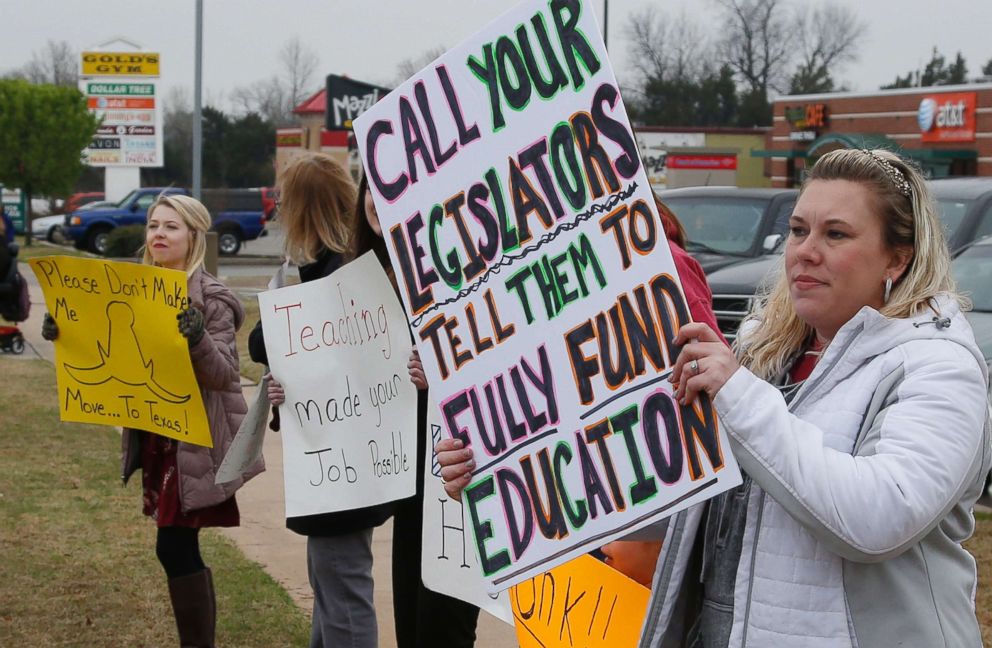 Stephanie Winkler, president of Kentucky Education Association and a fourth-grade teacher from Madison County, Kentucky, called for the demonstration on Friday, a day after the state Senate and House passed a bill that was initially meant to address sewage service, but was amended at the last minute to include the measure to overhaul the teachers' pension plan.
During a news conference Friday, Winkler said the move by lawmakers was "nothing short of a bomb that has exploded on public service."
The union is asking Bevin to reject the bill, which creates a "hybrid" plan for new teacher and will no longer allow experienced teachers to tack on accrued sick leave pay to their years of service when calculating retirement benefits.
The Republican-dominated legislature says the pension reform bill was crafted to help the state cover a $41 billion shortfall in pension costs over the next 30 years. But teachers' union officials said the pension overhaul would only generate $300 million in savings over the next three decades.
"These political shenanigans are unacceptable," Winkler said. "Anyone who voted yes for this bill will need to start packing up their legislative office."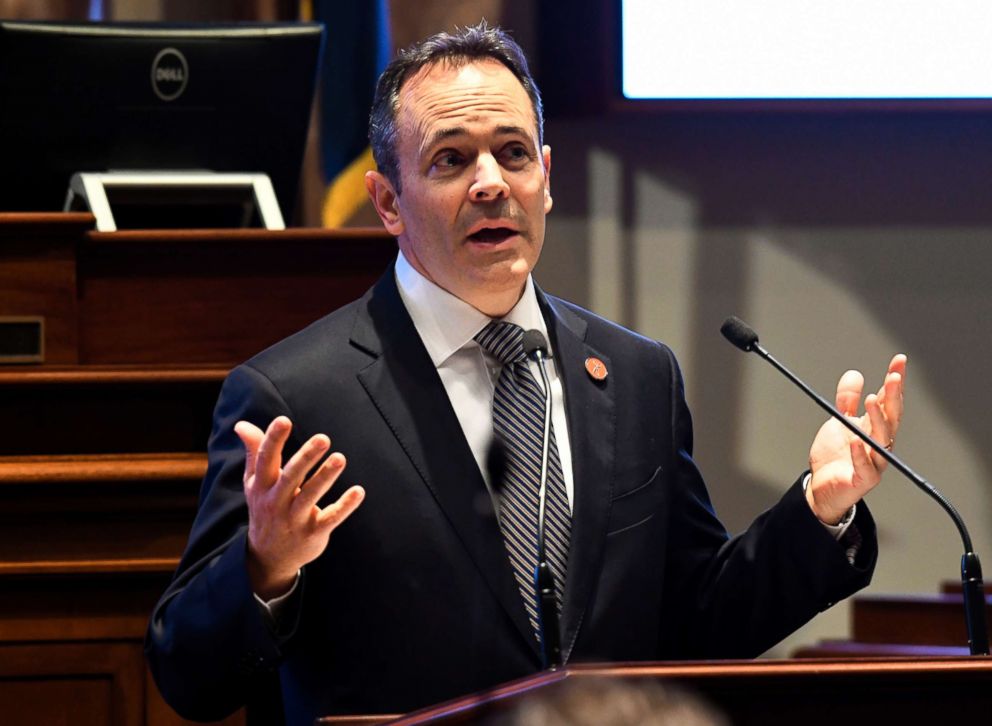 Winkler said the union did not have anything to do with organizing the teacher sickout on Friday, saying, "I can't control what teachers do."
Bevin, a Republican, has voiced support for the bill and after the legislature passed it Thursday night he tweeted that public workers owe "a deep debt of gratitude" to the state lawmakers.
The governor has not announced when or if he will sign the legislation.