Texas church shooter 'was there to kill everybody,' source says
Twenty-six people were killed and the alleged shooter, 26, is also dead.
November 6, 2017, 7:28 PM
— -- The investigation of the mass shooting at a rural Texas church Sunday that killed 26 people continues, and now authorities have reviewed footage from inside the building as the rampage was unfolding.
-- The shooting was neither racially nor religiously motivated, authorities said at a news conference this morning, noting there was a "domestic situation" within the suspect's family.
-- While authorities have not released a specific motive, they said this morning the suspect's mother-in-law has attended the church, and that the 26-year-old suspect -- who is now dead -- had "expressed anger towards" her and sent "threatening texts." Texas Gov. Greg Abbott said on "Good Morning America" that he doesn't think the shooting "was just a random act of violence."
-- Authorities now believe this is not a case in which suspect Devin Kelley went to the church looking for his relatives but ended up killing many others. "He was there to kill everybody. He is a mass killer of children and people ... he is a horrible monster," a source familiar with the matter told ABC News.
-- Authorities have reviewed video from inside the First Baptist Church during Sunday morning's shooting. "He came there to kill everybody in that building. Period," a source familiar with the matter said.
-- The suspect -- a military veteran -- stormed in at the back of the First Baptist Church, firing all the way to the front and firing on his way back out of the church, authorities said. He reloaded several times.
-- After the suspect was shot by a good Samaritan outside the church, the suspect led him and another good Samaritan on a car chase. Before the suspect crashed and was found dead, he "used his cellphone to notify his father that he had been shot and didn't think he was going to make it," authorities said.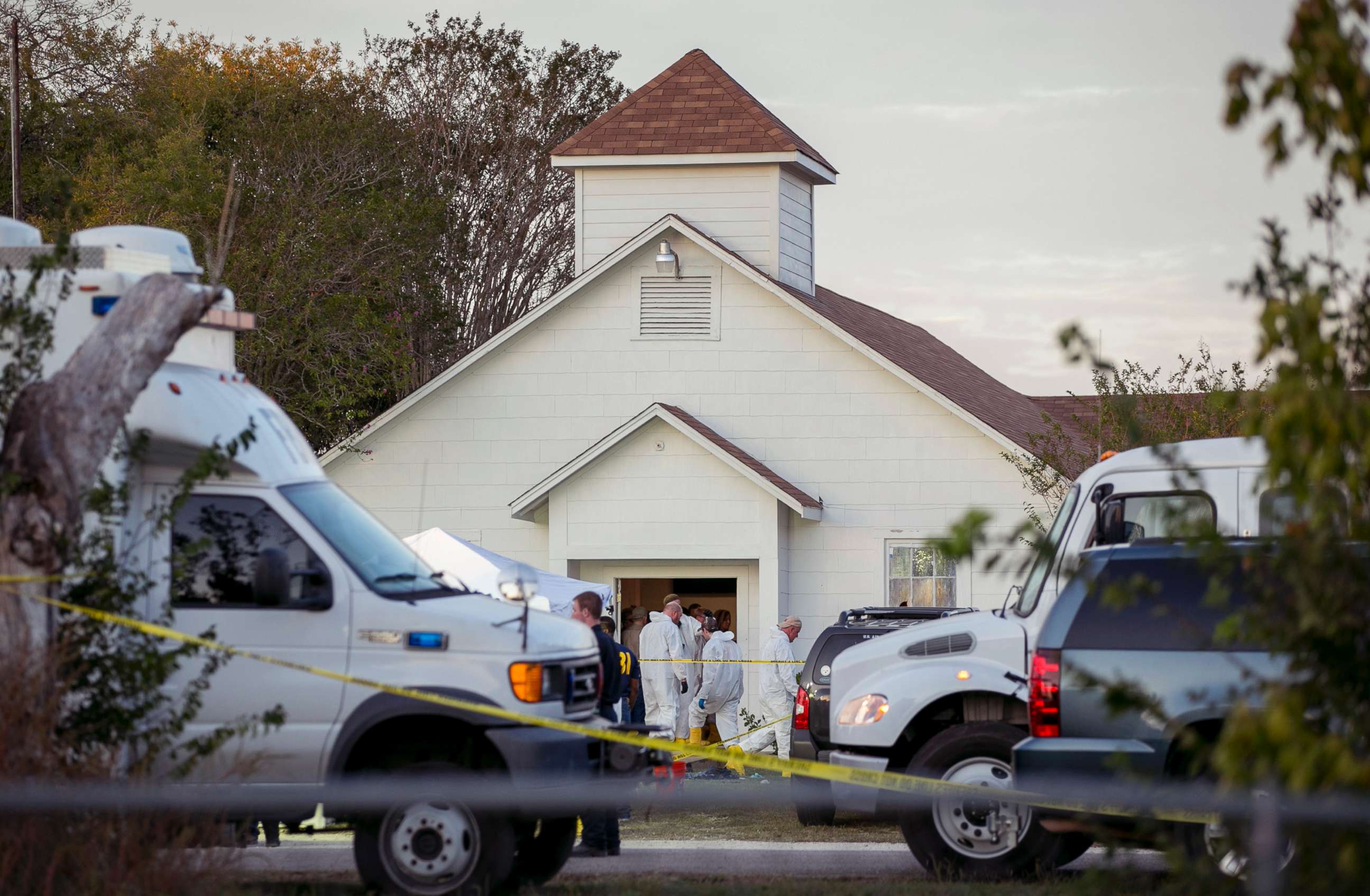 -- Those killed in the rampage in Sutherland Springs, about 40 miles southeast of San Antonio, ranged in age from 18 months to 77 years old, authorities said this morning.
-- Some parents had covered their children with their bodies to protect them from the bullets, Wilson County Sheriff Joe Tackitt said.
-- The shooting also left 20 people injured. As of this morning, 10 of them are in critical condition, four are in serious condition and six are in stable condition or have been released, authorities said.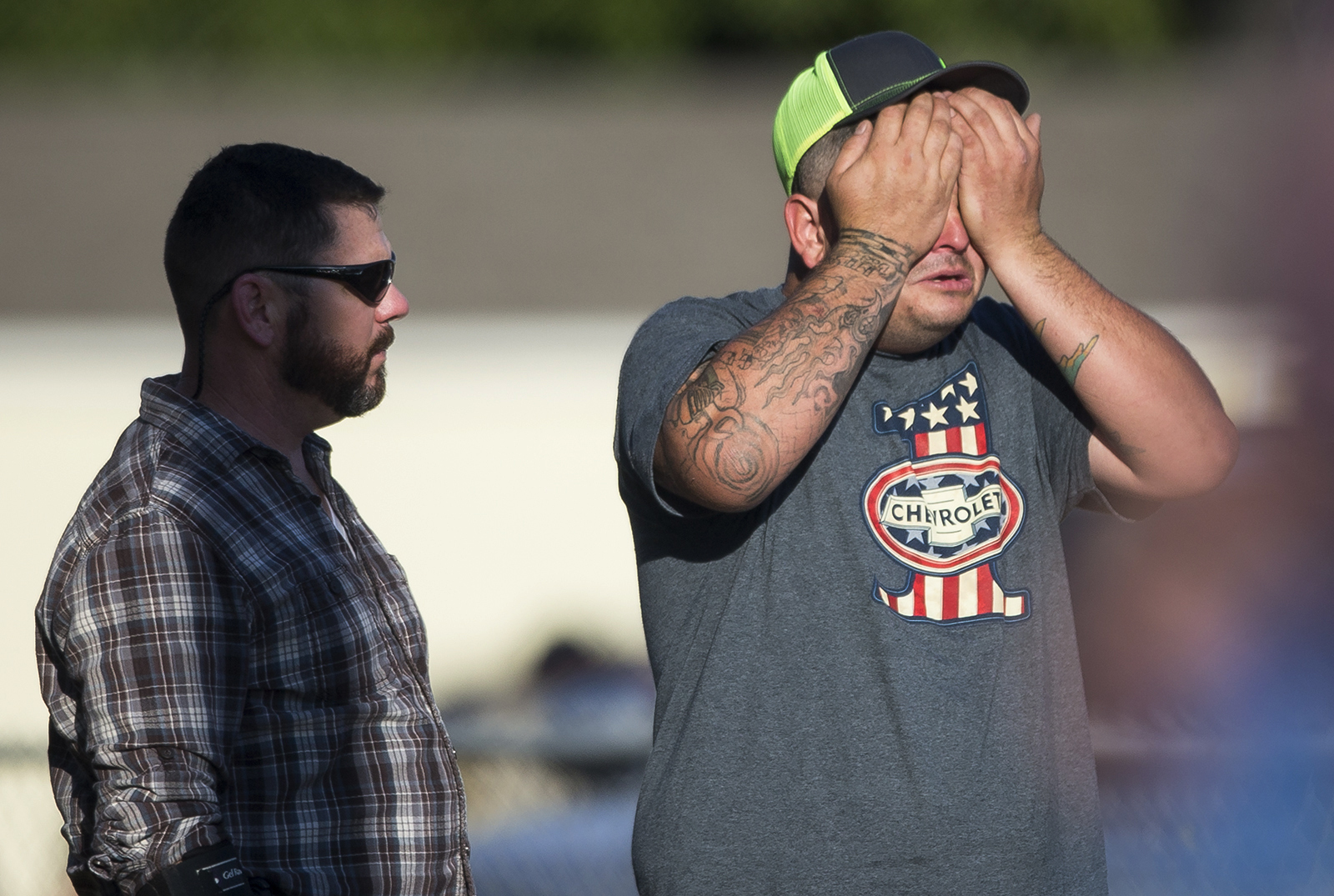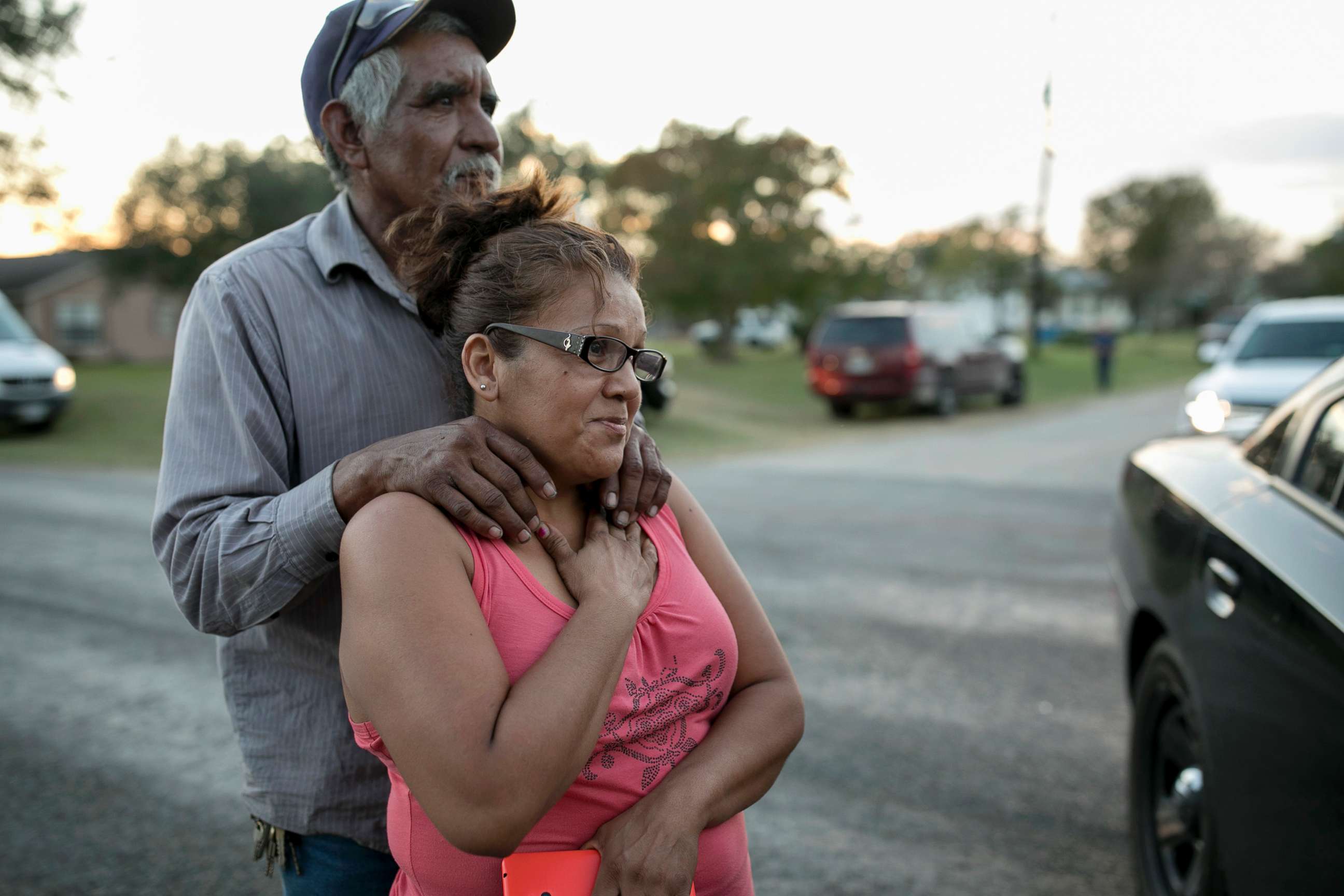 Tragedy at church
The attack began at about 11:20 a.m. Sunday, after a suspect was seen at a gas station in Sutherland Springs, dressed in all black, the Department of Public Safety said. The suspect crossed the street to the church, got out of his vehicle and began firing at the church, authorities said.
The suspect then moved to the right side of the church and continued to fire, before going inside the church and shooting more, authorities said.
Tackitt said the gunman entered from the back of the church, fired all the way to the front of the church, and then fired on his way back out of the church. He had time to reload several times, Tackitt said.
The church has two entrances, the sheriff said. There's no evidence that any church members were armed, Tackitt said.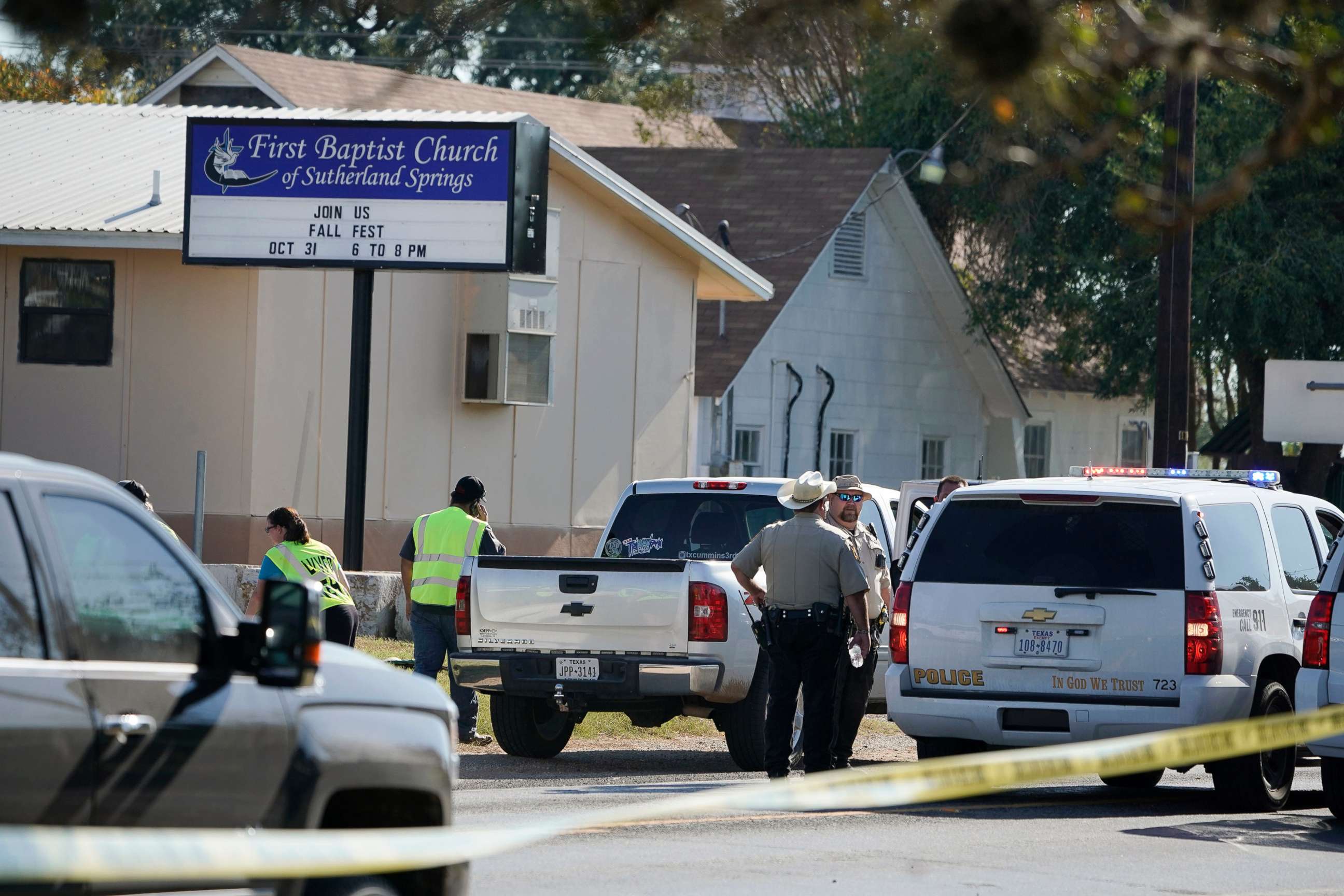 As the gunman "exited the church, a local resident grabbed his rifle and engaged that suspect," Freeman Martin of the Texas Department of Public Safety said.
The suspect was shot by the good Samaritan, and the gunman dropped his weapon and fled the scene, authorities said.
The good Samaritan was then joined by another person, and they jumped into a truck and pursued the suspect in a high-speed car chase, authorities said.
"During that pursuit, the suspect used his cell phone to notify his father that he had been shot and didn't think he was going to make it," authorities said.
The suspect crashed and was later found dead in his vehicle in Guadalupe County, according to authorities. He had three wounds, officials said at a press conference Monday evening -- two from the good Samaritan who chased him and a self-inflicted one to the head. Multiple weapons were found in the vehicle, authorities said.
A substantial amount of evidence has been collected, officials said, including hundreds of shell casing and more than 15 30-round capacity magazines, all of which were empty.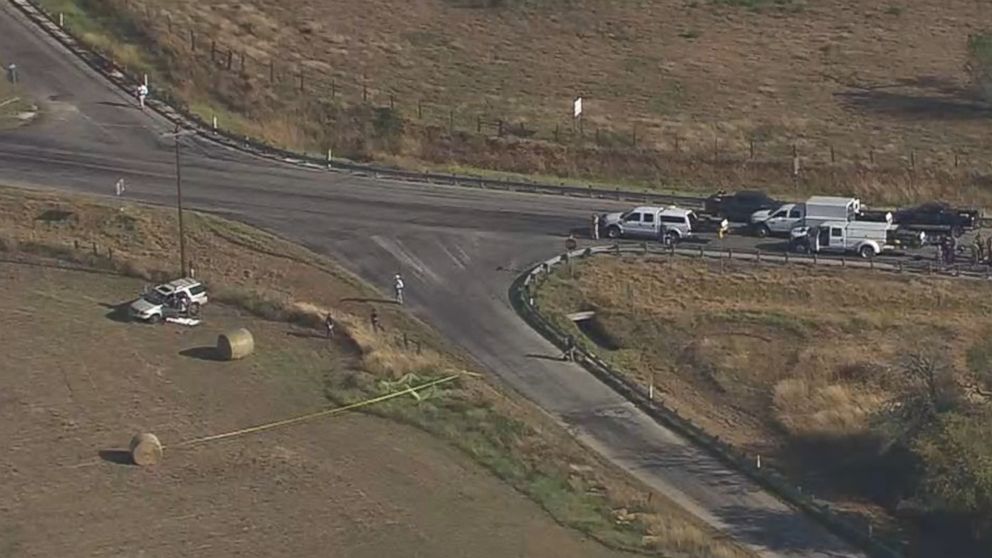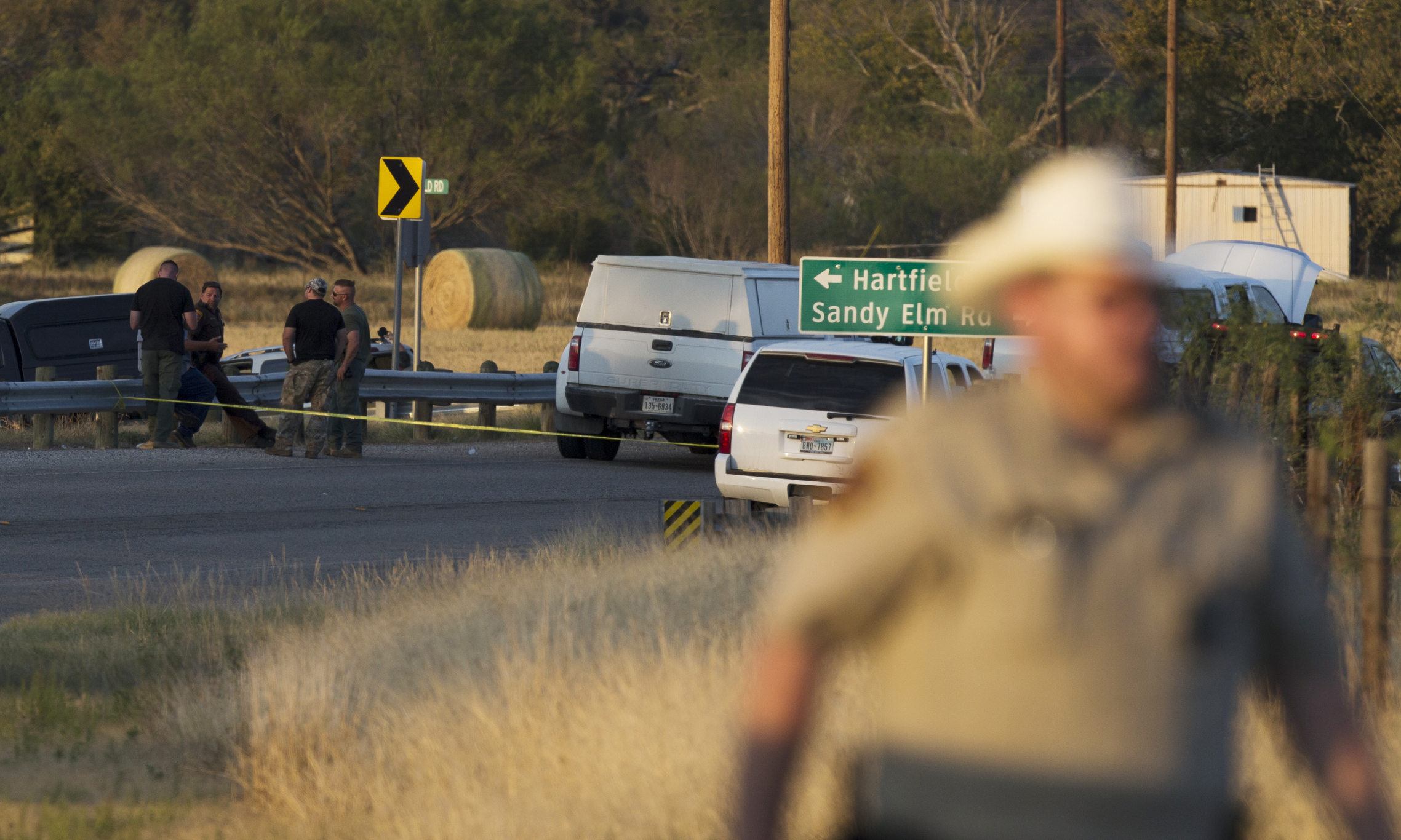 'He just kept going, kept going'
Kevin Jordan, who lives across the street from the church, told ABC News he saw the suspect "shooting as he's walking towards the church."
"He was wearing either body armor or a vest and a mask," Jordan said Sunday, "and I couldn't see his face or anything, and I saw him shooting and he just kept going, kept going.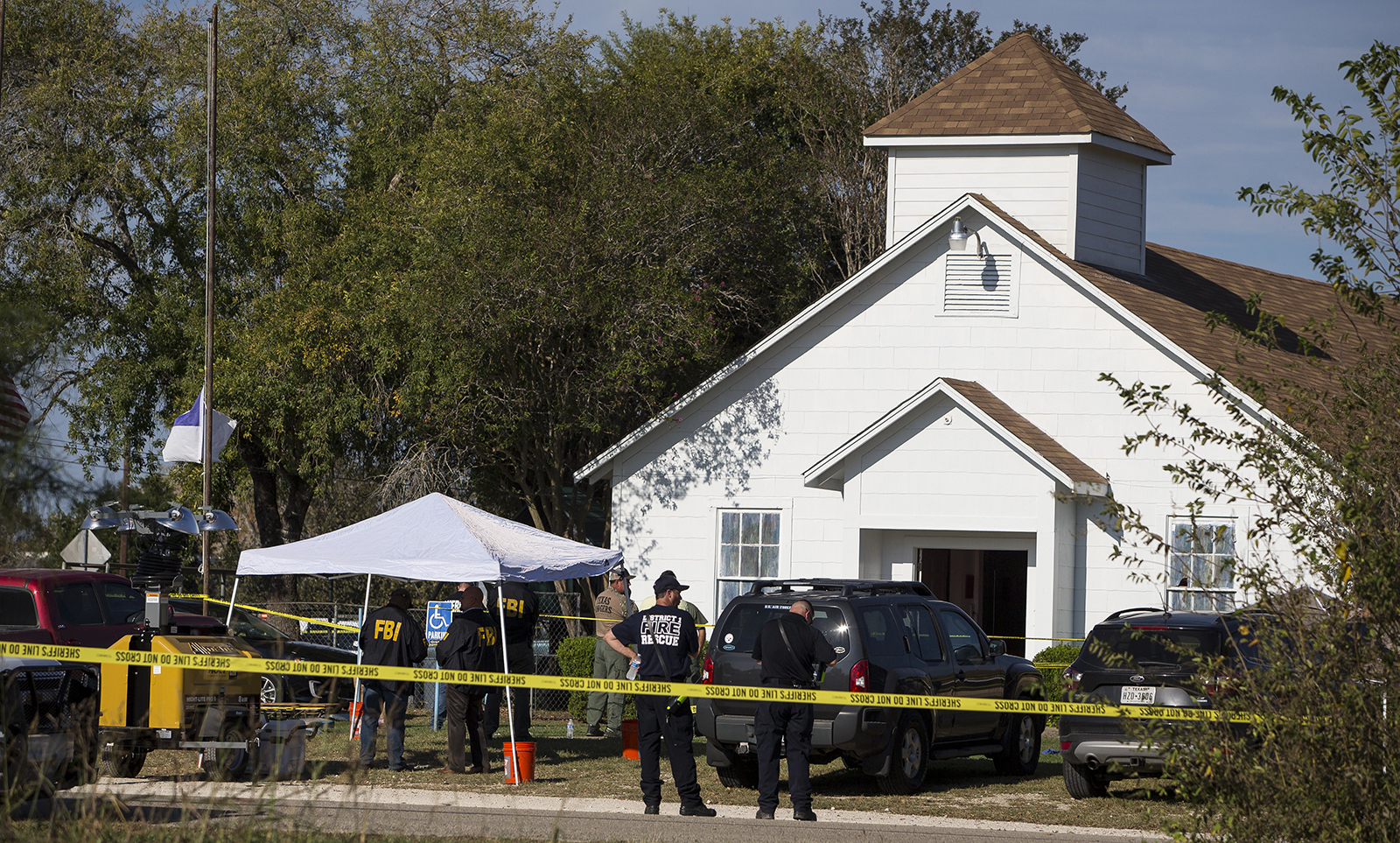 "When I was trying to run back inside my house ... he saw me, and he took a shot off in my direction, and it went through the front window of my house. And my 2-year-old son ... he was standing in the window, two feet from where it hit," Jordan said. "It almost hit him.
"I grabbed my son and grabbed my wife, and we barricaded ourselves in the bathroom and I called 911," Jordan added.
Jordan continued to hear shots, including some that didn't sound like the gunman's, so he peaked out the window and saw his friend was there with his own gun, confronting the suspect, he said.
Eight members of 1 family killed in rampage
Eight members of the extended Holcombe family were among the dead; all at once, Joe and Claryce Holcombe lost children, grandchildren, great-grandchildren, one unborn.
Bryan Holcombe, an associate pastor for the church, was killed in the gunfire, his parents and Claryce Joe Holcombe told ABC News.
Karla Holcombe, Bryan Holcombe's wife of about four decades, was killed, as well as Bryan and Karla Holcombe's son, Marc Daniel Holcombe, 36.
Marc Daniel's 1-year-old daughter, Noah Holcombe, was also killed.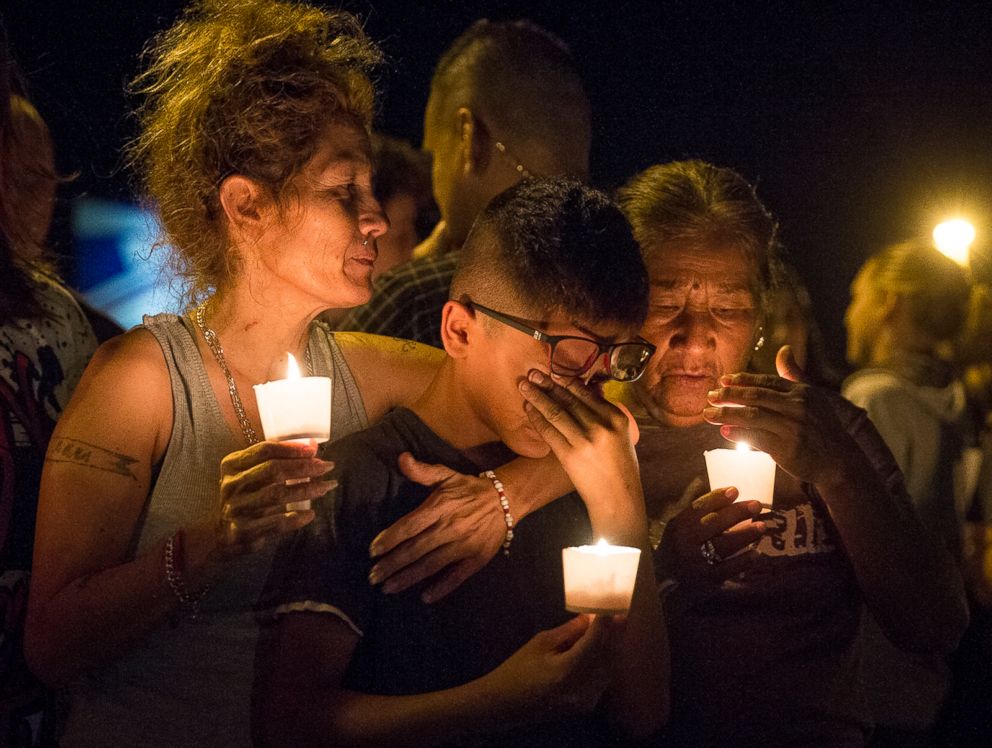 Crystal Holcombe, the wife of John Holcombe, who is the son of Bryan and Karla, also died. Crystal Holcombe was pregnant, and three of her children, Emily, Megan and Greg, died as well.
Crystal Holcombe is survived by her husband and two of her children.
14-year-old pastor's daughter among those slain
Annabelle Renee Pomeroy, 14, was also killed at the house of worship, according to her father, Frank Pomeroy, who is a pastor at the church.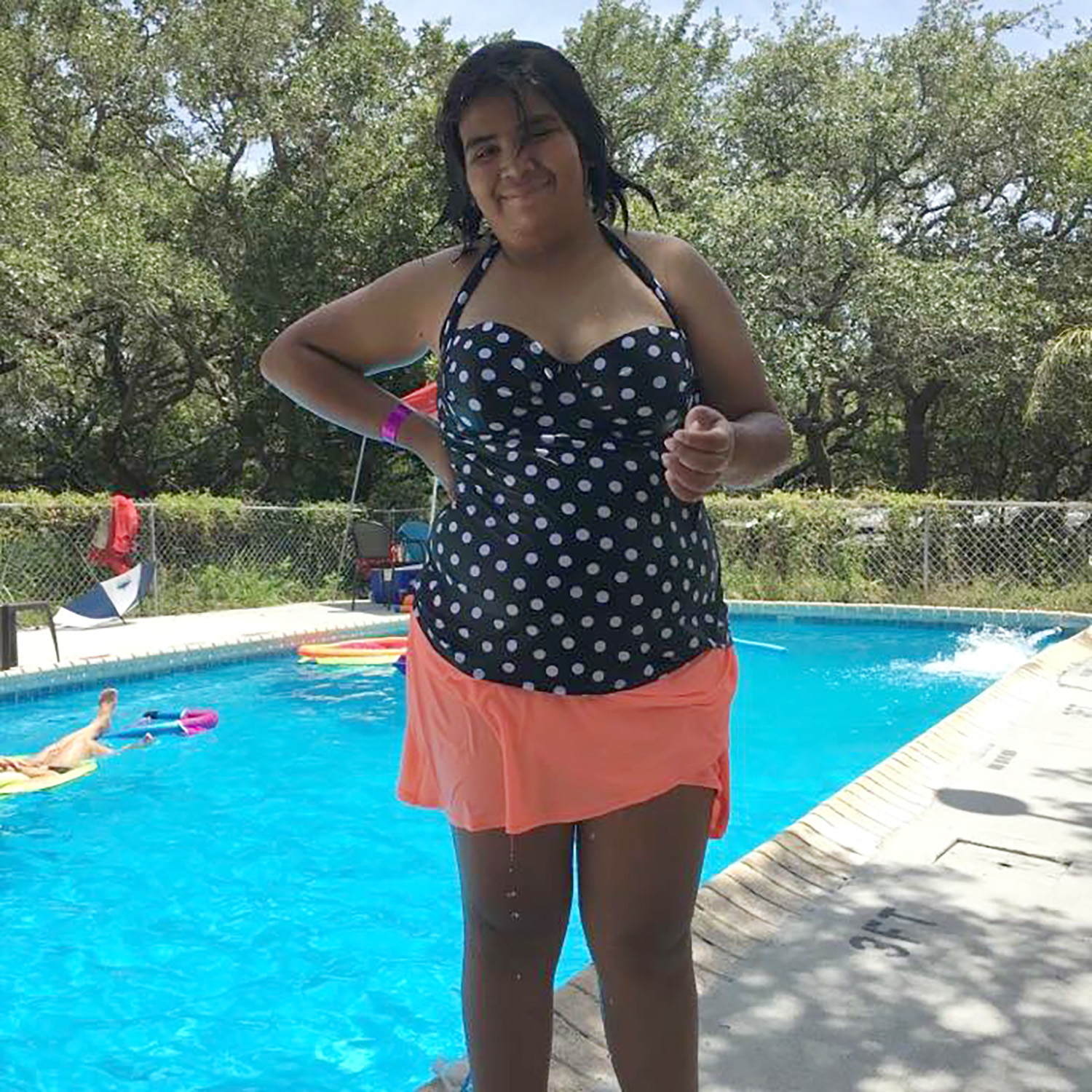 Annabelle "was one very beautiful, special child," Pomeroy told ABC News by phone on Sunday.
The pastor's wife, Sherry Pomeroy, said at this morning's news conference, "We lost more than Annabelle yesterday, and one thing that gives me a sliver of encouragement is the fact that Belle was surrounded yesterday by her church family that she loved fiercely."
The church family was very close, Sherry Pomeroy said.
"We ate together, we laughed together, we cried together, and we worshiped together. Now most of our church family is gone. Our building is probably beyond repair," she said. "As senseless as this tragedy was our sweet Belle would not have been able to deal with losing so much family yesterday. Please don't forget Sutherland Springs."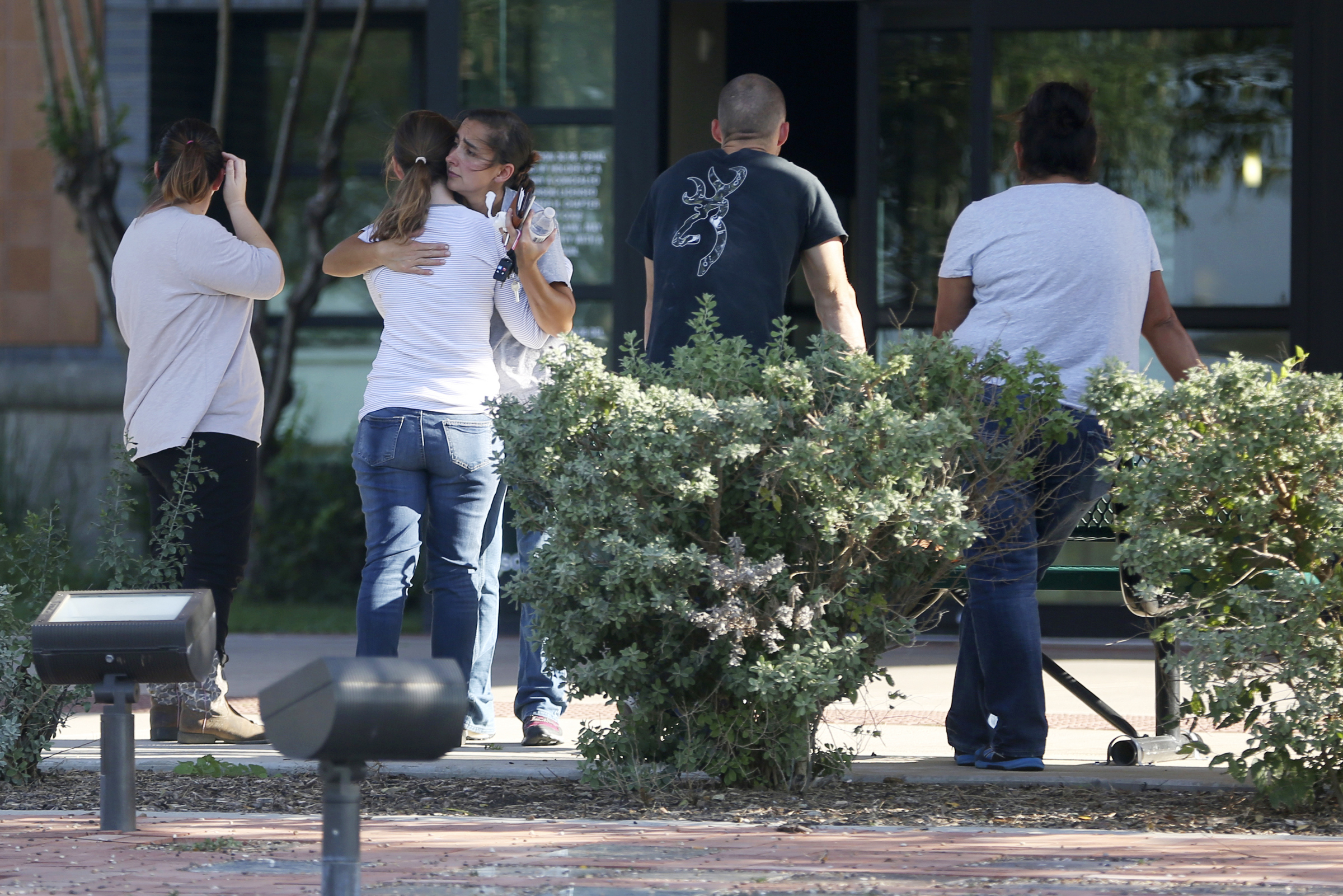 A portrait of the suspect emerges
The deceased shooter was identified as Devin Kelley, 26, of New Braunfels, Texas, which is about 35 miles from Sutherland Springs.
Texas church shooting
Community members gather for a vigil across the street from the First Baptist Church in Sutherland Springs where a gunman killed 26, according to police, who have included an unborn child in the death count, Nov. 5, 2017.
Courtney Sacco/Caller-Times via USA Today Network
Kelley left the Air Force in 2014 after receiving a bad conduct discharge, which is the second-lowest level of dismissal in the armed services.
He was court-martialed in 2012 on charges of assault and aggravated assault on his spouse and their child, according to the Air Force. He was found guilty by a mixed jury of officers and enlisted personnel and began his military confinement at the Naval Consolidated Brig, Miramar in California, outside San Diego, starting on Nov. 7, 2012. He was discharged from both his confinement and service overall in May 2014.
Kelley had been serving at Holloman Air Force Base in New Mexico. He had been trained at Goodfellow Air Force Base in Texas and worked his way up to be a traffic maintenance apprentice at Holloman before he became a prisoner. The highest rank he achieved was as an Airman First Class (E-3), but as part of his conviction he was reduced in rank two grades to a Basic Airman (E-1).
Trump: 'Mental health is your problem here'
President Donald Trump said mental health, not guns, is to blame for the massacre, calling the assailant a "very deranged individual."
"Mental health is your problem here," Trump said of the shooting during a joint news conference with Japanese Prime Minister Shinzo Abe. "This was a very, based on preliminary reports, a very deranged individual, a lot of problems over a long period of time. We have a lot of mental health problems in our country, as do other countries. But this isn't a guns situation."
The president went on to say it's a "little bit soon" to talk about gun policies after the tragic event, and suggested that the death toll could have been higher had it not been for the other armed person who, authorities said, confronted the suspect after he exited the church.
"Fortunately, somebody else had a gun that was shooting in the opposite direction otherwise ... it would have been much worse," the president said. "This is a mental health problem at the highest level."
ABC News' Jack Date, Pierre Thomas, Mike Levine, Luis Martinez, Aaron Katersky, Matt Gutman, Scott Shulman, Meghan Keneally, Michael Del Moro and Jordyn Phelps contributed to this report.