— -- A man who lives across the street from the Texas church where a mass shooting unfolded today, leaving 26 people dead, witnessed the gunman's firing and walking toward the church, he told ABC News.
Kevin Jordan of Sutherland Springs, about 40 miles southeast of San Antonio, said he was changing his car's oil this morning when, "I heard some shots being fired, and I look up and I see this guy; and he's shooting as he's walking towards the church."
"He was wearing either body armor or a vest and a mask," Jordan said, "and I couldn't see his face or anything, and I saw him shooting and he just kept going, kept going.
Texas church shooting
Community members gather for a vigil across the street from the First Baptist Church in Sutherland Springs where a gunman killed 26, according to police, who have included an unborn child in the death count, Nov. 5, 2017.
Courtney Sacco/Caller-Times via USA Today Network
"When I was trying to run back inside my house ... he saw me, and he took a shot off in my direction, and it went through the front window of my house. And my two-year-old son ... he was standing in the window, two feet from where it hit," Jordan said. "It almost hit him.
"I grabbed my son and grabbed my wife, and we barricaded ourselves in the bathroom and I called 911," Jordan added.
Jordan continued to hear shots, including some that didn't sound like the gunman's, so he peaked out the window and saw his friend was there with his own gun, confronting the suspect, he said.
Authorities said that after the suspect exited the church, a resident grabbed his rifle and engaged the suspect, after which he dropped his assault-type rifle and fled, authorities said.
A citizen pursued the suspect, authorities said.
The suspect, who fled in a car, crashed and was later found dead in his vehicle in Guadalupe County, according to the sheriff and the state Department of Public Safety. It's unclear whether he died from a self-inflicted gunshot wound or gunfire from someone else, officials said.
The shooting left 26 people dead and 20 others injured. Texas Gov. Greg Abbott called today's shooting the largest mass shooting in Texas history.
Jordan said the shooting is "one of the worst things that I've ever seen and it's going to haunt me for a very, very long time. ... It's people that I know, that are friends.
"Why would you choose a church of people that are just with their families praying on Sunday?"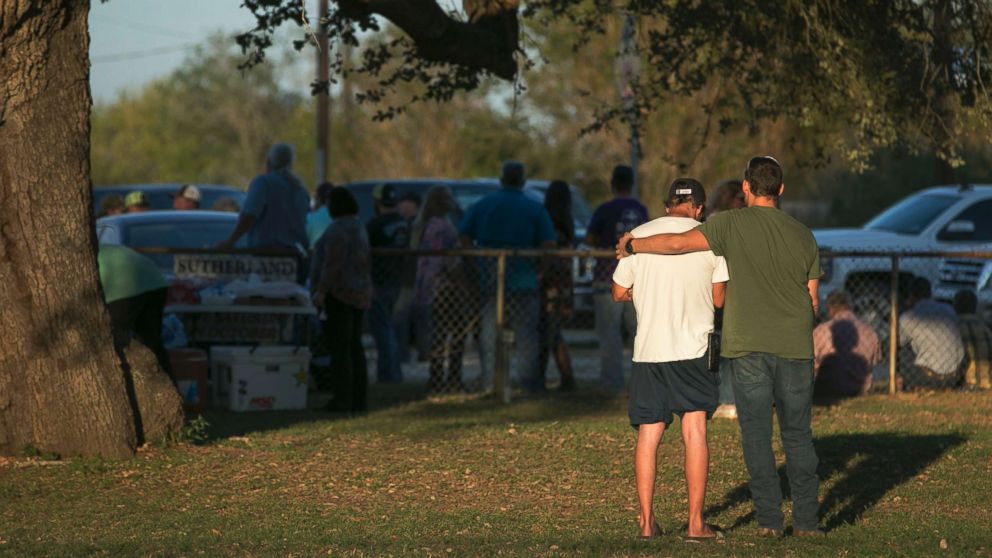 ABC News' Marcus Moore, Alyssa Pone and Gina Sunseri contributed to this report.