Braving chilly weather, tens of thousands of public school teachers in Kentucky and Oklahoma converged on their state capitals today demanding higher wages and better classroom resources.
Teachers in the two red states, both run by Republican governors and Republican-dominated legislatures, said they're fed up with persistent cuts in education funding. Many of the demonstrators Monday wore red T-shirt reading "I Support Public Schools," in solidarity with the nationwide #RedForEd grass-roots movement started online.
The Oklahoma teachers plan to continue the classroom walkout on Tuesday at the state capitol, prompting the Oklahoma City, Tulsa and other districts to cancel school for a second day.
Thousands of teachers and supporters in Kentucky joined outside the Kentucky Education Association headquarters in Frankfort around 9 a.m., many fuming over their state legislature's decision to overhaul their pension plan without any say from them.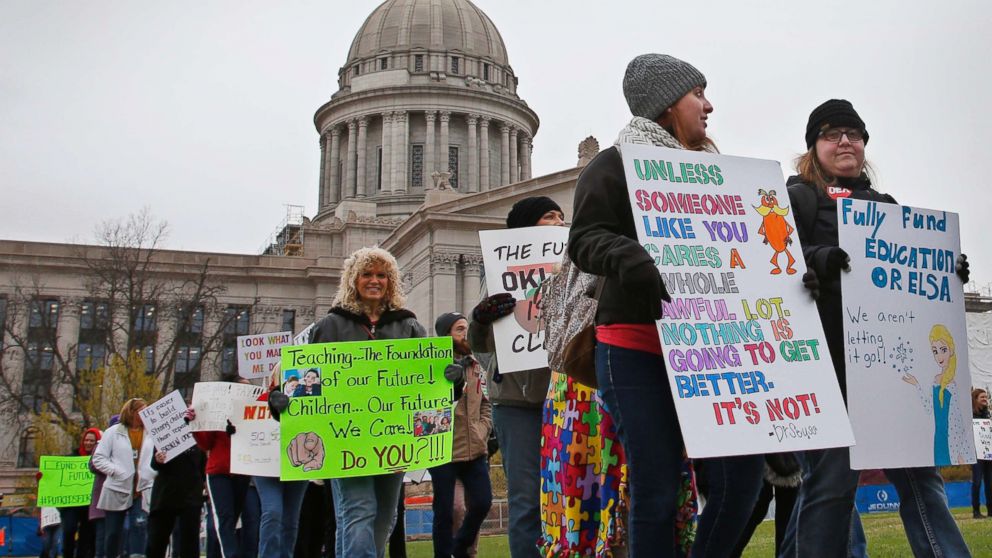 "We're putting them on notice today that if they don't pass a budget that protects public services of Kentucky, if they don't pass a budget that provides adequate funding for the schools in the Commonwealth, then we're going to vote them out," Stephanie Winkler, president of Kentucky Education Association and a fourth-grade teacher from Madison County, Kentucky, told the crowd before leading a march from the union's headquarters around the capitol building.
The teachers, most of them on their first day of spring break, were joined in a show of solidarity by members of other public-employee unions, including those representing firefighters, police, plumbers and pipe fitters.
The Republican-dominated Kentucky legislature says the pension reform bill was crafted to help the state cover a $41 billion shortfall in pension costs over the next 30 years. But teachers union officials said the overhaul would only generate $300 million in savings over the next three decades.
The bill, passed by the state Senate and House last week, would create a hybrid pension plan for new hires and limit the number of accrued sick days veteran teachers can put toward retirement. Kentucky Gov. Matt Bevin has indicated he supports the bill, but has yet to sign it.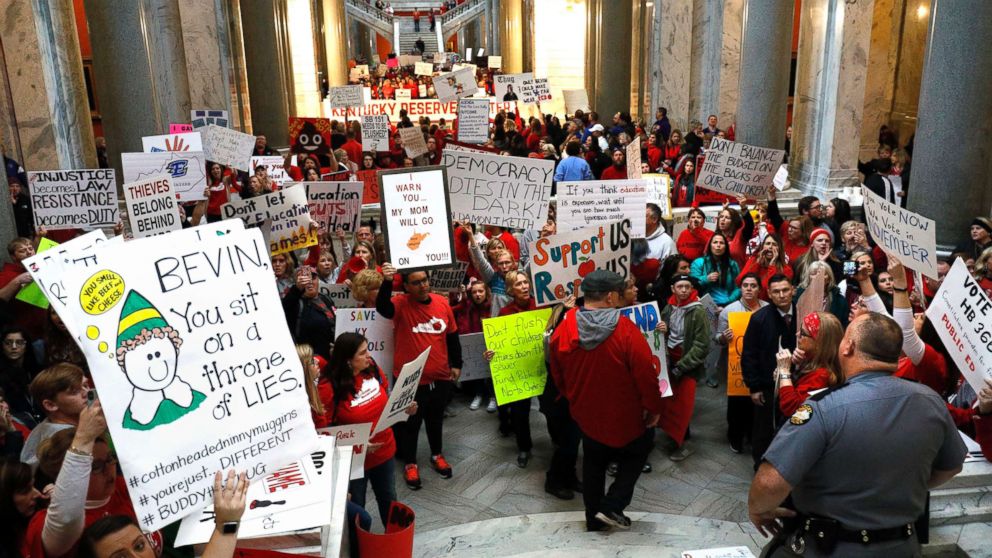 Meanwhile, thousands of Oklahoma teachers and education advocates staged a classroom walkout and converged on the state capitol in Oklahoma City to call on lawmakers, including Gov. Mary Fallin, to restore funding for education programs and supplies they say have been drastically slashed over the last decade.
Most of the Oklahoma teachers walked out of classrooms across the state to attend the rally in Oklahoma City. Many said they were frustrated with the lack of resources in their schools, and some said they were teaching students about science and technology with textbooks from the 1990s.
The Oklahoma protest came after Fallin signed legislation Thursday granting teachers annual pay raises averaging $6,100, the largest in state history. Oklahoma teachers had been making an average of $45,276 a year, among the lowest for educators nationwide, according to a 2017 report by the National Education Association.
While teachers in Oklahoma said they appreciate the pay raise, they're upset state lawmakers shortchanged students by slating only $50 million for educational programs and supplies. And even with the raise, public school teachers in Oklahoma still earn well below the national average of $58,950 a year, according to a National Education Association report that said only teachers in Mississippi and South Dakota earned less.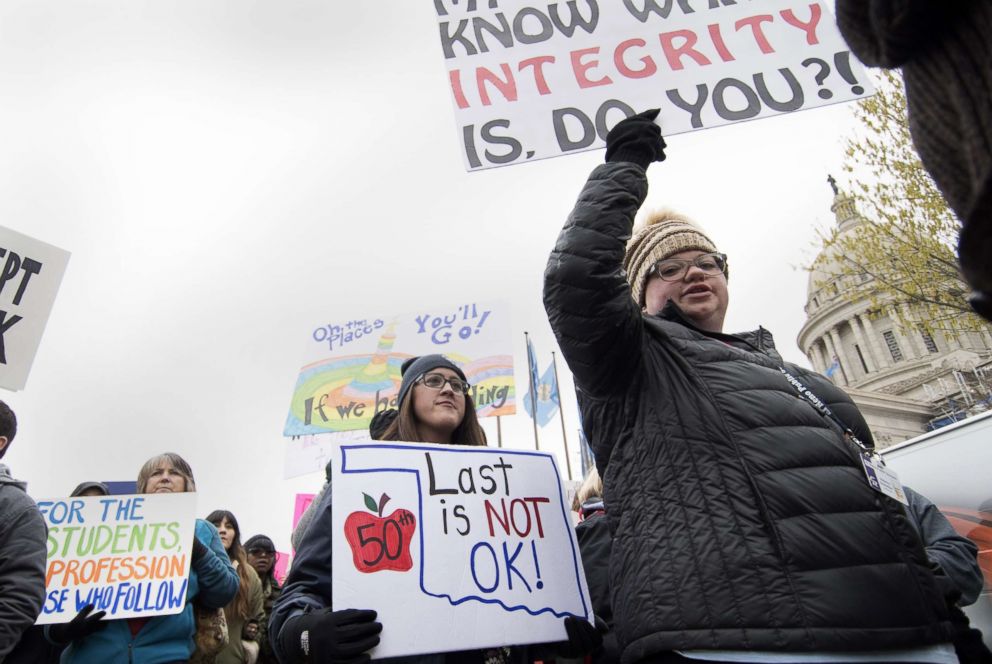 Alicia Priest, president of the Oklahoma Education Association, said the union had asked teachers' pay be raised by $10,000 annually and that funding for education be boosted by $200 million over the next three years.
"This can't end today," Priest told the crowd in front of the state capitol. "We have gained back our momentum. We have found our mojo in public education and we're not going to step back and let people divest from education."
In addition to money to buy textbooks and fund art, music, advanced coursework programs and reduce class sizes, Priest called on the legislature to boost the wages of school support staff, including secretaries, cafeteria workers, maintenance employees, bus drivers and paraprofessionals.
"I got an email from a 20-year career paraprofessional. She doesn't make $20,000 a year," Priest told the crowd. "We simply could not hold school without them. Support professionals help us make the magic happen.
"Make no mistake, the funding exists right now to do all of these things. Don't allow the legislature to tell you something different. We are tired of the excuses. We demand action."
Fallin issued a statement Monday evening saying that while she appreciated the teachers coming to the capitol to voice their concerns "we can only do what our budget allows."
"During the past, I have called for an increase in teacher salaries. I was very proud to join with leaders of both parties to sign the largest teacher pay increase in Oklahoma's history," Fallin said in her statement. "Significant revenue-raising measures were approved to make this pay raise and additional school funding possible. We must be responsible not to neglect other areas of need in the state such as corrections and health and human services as we continue to consider additional education funding measures. I look forward to continuing to talk with legislative leaders and teachers as we forge a positive pathway forward for education."
The protests in Oklahoma and Kentucky came about a month after West Virginia public school teachers held a nine-day strike that ended when the governor and legislature gave them and other public employees a 5 percent raise, the first pay hike for teachers in four years.
About 2,500 teachers in Arizona, another red state, rallied on Wednesday in Phoenix to demand a 20 percent raise. Republican Gov. Doug Ducey didn't directly address the teachers' demands, but noted that the state already gave teachers a 4.3 percent raise from 2016 to 2017.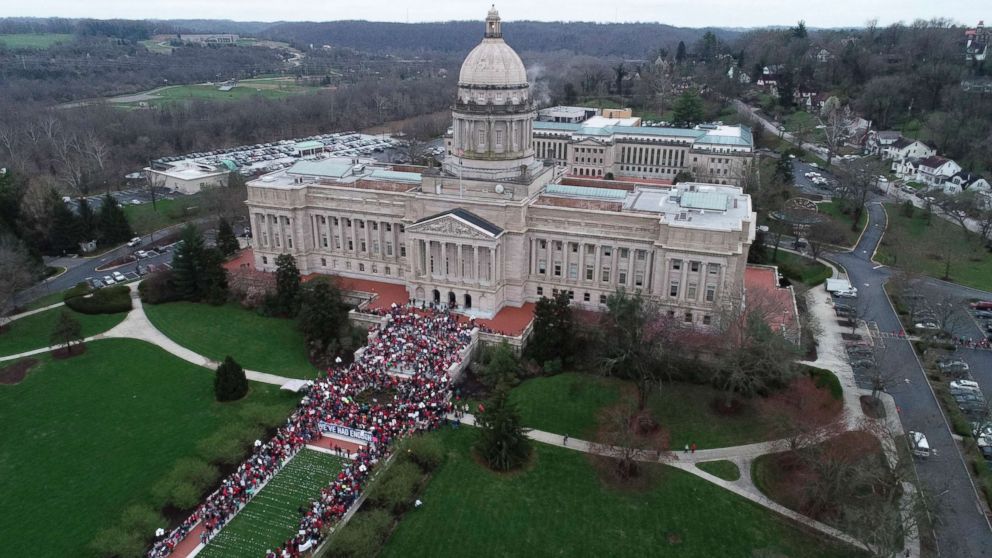 Dale Lee, president of the West Virginia Education Association, spoke this morning at the Oklahoma rally, saying, "I hope you learned a little bit from West Virginia on what it takes."
"You're here for the same reason we had thousands of teachers standing at the capitol in West Virginia: You're here for the kids," Lee said to loud applause.
"And what a shame it is that they didn't learn from the experience of West Virginia," he said of the Oklahoma lawmakers. "But, you know, that's OK because what we will teach 'em is that it doesn't matter how long it takes or what we have to do, we're gonna stand together."