The retrial of Bill Cosby got off to a wild start Monday when a topless woman who once acted on "The Cosby Show" charged at the comedian as he arrived at a Pennsylvania courthouse, but once the case began it was a prosecutor who laid bare a long-held secret.
For first time ever, the prosecution publicly said the 80-year-old Cosby paid his primary accuser $3.38 million in exchange for her silence about him allegedly drugging and sexually assaulted her.
Montgomery County District Attorney Kevin Steele described the story of Cosby and accuser Andrea Constand as a "he said, she said" scenario and spent much of his opening argument blunting anticipated defense attacks on Constand, the prosecution's chief witness.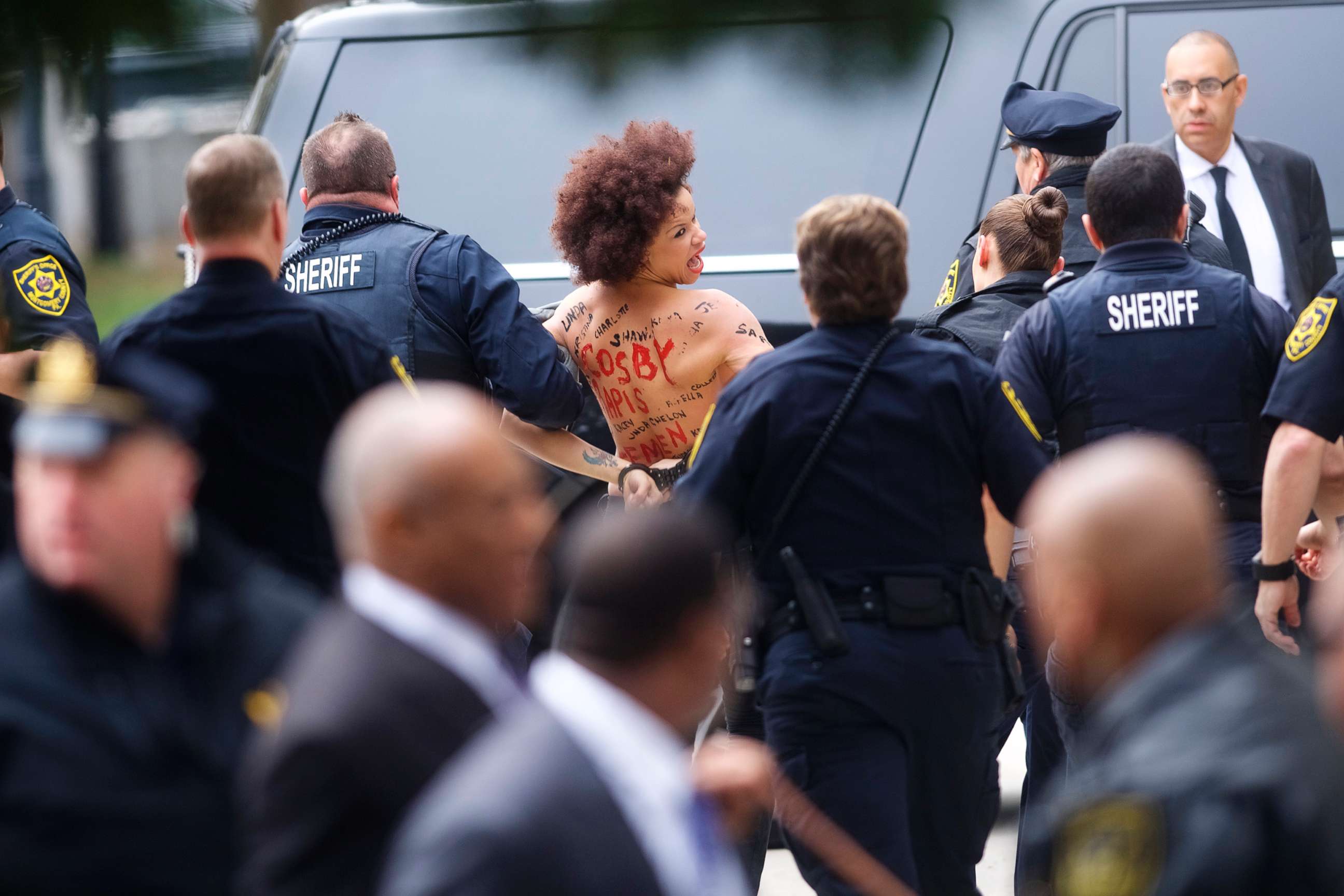 Steele emphasized that Constand did not approach his office to report the allegations against Cosby. He said investigators went to her more than a decade after the alleged attack, when the deposition was unsealed in 2015.
"The evidence in this case will show that Andrea Constand didn't come to us. What happened was, after this gets released, we go to her. And we ask if she's willing to help the commonwealth," Steele told the jury.
He also braced the jury for inconsistencies in Constand's account, reminding the panel she would be recounting an incident in which she was understandably hazy from allegedly being drugged by Cosby.
"You're going to hear her describe to the best of her ability what happened," Steele said. "When I say to the best of her ability, make sure you consider those pills and that glass of wine because then he [Cosby] helped her to a sofa. She's unconscious, she's jolted. And she's herself being violated."
Anticipating the defense, led by celebrity attorney Tom Mesereau, will likely try to discredit Constand's character and testimony, Steele reminded the jurors, "This is the Commonwealth vs. William H. Cosby."
"That's what you just swore that you were going to sit and judge and listen to the facts in the case," he said. "This case is not Andrea Constand vs. the defendant."
In one dramatic moment, Steele urged jurors to "listen to the testimony that she did not say 'yes.'"
"That, as we all know, is a woman's right," Steele said.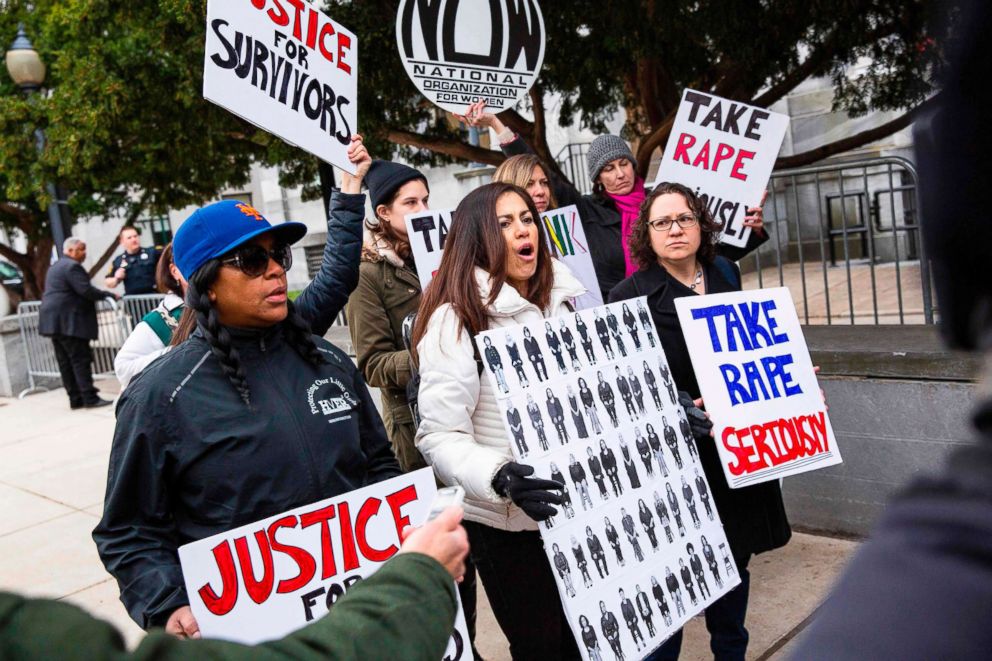 "We are confident that you will be able to make the right decision in this case, we are confident that you will be able to do the right thing in this case, and we are confident that you will convict the defendant on three counts of aggravated sexual assault," Steele said.
Cosby's first trial ended in a mistrial in June when a jury couldn't reach a verdict.
During the first trial, Constand -- the former director of operations for the women's basketball team at Cosby's alma mater, Temple University -- testified that he drugged and sexually assaulted her while she was unconscious at his home in 2004. She described Cosby as "somebody I trusted. A mentor."
Cosby has denied the accusations, saying that any drug taking or sex was consensual.
Defense attorneys will give their opening argument on Tuesday.
Before the trial began Monday morning, a topless woman jumped a police barricade and charged at Cosby as he entered the courthouse. The woman had writing on her body reading "Cosby," "rapist" and "Women's Lives Matter" in red ink and the names of women who have accused Cosby of sexual assault written on her torso in black ink.
The Montgomery County District Attorney's Office identified the suspect as Nicolle Rochelle, 39, of Little Falls, New Jersey. As a young girl, Rochelle appeared in four episodes of "The Cosby Show" between 1990 and 1992, playing a character named Danielle.
Police officers and sheriff's deputies quickly stopped the woman about 8:35 a.m., pushing her into some bushes before she could reach Cosby outside the Montgomery County Courthouse in Norristown.
Rochelle was apparently among a group of protesters at the courthouse who greeted Cosby with jeers.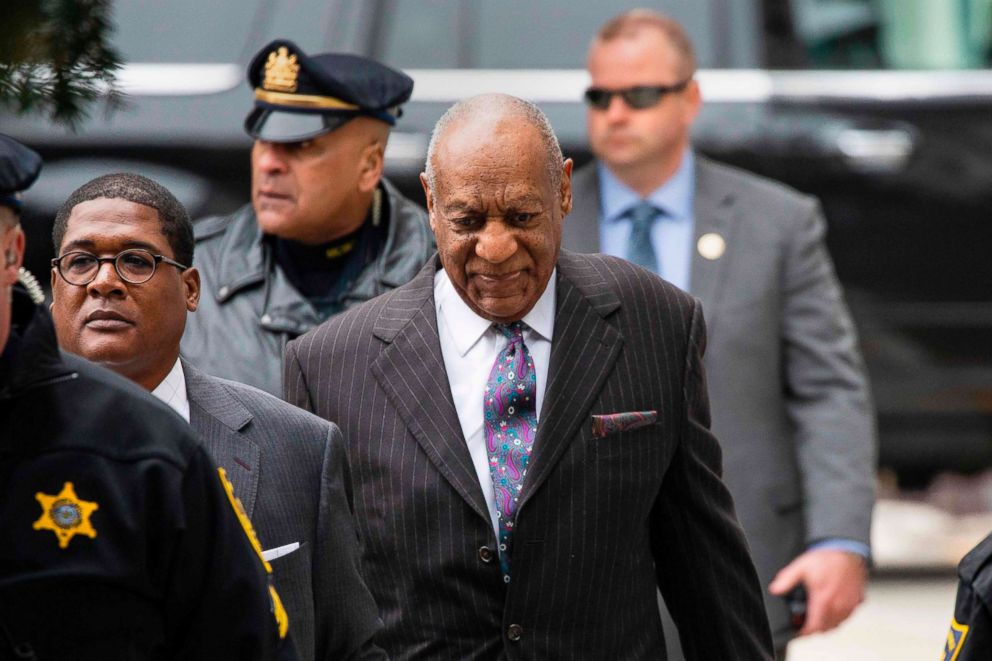 She was charged with disorderly conduct, which the district attorney's office defined as "the intent to cause a public inconvenience, annoyance or alarm, or recklessly creating a risk."
Her agent has not responded to ABC News' request for comment.
Andrew Wyatt, a spokesman for Cosby, told ABC News that he was guiding the comedian along their regular path between a wall at the courthouse and a set of police barricades -- behind which photographers and camera crews stand to get shots of the comedian coming and going -- as the incident unfolded.
"She stood up on the railing, ripped off a black leather jacket, and jumped in front of Cosby and yelled, 'Look at me! He raped me!'" Wyatt said.
Cosby, who sufferers from a degenerative eye disease, had no reaction to the episode, Wyatt said.
"He can't see," Wyatt said.