For the second time this week, a California city has joined a Trump administration lawsuit charging that the state's sanctuary law protecting undocumented immigrants against federal agents is unconstitutional and "advancing an open borders philosophy."
Interested in
Trump Administration?
Add Trump Administration as an interest to stay up to date on the latest Trump Administration news, video, and analysis from ABC News.
The city council of Escondido, which is near San Diego and about 45 miles from the Mexican border, voted 4-1 Wednesday night to support the lawsuit filed in March against the state by the U.S. Department of Justice.
On Tuesday, the city council in Huntington Beach, California, voted to join the Trump administration lawsuit and prepare its own legal challenge of the state sanctuary law. Last month, the Orange County Board of Supervisors also voted to join federal lawsuit.
Escondido Mayor Sam Abed said the sanctuary law, passed by the state legislature and signed by Gov. Jerry Brown last year, is the result of "politically, ethically and morally corrupt" leadership.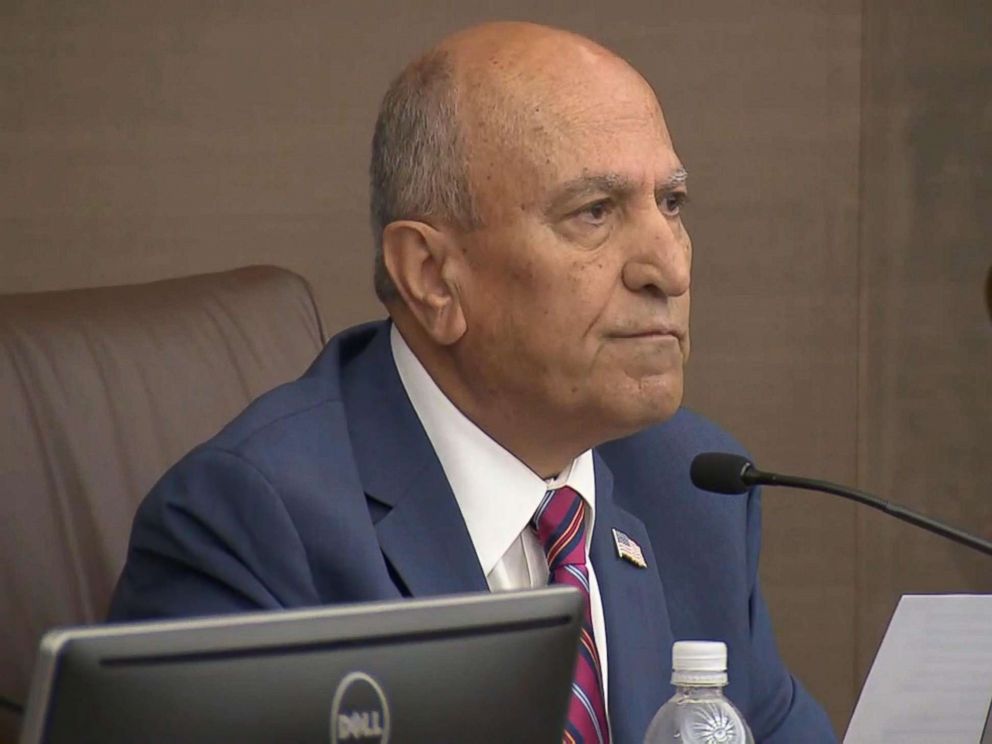 "Gov. Brown, I promised you a year ago we would sue the state," Abed said at a raucous city council meeting Wednesday in which more than 70 community residents gave impassioned reasons for and against supporting the federal lawsuit.
Under the state's sanctuary law, local police are prohibited from notifying federal officials when immigrants in their custody who may be subject to deportation are about to be released.
"This bill does not prevent or prohibit Immigration and Customs Enforcement or the Department of Homeland Security from doing their own work in any way," Brown said at the time he signed the legislation. "They are free to use their own considerable resources to enforce federal immigration law in California."
U.S. Attorney General Jeff Sessions filed suit against the state on March 7 after the mayor of Oakland, California, Libby Schaaf, publicly announced that ICE agents would be conducting an immigration crackdown in her community.
Sessions said Schaaf's warning put the lives of federal agents at risk.
"Stop treating immigration agents differently from everybody else for the purpose of eviscerating border and immigration laws and advancing an open borders philosophy shared by only a few, the most radical extremists," Sessions said the day he filed the suit.
Taking aim at Schaaf, Sessions added, "Her actions support those who flout our laws and boldly validates illegality. There's no other way to interpret those remarks. So here's my message to Mayor Schaaf: How dare you needlessly endanger the lives of law enforcement to promote an open borders agenda."
Escondido Councilman John Masson, who voted in favor of supporting the federal lawsuit, said that for a border town like his, working with immigration agents has been a necessity for public safety. He said the relationship was so close, ICE agents had a desk in police headquarters.
The city officials said ICE agents are still in their community arresting people without any help from local police.
"When [sanctuary law] got passed and we were no longer able to deal with ICE, that relationship with ICE disappeared," Masson said at Wednesday's city council meeting. "So, no longer do we have control over our community and who we go after in our community, which was very controlled through our [police department]."
Prior to the city council's vote, community residents held a boisterous demonstration outside City Hall, demanding the city leaders vote against supporting the lawsuit.
"What's being discussed inside chambers is not representative of the values in my community," Escondido resident Lilian Serrano told ABC station KGTV in San Diego.