— -- Dramatic video shows a student saving an assistant track coach after he collapsed at the gym last October.
"I set the weights on the floor and was catching my breath between sets and next thing I know face-first on the floor, not breathing and had no pulse," Chuck Glover, who coaches at Twinsburg High School in Ohio, told ABC News.
Glover, who said he works out three times a week and is on heart-healthy diet, had just suffered a massive heart attack.
"I always considered myself pretty fit," Glover said. "I'm probably carrying a little more weight than I should, but I never had any indication, no symptoms, no pain."
Nearby, 17-year old gym lifeguard Nicole Fruscella -- who attends the high school where Glover coaches -- was doing her homework in the gym office.
"My manager called me, told me to grab the trauma bag and go to the fitness center," Fruscella told ABC News.
Suddenly, it was time to put her lifesaving training into action.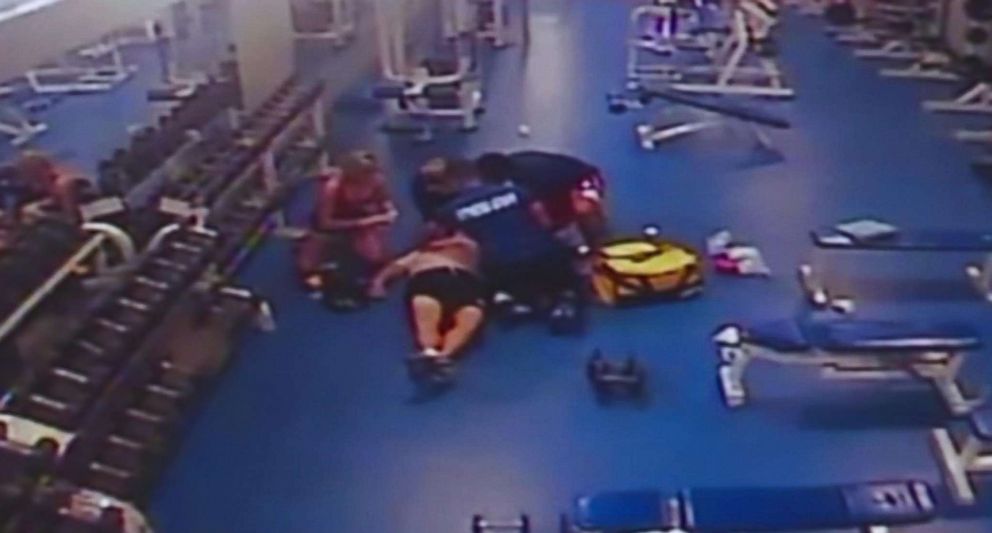 Newly released surveillance video from the gym shows Fruscella, armed with a portable defibrillator, rushing into the weight-training area to help Glover.
"We do training twice a month on CPR and on how to use the defibrillator, so I was prepared," Fruscella said. "We cut open his shirt, set up the defibrillator, it told us to shock him, so we did. EMS arrived shortly after that."
Paramedics rushed Glover to the hospital, where he underwent heart surgery immediately, followed by another procedure in December, he said.
Despite always having had regular cholesterol levels, Glover said doctors told him he had a nearly complete blockage in a main artery.
"My cardiologist told me that the survival rate is less than 5 percent. The response time is probably the most critical element. The fact that Nicole was there was in less than 2 1/2 minutes saved me," Glover said.
"It's crazy for me to think that I'm basically the reason this guy's alive," Fruscella added.
"Every time I see her, I gotta give her a big hug and I start crying," said Glover.
"I just feel like there was an angel on my shoulder that day and her name was Nicole."