US heat wave lingers in Southwest, intensifies in Midwest: Latest forecast
The last 21 days on Earth have been the hottest on record.
A deadly heat wave that has persisted for weeks continues to grip a swath of the United States.
The National Weather Service has issued heat alerts that are in effect on Monday for 40 million Americans across at least a dozen states, from Montana to Texas and Florida.
The latest forecast shows scorching temperatures will linger in the Southwest while intensifying in the Midwest this week. A heat dome that has been stationary over the Southwest is expected to stretch into the Midwest on Monday, as the ridge builds into the Heartland.
Although temperatures will be warming in the Northeast this week, they are expected to cool off and be seasonal or even chillier than average by the weekend and into early August. Meanwhile, the South is expected to remain hot as the Southwest may get a slight reprieve from the excessive heat.
On Monday, temperatures are forecast to reach or exceed 110 degrees in Palm Springs, California; Phoenix, Arizona; and Tucson, Arizona. Heat index values -- a measure of how hot it really feels when relative humidity is combined with the air temperature -- are expected to be in the 100s from Texas to Florida again.
Arizona's capital is on a record stretch of 24 consecutive days with temperatures at or above 110 degrees. Overnight temperatures in Phoenix have also not dropped below 90 degrees for at least 14 days. Meanwhile, Tucson has been at or above 100 degrees for 38 days in a row and may on Monday tie its record of 39 days, which was set in 2013.
Las Vegas has tied its record, set in 1961, of 10 consecutive days at or above 110 degrees. Temperatures in Nevada's most populous city are forecast to be at 109 degrees on Monday, potentially just shy of breaking the record.
El Paso, Texas, has been on a record-smashing stretch of 38 straight days with temperatures at or above 100 degrees. This is expected to continue this week and may finally come to an end over the weekend. The city's previous record of 23 consecutive days was set in 1994.
So far this month, at least four heat-related fatalities have been reported in Texas' Tarrant County, which includes Fort Worth. The victims ranged in age from 26 to 79 and either had no air conditioning at home or were either working outdoors at the time of their death, according to Dallas ABC station WFAA, which cited the Tarrant County Medical Examiner's Office.
Miami, Florida, which is under an excessive heat warning on Monday, has had a heat index high of 100 degrees for a record 43 days in a row, well past the previous record of 32 days in 2020. The city also had its hottest day in more than three years on Sunday with a high temperature of 98 degrees.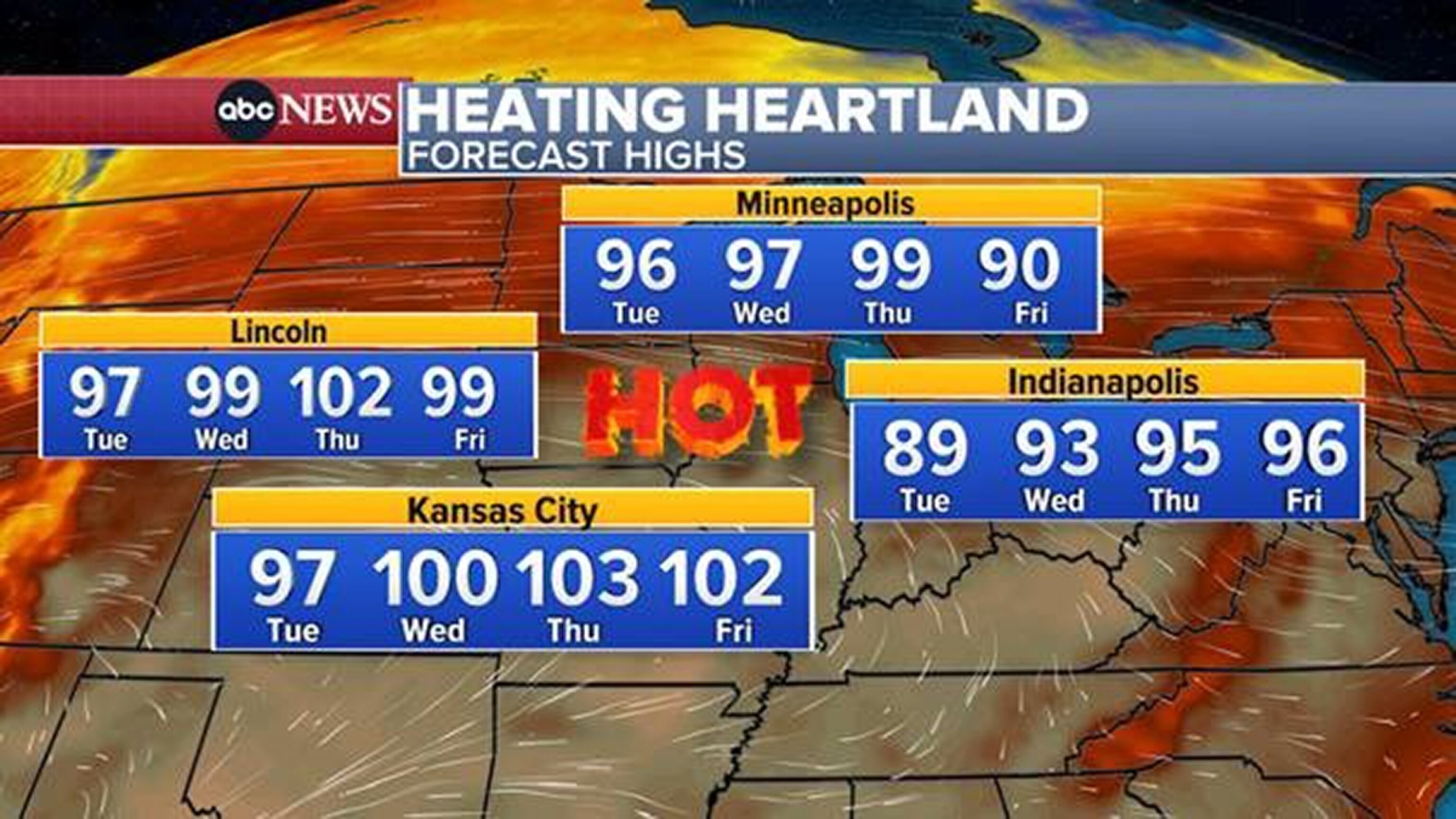 Grand Junction, Colorado, hit a daily record of 105 degrees on Sunday, marking the second day this summer that temperatures there were at or above 105 degrees -- only the fifth summer on record to do so and the first since 2021.
Later this week, temperatures in much of the Midwest are forecast to reach near 100 degrees, with some heat index values up to 110 degrees. Just a week ago, temperatures in the area only topped out in the 70s and 80s.
The last 21 days on Earth have been the hottest on record.
The Northern Hemisphere had its hottest day on record on Sunday at at 22.48 degrees Celsius, or 72.46 degrees Fahrenheit, breaking the record for the eighth straight day. Before July 16, the previous all-time record -- set last year -- was 22.18 degrees Celsius, or 71.9 degrees Fahrenheit.