— -- Two former Vanderbilt University football players on trial for sexually assaulting a female classmate in a campus dorm room were found guilty Tuesday.
A Nashville jury took just a few hours to decide Brandon Vandenburg and Cory Batey were guilty of four counts of aggravated rape, one count of attempted aggravated rape and two counts of aggravated sexual battery. Vandenburg was also found guilty of tampering with evidence and unlawful photography after prosecutors claimed he recorded the sexual assault on his phone and shared it with friends.
Vanderburg and Batey's bond has been revoked and they will be sentenced on March 6.
Two other ex-players accused of being involved in the incident, Brandon Banks and Jaborian McKenzie, also face charges of rape and sexual battery, but have not yet gone to trial. All four pleaded not guilty.
Prosecutors say the 21-year-old woman -- a former neuroscience major and dance team member at the university -- was allegedly drunk and passed out when the 2013 incident occurred. ABC News has declined to name the victim.
The graphic sexual assault case has played out in a Nashville courtroom over the past few weeks, reflecting many of the larger controversies colleges face today, including alcohol, sexual promiscuity and the role of popular culture.
Prosecutors presented a surveillance video showing Vandenburg carrying the victim to his dorm building that night, accompanied by Batey, Banks and McKenzie. According to prosecutors, the four former football players laughed at the victim, who was passed out, before they allegedly sexually assaulted her inside Vandenburg's room.
"Vandenburg, he had said, 'we're going to have some,'" prosecutor Tom Thurman said. "He gives everyone a condom."
Prosecutors also claimed Vandenburg took pictures and video of the assault and sent it to his friends, then later searched online for information about how to delete photos so the police couldn't find them. Prosecutors accused the former players of texting each other about the attack, trying to cover it up.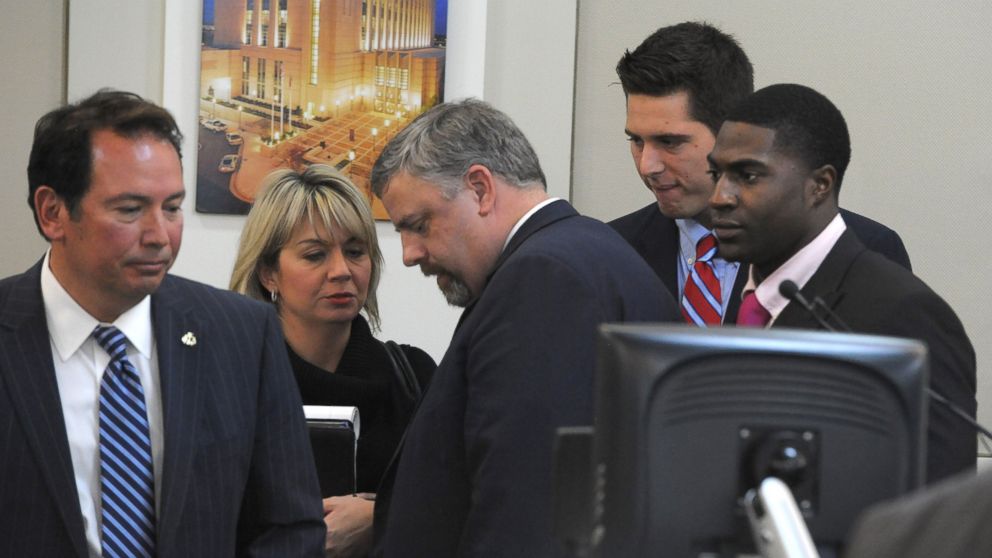 The defense argued the young men were not guilty of rape, but rather of making a mistake. Batey's lawyer, Worrick Robinson, claimed that college culture put his client in this situation. In court, the defense poked holes in how police conducted their investigation, also raising questions about the lack of DNA evidence found at the scene.
Batey, testifying in his own defense Monday, admitted he was the one in the cell phone video that prosecutors said showed him sexually assaulting the female classmate. He even attempted to apologize to the victim from the stand, saying "I'm just sorry. I never intended on hurting anyone."
Batey also testified he was too drunk to remember the incident, claiming he blacked out after consuming between 14 and 22 drinks that night. He told the court he didn't realize what he had done until the next morning, after finding graphic photos on his phone as he was on his way to church.
"I was horrified," he said. "I didn't know they got there. I didn't remember. I didn't know what had happened to the young lady in the pictures and I deleted them immediately."
The woman became physically overcome with emotion when the graphic cell phone photos and video of the attack were shown in court Monday. But like Batey, she said she had no recollection of the actual attack. She testified that she had been out drinking that night with Vandenburg, who she said she had been causally seeing at the time, before passing out.
The next morning, the victim testified, she remembered "waking up in an unfamiliar room at 8 in the morning." She went on to tell the court that Vandenburg told her that she had "gotten sick in his room" and "he had to spend the whole night taking care" of her.
"It was horrible, it was horrible," the young woman said. "I was embarrassed I apologized."
It wasn't until later that she discovered something was very wrong.
"I felt very out of it, I didn't feel like myself. I felt very confused. I felt sick. I was nauseous. I developed a headache and was in pain in certain parts of my body," she testified. "I was sore all over, I was in pain left shoulder left wrist right knee. I had a lot of bruises on my legs. I did notice a few days later I had bruises on my buttocks."
The trial comes on the heels of a national debate about the prevalence of rapes on college campuses. Roughly 97,000 students are victims of alcohol-related sexual assault or date-rape each year, according to the National institute of Alcohol Abuse and Alcoholism.
In the Vanderbilt situation, school authorities reported the situation to police.
ABC News' Ryan Smith and Jason Volack contributed to this report.