— -- Startling video shot by an eyewitness appears to show the suspect in today's deadly truck attack in New York City after he got out of the vehicle he used to hit multiple people on a bike path.
The footage appears to show the suspect -- who has since been identified as 29-year-old Sayfullo Saipov, multiple law enforcement sources told ABC News -- walking in the middle of West Street, which runs along the west side of Manhattan near the Hudson River.
Eight people were killed and 11 injured in the attack, which is being treated as possible terrorism.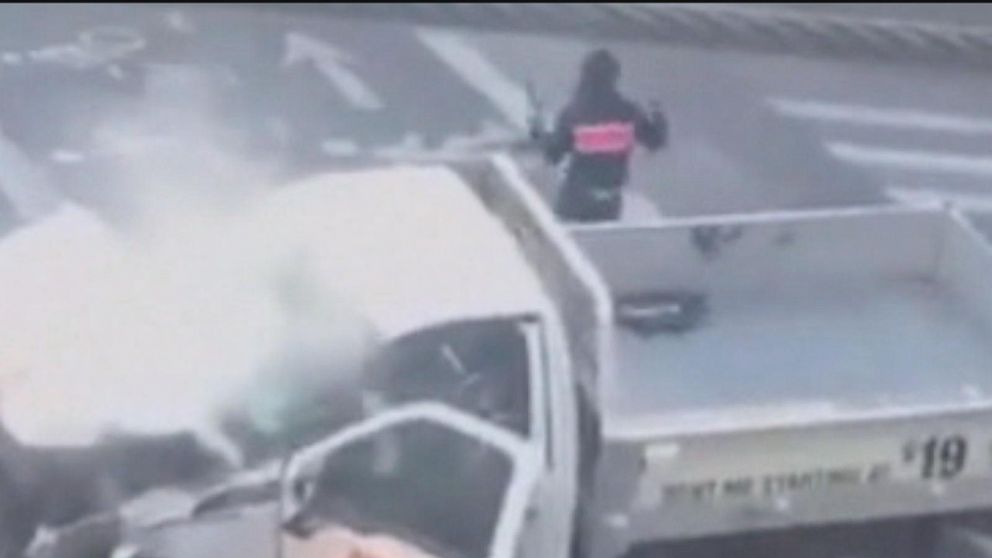 The video appears to show the suspect walking between oncoming cars, weaving beside a taxi at one point, before crossing to the other side of the street.
It looks as if the individual seen in the video is holding a gun-like weapon in the video. New York Police Commissioner James O'Neill later said that a paintball gun and pellet gun were found at the scene.
The suspect got out of the Home Depot truck that he used to plow into people on the bike path after crashing into a school bus at the intersection of the bike path and Chambers Street, according to officials.
Witness Thibaud Roy told ABC News that his friend shot the video from the pedestrian overpass bridge that is located above West Street right near Chambers Street.