A 28-year-old police officer who was shot dead Saturday while on her first shift after being sworn in at the Prince William County Police Department in Virginia was inspired to get into police work by her father.
"Her father wanted to be a police officer himself," Ashley Guindon's grandmother Dorothy told ABC News, adding that he was injured in an accident and couldn't pursue the career of his dreams.
Guindon's decision to join the force "was fulfilling his dream of being an officer," Dorothy said. Guindon's uncle is also a police officer, Dorothy added.
A Deadly Shooting
Last Friday, Guindon, a former Marine Corps reservist, was welcomed to the Prince William County Police Department with a tweet that read, "Be safe".
Saturday's deadly shooting began when Crystal Hamilton placed a 911 call. Guindon and two other Prince William County Police officers responded to the Woodbridge, Virginia, home, about 20 miles south of Washington, D.C., according to police. But Hamilton had been shot and killed before police arrived on scene, officials said.
Guindon and the two other officers were shot almost immediately upon arrival, allegedly by Hamilton's husband, Army Sgt. Ronald Hamilton, Prince William County police said.
A second team of officers then arrived, and at some point Hamilton surrendered and was taken into custody, police said.
Guindon died a few hours later from her injuries. Her funeral was held today in Virginia.
The two other officers who were injured are expected to make a full recovery, according to police.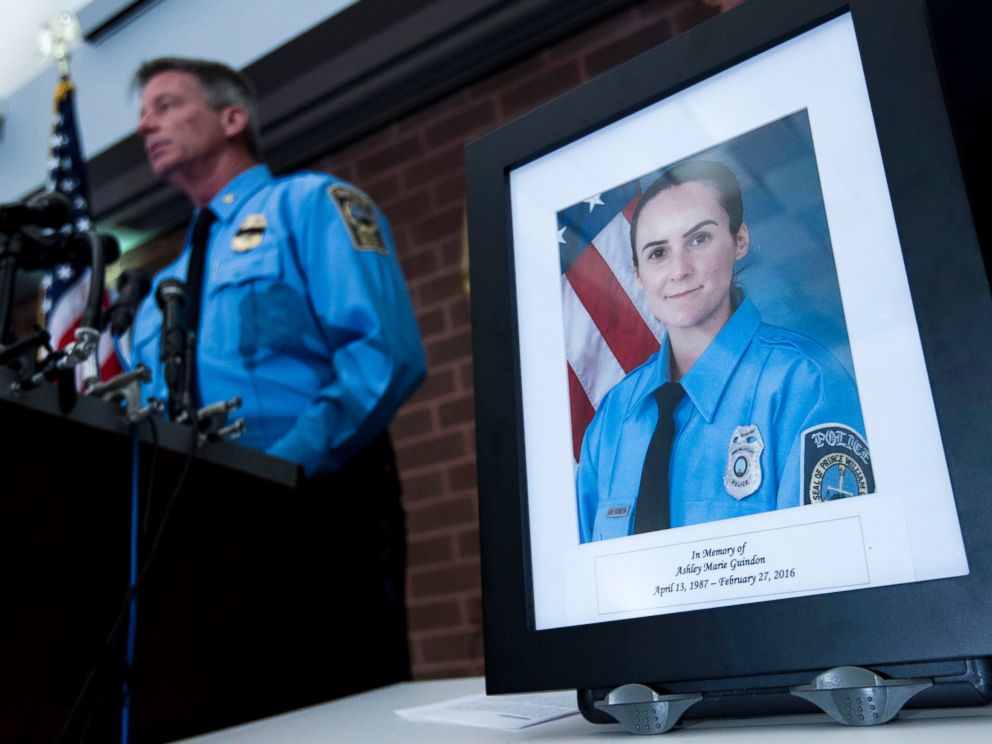 A 'Go-Getter'
The last time Dorothy saw her granddaughter was this past Christmas. "She was a friendly person. Everybody liked her," Dorothy said. "She was a happy person ... a go-getter."
Guindon was born in Springfield, Massachusetts, and her family later moved to Merrimack, New Hampshire, her grandmother told ABC News.
She graduated from Merrimack High School in 2005, Principal Ken Johnson said, and he told ABC News he requested a moment of silence at the high school Monday morning in her honor.
She wrote in her yearbook: "Live for something rather than die for nothing," according to a yearbook photograph Johnson provided to ABC News.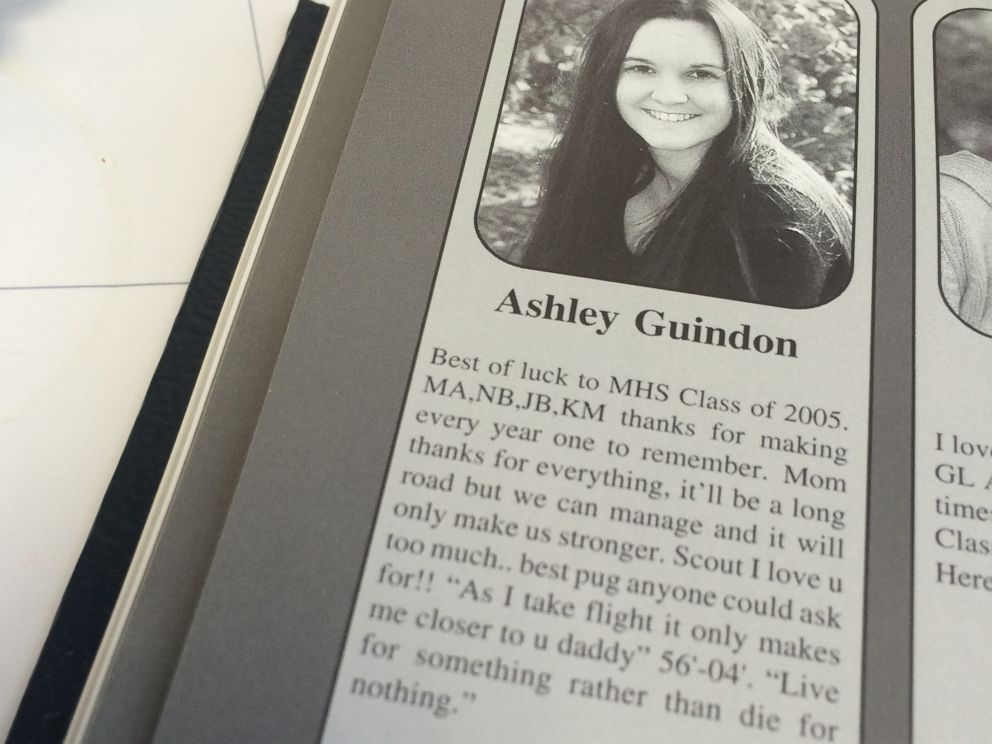 "At MHS we live by the motto, 'Believe, go forward, and inspire.' We believe that Ashley not only embraced our motto, she personified it," Johnson said in statements to staff and students. "Our thoughts and prayers are with her family at this time."
Guindon then attended Embry-Riddle Aeronautical University and graduated with a Bachelor's degree in Aeronautics with minors in Psychology, Homeland Security and Aviation Safety, the university said in a statement. She also was in the U.S. Marines Corps Reserve while she was a student, according to the university.
"The entire Embry-Riddle community is deeply saddened to learn of the death of Daytona Beach campus graduate Ashley Guindon," the statement read. "Our hearts are with her family and friends."
'Destined to Wear the Badge'
In Virginia, Guindon's police department is now a "family in mourning."
She loved dancing, reading, traveling and her pet pug, Scout, according to the police department.
"Ashley was destined to wear the badge, but her service to her community began long before her days as an officer," the Prince William County Police Department said in a biography post on its website. "She assisted the Marine Corps Mortuary Affairs Office while serving in the Reserves, worked as a pre-hire with Prince William County Police Special Victim's Unit, and volunteered extensively with the Suicide Prevention Program, a cause near to her heart.
"Ashley Guindon is deeply loved and sorely missed not just by those who knew her best, but by everyone who is touched, not by how she died, but how she lived," the department said.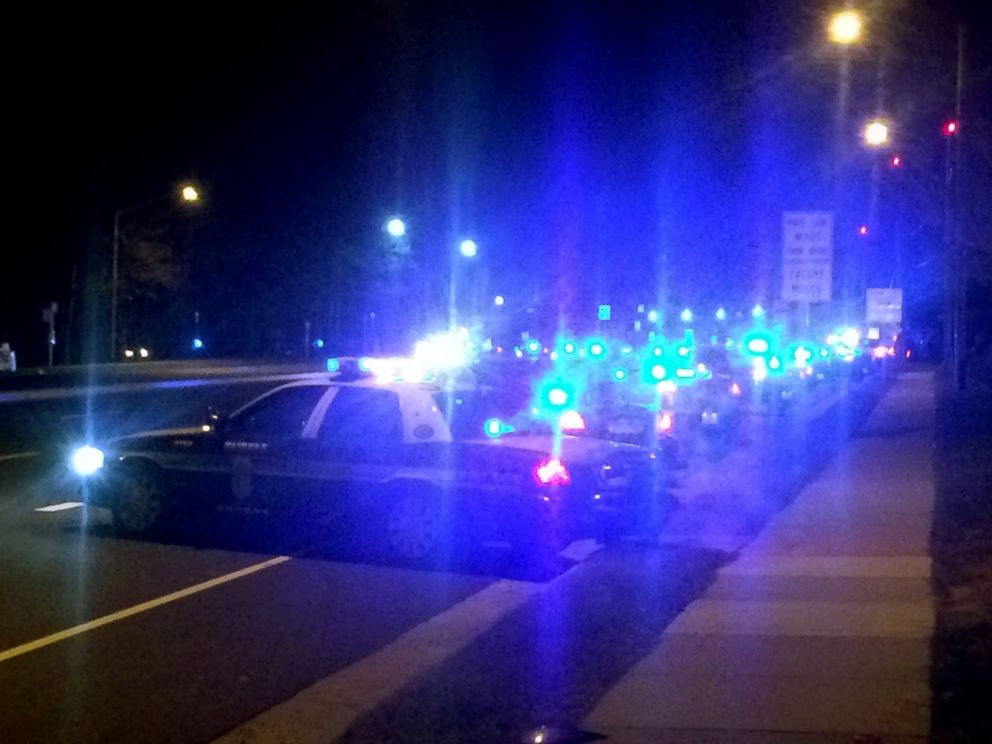 Rep. Rob Wittman of Virginia, who represents Prince William County, said in a statement: "Every day, men and women like Officer Guindon put themselves in harm's way to protect innocent lives. It is unfortunate that we live in a world where not everyone respects that kind of dedicated selflessness. Officer Guindon spent six years as a Marine Corps reservist, and by all accounts, was passionate about serving others."
"I extend my deepest sympathies and condolences to her family, her friends, and to every member of the Prince William County Police Department," Wittman said. "I am continuing to pray for the officers who are in recovery and for all left in the wake of this horrible tragedy."
Army Sgt. Ronald Hamilton is charged with capital murder in Guindon's death and first-degree murder in the death of his wife. He has not entered a plea to the charges against him and is being held without bond.
Hamilton's attorney has not responded to ABC News' request for comment.