This week starts with a wintry mix in the Midwest and East Coast, but temperatures are expected to heat up by Friday.
Interested in
Weather?
Add Weather as an interest to stay up to date on the latest Weather news, video, and analysis from ABC News.
The East Coast is in for two more days of chilly weather before the major warm-up comes along.
Parts of the Midwest, including Minneapolis and Chicago, are having one of their coldest first weeks of April in years.
Before baseball season could start in Chicago for the Cubs, Wrigley Field was dusted with enough snow to postpone the team's home opener against the Pittsburgh Pirates to Tuesday.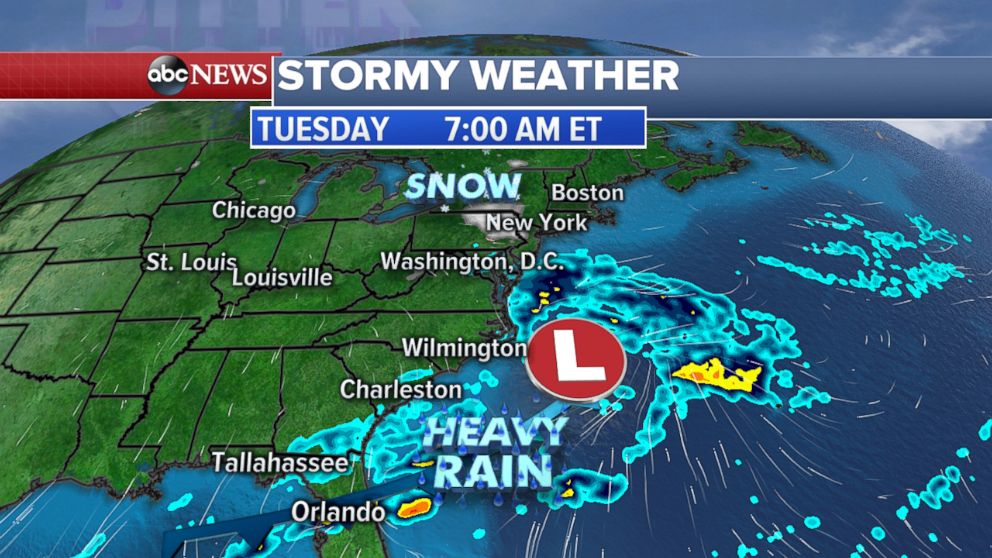 But the players had a little fun in the snowfall.
Over half a foot of snow fell in some spots across the Plains and Midwest over the weekend, including in Sioux Falls, South Dakota, where there was a daily record snowfall on Sunday of almost 5 inches.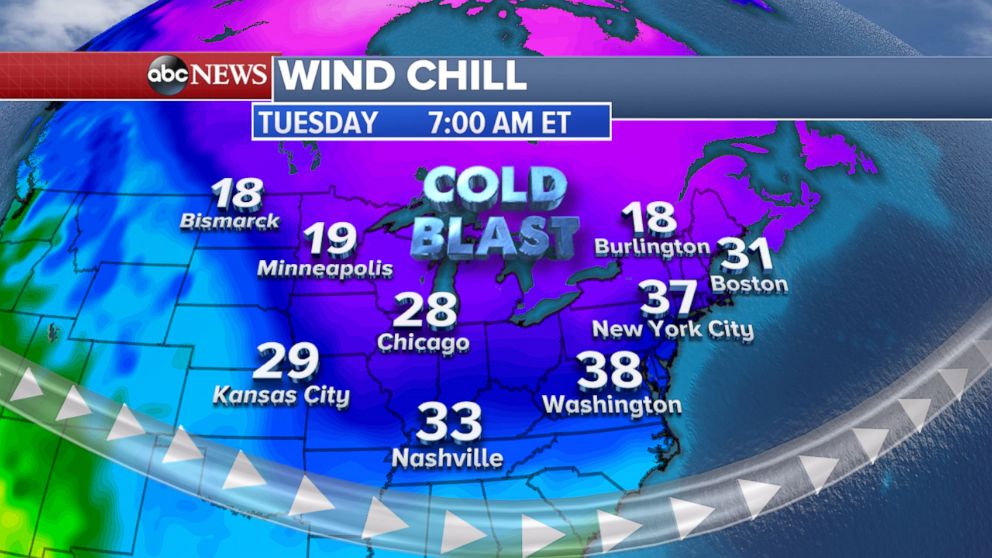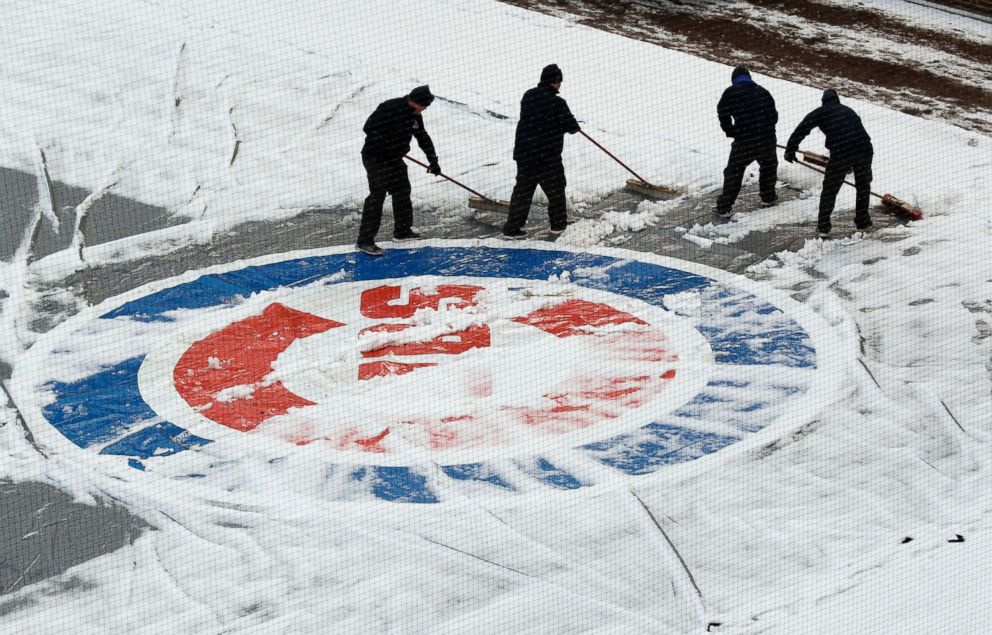 Two areas of low pressure are moving through the Eastern U.S. today -- one in the north bringing snow to the Great Lakes and Ohio Valley, and another one in the Southeast bringing heavy rain to Florida.
Today into this evening, 1 to 3 inches of snow are possible in the Ohio Valley and into the central Appalachian Mountains from Virginia to Pennsylvania. By Tuesday morning, the area of snow will move into the Northeast from Pennsylvania into upstate New York and northern New Jersey, where some areas could see an inch or two of snow.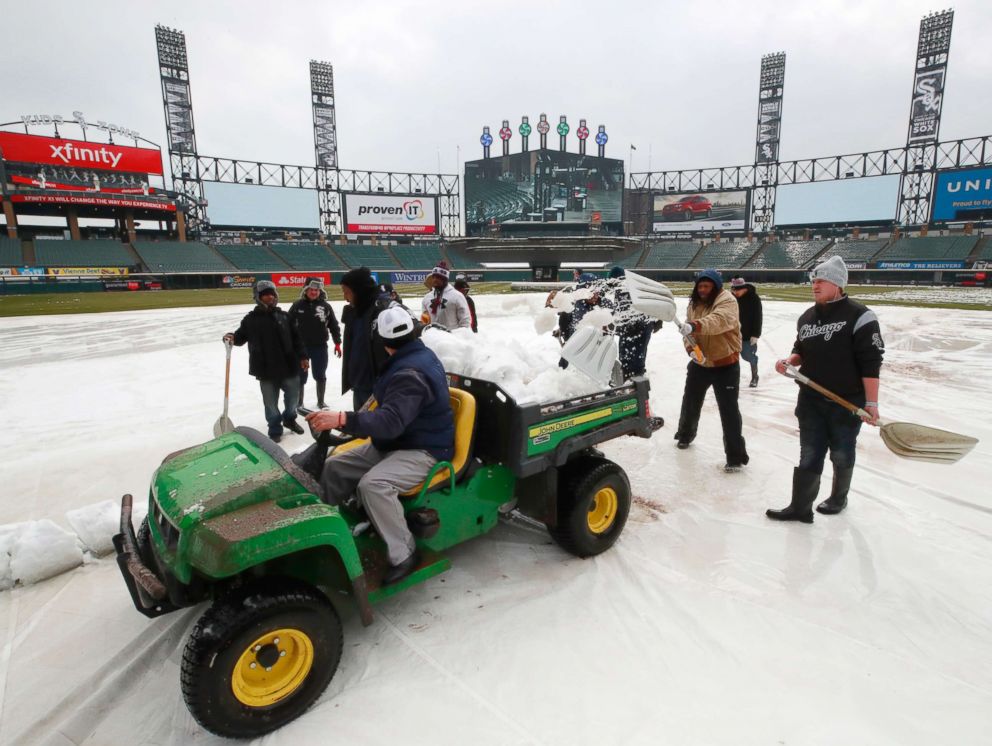 To the south, heavy rain will continue in northern and central Florida, where 2 t 4 inches of rain are forecast locally as the southern system stalls in the area.
The cold weather will continue for Midwest and the Northeast today, with wind chills in the 20s in New York and in the teens in the New England area.
Another chilly morning is forecast on Tuesday for the Midwest and the Northeast with wind chills in the 20s and 30s for millions in mid-April.
The temperature may even feel as if it were in the teens in the Upper Midwest.
With the cold air and a low-pressure system moving in, a blast of snow mix is possible for the morning commute.
Little to no accumulation is expected.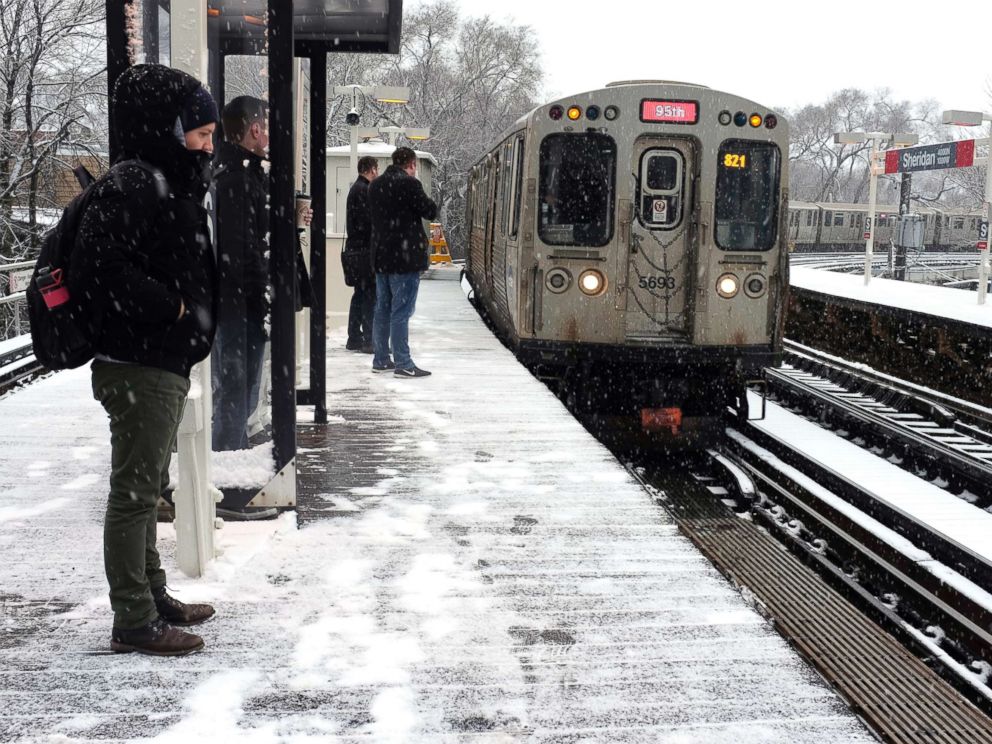 The low-pressure system will move out to sea by mid-day on Tuesday.
But after that, much warmer weather will spread over the entire eastern U.S. from the Rockies to the Atlantic Coast, with temperatures warming into the 70s and even 80s from Chicago to Washington, D.C.
On Friday, D.C. is forecast to see a high of 82 degrees Fahrenheit, while in New York and Chicago, temperatures are expected to hit 73 degrees.