— -- A teacher in her first year on the job tried stopping a freshman homecoming prince who opened fire inside his Washington state high school, killing one person and injuring four others -- including two of his relatives -- before fatally shooting himself, a local teacher's union official said.
Megan Silberberger, a first-year social studies teacher, was in the cafeteria when the student, identified by witnesses and law enforcement sources as Jaylen Fryberg, started shooting, Marysville Education Association president Randy Davis said.
"For anybody involved in that, they have to decide between fight or flight," Davis told ABC News. "She picked to go towards it, instinctively that's what she did."
Silberberger was with family and was feeling some trauma, according to Davis.
"She, everybody, the community itself is just reeling," he said.
Silberberger began teaching at Marysville-Pilchuck High School last year as a student year, and was promoted to a full-time teacher this year, Davis said.
"She was very upbeat, positive, and enthusiastic," Davis recalled. "She was really happy to be here.
"I'm completely amazed by her actions and I feel for her," Davis said. "I don't know why she was in the cafeteria but I'm just grateful she was there."
The Marysville School District posted a message from Silberberger on its website today, thanking people for their support and asking for privacy.
"While I am thankful and grateful for the support from everyone, at this time I am requesting privacy for myself and my family," she wrote.
The Snohomish County Sheriff's Office said today that it had finished its on-scene investigation of the shooting.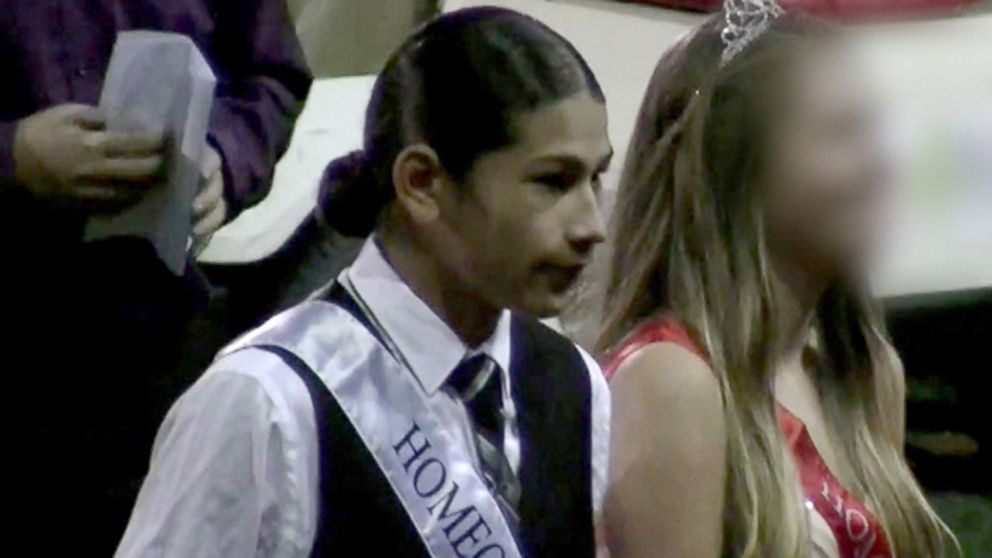 A .40 caliber handgun that investigators believe was the weapon used in the Friday shooting was recovered from the school, the Sheriff's Office said.
Marysville police have said the gun used in the shooting was legally acquired, though have not said by whom.
The shooting struck the Tulalip Tribes deeply, because Jaylen Fryberg is from a prominent member and had been seen as a future leader, state Sen. John McCoy, a tribe member, told ABC News.
All the victims in the shooting were either relatives or friends of Fryberg's, he said.
Two of the victims, Nate Hatch, 14, and Andrew Fryberg, 15, are relatives of the shooter, according to Hatch's grandfather and a source within the Tulalip Tribes.
"My grandson and the shooter were best friends," said the boy's grandfather, Donald Hatch. "They grew up together and did everything together."
Andrew Fryberg underwent surgery for a head wound, said Dr. Joanne Roberts, chief medical officer at Providence Regional Medical Center. He and Hatch, who had less serious injuries, were transferred to another hospital.
Fryberg is listed in critical condition, while Hatch is in serious condition.
The other victims -- Shaylee Chuckulnaskit and Gia Soriano, both 14 -- remained in critical condition, the hospital said in a statement today.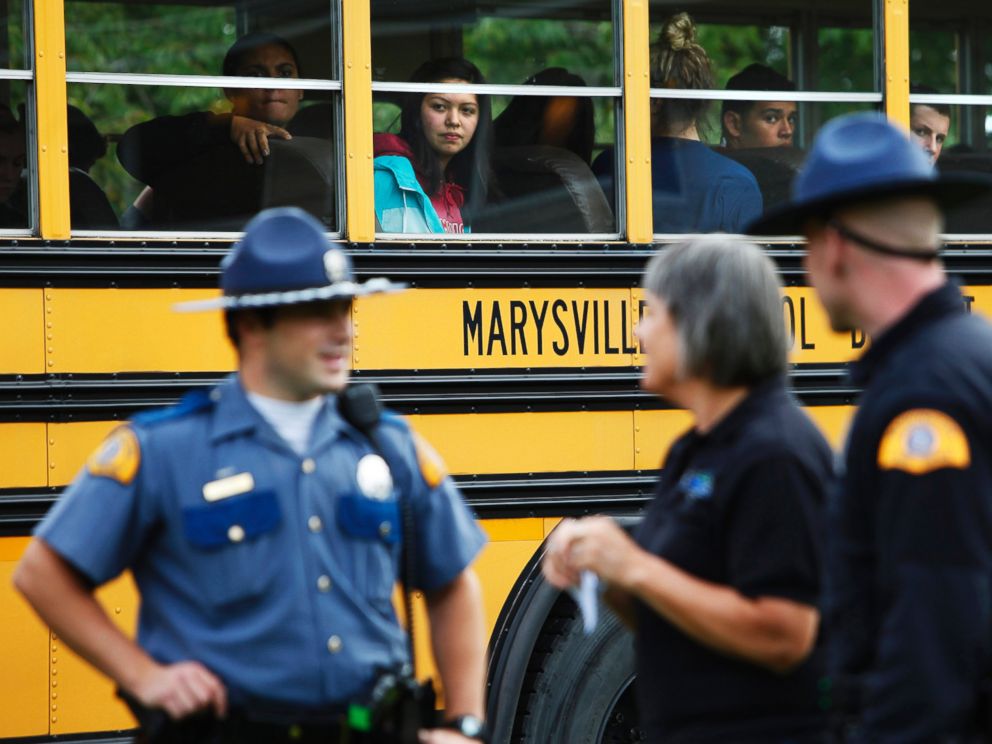 Soriano's family asked for privacy in a statement released through the hospital.
"Our family is in shock. We appreciate your thoughts and prayers during this tragedy. Our hearts go out to the other victims and their families. Please allow us our privacy as we deal with this tragedy," the statement said.
The two girls' head injuries were so severe they were not immediately identifiable, and officials met with relatives to ask about birthmarks and descriptions of their children's clothing to help make a match.
Two other students were treated for minor injuries at the high school, according to the Sheriff's Office.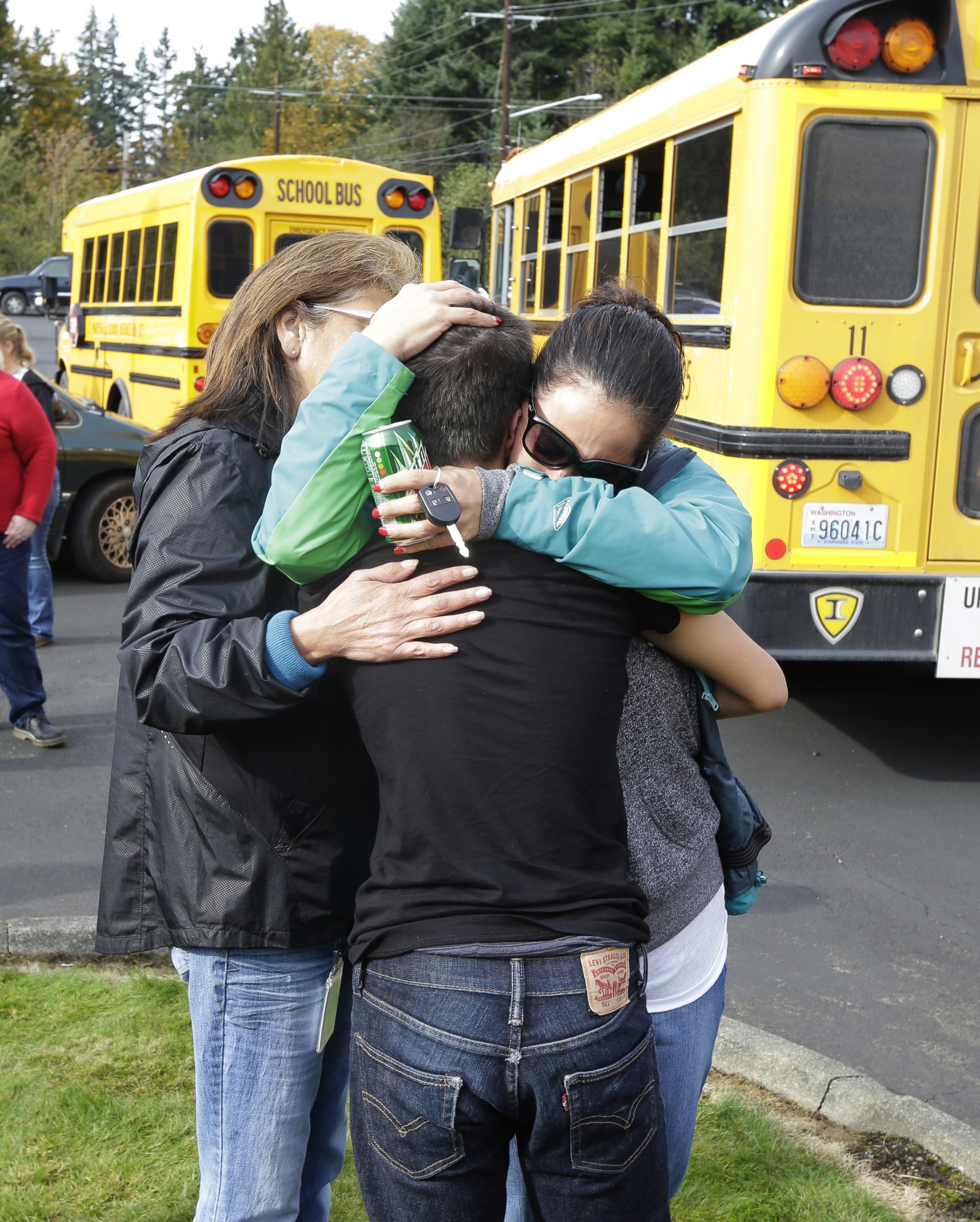 A 911 caller reported the shooting at 10:39 a.m. Friday, Marysville Police Commander Robb Lamoureux said. School security officers arrived at the cafeteria two minutes later, then confirmed "the shooter was down."
"They're traumatized -- there's no doubt about it," Lamoureux said of the students. "There's a lot of healing that has to take place in this community."
Brian Patrick, the father of a girl who said she was 10 feet from the gunman, told The Associated Press that his daughter told him Fryberg shot his schoolmates in a calm, methodical way.
"The guy walked into the cafeteria, pulled out a gun and started shooting," he said of his daughter's account. "No arguing, no yelling."
Marysville-Pilchuck High School will be closed all of next week, and the football game that was scheduled for this evening was cancelled after the opposing team offered to take second place, schools Superintendent Becky Berg said.
"We are indeed heartsick," Berg said Friday.
Get real-time updates as this story unfolds. To start, just "star" this story in ABC News' phone app. Download ABC News for iPhone here or ABC News for Android here. To be notified about our live weekend digital reports, tap here.