Wife of Pulse Nightclub Gunman Omar Mateen Knew He Would Attack, US Attorney Says
Omar Mateen's wife, Noor Salman, was arrested by the FBI in San Francisco.
January 17, 2017, 2:57 PM
— -- The wife of the gunman who carried out a mass shooting in an Orlando, Florida, nightclub made her first appearance at a federal court in California today, where a prosecutor claimed that "she knew he was going to conduct the attack."
Gunman Omar Mateen's wife, Noor Salman, who was arrested by the FBI on Monday in the San Francisco area, entered a courtroom this morning slightly hunched over and with her head down. She wore a bright yellow shirt and long gray skirt.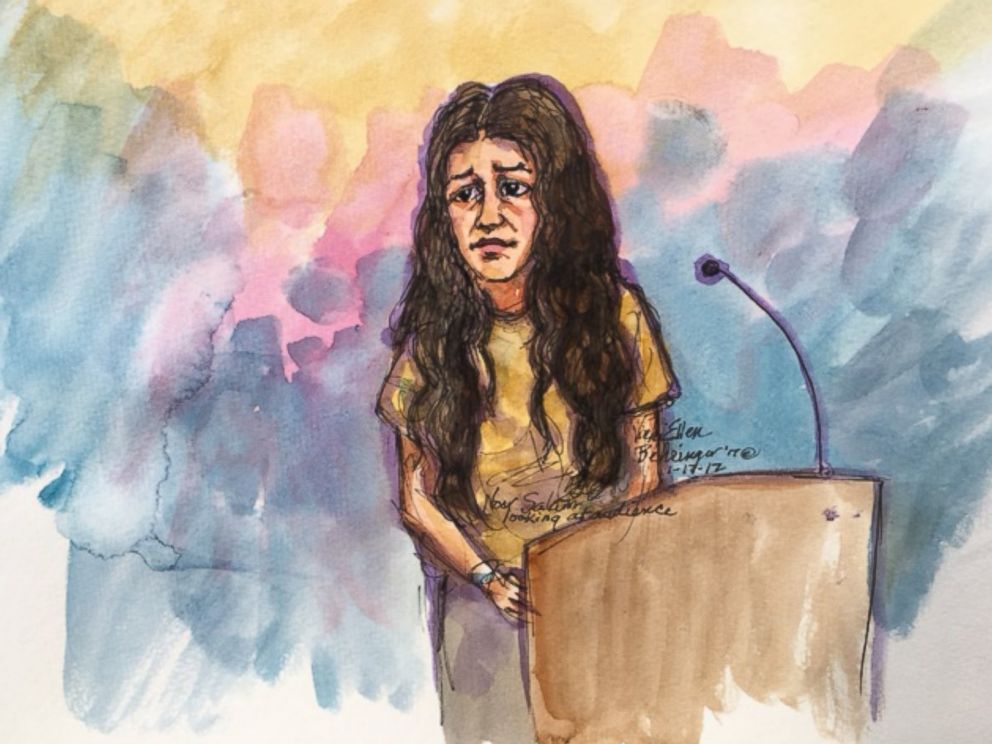 The U.S. attorney's office claims Salman aided and abetted Mateen's "provision of material support" to the terrorist group ISIS, also known as ISIL.
Salman is also accused in the indictment of misleading federal agents and Fort Pierce, Florida, police officers who questioned her about Mateen's attack at the Pulse nightclub in Orlando on June 12, 2016, killing 49 people.
During today's appearance, the prosecution, led by Assistant U.S. Attorney Roger Handberg, read the charges against Salman aloud in court.
In the indictment, on count one, she was charged with aiding and abetting Mateen's attempted provision and provision of "material support or resources" to a foreign terrorist organization. For this count, she could face up to life in prison and a $250,000 fine.
"She knew he was going to conduct the attack," Handberg said.
On count two, she was charged with obstruction of justice. She could face up to 20 years in prison and a $250,000 fine.
When Judge Donna Ryu asked Salman if she understood the charges, she quietly replied, "Yes."
Because of the terrorism charge, the government is asking for her to be detained and not released on bond.
Salman was represented today by public defender John Paul Richmond. It was not clear if she entered a plea. A status hearing was set for Wednesday morning in Oakland.
Salman's lawyer Linda Moreno, who was not in court today, said in a statement to ABC News on Monday, "Noor Salman had no foreknowledge, nor could she predict what Omar Mateen intended to do that tragic night. Noor has told her story of abuse at his hands. We believe it is misguided and wrong to prosecute her and that it dishonors the memories of the victims to punish an innocent person."
Her uncle Al Salman, who was at court today, called his niece a "very simple person" who is "not that smart." He said he was adamant that she had no clue what Mateen had planned.
Noor Salman is expected to be extradited to Florida, where the indictment was filed.
Mateen was killed in a police shootout at Pulse.
Orlando Police Chief John Mina expressed relief that Salman was arrested, he said in a statement Monday.
"Federal authorities have been working tirelessly on this case for more than seven months, and we are grateful that they have seen to it that some measure of justice will be served in this act of terror that has affected our community so deeply," he said. "Nothing can erase the pain we all feel about the senseless and brutal murders of 49 of our neighbors, friends, family members and loved ones. But today there is some relief in knowing that someone will be held accountable for that horrific crime."
Today the city of Orlando released hundreds of never-before-seen photographs from the Pulse nightclub investigation, including close-up images of the inside of the deserted nightclub after the attack.