Wildfire smoke map: Which US cities are forecast to be impacted by fires burning in Canada
At least 20 states are under air quality alerts Friday morning.
The hundreds of wildfires burning in Canada are continuing to cause poor air quality conditions for millions of residents in the U.S.
At least 20 states are under air quality alerts Friday morning.
The smoke is expected to linger for one more day in the East before clearing for the July 4 holiday weekend.
The thickest smoke on Friday will stretch from the eastern Great Lakes to the Interstate 95 corridor and to parts of the Southeast.
By Saturday, skies are forecast to improve, with some light haze lingering for the East Coast.
Smoke from the nearly 500 wildfires burning in Canada has been making its way to the U.S. for more than a month after an unprecedented start to the season in which a record 19.5 million acres has already burned. Canada has also broken its record for annual wildfire smoke emissions.
There is no end in sight for the wildfires due to dry conditions and extreme heat in the region.
Some parts of the Midwest measured at the lowest air quality in the world on Tuesday, including regions surrounding Minnesota, according to IQAir.
Chicago air quality hit the "very unhealthy" category on Tuesday as the Air Quality Index soared to 250. Any number over 100 is considered unhealthy for sensitive groups, and 250, or "Code Purple," is considered very unhealthy for all groups.
Once the AQI reaches 151 and above, breathing the polluted air could cause a host of symptoms -- even in healthy people with no preexisting conditions -- including weakening the immune system and causing damage to the body, including the lungs and heart.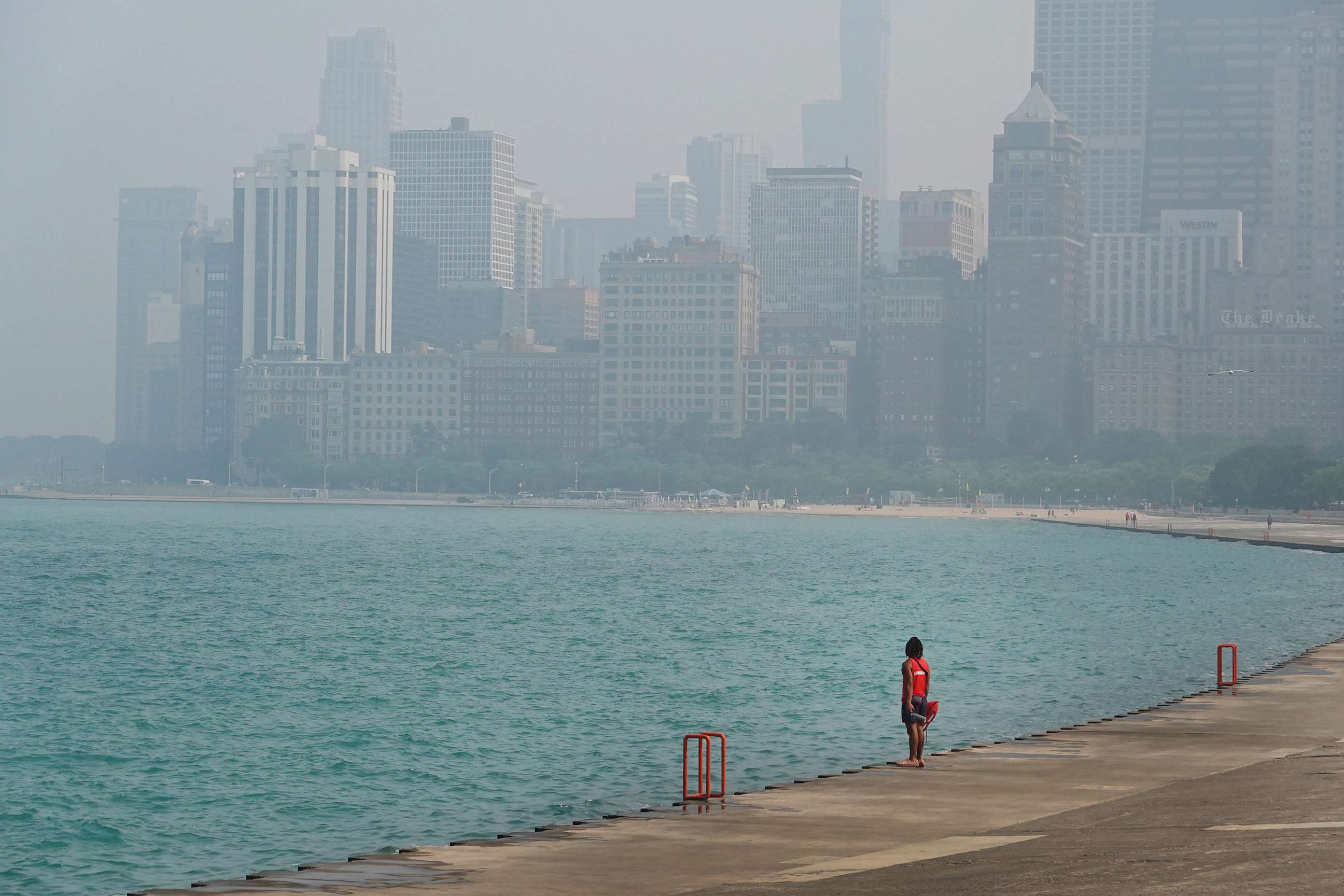 Exposure to concentrated amounts of PM2.5 can cause short-term effects such as irritation of the eyes, nose and throat; coughing, sneezing and shortness of breath, and long-term effects such as worsening of conditions including asthma and heart disease, according to the U.S. Environmental Protection Agency.
Residents in states with air quality alerts are advised to wear a mask when outdoors limit their time outside, especially for strenuous activity.