— -- A snowstorm is tearing through the Southeast today before it barrels north overnight, bringing heavy snow and strong winds.
Snow already fell today in Tallahassee, Florida, and Savannah, Georgia, and now the wintry mix is now blowing through South Carolina.
The major coastal storm has brought the most snow to Tallahassee and Savannah since 1989.
"It's pretty wild," one visitor from Washington, D.C., told ABC affiliate WCIV in Charleston. "I've never seen palm trees with snow on them before."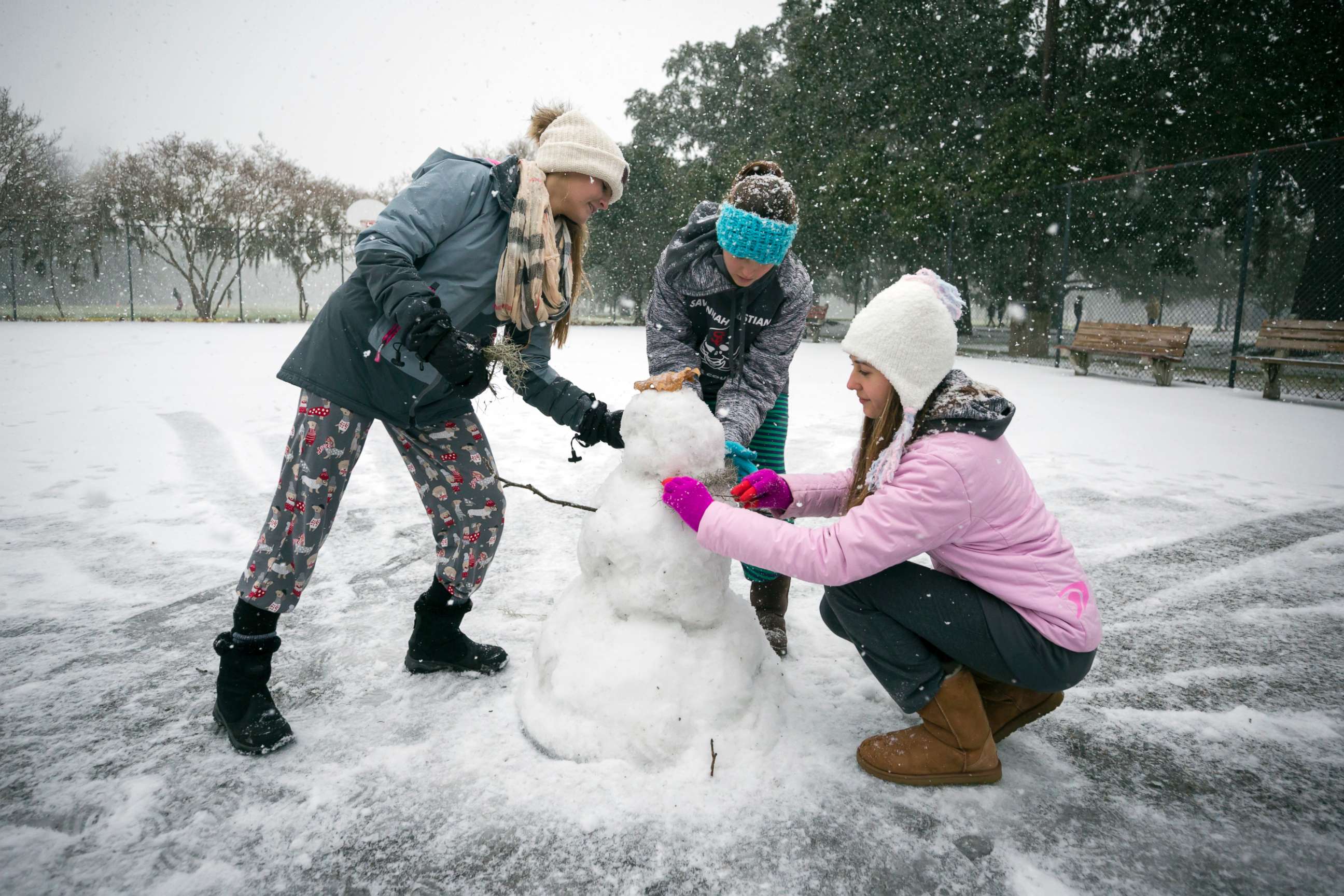 Winter weather advisories, winter storm warnings and blizzard warnings are in effect for the entire eastern seaboard from Florida to Maine as the major coastal storm bears down today into Thursday.
Blizzard warnings are in effect for coastal locations from North Carolina to Maine, including Norfolk, Virginia, the New Jersey shore, Long Island and Boston.
The snow is expected to be heavy Thursday in New England and classes at Boston Public Schools have been canceled for the day.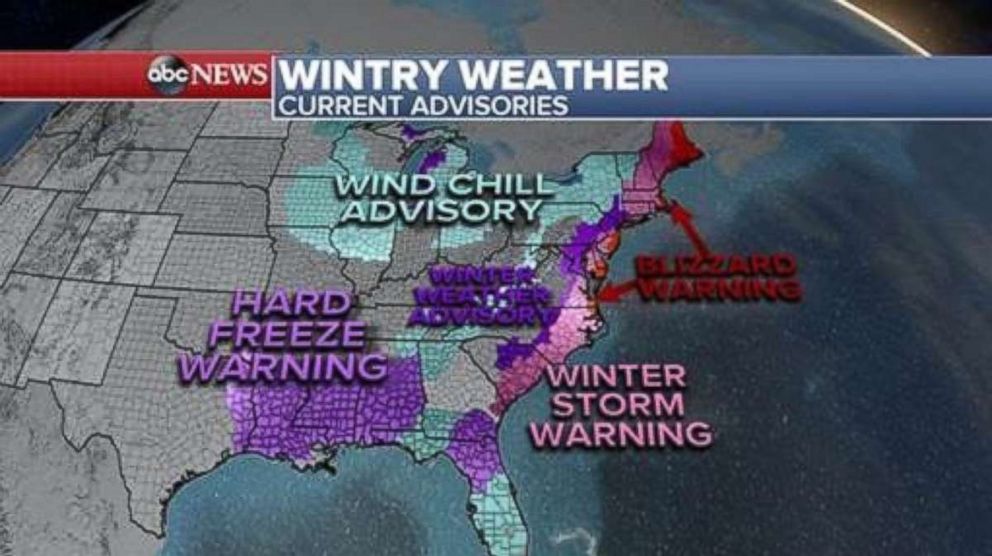 Here's what you need to know:
FLORIDA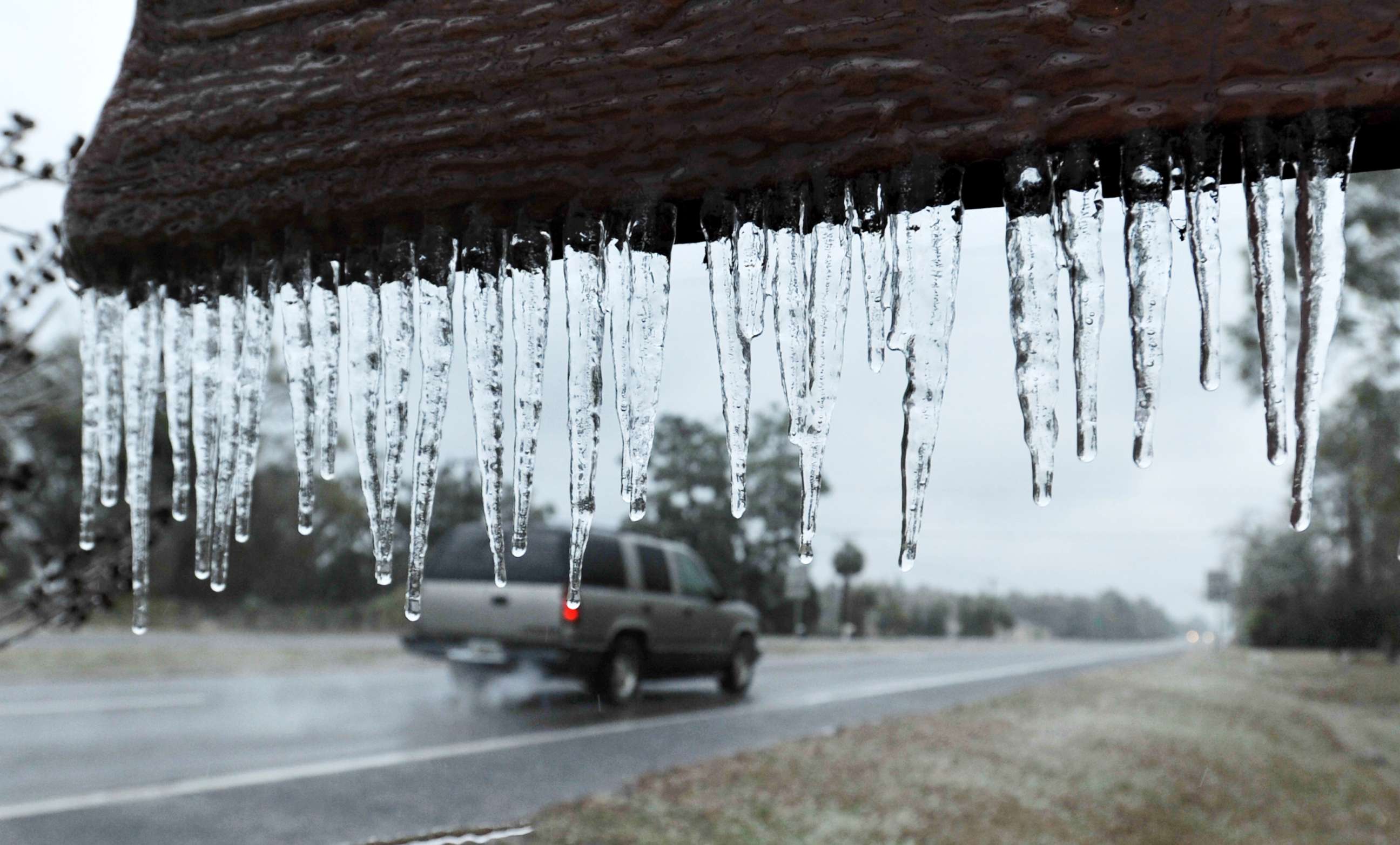 Snow, sleet, ice and rain blew through Tallahassee this morning. It was warmer in Juneau, Alaska, than it was in Tallahassee.
This is a major event for northern Florida -- most towns do not have any snow removal equipment or salting trucks. The Florida State University campus in Tallahassee and public schools in Tallahassee were closed today.
The weather caused some traffic issues, but by late morning the sun was out and the ice was starting to melt, officials in Leon County, Florida, said.
GEORGIA
Today was an extremely rare day of snow and ice for the coastal Georgia city of Savannah, with 2 to 4 inches of snow, local officials said.
Public schools are closed today and tomorrow.
Instead, today children threw snowballs and people made makeshift sleds on the snow-covered ground.
The Savannah/Hilton Head International Airport closed today and local officials said it's unclear when the airport will resume normal operations.
Tourist Stacy Paolozzi came down south for New Year's and is now stranded in Savannah.
"We're hoping tomorrow [to flight out] but I know the snow is going north, so it's going to depend on whether or not the airports in New York City are open," she told ABC News.
"Savannah's a lovely city so I don't mind staying. I'm sure my boss isn't happy about it, though!" Paolozzi said. "Thank goodness I overpacked!"
Georgia Department of Transportation spokeswoman Natalie Dale told ABC News that the coastal roads near Savannah are in very poor condition this afternoon due to severe icing.
Temperatures are not expected to get above freezing, Dale said, and conditions on the roads will likely worsen. She's urging residents to stay off the roads now that a major freeze is expected on the Interstate 95 corridor overnight.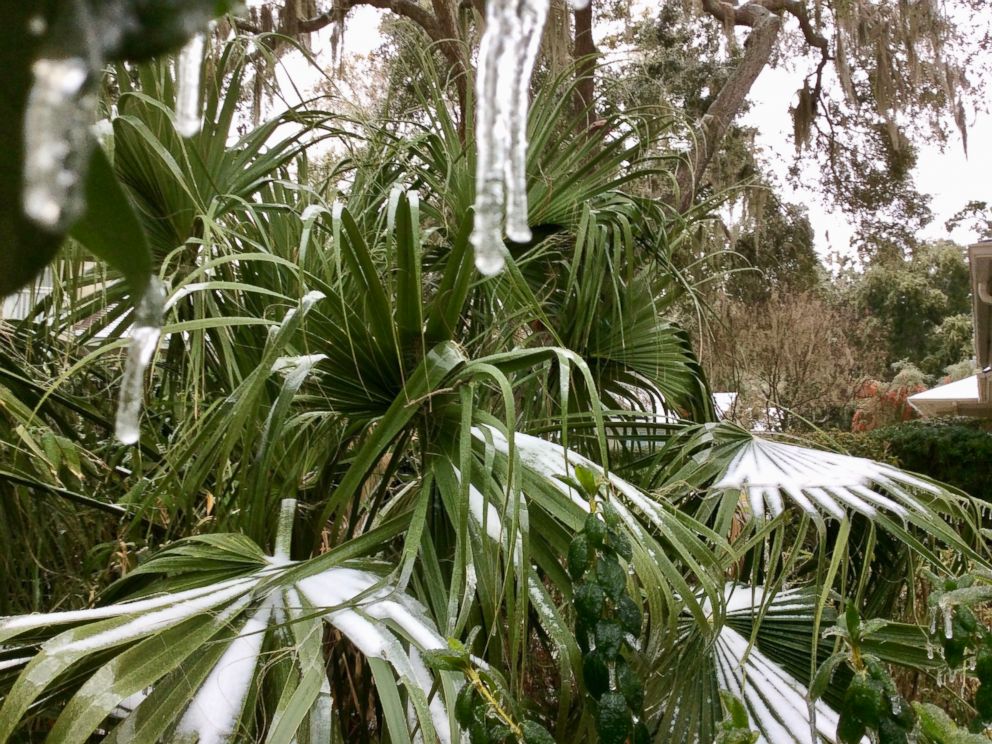 Ahead of the storm, the Department of Transportation moved personnel and equipment from its northern counties to the coast. Dump trucks were distributing salt on the interstate.
SOUTH CAROLINA
Snow is also falling today in South Carolina and the state Highway Patrol is warning drivers to stay off the snow-covered roads.
The runways at the Charleston International Airport were closed this morning due to icy conditions.
Both the College of Charleston and Charleston County School District schools were closed today.
NORTH CAROLINA AND VIRGINIA
This evening the snow and ice are expected to stretch from Charleston to Wilmington, North Carolina. Overnight, heavy snow is forecast for the Norfolk, Virginia, area.
A blizzard warning is in effect for both northern North Carolina and southern Virginia. Winds with heavy snow could create whiteout conditions there. Six to 10 inches of snow is possible, as are strong winds, making travel dangerous.
Virginia Gov. Terry McAuliffe declared a state of emergency today ahead of the storm.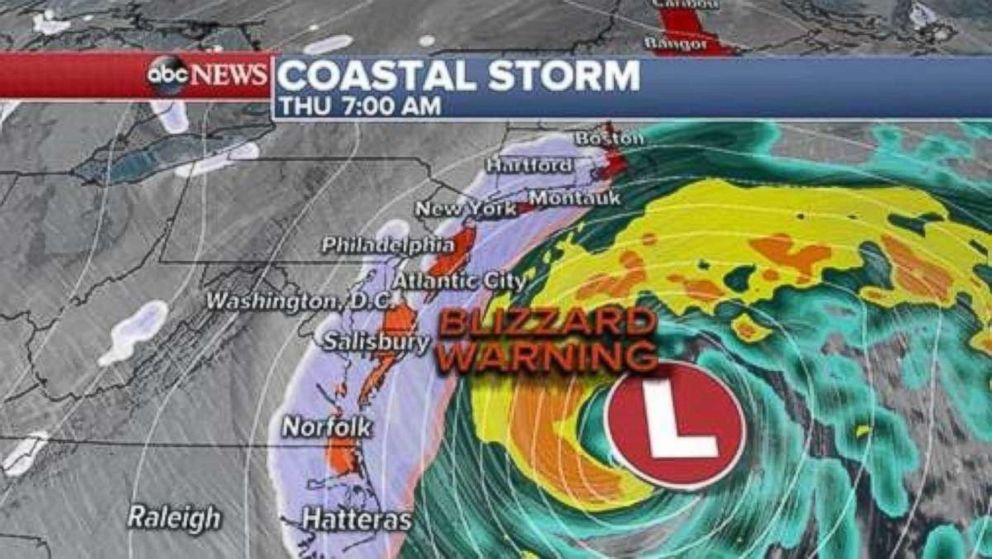 NORTHEAST
The storm will strengthen tonight and move up the East Coast, dumping snow into the eastern mid-Atlantic states.
Philadelphia is forecast to get 1 to 3 inches of snow, while New York City may see 3 to 6 inches of snow. Schools in both cities will be closed Thursday.
The New Jersey shore could get as much as 6 to 10 inches of snow and New York's Long Island could face 6 to 12 inches.
Through the day on Thursday, the storm will continue to move north into New England where some of the heaviest snow and strongest winds are expected. In New England, over a foot of snow is possible along with 60 to 70 mph winds. Gusts could potentially be hurricane-force.
A blizzard warning is in effect for Boston, coastal Massachusetts and coastal Maine, where a combination of gusty winds near 50 mph and heavy snow could create whiteout conditions.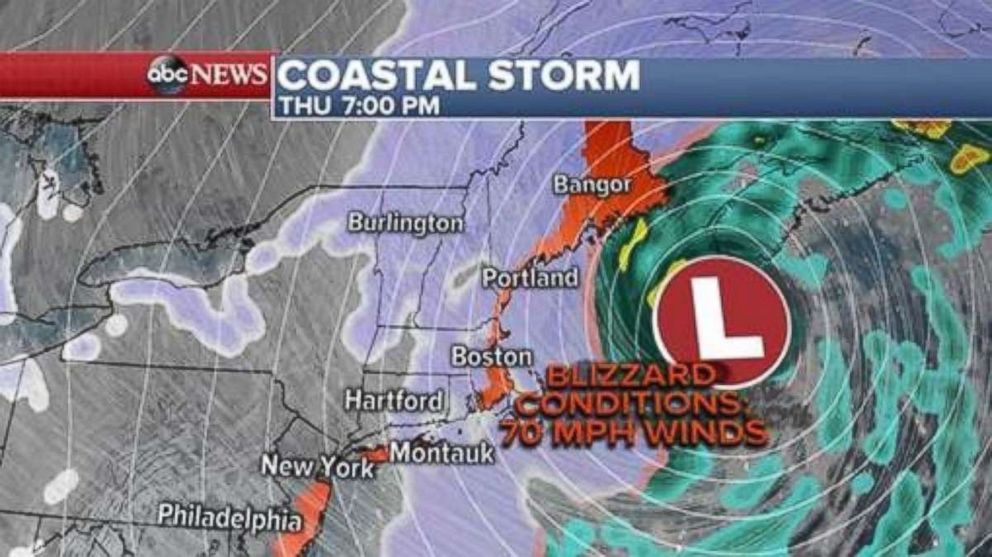 Boston could get 8 to 12 inches of snow. Boston Public Schools will be closed Thursday.
Coastal flood advisories are also in effect in Delaware, the New Jersey shore, Long Island and up through Maine.
'BOMB CYCLONE'
When the storm reaches the Northeast Thursday, it will undergo a rapid intensification or bombogenesis.
Bombogenesis -- or a "bomb cyclone" -- occurs when the pressure of a storm drops 24 millibars in 24 hours, or at the rate of 1 millibar per hour.
It usually happens when a storm system moves over the warm waters of the western Atlantic Ocean and the Gulf Stream at the same time that Arctic air moves in from behind. The Northeast coast of the United States experiences this at least once a year.
The difference between the two air masses helps to strengthen the storm system, creating what's known as bombogenesis.
As a storm system moves over the Gulf Stream off the East Coast, it picks up all the available moisture and dumps it in the form of snow if there is enough cold air in place.
The lower the storm's pressure, the stronger the winds are around the storm. This week's strong winds could wreak havoc, bringing major power outages and coastal flooding for Northeast coastal cities.
FLIGHT CANCELLATIONS & DELAYS
As of Wednesday afternoon, over 500 flights had been canceled and over 3,000 flights delayed in the U.S. The cities most impacted are Charleston, Atlanta, Boston and New York.
At New York's LaGuardia Airport, more than 90 percent of flights for Thursday had been canceled as of this evening.
FRIGID TEMPS
The Northeast should also brace for the coldest air of the season.
Friday morning wind chills could reach minus 8 degrees in New York City and minus 14 degrees in Minneapolis.