— -- A year after millions of women donned pink "pussy hats" in the largest single-day demonstration in American history, women and their allies will again fill the streets this weekend in dozens of cities across the country to protest President Donald Trump's agenda and show the political power they plan to bring to the voting booths.
The main event for the 2018 Women's March, entitled "Power to the Polls," will take place Sunday in Las Vegas, where organizers will launch a national voter registration and mobilization initiative. Hundreds of other anniversary marches and events will be held elsewhere in the nation -- and around the world -- on Saturday and Sunday.
"Women's March has created a powerful movement that has ignited thousands of activists and new leaders," Tamika Mallory, co-president of Women's March, said in a statement ahead of Sunday. "In 2018, we must turn our work into action ahead of the midterms. This new initiative will address voter registration and voter suppression head on. We marched for justice in D.C., we created our plan in Detroit and now we're bringing the power of the polls to Nevada."
Organizers chose Nevada to host the main event this year because it "was rocked by the deadliest mass shooting in modern U.S. history, recent sexual assault allegations against elected officials and has become a battleground state that will shape the Senate in 2018," according to the Women's March website.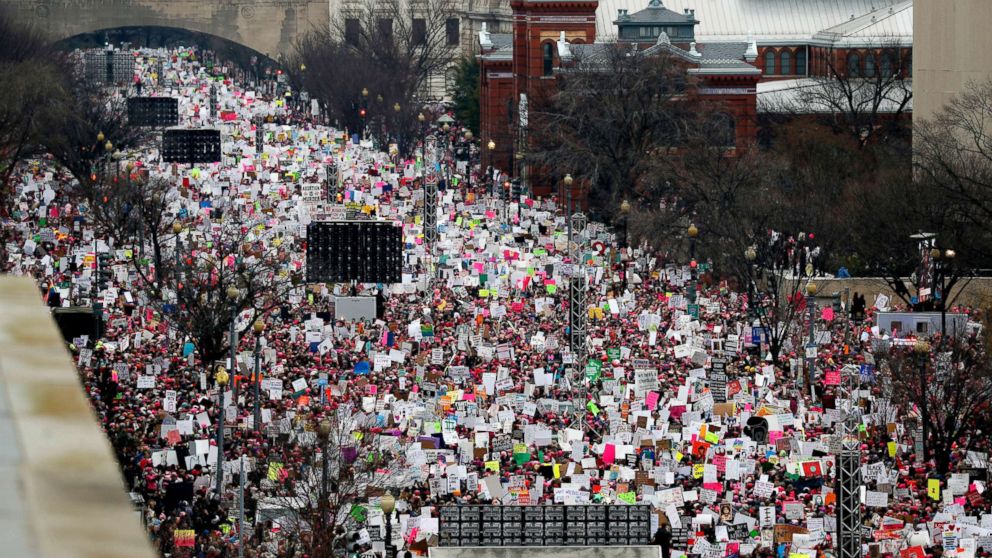 Nevada's vote margins in the presidential race in 2016 were razor thin, with Democrat Hillary Clinton besting Trump in the state by only about 27,000 votes. Republican Sen. Dean Heller is up for reelection this year, and Democrats see it as an opportunity to flip the seat to their side.
Among the honorary co-chairs of the Women's March multistate voter registration and mobilization drive are Sen. Elizabeth Warren (D-Mass.), a harsh critic of Trump who spoke at last year's main event in Washington, D.C., as well as Rep. John Lewis (D-Ga.), a prominent civil rights leader. The goal of the initiative, which will target key swing states, is to register 1 million votes.
"History will remember the day that Donald Trump was sworn in as President," Warren said in a statement this week. "But history will also remember the day after – the day that women all across the country became an army. We demonstrated that we can be the loud, determined, unrelenting force that reminds all of America about our values — and our willingness to fight for those values. Power to the Polls is about fighting back, and I'm honored to be a part of this campaign."
The anniversary marches in Washington, D.C., and New York City are expected to be among the largest. The march in D.C. starts at the Lincoln Memorial Reflecting Pool at 11 a.m. Eastern Time on Saturday, according to the Facebook event page. In Manhattan, a pre-march rally will be at Central Park West and 61st/62nd Streets at 11:30 a.m. Eastern Time, with the march starting at 12:30 p.m. from Central Park West and 72nd Street, according to the Facebook event page.
There are also anniversary marches and events planned in dozens of cities abroad, including Buenos Aires, Kampala, London, Bangkok, Beijing and Sydney.
ABC News' Adam Kelsey contributed to this report.