A 63-year-old woman has been charged with murder in the death of her 6-year-old grandson, who was found dead and severely malnourished last week near a North Texas lake.
The boy came to be known as "Wylie's Angel," as police in the Texas town of Wylie tried to identify the body.
Darlene Phillips, the boy's maternal grandmother and primary caregiver, was arrested Friday night.
She allegedly told police she left the boy, Gerren Joseph Isgrigg, a special needs child who received food through a feeding tube, in a park and had removed his feeding tube before abandoning him.
Phillips told investigators she left Gerren at the park on April 12 with a note that read: "I'm 6, I have seizures, I need medication and a feeding tube," according to the Dallas Morning News.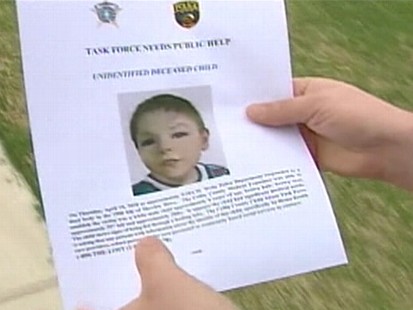 No note, medical supplies, or feeding tubes were found with the boy's body, which was discovered three days later by a landscaper mowing the grass, police said.
According to the arrest affidavit, Gerren, who family members said was completely mute and unable to move, was found in a pile of brush, covered by a blanket. The body would not have been visible from a nearby road, the affidavit said.
"Circumstances she was in control of led to his murder," Wylie police detective Venece Perepiczka told ABC News Austin, Texas, affiliate KVUE-TV.
Phillips was being held at the Collin County Detention Facility in McKinney, Texas, on $500,000 bail.
Phillips' husband, Patrick Phillips, told police that his wife had told the family she had given the boy to a social worker, according to the arrest affidavit.
Officials say that at 28 pounds, Gerren was half the average weight of a child his age. He was found with marks indicating he used a feeding tube, which suggest he had "significant medical needs," according to the Wylie, Texas, Police Department.
At first, police did not know who the boy was, and the National Center for Missing and Exploited Children created a composite image of the child, nicknamed "Wylie's Angel," in the hopes someone would come forward to identify him.
Police said a tip through the center's hotline led them to identify him as Gerren.
The boy's parents are separated. His father, U.S. Marine Staff Sgt. Jerry Isgrigg, is stationed in California and his mother, Nyki Phillips, lives in Oklahoma.
'Wylie's Angel' Grandmother Accused of Murder in Boy's Death
Jerry Isgrigg said he first learned of his son's death when investigators contacted him to request a DNA sample.
"I can't get my head around it, any way, shape or form," Isgrigg told ABC News affiliate KVUE.
Isrigg, who divorced the Gerren's mother in 2006, said he last saw his son in a hospital three years ago and was devastated to learn the boy had been left to die.
"I would have done anything to get him in a heartbeat if they would have called," he said.
Darlene Philips' son, the boy's uncle, defended the woman. The son, unidentified by KVUE, said his mother cared for the boy and intentionally left him someplace where he would be found.
"She left him some place where he would be found," the son said. "She fed him and everything. The kid was a complete vegetable the whole time before this. It's not like it's being portrayed."
Police are awaiting the results of an autopsy to determine the cause of Gerren's death, but have told reporters there were no signs of trauma.
The Associated Press contributed to this report.