— -- As police confirmed the identities of the deceased suspects in the San Bernardino shootings overnight, new information has come to light about the young couple said to have carried out the horrible crime, especially about the 28-year-old man who witnesses say sat side-by-side with his targets just minutes before the massacre.
Syed Rizwan Farook, who for years worked at the San Bernardino County Public Health Department whose personnel appear to have been the target of Wednesday's attack, left an online footprint mostly in the form of Muslim-oriented dating site profiles he and his parents created years ago. In one, Farook describes himself as a "health, safety and environmental inspector," says he's 6'0" tall and doesn't drink or smoke.
At that time the profile was made about six years ago, Farook claimed he was part of a "religios but modern family of 4" [sic] and that he enjoyed "doing target practice with younger sister and friends" in his back yard. He says he was born in Chicago, but in another profile indicated a Pakistani heritage.
Another profile portrayed a man trying to balance his faith and modern life.
"I try to live as a good Muslim," Farook writes. "Looking for a girl who has the same outlook, wear hijab, but live the life to the fullest."
On the same page, Farook, who graduated in 2010 from Cal State San Bernardino, preaches his love of snowboarding, camping, and working on cars, and further describes his personality as cautious, reserved, skeptical and very liberal.
Mustafa Kuko, who is the Director of the Islamic Center in Riverdale, Calif., where Farook worshiped until January 2014, said he was "withdrawn a bit" and didn't "mix with people easily."
There was never any sign of violent thoughts, Kuko said. "We talked about general issues whenever he talked to me," he said.
ABC News also found several profiles that appeared to belong to Farook posted by his parents, eager to find their son a bride.
One profile, which was registered "to find my son/daughter a partner" [sic] list Farook as "very religious," "Athletic," and wanting to marry within the next year. Another gave Farook's address, and claimed he had a Masters in Engineering. Both profiles described the shooter as "calm cool and thoughtful".
According to Farook's brother-in-law, Farhan Khan, Farook had recently found success in a relationship with a 29-year-old named Tashfeen Malik -- a woman police later said was his accomplice in the deadly shooting.
While it's unclear how Farook and Malik met, a U.S. official said he left the U.S. in July 2014 and returned just a few days later, apparently with Malik in tow. Malik entered the U.S. on a Pakistani passport and a K-1 "Fiance" Visa. She and Farook were married the next month but it wasn't until this summer that Malik received her Green Card.
Six months ago the young couple had a baby, but the day of the shooting, they left it with a family member and told the relative that they had doctor appointments, Hussam Ayloush, the executive director of the Muslim rights group CAIR, told ABC News. CAIR officials had appeared with Khan when he made his emotional announcement late Wednesday.
A witness to Wednesday's shooting, local official Chris Nwadike, told ABC News Wednesday that he happened to be sitting at the same table as Farook earlier that day at the gathering at the Inland Regional Center. Farook left the meeting and disappeared for about half an hour, before apparently showing back up with Malik and several powerful weapons.
"When I heard that name pop up, I couldn't believe it," Nwadike said of Farook. Nwadike happened to have gone to the bathroom when the shooting started.
Today police in San Bernardino said that Farook did not appear to have a criminal record prior to the attack. The four weapons used in the shooting, two "long guns" and two handguns, were purchased legally, but the two long guns, also described by authorities as "assault weapons," were not purchased by Farook, authorities said. A dozen explosive devices were also found at Farook's home.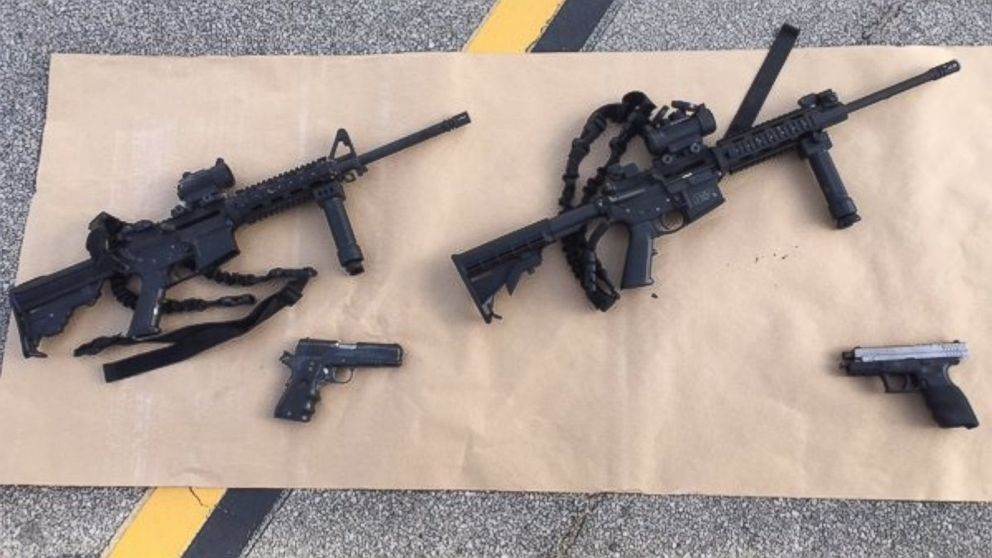 Investigators believe that over several years Farook had been in some sort of contact with several people who were on the FBI's radar for potential terrorism concerns, according to sources, but the people were, as one source said, "not significant FBI targets."
Khan told reporters late Wednesday he didn't understand why his brother-in-law would do it.
"I have no idea... why he would do something like this," a visibly shocked Khan said. "I just cannot express how sad I am for what happened today."
Investigators said they have not determined a motive for Wednesday's shooting.
ABC News' Frank Elaridi contributed to this report. Editor's Note: This report has been updated reflect new information about Malik's age, according to the marriage license.
Get real-time updates as this story unfolds. To start, just "star" this story in ABC News' phone app. Download ABC News for iPhone here or ABC News for Android here.