Major General John Campbell has been in Afghanistan only five weeks, commanding all of eastern Afghanistan and parts of Kandahar.
He has already lost 28 soldiers, with the latest casualty coming today.
Watch 'World News' for more of Martha Raddatz' reporting from Afghanistan.
Campbell keeps a card with each of their names in one of his sleeve pockets, and one of the names he recently added was that of 20-year-old Matthew Hennigan, who was just 11 when this war began. He was killed by small arms fire on the final day of June, making it the deadliest month for NATO forces in Afghanistan in nine years of fighting.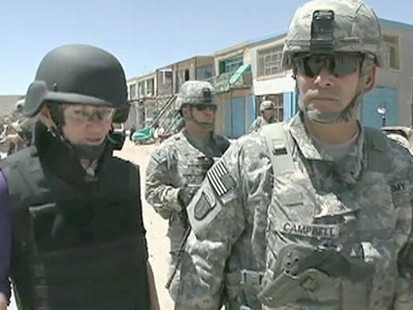 At Hennigan's memorial service, the images were what one would expect -- boots, dog tags, and a photograph of a smiling young soldier. But there was not a soul in the room for whom his death was not personal.
"It was really rough to get through," said Spc. Alexis Corke, a friend of Hennigan's. "He was a good guy with a big heart, and we miss him a lot."
When Campbell looked at that picture at the front of the room, he thought of his own child.
"My son is at Ft. Benning right now, going through basic training," he said. "He was at Texas Tech for two and a half years, and he said, 'Dad, I want to serve.' What do you tell your son who wants to serve?"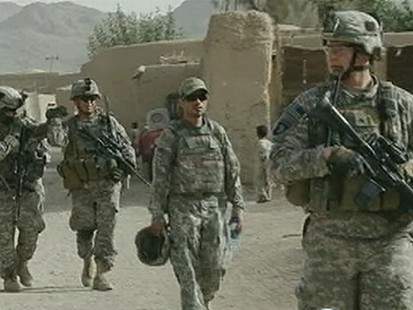 For Gen. Campbell, Hennigan's ceremony was one of the few memorials he has been able to attend. During his many years in Iraq, he could go to all of them, but
Afghanistan is just too vast
.
Campbell has 30,000 troops serving under him, working at more than 150 combat outposts, including one deep in the Paktika province. ABC News traveled there with him.
At that outpost, Campbell listened to a briefing from soldiers who are trying to help the Afghan security forces.
One of those soldiers is 28-year-old Capt. Joshua Powers, on his third deployment, has a wife and a three-year-old son at home. He's been at home for just one year of his child's life.
Campbell knows how rough these deployments can be on soldiers and on their families. At lunchtime, he gathers a small group together to check on morale.
"It's not too bad," said one soldier, noting that phone and email give them a constant connection to home. "This place is like a castle compared to where I've been."
With Gen. John Campbell on the Front Lines in Afghanistan
Campbell does see progress in the villages, but he knows this will be a long, tough road.
"We have seen an uptick in the IEDs, the indirect fire, complex attacks," said Campbell. "The enemy knows we are going to surge our forces in, and they are going to surge their forces as well."
Indeed, there has been a dramatic rise in the level of violence plaguing the country. According to the Department of Defense, there were 4,900 IED incidents in Afghanistan in the first five months of this year, well over double the 1,987 incidents during the same period of 2009. Making matters worse, the weapons are also becoming more effective in killing U.S. soldiers.
"The number of incidents we've had was a little bit higher than I was tracking," Campbell acknowledged. "It's a much more complex problem set than I faced in Baghdad from 2006 to 2008."
Sometimes, the country can feel very much like Baghdad in those pivotal years, troubled by violence and fear. Yet there is always optimism, even at the beginning of yet one more deployment.
Campbell addressed his troops, telling them, "What you guys have done here in this district is pretty powerful, so I ask you to keep that up, take care of each other, be talking back home. Appreciate your guys' great service. Hooah!"