Geno Auriemma and thewomen of the University of Connecticut's basketball team are used to dream seasons. But when the Lady Huskies captured their sixth NCAA title this week, they achieved perfection -- capping off a historic season with 39 wins.
"At Connecticut, there is no next time, there's only this time, there's only this time," Auriemma said. "Every single game was won by double digits. That's never been done before in the history of college basketball, men's or women's."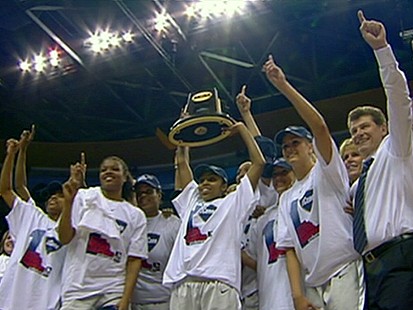 The Connecticut Huskies may be the greatest college team ever, and with Auriemma on the court, they're unstoppable. He's won 32 Big East championships and six NCAA titles -- five since 2000. So, what's his
coaching secret?
Respect and focus behind a tough exterior.
Auriemma said he doesn't treat the team like girls, but like players -- or perhaps something akin to soldiers at a boot camp.
"I don't think people feel a sense of urgency when you have someone sugar coating, and patting your back and giving you lollipops every day," said Kalana Greene, a Huskies guard.
Tina Charles, the Huskies' starting center, was chosen as 2009's most outstanding player in the Final Four this year. But even this star athlete has faced the brunt of Auriemma's criticism for her inconsistent play.
When the Huskies lost to Stanford last year, knocking the team out of the semifinals, Auriemma came right out and said they had no "inside game," singling out Charles' performance.
"I felt kind of distraught," she said. "I take a lot of things personal that coach says, because I know what he wants from me and he knows what I want from this game."
Lady Huskies Celebrate 100 Percent Graduation Rate
But Auriemma said it's easy to see the method behind his tough-love approach when watching Charles' growth on the court.
"That's not criticism. That's a fact. So, if Tina says, 'Well, I take that personally?' You should, That's part of the plan here," Auriemma said. "It's not, you know, anything other than the cold stone truth. And now Tina understands."
The irascible Auriemma may be mellowing -- something the team takes credit for.
"He's transformed into a different coach than I've seen. And I think the reason he's transformed is because he has 13 committed girls," Greene said. "It's down the line on the roster, one to 13. Everyone has the same goals, the same commitment and [is] giving the same effort every day."
Auriemma's commitment to the team has built bonds of deep respect and trust.
"I think he's a great coach," Charles said, "how he's built us, and how he's making us into young ladies. These are the memories that we are always going to keep around, so I think he's just great."
There's another stat that makes Auriemma even more proud. Since he's been at UConn, the women's basketball program has had a 100 percent graduation rate -- compared to about 60 percent at competing schools.
"Am I going to be right with everyone? No. Am I going to fail, sure. Do I get it wrong sometimes? More times than I would like to admit," he said. "But, I like to think that we do as good a job here in the four years the kids are here of preparing them for the games they play here and the big game they're going to play when they leave here."