Cop killer Maurice Clemmons pulled together a group of family and prison friends -- even a 12-year-old relative -- to hide him from the cops while he was on the run, according to investigators who are piecing together a timeline of his two days on the lam.
Pierce County officials have arrested six people -- four men and two women -- in connection with the nearly 48 hours police spent hunting Clemmons following the execution of four Lakewood, Wash., police officers in a coffee shop.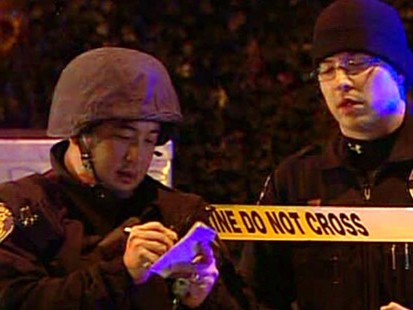 Three of the men, Eddie Davis, Douglas Davis and Rickey Hinton, appeared in court Tuesday. The remaining three suspects, Darcus Allen, Letricia Nelson and Quiana Williams, have been booked into the county jail, but not formally charged. Allen and Clemmons met while in prison, according to ABC News affiliate KOMO TV.
Probable cause documents released by police detail how police identified Clemmons as the gunman and the dragnet for him that spread from Lakewood to Seattle.
According to the documents, Eddie and Douglas Davis, Clemmons showed them two handguns on Saturday night, hours before the Sunday morning coffee shop shooting, and told them he was going to shoot police. The comments were made while Hinton, who described himself as Clemmons' half-brother, was in the room.
A few hours later, about 8 a.m., Clemmons walked into the Forza Coffee Shop just outside Lakewood where four police officers were doing paperwork before their shifts. A woman who worked at the coffee shop told police that she greeted the new customer, but that he had a "blank look on his face," according to the documents.
He walked towards the unsuspecting cops "and when he got near them, pulled out a gun and started shooting toward the officers," it said.
The woman and a second employee of the coffee shop ran out the back door and jumped in a car to get help.
Clemmons shot offers Mark Renninger, Tina Griswold and Greg Richards in the head, killing them. A fourth officer, Ronnie Owens, was shot in the neck, the papers said.
As the coffee shop employees drove past the front of the shop, they saw Clemmons "wrestling or struggling" with one of the officers in the restaurant's doorway. During the struggle, Clemmons was reportedly shot in the stomach by the officer.
Police reports state that a .38 caliber gun with six spent shell casings, believed to be the weapon used by Clemmons to kill the officers, was dropped at the scene. But one of the officer's Glock pistols was missing.
The coffee shop employes stopped nearby to borrow a cell phone to call 911 and they saw Clemmons walking away from the shooting and get in a white pick-up truck driven by another man, which sped away.
Investigators quickly zeroed in on Clemmons, who has an extensive and violent rap sheet, and who had been released from jail just days earlier. The pick-up truck, with blood on an arm rest inside, was found parked in a lot that is owned by Clemmons.
When a series of photos were shown to the coffee shop employees, one picked out Clemmons as the shooter.
Clemmons, meanwhile, walked up to the house he shared with Hinton and told his half-brother that he had been shot by the police. Clemmons woke up Eddie and Douglas Davis who were sleeping at the house. Hinton gave them keys to a white Pontiac and told them to "get Clemmons out of there."
As they drove off, Clemmons said from the back seat that he "had taken care of his business," which they understood to mean he had shot police officers like he said he would, according to the public documents.
Hinton then gave his own cell phone to a 12-year-old relative and told the child to delete Clemmons' numbers from the phone, according to the probable cause statement.
The Davis brothers drove Clemmons to the home of a female relative who later told police that she helped him clean his wound and bandage him, and provided him with a change of clothes. They then drove Clemmons, accompanied by the Davis brothers in a separate car, to a mall where another woman arrived to meet them in her small white car to drive Clemmons to another location.
Police apparently missed a chance to grab Clemmons shortly after receiving a tip that Clemmons may be on East Superior Street in Seattle. They spotted a black man on foot near a home, but also spotted a small white car leaving the area.
"When Clemmons got out of the car, and the female drove away, and was stopped by Seattle police officers," the court document states.
The driver admitted that Clemmons was a friend, that she had picked him up at a parking lot, and that he had admitted to her "he had a killed a police officer or officers." A search of her car found a bloody piece of clothing, bandage gauze and peroxide.
The woman was apparently taking Clemmons to the home of acquaintances who he had called, saying he needed a place to stay. The couple agreed to let him stay, but when he told them over the phone that he had a gun and had killed police they left the home before he got there and went to alert cops that Clemmons was heading to his house.
By this time Seattle police were staked out at several homes on the lookout for Clemmons and were conducting systematic raids on the homes of Clemmons' known friends, family and associates, trying to eliminate the suspect's sources of aid.
It was a misleading tip, police said, that led police and SWAT members to surround a Seattle home for 11 hours Sunday night into Monday.
The standoff in Seattle's Leschi neighborhood ended Monday morning when a police robot and SWAT members confirmed that Clemmons had been able to flee the area undetected.
In the end, it was a lone patrolman checking out a stolen car who ended the manhunt.
Seattle Police Officer Benjamin L. Kelly was in his car writing up a report on the car he found with the hood up and engine running when he realized someone was coming up behind him. Kelly got out of his car and immediately recognized Clemmons.
The officer told Clemmons to halt and show his hands. When Clemmons refused to obey the command, Kelly reached for his weapon. Clemmons then put his hand to his waistband and Kelly fired several times, hitting Clemmons at least twice and killing him.
In Clemmons' pocket was the Glock stolen from one of the officers at the coffee shop.
Forza Coffee Shop CEO -- and retired police officer -- Brad Carpenter has set up a link on the coffee shop's Web site for donations to the slain officer's families.
ABC News' Neal Karlinsky contributed to this story.