Every month, high in the mountains of Colorado, Bo Shaffer makes an unusual delivery to an unusual customer.
In the town of Nederland, packed inside a creaking shed, lies the resting place of a Norwegian man known as "Grandpa" Bredo Morstoel. He died in 1989 and has been frozen ever since.
The shed is kept at a cool minus-100 degrees.
Morstoel's grandson Trygve dreamed of coming to the small town to start a cryonics research center. His theory was that future technology might one day bring grandpa back to life.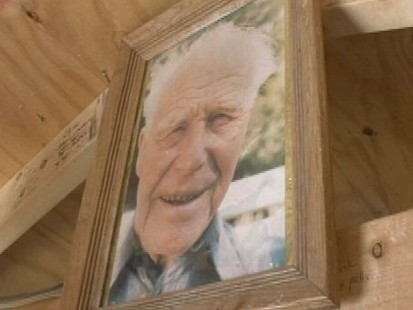 "They plan to
rebuild the body
with nanobots," Shaffer said. "Theoretically, these nanobots could rebuild an
Egyptian mummy
. Just add water."
The only problem is that Trygve was deported back to Norway for overstaying his visa and had to leave grandpa behind.
When the Nederland City Council found out about Grandpa Bredo in the mid-'90s, they immediately passed a law saying you couldn't keep frozen dead bodies on your property. By that time, Grandpa had become such a local celebrity that the town made an exception, and he was allowed to stay.
So every month, for the last 15 years, Shaffer's job has been to replenish Grandpa's dry ice supply, 1,600 pounds worth.
Even in death, Grandpa Bredo is helping breathe life into the local economy.
Eight years ago, Nederland created the Frozen Dead Guy Days festival. Complete with its famous coffin races, frozen turkey bowling and "Frozen Dead Guy" look-alike contests, the festival draws approximately 10,000 tourists, which took place this year from March 5-7. Their spending helps shopkeepers survive the slow winter season.
"It's vital," shop owner Teresa Warren said. "This is the busiest weekend of the year. This supersedes Christmas."
Bills Paid Up, 'Iceman' Not Going Anywhere
Shaffer admits this somewhat unscientific experiment in backyard cryonics is a bit weird.
"It is bizarre in one aspect," he said. "The other aspect is this is a scientific experiment and I got a job to do, to take care of it, preserve this environment and see what happens to it. But in the end, yeah, it's a little strange."
Strange, but profitable.
As long as Grandpa Bredo's family keeps sending money, the "iceman" will keep coming back.