Last year, 21-year-old Mary Cousineau, from San Clemente, Calif., spent five months with her family in Minneapolis caring for her brother Evan, who would eventually die from a rare genetic disorder. Seven months later, Mary would return to the same Minnesota hospital to save a life by donating a kidney to a 3-year-old boy she met during her brother's illness. Here is her story, in her own words..
In April 2007, I was very grateful for a lot of things in my life. I was attending a great university. I was playing water polo with teammates whom I really enjoyed. But most importantly, I had an amazing family. They were so supportive, and I was abundantly grateful that they were my family. All six of us -- my parents Mark and Gina, younger brother Derek, and the twins Evan and Alaina -- were healthy, and very active in one another's lives.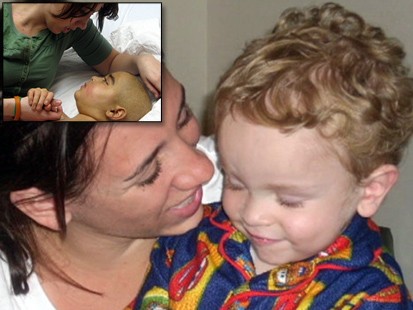 I would never have imagined that any of that would change.
However, on that last and fateful day of April, my youngest brother, Evan, had a seizure, and our lives would never be the same. I will never forget when I got the call from my mom telling me what had happened and that they were in the emergency room.
Instantly, it felt as though my heart had dropped into my stomach. This thing that I have now come to refer to as my women's intuition told me that something wasn't right. This wasn't going to be an easy fix. Evan was shortly transported to a major children's hospital in the area where my mom and I slept with him that first night. Little did I know that that would be the first of many hospital stays for Evan with the two of us at his side.
The next day my family was obviously in a panic. My mom was constantly crying, and despite my feelings, I encouraged her in thinking it was nothing, that all would turn out well for our perfect little family. We tried to keep the children as unaware as possible to what was going on. My parents were in meetings with different doctors all day, and when we finally knew what was going on inside of Evan, it was my dad and I who were in that meeting.
The doctor informed us that Evan had adrenoleukodystrophy, and that his condition was, surprisingly to us, very progressed. With this disease, generally you only know you have it once it's too late. We were informed that it would be a slow and painful death within the next six to12 months.
Obviously, we were thrown into a state of hysteria and panic. Our perfect lives had been shattered, and we had no idea where we would be taken on this new journey that we wanted nothing to do with.
However, the next day we were provided with hope, and hope is a big thing when you have nothing. The doctors informed us of what was going on at the University of Minnesota Medical Center. Doctors there were treating these boys who were "too far gone" for previous treatments. They were using marrow and stem cell transplants to hopefully rid their precious bodies of the problem. Once again, we never knew what a vital role bone marrow would later play in our lives. We began searching the national marrow registry for a match for Evan, and soon came up with two cord blood matches. Cord blood is taken from umbilical cords after a baby is born, and this vital fluid gave new life to Evan.
The plan was for my mom to move out to Minnesota with Evan, while my dad would stay home with my siblings and I. We planned on alternating when we came out to visit. We wanted to maintain as much normalcy as possible for the kids. However, after I visited that first time, I knew that I would not be able to leave Evan's side. For the third time, I had no idea how greatly this decision would affect the rest of my life.
For five months my mom and I fought for Evan's life in that little hospital room. We knew about 20 days after his transplant that he had fully engrafted the new cord blood. He had gotten worse due to his disease and the chemotherapy required before the transplant, but it seemed as if we had stopped the progression of the disease.
While Evan was in the hospital, we were able to stay at the Ronald McDonald House in Minneapolis. This is a great place where families can stay together. It provides meals and has fun activities for the kids. I went back to the RMH almost every night while Evan was in the hospital to make dinner for my mom and I -- a little reprieve from the hospital food.
While I would be doing this, the other families would always walk by on their way to or from the hospital, and we would exchange hellos. At this time, I frequently saw a little boy walking around the kitchen and into the various playrooms. I knew nothing about this boy other than that he had a nose tube and that he probably needed my prayers. This boy's name was Dominik Lawson. At the time, I had no idea the significance of our meeting or how incredible it was that Evan brought our families together.
Although Evan's transplant was successful, in August he contracted the adenovirus. As soon as we got confirmation of this, I knew that I would not be returning to school for my junior year in the fall. This is a common virus, usually presenting as a cold, which is found rampant in preschools and similar environments. However, due to Evan's suppressed immune system, he was unable to fight this virus.
We were told how damaging it could be on a patient post-transplant. It ravaged his body and ultimately took his life. We fought against it for more than two months, but made little progress. We cherished these last days with Evan. My dad and the two kids at home were able to make several trips out to love on and care for Evan. The day before his passing we were all together and able to involve the kids in memory- making activities. We took beautiful and touching family pictures on the day that he died, and his passing was extremely peaceful.
We headed home without Evan and didn't know how we were going to go on in our lives without him. We had stayed in contact with several families we had met while in Minnesota, including Dominik Lawson's family. I was watching the "ABC World News" story featured in November that described the Lawsons' desperate search to find a kidney donor for Dominik. Watching the show, I felt compelled to contact Kelly, Dom's mother, and inform her of my desire to help. At the time, she told me to take time for myself, and my family, because of what we were going through, but that she was grateful for my willingness to help.
However, in February when my mom, sister and I returned to Minnesota to thank the doctors and nurses who had cared for Evan, and had an opportunity to see Dominik, I knew that it was time to be tested to be Dominik's donor. I felt a conviction that this was something I needed to do, and once again, my women's intuition kicked in as I "just knew" that I would be Dom's match.
A week later, back in California, I received a call telling me that I was completely compatible to be Dominik's donor. I had more extensive testing done to ensure that I was physically capable of undergoing such an inclusive surgery, and on April 30, a year from that ominous day when Evan had his seizure, I told the Lawsons that I would be offering their son a new chance at life.
It was the perfect way to embrace our family's mission to "Save Lives in Honor of Evan." On May 21, the surgery happened and what a supreme honor it was to provide "hope" to another family in a desperate situation. Today, Dominik and I are both doing wonderfully, and our families look forward to many more years together.
Over time, my mom found her calling and developed Evan's Entourage, which in turn is promoting the catchphrase,"Be a Hero, Become a Donor." Through this we are able to promote bone marrow and stem cell donation, blood donation, cord blood donation and organ donation. Through the most terrible of circumstances, lives are being saved -- what an honor it is to save lives in Evan's memory.
Like Mary, you too can become a organ donor. For more information visit the United Network For Organ Sharing Web site. Learn the facts about organ donation and find out how to become a donor in your state. You can also read more inspiring stories about donating life.