The sagging economy and poor sales have stalled the assembly line at the General Motors factory in Wentzville, Mo. Though the plant went idle for three weeks, its workers were not.
The skilled hands, accustomed to assembling cargo and passenger vans, built bicycles at an emergency children's shelter, and stocked the local food pantry.
The 1,770 United Auto Workers were laid off for three weeks, but hundreds of them used their downtime to help charity groups in the area.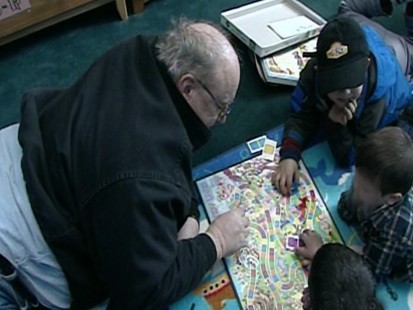 "Building cars is what we do," said Mike Bridgins, who has worked at GM for 28 years and came up with the idea to connect workers with charity groups. "But if we're not going to be building cars, we need to be back in our community doing things to help the community out. There is no better thing you can do than to volunteer your time."
So, Bridgins, along with his union colleagues, volunteered to play games and burp babies at St. Louis Crisis Nursery -- a shelter for children whose families are dealing with financial trouble or abuse.
Bridgins, who is a grandfather, sat on the floor playing Candy Land with three young shelter residents.
"I've never won a Candy Land game in my life," he said with a wink and a smile.
"We usually have only two or three volunteers," said DiAnn Mueller of the St. Louis Crisis Nursery. "Since the plant's been down, we have six, seven, eight volunteers show up every day -- and it's made a big difference."
Donating their time to children and those in need has made an impact in the lives of the workers too.
"To work with these children -- even for a little while -- and see the smiles on their faces, it's a relief. It's a good feeling," said Ron Moore, civil rights chairman at the plant.
"Other than sitting at home and worrying about your job, this gives you something to do. It makes me happy," said Denise Black, a GM worker who has been with the company for 24 years.
"I think even if you are laid off, you will think I can make a difference today. I'm not going to think about the situation, said Marcia Cline, who helps run the United Way of Greater St. Louis -- an umbrella agency for many of the charities involved.
GM Autoworkers Know Future Is Bleak
For local charities, these 500 UAW Local 2250 volunteers couldn't have shown up at a better time. Requests for help at local Salvation Army centers have doubled over the past few months. With the workers' help, the local food pantry now feeds up to 50 families a day.
"There are people that are in worse shape than us," said Moore. "We're blessed. We are very blessed, and to give back is something that we should do."
Unemployment is at its highest rate in decades, and countless families stand to lose their homes in this part of Missouri.
The GM plant's manager, Rex Blackwell, summed it up: "I don't think that we can be effective as a van assembly plant or a car builder if we don't build the community right along with our success."
"I know I'm going to be going back," said Josh Rohde, a furloughed GM worker. "So it's not as hard on me as it is on a lot of people out there right now."
Besides spreading the giving spirit, union leaders are hoping their service squashes any misconceptions about autoworkers.
"We're not the fat lazy people that we're made out to be," said Mike Bullock, bargaining chairman at the United Auto Workers Local 2250. "We're very generous people who want to help and do good for our neighbors and our community."
Tom Brune and Mike Fleschert, who have spent 25 and 27 years with GM respectively, are spending the furlough distributing fliers to help the county's foreclosure assistance program.
"We are not unlike anyone else in our neighborhoods," Brune said. "We worry like anyone else. Our company's in trouble. We wouldn't be out of work right now -- doesn't mean you can't do something to help somebody else out."
With news that GM will permanently close five plants across the country, these workers know that their futures could be in jeopardy. The help they are fortunate enough to offer now could someday be the help they need.