The 2019 Grammy Awards were certainly one of a kind, and music fans around the globe were treated to all sorts of amazing surprises.
Fifteen-time Grammy-winner and this year's host, Alicia Keys, came out and spoke about "love" and "music" in her opening monologue, only to bring out a slew of inspiring women, including Michelle Obama, to support her.
It was a moment that many will be buzzing about Monday morning.
There were also amazing tributes to legends including Diana Ross and Dolly Parton, and let's not forget about the incomparable performances from some of today's brightest stars.
Here are the top moments from the 2019 Grammy Awards:
'Do you feel the love?'
Keys made her opening monologue about positivity and "love."
"Music is what we all love ... everybody is out here shining, I'm proud to bring us together to honor this moment," she said. "It's our shared global language."
She then invited her "sisters" on stage with her and was joined by the power foursome of Lady Gaga, Jennifer Lopez, Jada Pinkett Smith and former first lady Michelle Obama.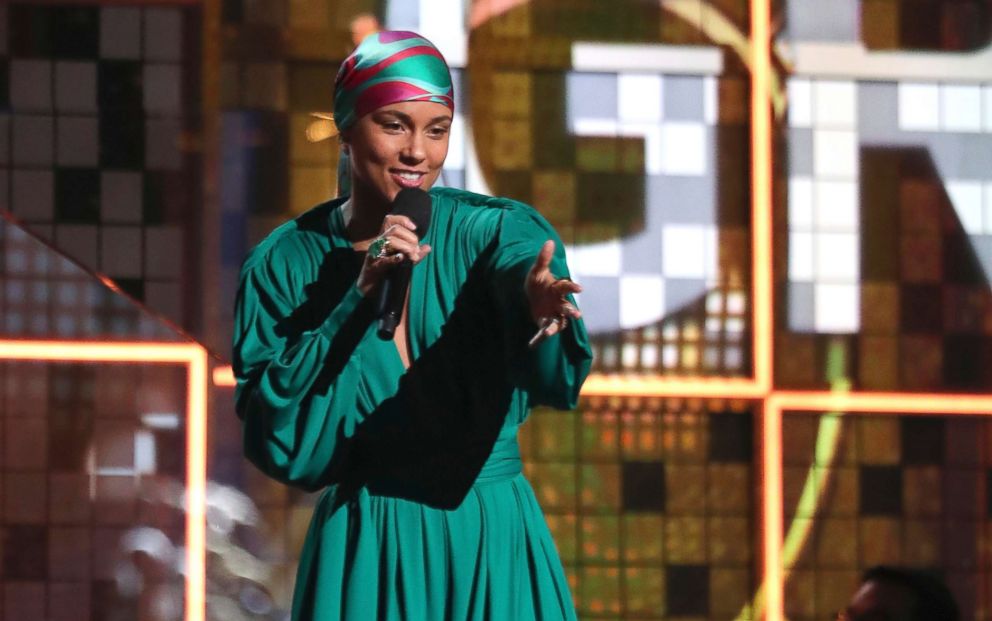 "They said I was weird, that my look, my choices, my sound, that it wouldn't work, but music told me not to listen to them," Gaga said.
"From the Motown records I wore out on the South Side, to the 'Who Run the World' songs that fueled me through this last decade, music has always helped me tell my story, and I know that's true for everyone here," Obama said to roaring applause. "Music helps us hear ourselves, our dignities and sorrows, our hopes and joys, it allows us to hear one another, to invite each other in, music shows us that all of it matters, every story, every note within every song."
The performances
What are the Grammys if not a night of amazing performances?!
Camila Cabello opened with "Havana," joined by Ricky Martin and more than 30 dancers on an amazing, over-the-top stage. It was an epic way to open the night.
Later, Shawn Mendez performed with Miley Cyrus and had the entire arena jamming out.
Janelle Monae also took the stage in black leather with an electric guitar and jammed out to "Make Me Feel," right after Kacey Musgraves' sweet song, "Rainbow."
Cardi B's performance was the definition of fierce. She wore a crazy peacock outfit while performing her song "Money."
Gaga performed a passionate version of her son "Shallow" from the Oscar-nominated song, "A Star Is Born." The Grammy winner sure shined like a star in a diamond-studded outfit that glistened behind the bright lights of the stage.
Dollywood
The Dolly Parton tribute is going to be hard to top.
Kacey Musgraves and Katy Perry kicked things off, before Dolly joined the duo and the three sang "Here You Come Again."
Miley Cyrus, Parton's goddaughter, came out to sing "Jolene" alongside the icon. The legend then brought the house down with a new song of hers and then her famed song "9 to 5," which left everyone in chills.
Diana Ross celebrate 'best years of my life'
Diana Ross also was honored Sunday night and performed some of her most iconic songs, including "The Best Years of My Life."
Her grandson introduced her in an adorable fashion, then she came out and said, "Through my life there's always been music and its power."
She next asked the audience to have their hands in the air as she began to sing, "Reach Out and Touch." She walked into the crowd to sing with some adoring fans, including Jaden Smith of all people.
Heartfelt speeches
Gaga won early for "Shallow" and gave her speech on mental health.
"If you see someone hurting, don't look away," she said, trying to remove the stigma of the very real disease and speak for a cause close to her own heart.
Drake used his time as commentary for the Grammys, telling other artists they don't need the trophy to be winners.
"You've already won if you have people singing your songs word for word," he said, pointing to the award and adding, "you don't need this right here."
Cardi B made history as the first solo woman to win best rap album and she gave a passionate speech about her daughter, Kulture, and even brought her husband on the stage with her.
Finally, Recording Academy President Neil Portnow took the stage towards the end of the night and spoke about ensuring "diversity and inclusion" a year after he said some choice words about female artists that caused some major backlash.