The 24 hours of Le Mans is the world's oldest car race. It takes place each year in France, it involves precision engineering, extreme speed and elite driving machines.
The 24 hours of LeMons race is nothing like that.
Race organizer Jay Lamm explains, "The cars for this race, you have to buy them, prepare them, decorate them and get them to the starting lineup for $500 or less. That's pretty much the only rule."
On a recent crystal clear pre-race day in Fernley, Nev., 103 teams were readying their cars for the race. The nicest-looking car here was a Geo Metro that actually had a professional paint job and a motorcycle engine. The rest of the cars had exterior finishes that looked like a fourth-grader's Halloween costume gone wrong.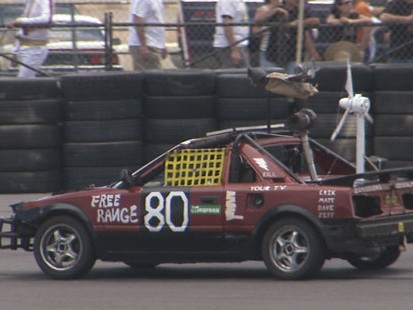 Check out the view from behind the wheel of a clunker racing in the LeMons.
There was one car with a finish drawn with a Sharpie pen. There were cars made to look like pigs, rabbits and jackelopes, and a few cars with toilets welded onto them.
There was the 80s car -- a Honda made to look like a Ferrari -- and the team is dressed as icons of the 80s. The outfits included the guys from Wham, a dude wearing a Members Only jacket, Crockett and Tubbs form "Miami Vice" and a guy dressed as Tom Cruise in "Risky Business" -- button down shirt, tighty-whiteys and socks. Now that's commitment to a costume theme.
The 24 hours of the LeMons tour takes place at tracks all across the country. The $500 cap on the cost of the cars makes this an incredibly affordable option for racing enthusiasts at a time when many have had to cut back on recreational spending.
Lamm said the genesis of the race was random.
"I got the idea for the 24 hours of LeMons at lunch at a Chinese restaurant with a bunch of my buddies," Lamm said. "I just thought it would be really funny to get a whole bunch of $500 cars and out them on a racetrack. I thought we were the only ones who would find it funny, but it's kind of hit a nerve. We'll have about 1,000 people here. About 600 of them will be driving race cars today. About 400 of them have probably never driven a race car in their lives."
24 Hours of LeMons: Clunkers Only
The bedlam was apparent. Cars were constantly in flux as the amateur mechanics tried to get them race-ready and keep them running. Parts were scavenged, borrowed and constructed from random materials.
One team had an intricate pattern of duct tape running all through their engine. Their team leader pointed out a feature they were proud of.
"That's a baby's diaper right there, part of our air filter," the leader said. "You might want to get a good shot of that."
This improvisation made for an interesting race. One hundred and three cars started the race, but at least 40 died out on the track. Another 40 needed some repairs or work on the fly, and it was assumed that the other 20 cars that didn't need repairs were owned by cheaters who scuffed up new parts to pass inspection. Those teams were penalized for cheating and ultimately the playing field was leveled.
While most of this race is fun and games, they do take safety seriously. There is a $500 cap on each car and it's parts, but you can spend as much as you want on safety elements like roll bars or harnesses.
There is a safety inspection process and Lamm explained that unlike other forms of racing, they are fastidious about enforcing driving regulations on the track.
"In professional racing, there's a lot of give and take," Lamm said. "In our racing, there's none at all. We have more traffic and more inexperience on this track than any other racing series in America, and we just think once you let that get a little sloppy, it just gets out of control really fast. So we're pretty aggressive about keeping people in line."
To encourage proper driving etiquette and safety, the black-robed, white-wigged judges dole out fines with a heavy hand.
"We'll make you put on a Phil shirt, a beret and white face paint and mime your crime," said judge Phil Greden. "Or write, 'I will not pass under yellow flag' 100 times in your car. Or if you whine too much, you have to wear an adult diaper and a pacifier. And we have them eat baby food."
It all seems like a lark until you actually get behind the wheel. I took a test drive the day before the race and suddenly it felt serious and sort of scary.
The speedometer was broken in the Honda CRX I borrowed from Team Lemon Demolition, so I don't know how fast I was going. But it felt a little like the Millennium Falcon trying to hit light-speed.
I felt totally out of control even though I had the whole track to myself for the test drive. It could have been the fact that I could barely reach the pedals and the helmet and harness in the car severely limited my field of vision. But the fact that the door handle came off in my hand when I got into the car didn't boost my confidence.
How Much Does $1,500 in Nickels Weigh?
The LeMons configuration of the Fernley track was 2.8 miles long with some tough blind spots and off-camber turns. I learned that means you are turning the car in the opposite direction that the road slopes.
Despite the challenging nature of the course, the long hours of driving and the questionable stability of the cars, there's one issue that really taxes the drivers. They are racing at top speeds against a bunch of amateurs in disposable cars.
One team member from Team Bailout explained the issue like this: "Oh, if you blow up a real race car, it is a big deal. If you blow up one of these, it's not a big deal."
In the end, this is one big party. People are here to laugh, commune with like-minded car enthusiasts and avoid the snooty types that can be a staple in more expensive racing circles.
Team Bailout says, "The best part about it is you don't have any trailer queens here. Everything is real and everything stays real on the track and off."
There is actually a winner and a prize. The winners of the Reno race were Team Eyesore: Their Mary-Kay Pink Elvis-themed Cadillac was actually two wrecked Mazda Miatas welded together.
The grand prize was $1,500, but there's some fun. too: It was awarded in nickels.
"They're always really excited when they win, and then when they pick up the first bag," said Lamm, "there's 15 of them and they weigh about 70 pounds. They say, 'What am I going to do with these?'"
While the winner's circle is fun, the crowning moment of the race is the People's Curse Award: If you drive like a weiner on the track, they crush your car!
Click here to watch the People's Curse in action.
No names will be named here, but this year a VW bug met its end when a front-end loader smashed it to a pancake-thin pulp.
There are 11 LeMons events in 2009 taking place all around the country. If you'd like more information, check out the Web site, www.24hoursoflemons.com.
And special thanks to my cousin, Jeff Glenn, and his mom, Cherryl, who first told me about the race. I had a blast.