In the spring of 2009, a California jury convicted Phil Spector of second degree murder in the 2003 death of Lana Clarkson.
The 40-year-old actress came home with Spector from a club on the Sunset Strip one night and ended up dead, just inside the front door of his mansion, from a single gunshot wound in her mouth.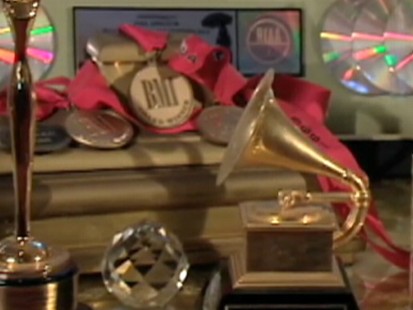 As Spector began serving a prison sentence of
19 years to life
, the famed "Wall of Sound" producer left plenty behind, most notably, an incomparable pop music legacy and a young blond Pennsylvania native named Rachelle, who now dwells in the house where Clarkson died. She is the 29-year-old Mrs. Phil Spector.
Rachelle Spector is the vice president and CFO of Spector's music companies. She oversees a catalog of pop hits that generate a seven-figure yearly income. She also orchestrates Spector's appeals. And she is 40 years younger than her famous husband. While some may snicker at their romance, she proclaims the innocence of her 69-year-old spouse.
"I mean, I feel like I'm on a mission. This is far greater and a bigger challenge than I ever imagined. But it's totally positive, protesting my husband's innocence, restoring his name, honor, legend," she told ABC News' Chris Connelly.
She attended her husband's trial each day, and her advocacy got people's attention, as did the hairstyles she cooked up for her husband, like the frizzy Afro he wore to court one day.
When asked about her husband's mood during the trial, Rachelle said, "Well, it's like going to a hell hole. I mean, they're accusing you of the worst crime possible, and, you know, you're sitting there innocent and nobody wants to believe you."
Now, Rachelle wants the public to believe her.
"It's an unfortunate circumstance and I'm very sad for the family, but I have to be positive and I have to move on. This is our home," she said, standing in the foyer of her home, the spot where Clarkson died.
It sure isn't the home she imagined eight years ago, when at 21, she beat it out of Beaver Falls, Pa., one afternoon, heading for Hollywood. She dreamed of life as a rock singer in leather pants.
Chance Meeting at L.A. Restaurant Changes Everything
"Well, I wouldn't call anything success," she said about her first years in Los Angeles. "I would just call it learning the ropes and working my ass off to get by at that point. And I mean, of course, there were a couple of times where I thought I would have had to move back home. I kept focusing and being really positive and putting myself out there. And just stuff started happening."
In the fall of 2003, Rachelle was introduced to Spector at Dan Tana's, a music business hangout, while heading for the ladies' room.
"I ended up not even being able to go to the restroom! But one main thing that my husband did say that night, I remember him saying, 'Timing is everything,'" said Rachelle. "You could have all the luck in the world and it's all about being in the right place at the right time."
Her own timing was ideal. She was waiting tables to finance her music aspirations. He was a music biz big shot with a fondness for blondes and a forthcoming indictment for homicide. They talked until 6 a.m. the next morning.
"It was so funny 'cause he looks up at me and he's like, 'May I kiss you?' And I'm like, 'No,'" said Rachelle laughing. "Like, no one has probably ever turned him down before, like, ever."
At the outset, Rachelle says she knew very little of how Spector masterminded so many of the greatest pop records of the modern era, including "Baby, I Love You" and "Da Doo Run Run" to "You've Lost That Lovin' Feelin'" -- all booming tracks from the early '60s and achievements that earned him an honored place in pop culture annals.
"Even when he came over with the Beatles. I mean, he's had this plane coming over from England with the biggest, you know, band in the world, and who else is on that plane and coming down the stairs? My husband, Phil Spector. So, I mean, it's like unbelievable. I mean he was everywhere," she said.
Despite Murder Conviction, Wife Says 'This Guy Couldn't Hurt a Fly'
By the end of 2003, they were virtually inseparable. But as Spector's likely murder trial loomed, Rachelle's friends were concerned. She told them not to worry.
"Even like the first five minutes ... after meeting him you get no sense of danger whatsoever. I mean this guy couldn't hurt a fly. I wrestled for two years. I taught tae kwon do for three-and-a-half years. I'm like thinking, anybody's gonna do any damage, it's me," she laughed.
When asked about finding her husband sexually attractive, Rachelle says, "Oh, yeah. I've always been attracted to older men, anyways. So yeah, absolutely. I think he's cute and sexy, and I know how men are and how guys are. They'll just say whatever. But I fooled him. I got him to marry me, anyway. So little did he know."
It fell to Rachelle to pop the question, though. Her approach resulted in a diamond-encrusted engagement ring and a 2006 wedding.
The big-time bling on the hand of a one-time waitress, a tricked-out car, a new home for her mom back in Beaver Falls -- it all set tongues wagging, and Rachelle was not immune to the wicked whispers.
Asked about being called a gold digger, she said, "Well, at this point, I don't care how much digging I would be doing. There's nothing to dig for. So that one is 'no.'"
What about the house and her husband's music catalog?
"Yeah, and this house is mortgaged to the hilt as well as everything else," she said. "And the catalog, and so, even though his catalog may generate that type of revenue, we don't see that revenue."
The worst part of all, Rachelle says, came on April 13 of this year -- the day Spector was found guilty of second-degree murder.
"Oh, my god. That's all I kept saying. I just kept saying, oh, my god, oh, my god," she said through tears. "I never thought in my wildest dreams this would happen. He doesn't deserve this."
Barred from seeing her husband in prison until a classification process has passed, Rachelle says her husband wrote her a letter describing in detail the conditions in which he was being held.
"Rachelle Dearest, It's hell here. The first 4 days I was on suicide watch and slept naked on the floor," the note reads.
"He's down to less than 130 pounds, and I can't even talk to him or go and see him," said a crying Rachelle.
She says what she misses most is "just him being here. Just knowing that he's here."