Coronavirus economic updates: 3.28 million unemployment filings shatter 1982 record of 695,000
The health crisis has increasingly become an economic one.
The coronavirus pandemic has quickly evolved from a health crisis to a financial one, shuttering businesses, upending entire industries and sending financial markets reeling.
Here's the latest news on how the COVID-19 crisis is affecting the economy. For more on financial resources available during the pandemic, click here.
Markets continue to rally
U.S. financial markets marched higher on Thursday despite the soaring unemployment numbers.
The Dow Jones Industrial Average closed up more than 1,350 points, or 6.3%, while the S&P 500 gained 6.2% and the Nasdaq rose 5.6%.
The equities rally Thursday builds off of back-to-back gains on Wednesday and Tuesday. Lawmakers announced on Wednesday they'd reached a deal on a $2 trillion stimulus package to help buoy the economy.
U.S. equity markets have seesawed for weeks as the COVID-19 outbreak has sowed uncertainty among investors. All three major U.S. indices plunged into bear market territory amid the pandemic.
Orange juice prices skyrocket
Orange juice futures have spiked more than 20% over the past month, as the global health crisis possibly has people seeking more doses of vitamin C.
"Industry sources suggest that demand has improved as consumers are returning" to frozen concentrated orange juice, Jack Scoville, vice president at the Price Futures Group, wrote in a memo Thursday. "The increased demand has really turned the market around."
"Crop yields and quality should be high for Florida this year," he added.
Record number of Americans file for unemployment
A record number of workers -- 3.28 million -- filed unemployment claims in the week ending March 21, according to U.S. Department of Labor data released Thursday.
That's an increase of 3 million from the previous week.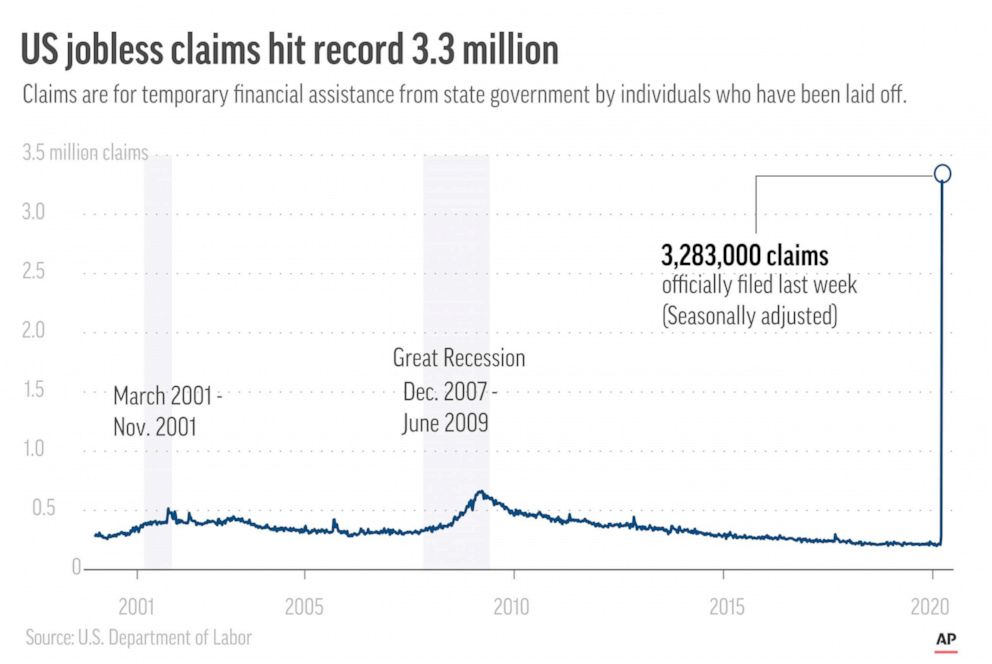 Among the hardest hit sectors was the service industry, particularly accommodation and food service. Nearly every state cited COVID-19 as the reason for skyrocketing claims.
Health care and social assistance, arts, entertainment and recreation, transportation and warehousing or manufacturing industries were also heavily impacted, the Labor Department said.
Thousands of businesses have been forced to close amid government-mandated stay-in-place orders.
The staggering figure comes as the unemployment rate was near a 50-year low just weeks ago.
The previous record for weekly unemployment filings was 695,000 in 1982. Thursday's total is three times the combined number of people employed by Apple, Target, General Motors, Boeing and McDonalds.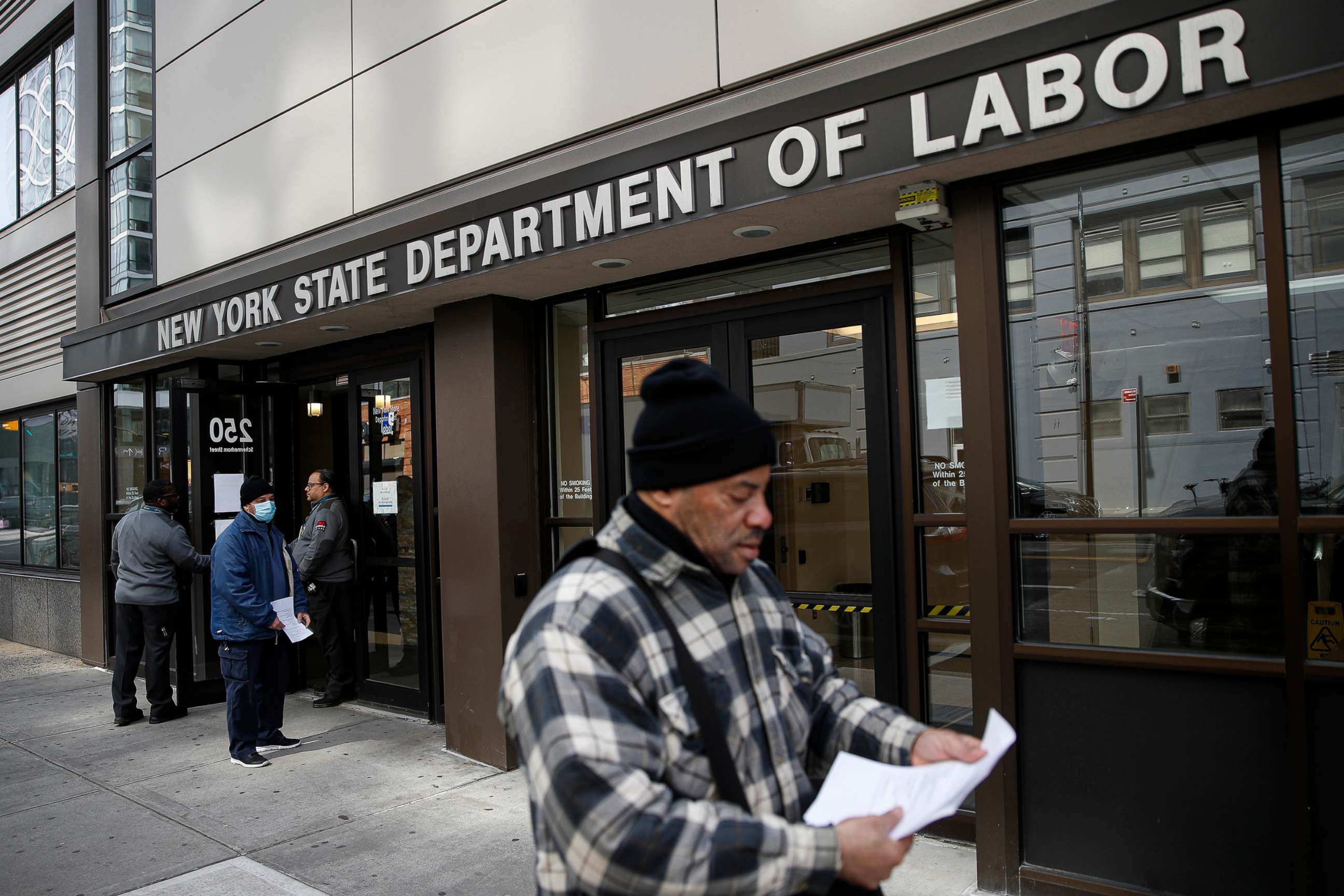 "The coronavirus outbreak is a truly unprecedented event in American economic history, flash-freezing the economy by forcing businesses to shut down and putting millions of American workers out of jobs," Daniel Zhao, Glassdoor's senior economist, said in a statement Thursday.
"Most historical comparisons of this scale are inadequate. The closest would be natural disasters like major hurricanes," he added. "However, as today's report shows, the coronavirus outbreak is economically akin to a major hurricane occurring in every state around the country for weeks on end."
This report was featured in the Friday, March 27, 2020, episode of "Start Here," ABC News' daily news podcast.
"Start Here" offers a straightforward look at the day's top stories in 20 minutes. Listen for free every weekday on Apple Podcasts, Google Podcasts, Spotify, the ABC News app or wherever you get your podcasts.