Frank Payne's toolbox has a history: It belonged to his uncle George, a machinist who made hypodermic needles to treat soldiers at the front in World War II.
These days, Payne brings it to work at Summit Steel & Manufacturing, a small, non-union metal-manufacturing company in Reading, Pennsylvania.
Uncle George has passed away. But Payne hopes that their shared trade -- and manufacturing in general -- will have a healthy future.
Lately, he's seen signs of hope, and for that he credits President Donald Trump's trade policies, including tariffs on imported steel and aluminum.
"I do see a change in the amount of work, and it's almost like the playing field has been leveled a little bit in our favor," Payne told ABC News. "I would have to give some credit to this administration, because if it wasn't for them changing things, we wouldn't have what we have right now."
In a series of articles examining the economy ahead of the midterm elections, ABC News is highlighting key issues that affect Americans and how the Trump administration's policies are making a difference in their lives. Here, we're focusing on how the president's trade policies have affected U.S. steel workers.
It's easy to assume that with the president's inflammatory rhetoric on trade, votes from manufacturers would be a slam dunk for Republicans in the midterms. But the upcoming elections may not be a referendum on Trump, even as everyone from analysts to unions work out what the recent United States-Mexico-Canada Agreement means for the overall economy.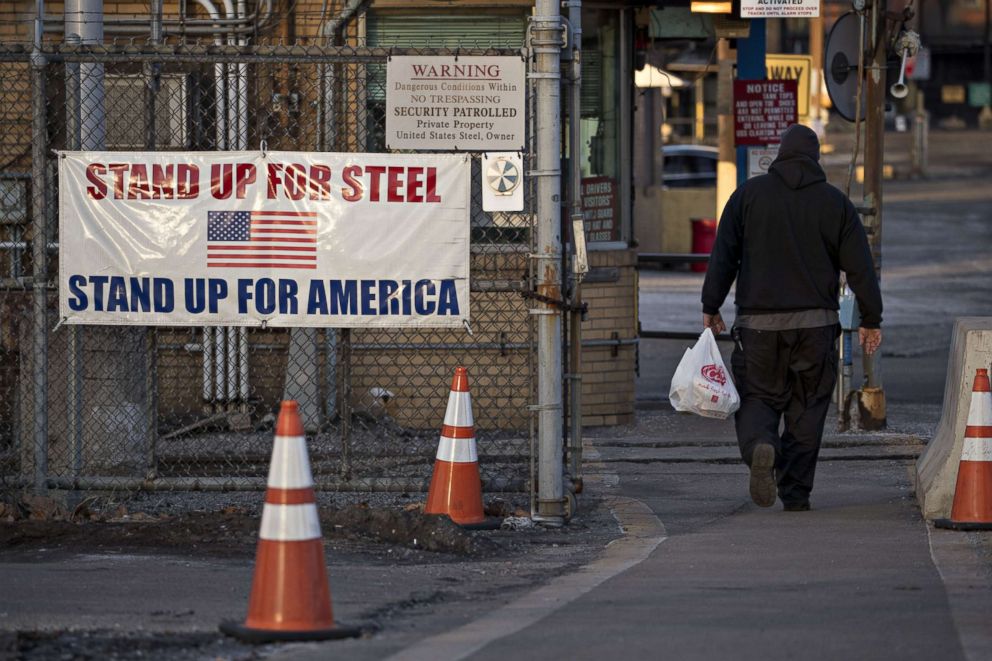 Trump's not on the ballot
Pittsburgh is the home of U.S. Steel, one of the largest steel companies in the country and a historical symbol of American industrial might. It's also the home of North America's largest industrial union, United Steelworkers.
A strike currently looms for workers at ArcelorMittal and U.S. Steel, which would affect 30,000 workers. Corporate tax cuts may prove beneficial for companies, but workers are still looking at limited pay raises and increasing healthcare costs.
In this environment, the elections are anyone's guess. There are 10 incumbent Democratic senators running in states Trump won, and unions are monitoring that.
"What we've been seeing since early last year is that people don't consider Trump on the ballot. They're really treating these midterms as one-offs," said Tim Waters, the national political director for the United Steelworkers Union.
"Take the Pennsylvania 18th in the special election [for the House of Representatives] -- a district Trump won by 20 points in 2016. He came to the district multiple times asking people to vote against [Democrat] Conor Lamb, a number of his Cabinet members came to Pittsburgh to do the same thing, even family members. They spent a bunch of money, and at the end of the day Conor Lamb won," Waters told ABC News. "And the reason he won is not necessarily because people don't like Trump, because a lot of people support Trump there."
It's the economy, stupid
Despite the deal with Canada and Mexico, the trade war with China shows no sign of letting up. Meanwhile imported steel now costs 25 percent more, in turn raising domestic steel prices, passing costs on to manufacturers.
Saving 33,000 steel-industry jobs costs the economy 179,000 jobs, a net loss of 146,000, Ryan Young, a fellow in regulatory studies at the Competitive Enterprise Institute, told ABC News.
"Basically," Young added, "the few are benefiting at the expense of the many."
In addition, the tariffs have created an oversupply of U.S.-made steel. Prices are forecast to fall so much that Credit Suisse downgraded its ratings on most U.S. steel producers on Monday.
However, at Summit, the mood remains hopeful, even though the company has to pay more for raw materials and pass costs onto clients.
"Business has been on an upturn for sure," said Gary Romig, Summit president. He credits Trump.
"You would think it would have a negative impact, and it has not," Romig said. "We have gotten more inquiries from foreign companies" seeking U.S. steel to use for products to sell stateside.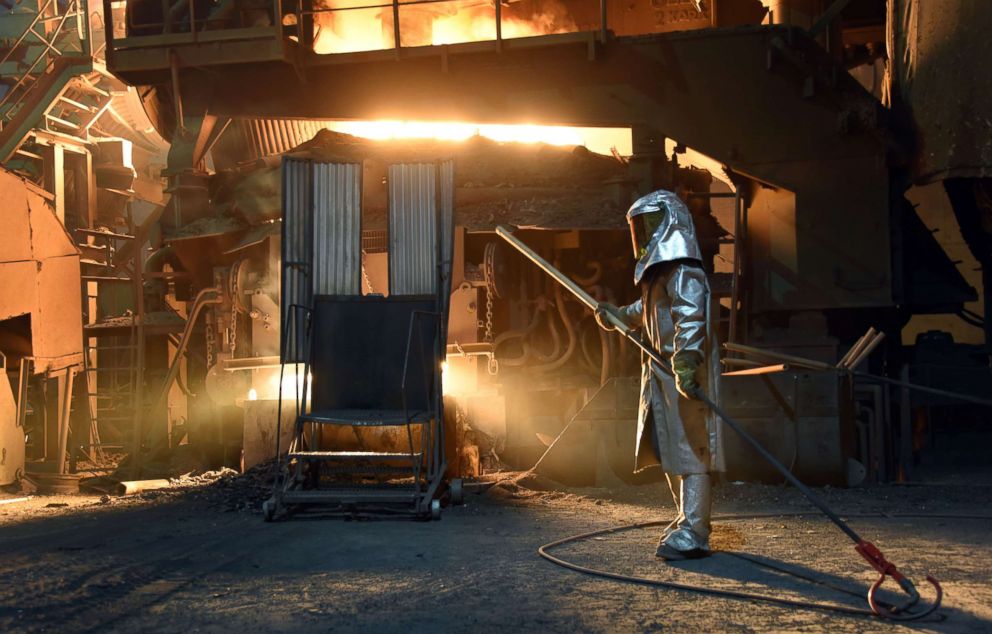 Payne, his colleague, has seen the downside of economic cycles: He was laid off back in the 1980s.
"So," he joked, "it was back to mom."
"As soon as the [playing] field is fair," he added, "we can survive, and we can keep people working, for all of those people who want to work. I think that Americans are pretty capable of taking very little and turning it into a lot."