Adorable Prince George, Princess Charlotte take part in Pippa Middleton's wedding
George, 3, served as a page boy while Charlotte, 2, served as a bridesmaid.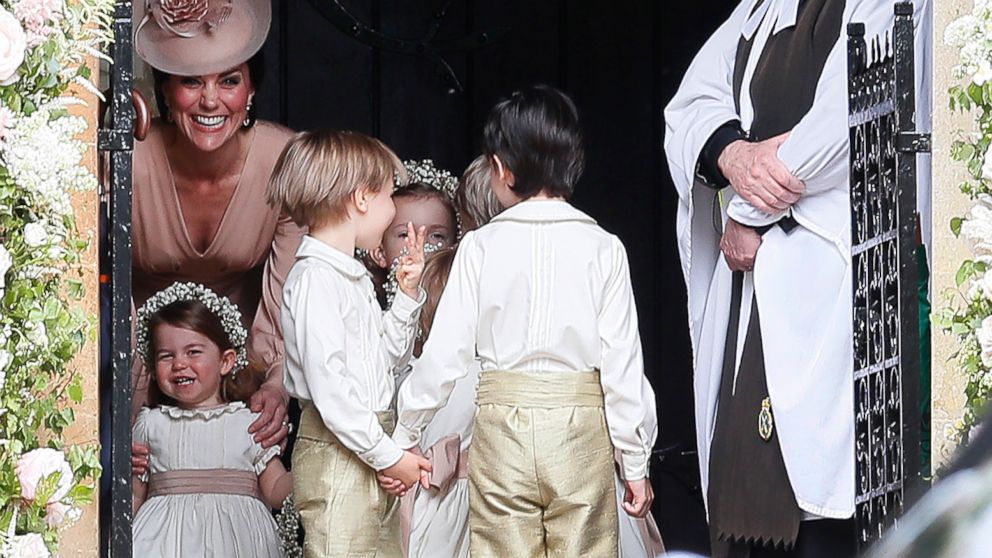 — -- Pippa Middleton tied the knot today with her nephew, Prince George, and niece, Princess Charlotte, by her side.
George, who turns 4 in July, served as a pageboy at Middleton's wedding to financier James Matthews, while Charlotte, 2, served as a bridesmaid.
The children's mother, Princess Kate, was seen guiding the bridal party out of a car and into St. Mark's Church in Englefield, Berkshire. Kate was also seen at points reminding the young children to be quiet.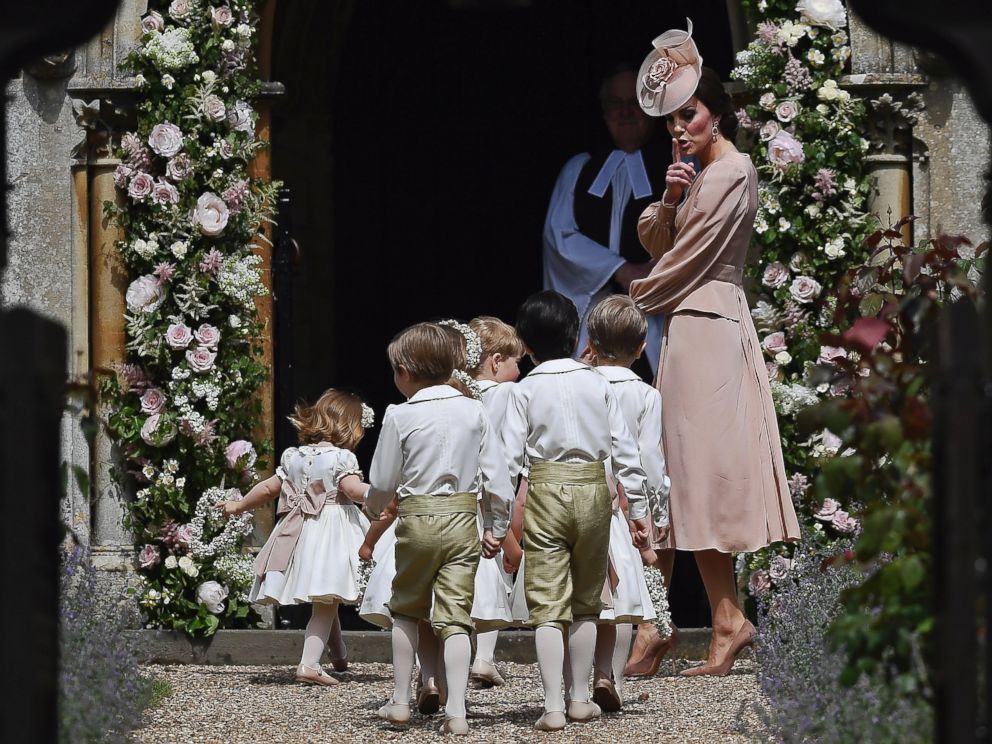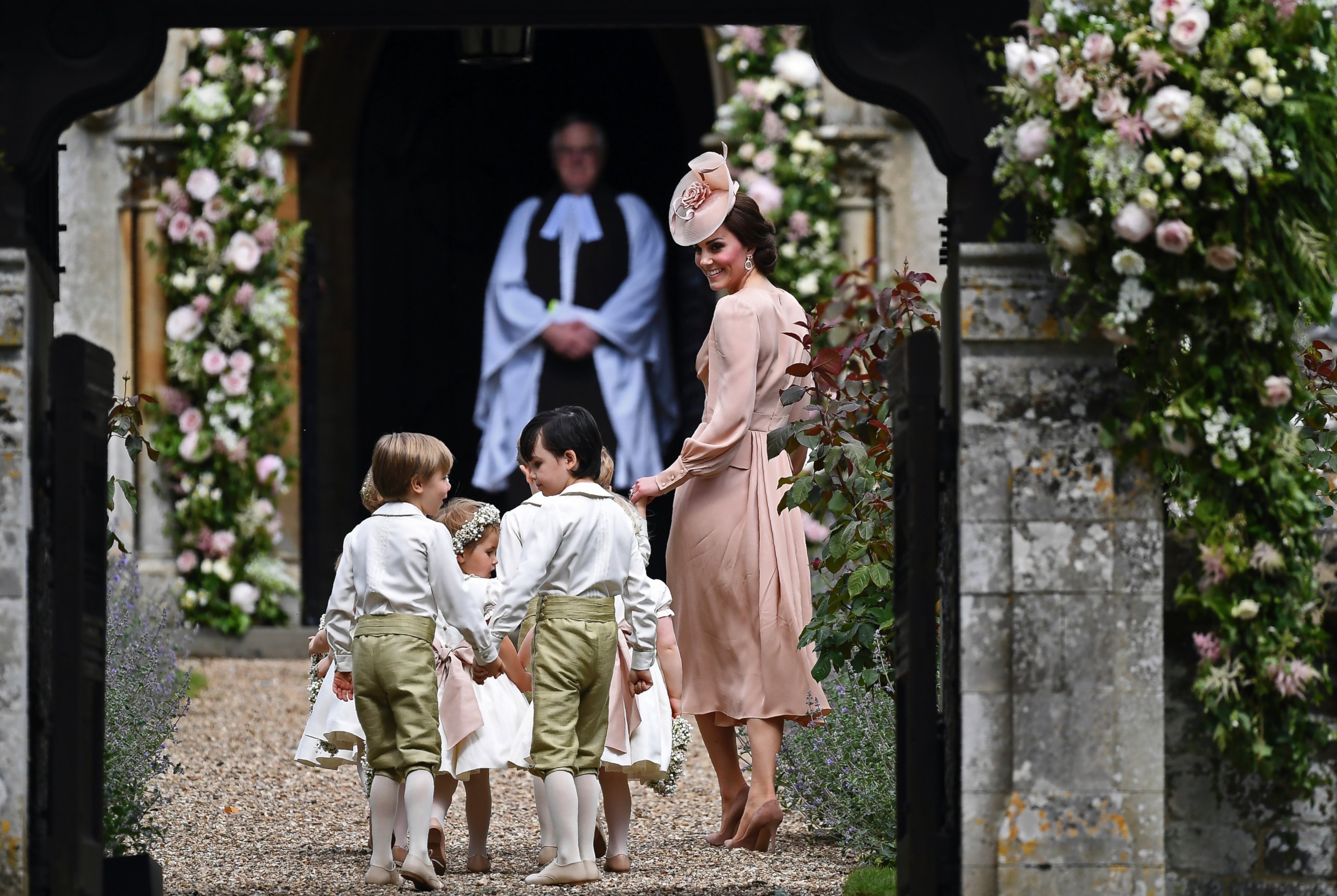 George and Charlotte joined the other page boys and bridesmaids in wearing custom-made outfits designed by Pepa & Co. Charlotte and her three fellow bridesmaids wore dresses accented by a sash and flower crowns atop their heads.
George and his three fellow page boys wore gold, knee-length trousers and collared shirts.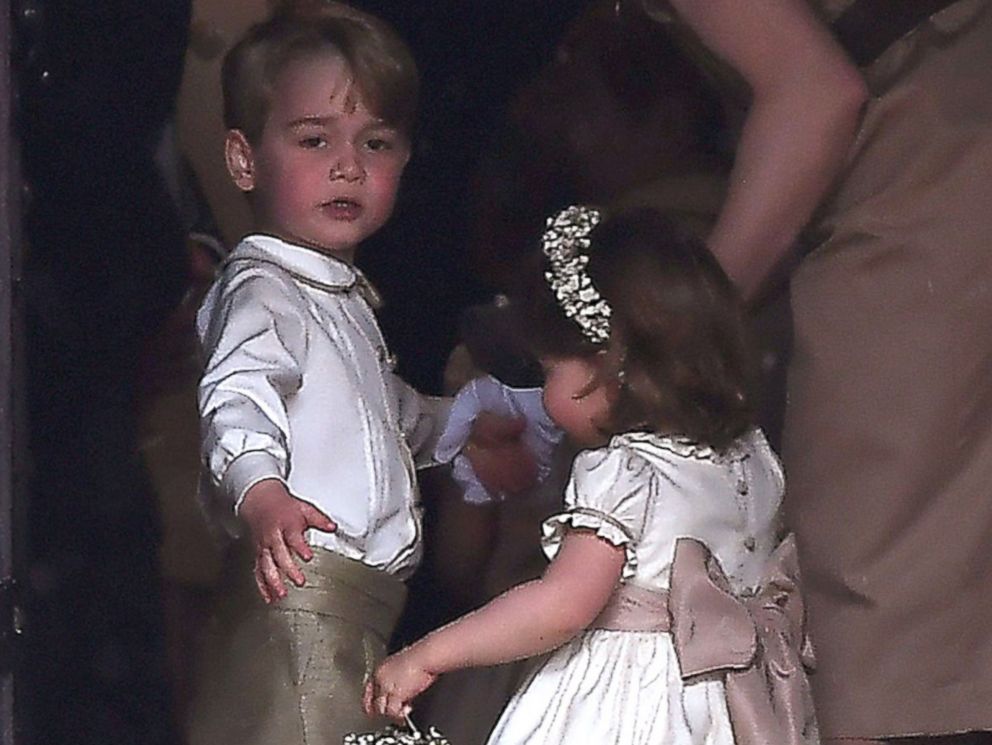 George and Charlotte's nanny, Maria Turrion Borrallo, was also photographed at the church with the children.
Middleton, 33, and Matthews, 41, tied the knot at St. Mark's, located just six miles from Bucklebury, where Middleton was raised. Middleton donned a white gown designed by Giles Deacon and a bespoke veil designed by milliner Stephen Jones that featured tulle and embroidered pearls.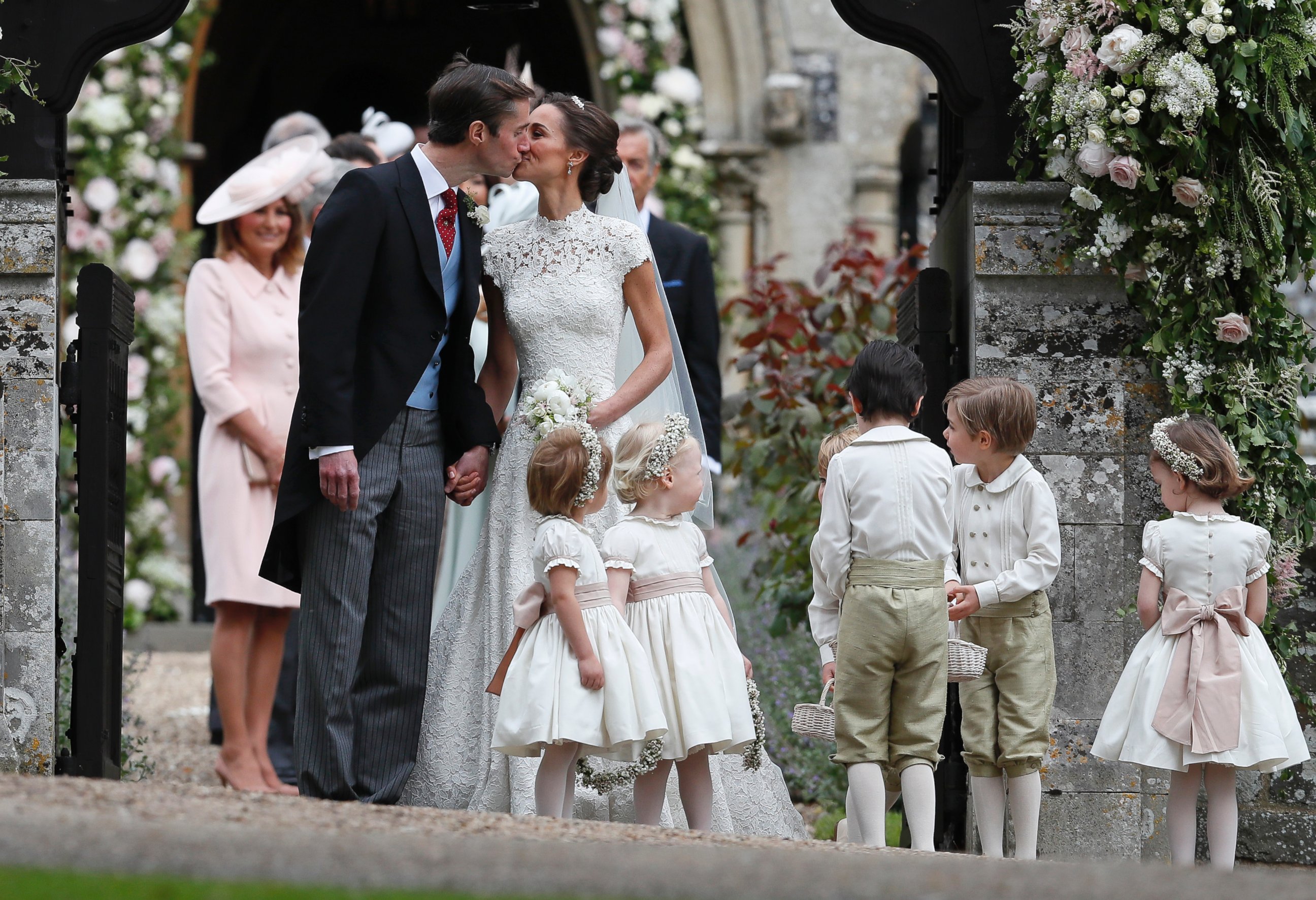 While the American wedding tradition is to include bridesmaids closer in age to the bride, the British tradition varies.
Queen Elizabeth selected women close to her own age as bridesmaids in her 1947 wedding. Princess Diana used school-age girls as bridesmaids, rather than flower girls, at her 1981 wedding to Prince Charles and did not have a maid of honor.
Queen Elizabeth's sister, Princess Margaret, also selected young attendants as bridesmaids at her 1960 wedding as did the queen's daughter-in-law, Sophie Wessex, in 1999. Conversely, Autumn Phillips, the bride of Queen Elizabeth's grandson, Peter Philips, featured bridesmaids close to her age at her 2008 wedding. Kate's 2011 wedding to William included young bridesmaids led by Middleton as maid of honor.
Middleton led the bridal party down the aisle at Westminster Abbey holding the hands of the two youngest bridesmaids, Lady Grace van Cutsem and Lady Eliza Lopes, both then 3.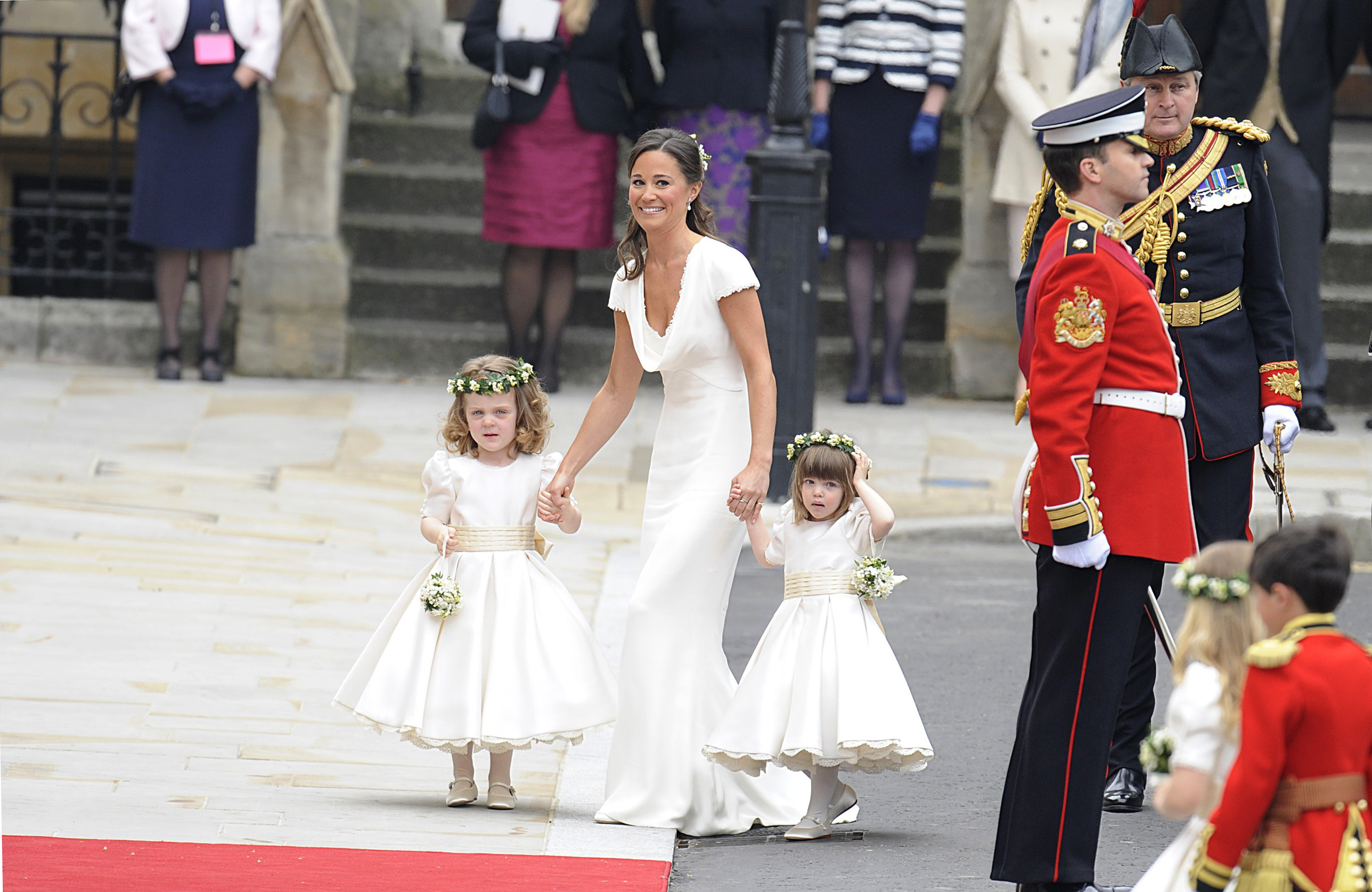 Kate's four young bridesmaids each wore ballerina-length dresses using the same fabric as Kate's wedding gown, adorned with a pale gold sash made of wild silk.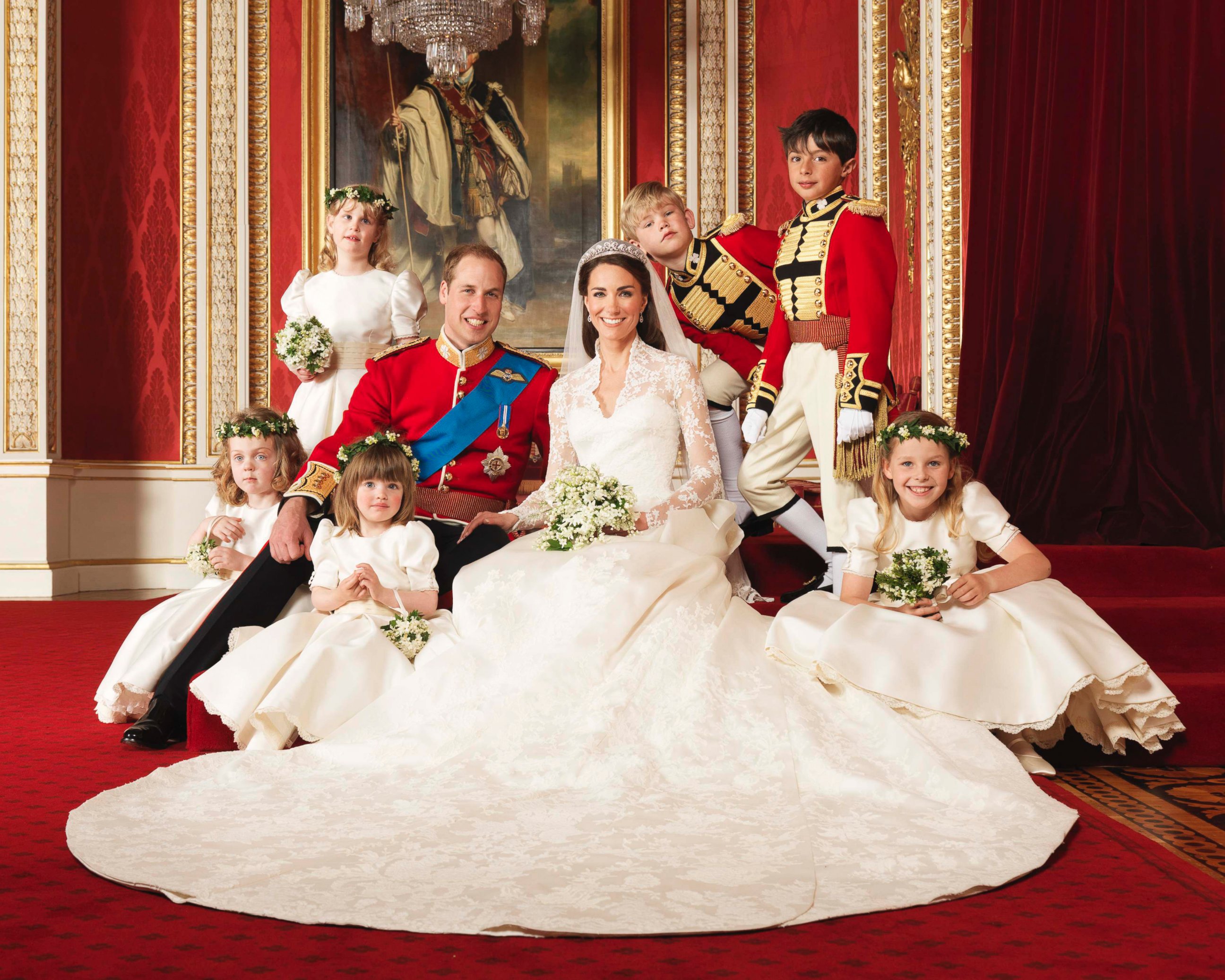 Page boys have remained a tradition mainly in royal weddings. George's father, Prince William, fulfilled the role at Prince Andrew's wedding to Sarah Ferguson in 1986, and a young Prince Harry served as a page boy at the wedding of Princess Diana's brother, Lord Charles Spencer, to Victoria Lockwood in 1989.
William and Kate chose as page boys for their wedding the young sons of members of the Buckingham Palace household, past and present, rather than fellow royals or sons of aristocratic friends.
The two page boys, Billy Lowther-Pinkerton and Tim Pettifer, wore child-size uniforms in the style of Foot Guards officers worn at the time of the Regency in the 1820s.