When Jennifer Nettles and Kristian Bush's Grammy-winning country band Sugarland went on hiatus over five years ago, they knew it wasn't the end.
"It's fascinating, people's connection to drama and scandal, and wanting to say that it was a breakup. It was never that," Nettles said in an interview for the ABC special, "Country Music's Biggest Stars: In the Spotlight with Robin Roberts." "We wanted to go fill our cups with new things, you know?"
During their time apart, Nettles gave birth to her first child, Magnus, who just started kindergarten this year.
"I wanted to make sure that I could be available and present for him. What a big transition. What a page turn, man," Nettles said. "I think it was harder for me than it was for him...we've spent so much time together, and then now suddenly, he's in school all day. And it's like, he will be doing that for 13 years. What?"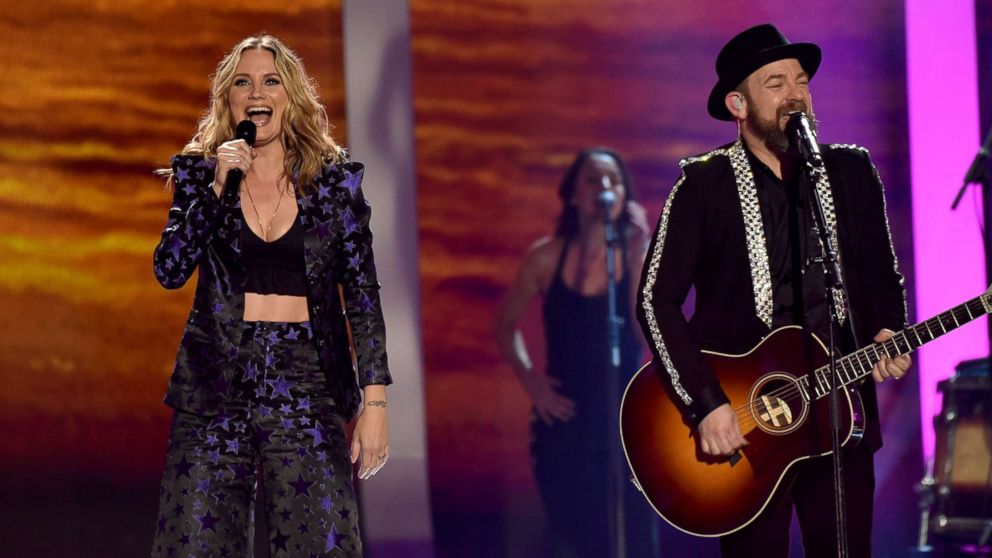 Back together touring again, Sugarland has since released their new album titled, "Bigger," and are back on tour. Although it had been a while since they shared a studio together, Nettles and Bush said they know they could count on their trust for each other creatively.
"Sometimes we have more trust for each other than we do ourselves," Nettles said.
"We do," added Bush.
"You know, those kinds of things where sometimes you can get in your own way, but if you have someone to bounce off of that you trust, that can really, I think, speed up the process," said Nettles.
Their latest single, "Babe," features Taylor Swift, who started out around the same time Bush and Nettles did and was a fan of Sugarland.
"We did a little independent EP called 'Premium Quality Tunes' that we put together," Nettles said.
"I don't think I even have one of those," Bush said.
"I don't think I do either. She has it and has kept it," Nettles said.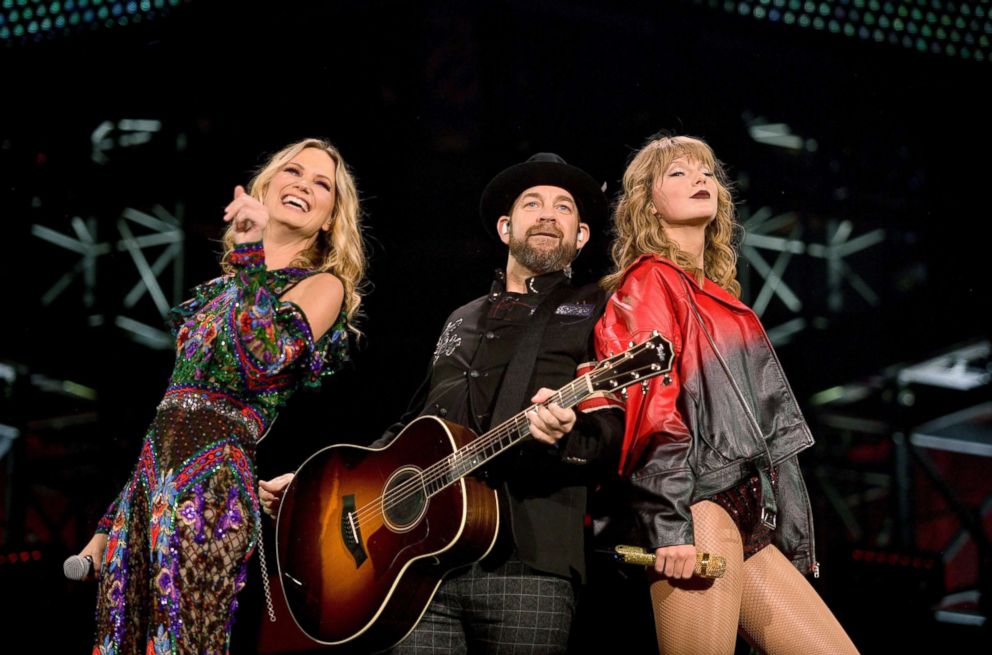 Nettles said that when Swift heard Sugarland might be doing another tour and record, she reached out to offer them the song "Babe." The music video for the song is nominated for Music Video of the Year at this year's CMA Awards, and Sugarland is also nominated for Vocal Duo of the Year.
Sugarland has come a long way since Aug. 13, 2011, the day the stage at their concert at the Indiana State Fair collapsed, killing seven people and injuring dozens.
"It's all big to take in. Thankfully, we are in a place now where we can be human about it. At that time, we weren't allowed to talk about it," Nettles said. "That was very challenging because we weren't able to be human about it for our own protection, just because of the nature of the legalities."
The duo said making music and performing has been healing for both them and their fans.
"It feels so good to hug them and for them to stand in front of us and go, 'Look, we're still here,'" Bush said.
"You have to understand, this was something that we all experienced together. We had crew who were injured," Nettles said. "The whole thing was quite traumatic, and even recently on this tour, we did an outside gig. And it was very rainy, and it was very, very windy. And I had basically a PTSD moment where I just like ... I grabbed [Bush's] hand and just drew him over to the side and said, 'I am like, freaking out right now, so I have to get this together.'"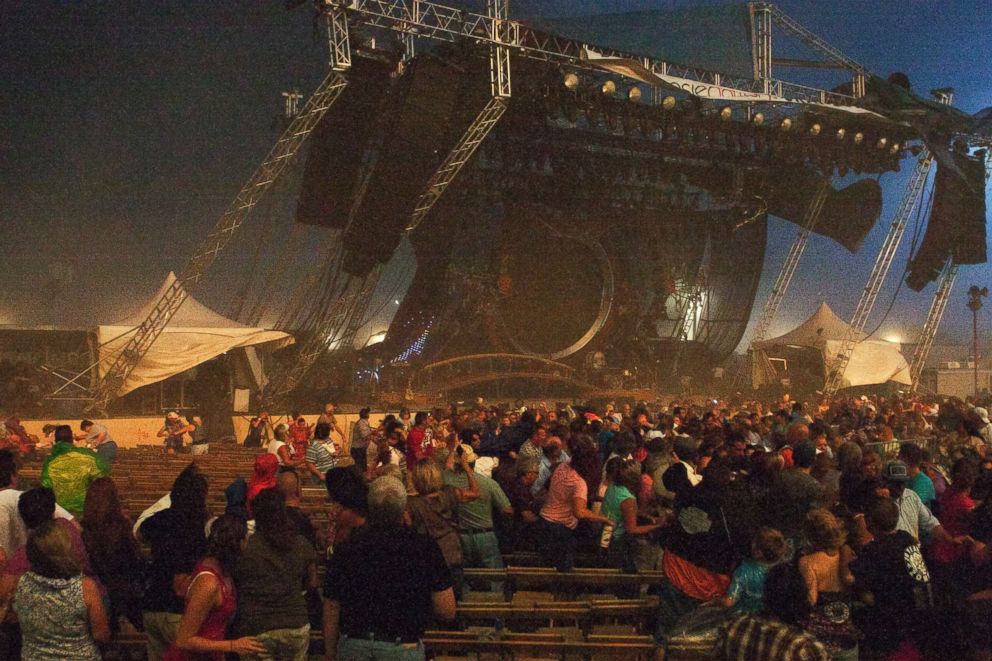 In the investigation that followed the accident, Bush said much of the band's gear, including their instruments that were smashed in the collapse, remained on the stage. Eventually, some of the remnants of the broken instruments were delivered to Bush's home.
"I opened up the cardboard box that came to the front door, and I realized what it was after I had totally torn out the stuffing of whatever the protective stuff was, and I was like, 'Oh.' It just -- I couldn't take it," Bush recalled.
Bush said he had to explain to his kids what happened at the show, and that it was his daughter who helped him in his emotional moment after receiving the box of broken instruments.
"I just left the box there, and she, my daughter, is some sort of angel person. She pulled the stuff out, and there were these broken pieces. She's like, 'Look Dad, I can make something awesome out of this,' and it was a big old peace sign on the floor," Bush said. "I was like, 'Of course they will save us. Our children will save us.'"
Nettles and Bush said they don't know exactly what's next for Sugarland, and are also focused on other aspects of their careers and personal lives.
"There will always be Sugarland. I love it, you love it, the fans love it, so there will always be that. What's specifically next is getting Magnus into school comfortably and sleeping. That's specifically next," Nettles said.
"Yeah, I got to go home and start producing records, I think, until we decided to do this. I think I got another Lindsay Ell record to do. There's just all sorts of things. I don't know. We like making stuff. We'll always make stuff," said Bush.
Nettles and Bush said the thing that time apart has shown them is how much they've evolved.
"I didn't think that her singing could be better, but it has gotten better," Bush said.
"Being able to see how Kristian has evolved in terms of a writer and a producer and to get to experience the benefits of that as his partner on this record in what we wrote and how we wrote it was so rewarding for me, not only to experience, but also to get to see, and to know, 'Yeah, this time apart was good for us in this way,'" Nettles said.