Director Tom McCarthy, who may win his first Oscar Sunday night, opened up about the huge success of his latest film "Spotlight." The film tells the story of the reporting team at The Boston Globe that uncovered a sexual abuse scandal in the Catholic Church.
McCarthy told ABC News the film was an "homage" to investigative journalism.
"I think the heart and power of the story, the real emotion comes from the tales of and the tragedies of these survivors and families of victims," McCarthy said. "And we had the good fortune to sit with some of these men, specifically depicted in the movie, Phil Saviano and Joe Crowley, and hear their stories. It's incredibly powerful. And I think as we started to do that, we not only felt that we had something important on our hands, but we also felt a great deal of responsibility to tell the story and to tell it right.
WHAT TO KNOW
Spotlight Director Tom McCarthy appears on Popcorn with Peter Travers
"Spotlight" is McCarthy's fifth film. He's also directed fan favorites like "Win, Win" and "The Visitor." "Spotlight," which is up for six Oscars, comes on the heels of McCarthy's "The Cobbler," which was panned by critics.
"Does that make me feel bad? Yes," McCarthy said. "'Cause I'm human and I put in a lot of effort and I loved everybody that worked on that film. I tried my best. "It was very liberating in some weird way. This is what we do. We take chances. We tell different stories. Sometimes they're gonna like it. Sometimes they're not. Our job is just to keep telling stories."
McCarthy said the failure of "The Cobbler" "liberated" him as a director.
"They always say you learn more if not from your mistakes, from the hard times and I think that's true because it was kind of a hard time," he explained. "I had a lot going on in my head. I was sort of dealing with that movie and dealing with 'Spotlight' and I thought, alright, I know I can handle this."
And handle it he did. McCarthy assembled a dream cast including Mark Ruffalo, Rachel McAdams, John Slattery and Liev Schreiber.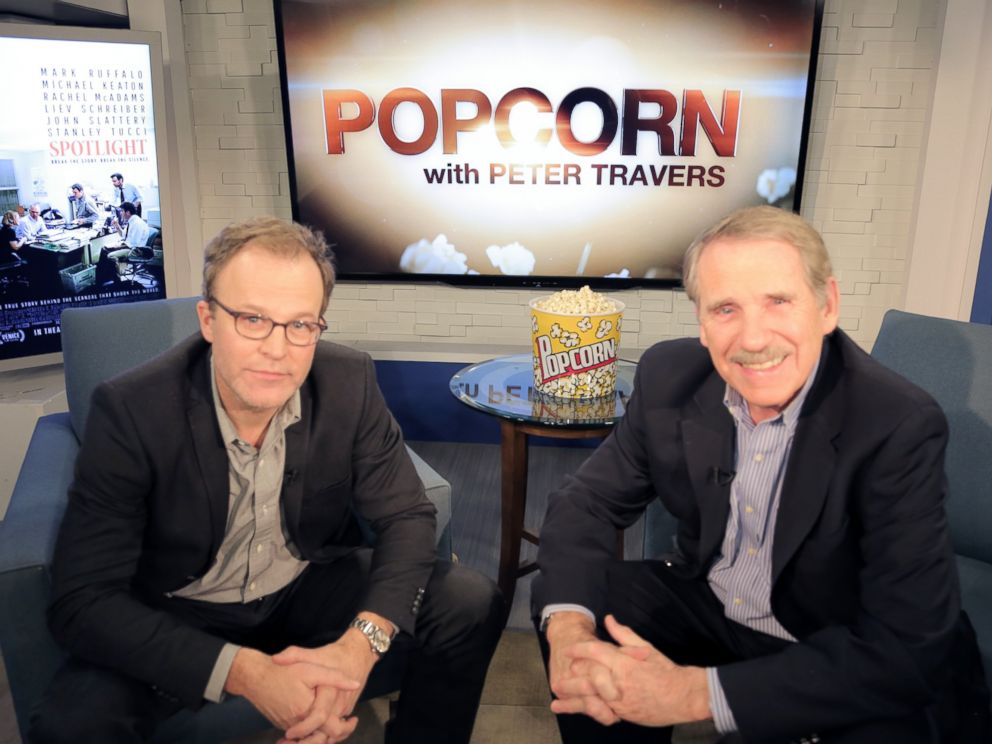 McCarthy, 49, told Peter Travers he and the producers were tossing around a lot of names for the movie's top role, Boston Globe editor Marty Baron.
"One of my producers threw in the name of Michael Keaton. And I thought 'Aww man I grew up loving and watching Keaton and thought, 'That's really interesting.' And then he's like you should go see this movie Alejandro's [González Iñárritu] is finishing right now. It's called 'Birdman.' And I went and saw 'Birdman' and I was like 'Whoa!' I had a conversation with Michael and that happened. So I didn't really have him in mind."
As an actor and writer and director, McCarthy has found himself involved in all areas of production. He was one of the original co-writers for what would become the HBO mega-hit "Game of Thrones." But then he had to bail on the project.
"We shot the pilot. And then I went back and went right into "Win, Win," he said. "And they went to re-shoot and re-work the pilot. And I'm like, well I can't leave this movie. You can't. And it was hugely successful without me."