They're always a hit on the holidays -- coffee table books. There are pop-up books, books that take you to wonderful places, collections of great photography and absolute jaw-dropping tales. And there's always something for everyone.
The "Good Morning America" anchors went through the best books of the season and now they're sharing their favorites with you.
Robin's Favorite Coffee Table Books of 2009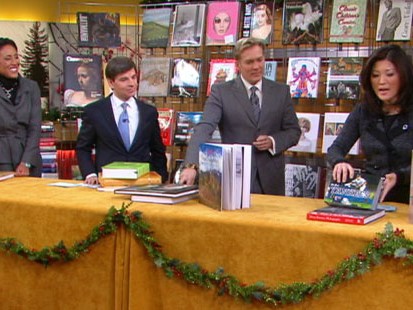 "Satchmo: The Wonderful World and Art of Louis Armstrong" is more of a visual journey than a book. The 200 full color illustrations include collages of photos and text cut from newspapers and programs -- all about Armstrong's experiences.
According to Robin, it's like looking through the artist's own scrapbook.
Robin is quite an athlete herself, but she said she loved "Tour de France: The World's Greatest Bike Race" because it's perfect for anyone from professional bikers to people still a little shaky without training wheels.
The book, which was created with the endorsement of the official Tour de France organization, is filled with history of the race and how it has evolved over time.
Robin chose "Life In The Wild" because the pictures are breathtaking.
ScubaZoo, which took the pictures along with photographer Thomas Marent, is a dedicated team of underwater cameramen who capture some of the world's most beautiful reefs in all their natural glory.
George's Favorite Coffee Table Books of 2009

Just because Gourmet Magazine is going out of business, George said you can still get some of their best recipes with the book "Gourmet Today."
Editor-in-chief of the magazine, Ruth Reichl, personally assembled recipes for every budget, occasion, lifestyle and palate. Many are simple enough for beginners to take a shot at deliciousness.
With his background in politics, George developed an appreciation for good political cartooning so "Herblock: The Life and Work of the Great Political Cartoonist" was a natural choice.
The book showcases 250 classic cartoons and another 18,000 on an accompanying DVD.
Spanning the decades from the Great Depression onward, the book gives a glimpse into a historical and political point of view that sometimes told more through pictures than words ever could.
George chose "Celebrating Peanuts: 60 Years" for his daughters.
The book is over 500 pages of classic Peanuts strips by the legendary late Charles Schulz.
The strip, which started in 1950, still appears in more than 2,200 newspapers around the world.
Again looking to the family, George chose "Dezallier D'Argenville: Shells" for his wife, Ali. Originally published in 1780, "Shells" was a compendium of all contemporary knowledge of shells and mineralology.
The book helped make shells so popular that the study of shells became a Parisian fad.
Sam's Favorite Coffee Table Books of 2009

Sam wanted to chose books that he had a personal connection to and the first on his list is the "National Geographic Image Collection."
It's hard to find a better description of the book than it's subtitle: "Lavish Visual Journey Through More Than 100 Years of Photography From National Geographic."
The photos in the book are the top picks of Nat Geo Society's archive of 11.5 million images, from the early photos of the 19th century to today.
"TIME Great Discoveries: Explorations That Changed History" chronicles some of the most daring explorers and journeys man has undertaken.
Sam met true adventurer Tom Avery, the British explorer who recreated Robert Peary's perilous 1909 trek to the North Pole when he interviewed him this April.
"A Shadow Falls" by photographer Nick Brandt is 132 pages and 58 images of African wildlife in its most natural environment. Brandt discards the telephoto lens in favor of getting as close as he can to his subjects.
Juju's Favorite Coffee Table Books of 2009

Juju is a diehard Yankee's fan, so "New York Yankees: 365" was a foregone choice.
Written by The Associated Press with a forward by former Yankee great Don Mattingly, the book is a colorful archive of, and a tribute to the history of the Yankees, its ups and downs, heros and anti-heros and most memorable moments.
For the art lovers in us all, there's "100 Contemporary Artists," a comprehensive study of contemporary art at the beginning of the 21st century.
At 704 pages, it's nearly 12 pounds of art for your viewing pleasure.
At age 80, Harry Benson is one of the most accomplished photographers in history and the aptly named "Harry Benson: Photographs" is a collection of some of his best.
From the Beatles' pillow fight to Ronald Reagan dancing with wife Nancy, the book is a pictoral history of many of the defining moments and people of the last 60 years.
Benson was the most published photographer for Life Magazine before it closed and has since worked for Vanity Fair and Architectural Digest.
CLICK HERE to return to the "Good Morning America" Web site.