Disney's highly anticipated live-action adaptation of "Dumbo" hits theaters today!
Interested in
Disney?
Add Disney as an interest to stay up to date on the latest Disney news, video, and analysis from ABC News.
The Tim Burton-directed reinvention of the 1941 classic stars Colin Farrell, Michael Keaton, Danny DeVito and Eva Green among others.
It tells the story of the same adorable elephant that is first bullied and looked at as an outcast until he wins over the hearts of circus-goers with his magical ability to fly. Of course, the circus along with Dumbo and his family experience some trouble along the way.
Farrell, who plays Holt Farrier, the elephant's caretaker, said the movie carries a message of, "inclusion, acceptance, kindness, and support," in an interview with EW.
"'Dumbo' expands on the beloved classic story where differences are celebrated, family is cherished and dreams take flight," the official description from Disney reads.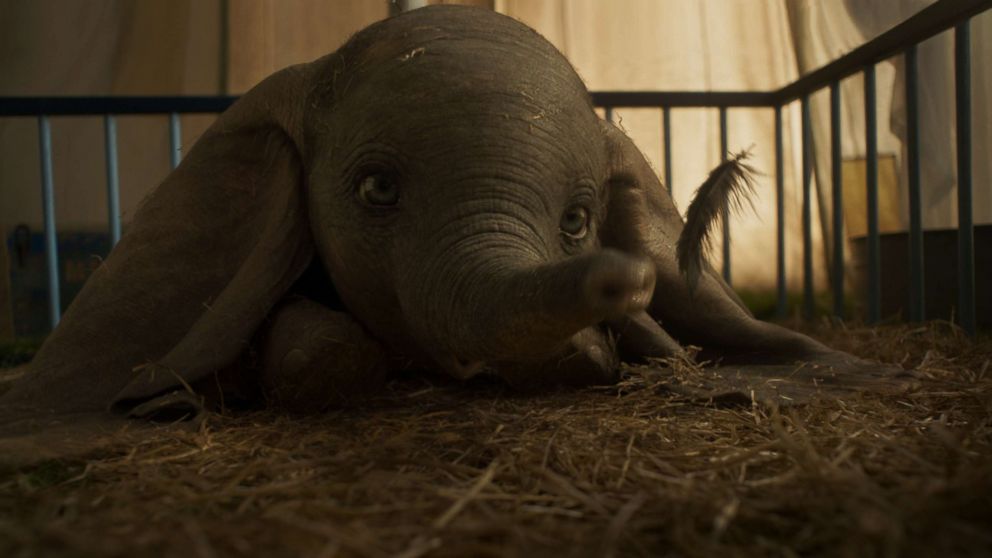 Here's what to know before seeing the film:
Expect laughter and tears
The official trailer for the film was released in November 2018 and has already amassed over 11 million views.
It features the circus-goers discovering Dumbo's ability to fly, Dumbo's mother being taken away from him and Farrell's character leading his family in their search to bring her back.
The star-studded cast is one you won't want to miss
With names like Danny DeVito and Colin Farrell starring and Tim Burton directing, the film is sure to be a delight. DeVito spoke about his role in "Dumbo" at the film's world premiere on March 11, 2019, in Los Angeles, California.
"I have to be in this movie, that's what I said. There's no way they can do "Dumbo" without me being in it," he shared.
He said the story is relatable in that viewers can connect with the baby elephant.
"I think you understand how Dumbo is," he said. "He's very sensitive about something, and that's the way we are. We're all different, we all have things that we have to -- you have to fly over the world! Use that feather, find that feather, so you can embrace what your strengths are and go out there and show them who you are!"
Farrell also spoke about how the characters in the film are affected by Dumbo.
"There is a softening I think that takes place in the heart of more than one character, mine being one of them, as a result of how helpless but also how magic, how different, how sweet Dumbo is," he told ABC News at the film's premiere.
"Dumbo brings certain characters in this film together in a way that they may not have come together if it weren't for his existence," he added.
Eva Green, who plays Colette Marchant, a trapeze artist at the circus, said the film is "full of hope, dreams, of love, of heart."
"I think we all need this in this chaotic world," she added.
Many members of the cast jumped at the chance to work with Burton
Several of the film's actors and actresses were thrilled at the opportunity to work with the legendary director.
"I had wanted to work with Tim for a long time, I had been a fan of his for even longer than I've been an actor," Farrell told The Hollywood Reporter at the premiere.
"To be in proximity to the power of his imagination and to see it physically manifest itself with grass and tents and horses and all of these circus performers was an extraordinary thing to be a part of, and of course with a story that has as much heart as this one has," he added.
Nico Parker, who played Milly Farrier, the daughter of Farrell's character, also spoke about what it was like working with Burton.
"He's just amazing. He's such an incredible mind, he's just inspiring every day," she told ABC News. "He just has all these amazing ideas and is full of creativity. He's wonderful."
Katterli Frauenfelder, one of the film's producers, said there was added pressure working with a talent like the famous director.
"There is pressure because you want to get it right, but there's also pressure because you're working with Tim Burton and you want to get everything right, which he wants," she told ABC News on the carpet.
"He has the classic Dumbo in his heart and how he feels he wants to make it and bring it to a modern generation," she continued. "But at the same time, the pressure is just part of all the amazing fun and the chance of working on such a film. It's a once in a lifetime thing."
DeVito, who has worked with Burton on several projects before, like "Mars Attacks!" (1996) and "Batman Returns," (1992) praised the director during a "Dumbo" press conference.
"I think he's brilliant," he said. "I think he's just a genius. His artistry is just astounding."
"You give a talented person like Tim a subject like "Dumbo" with all the great meaning and messages and metaphors -- and what does he do, he sends it off into the stratosphere. He's one-of-a-kind," he added.
"Dumbo" hits theaters March 29, 2019.
ABC News is part of parent company Disney.