Michelle Obama opens up about her miscarriage, going through IVF and Donald Trump in ABC News prime-time special for new memoir 'Becoming'
Michelle Obama spoke to "GMA" anchor Robin Roberts for a prime-time ABC special.
Former first lady Michelle Obama said she felt "lost and alone" after suffering a miscarriage about 20 years ago, during an exclusive interview with "Good Morning America" anchor Robin Roberts.
"I felt like I failed because I didn't know how common miscarriages were because we don't talk about them," Obama said. "We sit in our own pain, thinking that somehow we're broken."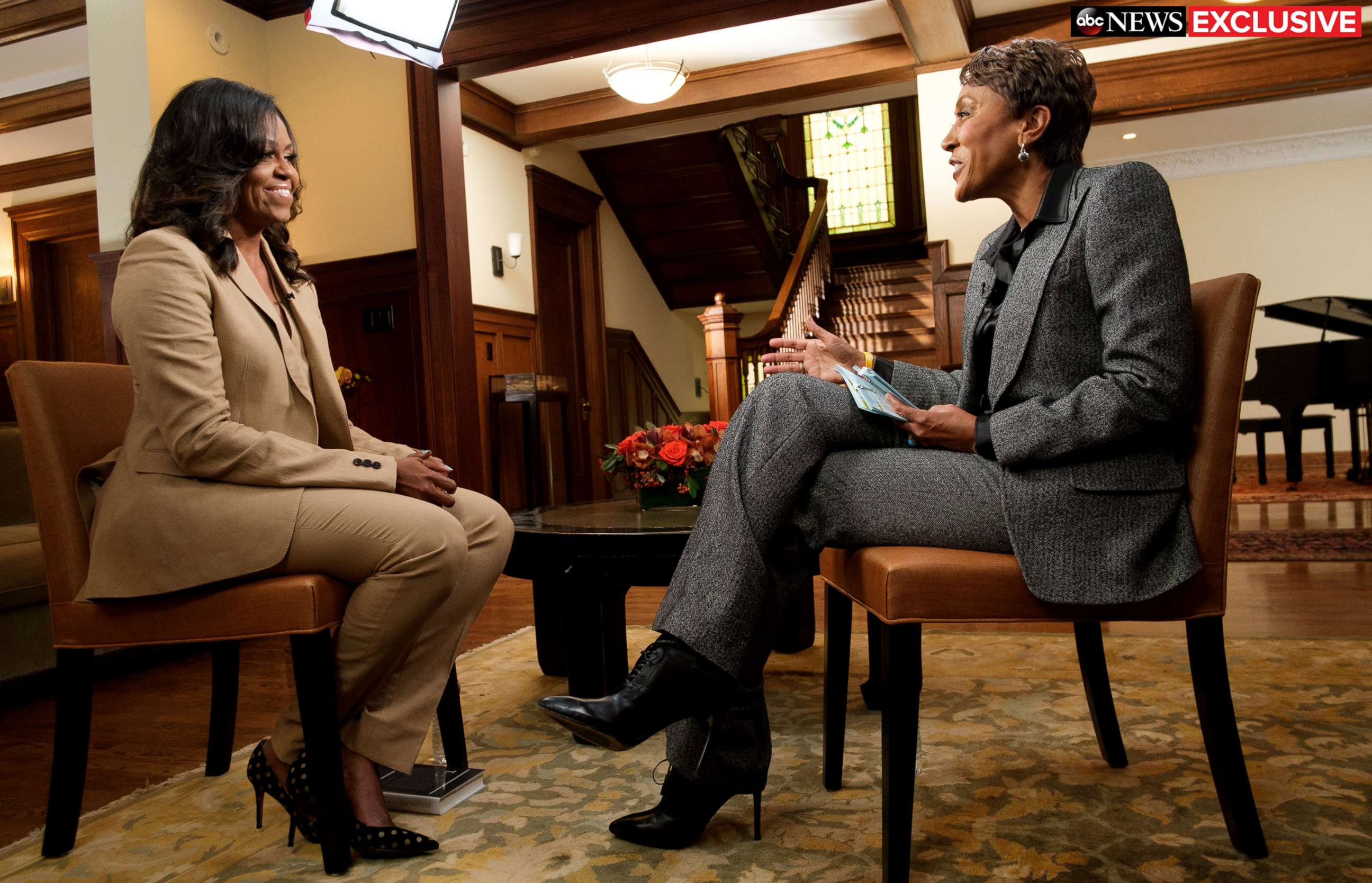 She added, "That's one of the reasons why I think it's important to talk to young mothers about the fact that miscarriages happen."
Obama, who worked as a lawyer and hospital administrator before becoming first lady, told Roberts that it hit her at ages 34 and 35 that "the biological clock is real" and "egg production is limited."
She revealed to Roberts that she underwent in-vitro fertilization (IVF) in order to conceive her two daughters.
"I realized that as I was 34 and 35," said Obama, now the mother of 17-year-old Sasha and 20-year-old Malia. "We had to do IVF."
The former first lady, known for her advocacy for women and girls around the world, decided to get candid about her miscarriage and her journey to motherhood in "Becoming" to help other women.
"I think it's the worst thing that we do to each other as women, not share the truth about our bodies and how they work," Obama told Roberts.
I know too many young couples who struggle and think that somehow there's something wrong with them.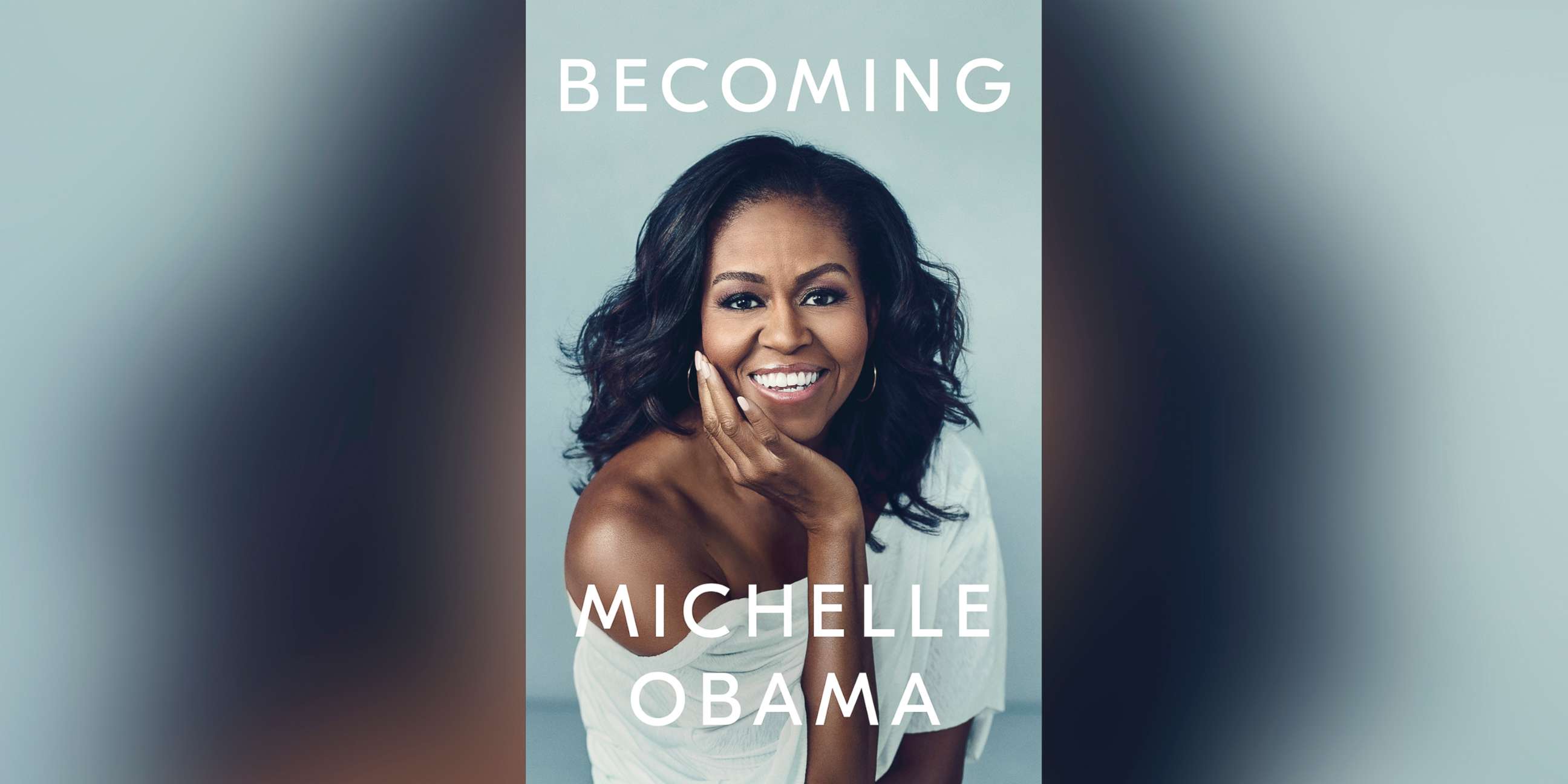 The book, a raw and revealing account of her life, goes where few first lady's autobiographies have gone.
She divulges deeply personal moments and insights that shaped her life -- from her childhood on the South Side of Chicago to her college years at Princeton, to her deep love affair with her husband, whom she met while she was his adviser at the law firm Sidley Austin LLP. Despite an immediate attraction, she insisted they should just be friends -- but all that changed one summer night when he kissed her.
"As soon as I allowed myself to feel anything for Barack," she writes, "the feelings came rushing -- a toppling blast of lust, gratitude, fulfillment, wonder."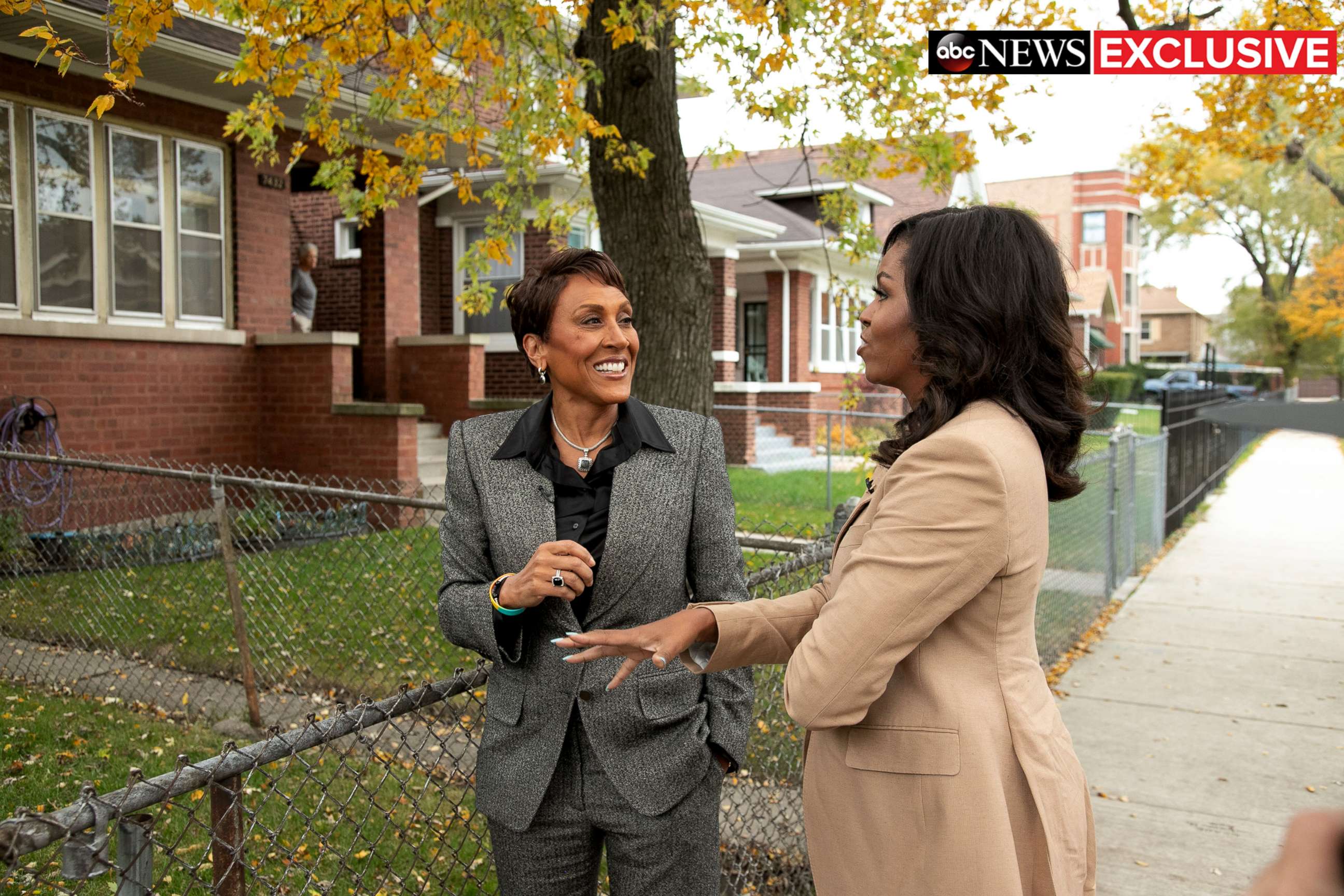 Yet she is also candid about the bleaker periods of her marriage, revealing for the first time that the couple sought counseling when their relationship was under stress.
"Marriage counseling for us was one of those ways where we learned how to talk out our differences," she told Roberts. "I know too many young couples who struggle and think that somehow there's something wrong with them. And I want them to know that Michelle and Barack Obama, who have a phenomenal marriage and who love each other, we work on our marriage. And we get help with our marriage when we need it."
"This was my pivot point," she writes. "My moment of self-arrest."
Once Barack announced his run for president in 2007, she threw herself into what would be a bruising campaign. She knew it would be hard, but she wasn't prepared for critics who attacked her for being unpatriotic and called her an "angry black woman."
"I was female, black and strong, which to certain people ... translated only to 'angry.' It was another damaging cliché, one that's been forever used to sweep minority women to the perimeter of every room. ... I was now starting to actually feel a bit angry, which then made me feel worse, as if I were fulfilling some prophecy laid out for me by the haters."
But what stung the most, she says, was the continuous, false allegations that her husband was a secret Muslim, born overseas.
She writes in the memoir about how Donald Trump and other so-called birthers in 2011 began to openly question whether her husband was an American citizen, describing their actions as "crazy and mean-spirited ... its underlying bigotry and xenophobia hardly concealed. But it was also dangerous, deliberately meant to stir up the wingnuts and kooks."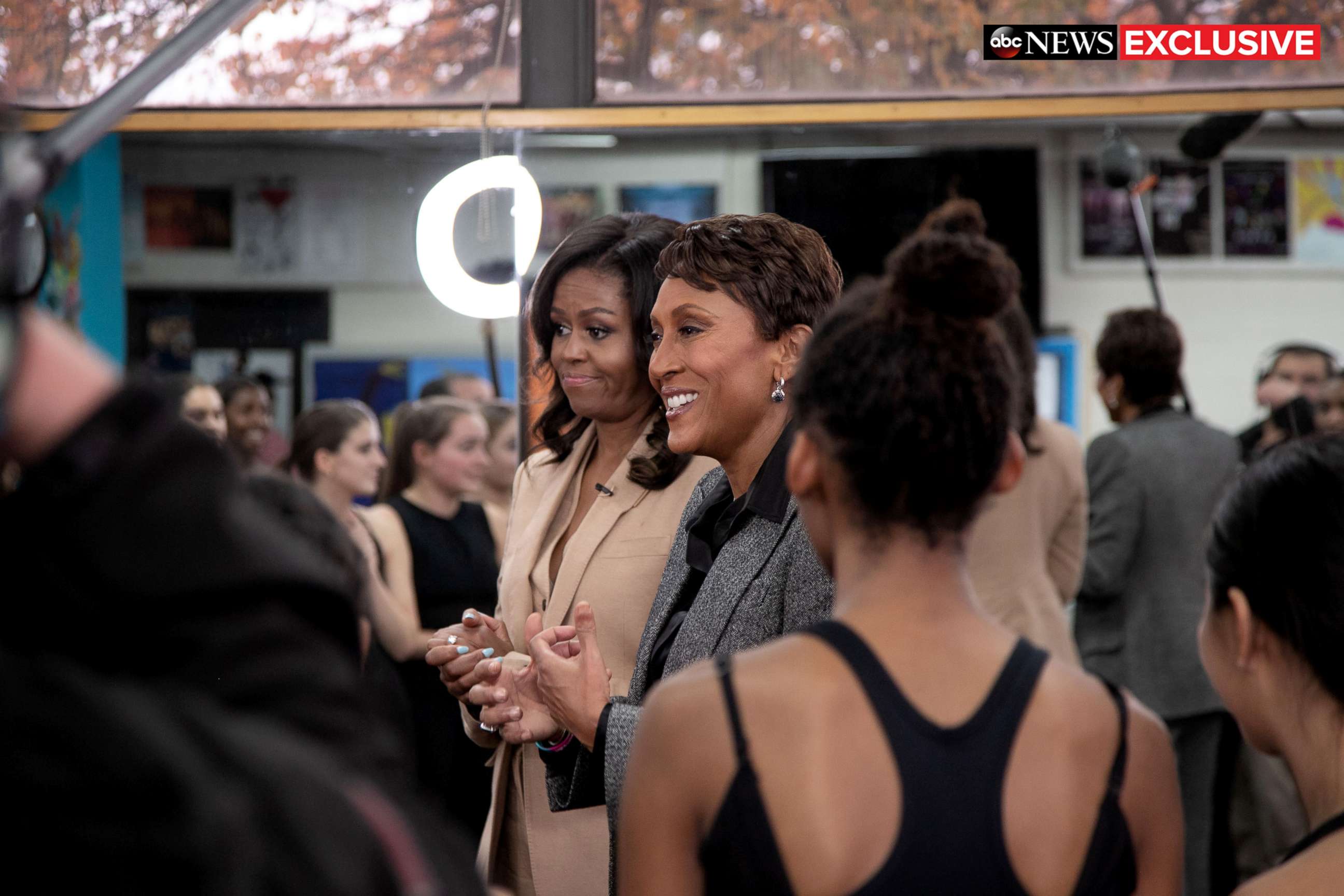 "What if someone with an unstable mind loaded a gun and drove to Washington? What if that person went looking for our girls? Donald Trump, with his loud and reckless innuendos, was putting my family's safety at risk. And for this, I'd never forgive him."
She recalls her reaction when she heard Trump's "Access Hollywood" video where he brags about assaulting women, saying her "body buzzed with fury after hearing that tape."
She described how Trump seemed to "stalk" Hillary Clinton during an election debate, "trying to diminish her presence with his" and sending the message, "I can hurt you and get away with it."
Michelle Obama through the years
Lady Gaga, Jada Pinkett Smith, Alicia Keys, Michelle Obama and Jennifer Lopez speak onstage during the 61st Annual Grammy Awards at Staples Center, Feb. 10, 2019, in Los Angeles. <br><br> Michelle Obama speaks to the audience during a surprise appearance at the 2019 Grammy Awards.
Kevin Winter/Getty Images
And when Trump was elected president, she says she was surprised that so many women would choose a "misogynist" over "an exceptionally qualified female candidate."
Obama says she is just beginning to process all that happened since her husband first began to talk about running for president a dozen years ago. Today, as she looks ahead to a new beginning, one thing seems clear: It's unlikely that she will ever run for office.
"If I'd learned anything from the ugliness of the campaign, from the myriad of ways people had sought to write me off as angry or unbecoming, it was that public judgment sweeps in to fill any void. ... I knew that I would never allow myself to get that banged up again."
"I've never been a fan of politics, and my experience over the last 10 years has done little to change that. I continue to be put off by the nastiness."
This report is featured in the Friday, Nov. 9, 2018, episode of ABC News daily news podcast, "Start Here."
"Start Here" is the flagship daily news podcast from ABC News -- a straightforward look at the day's top stories in 20 minutes. Listen for free every weekday on Apple Podcasts, Google Podcasts, iHeartRadio, Spotify, Stitcher, TuneIn, or the ABC News app. On Amazon Echo, ask Alexa to "Play 'Start Here'" or add the "Start Here" skill to your Flash Briefing. Follow @StartHereABC on Twitter, Facebook and Instagram for exclusive content, show updates and more.